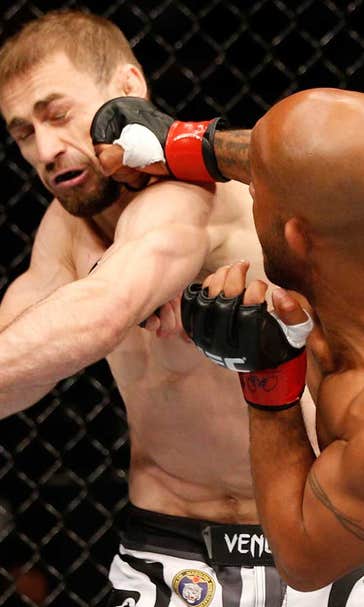 FIGHT BLOG RECAP: Demetrious Johnson defends UFC flyweight title in dominant fashion
June 14, 2014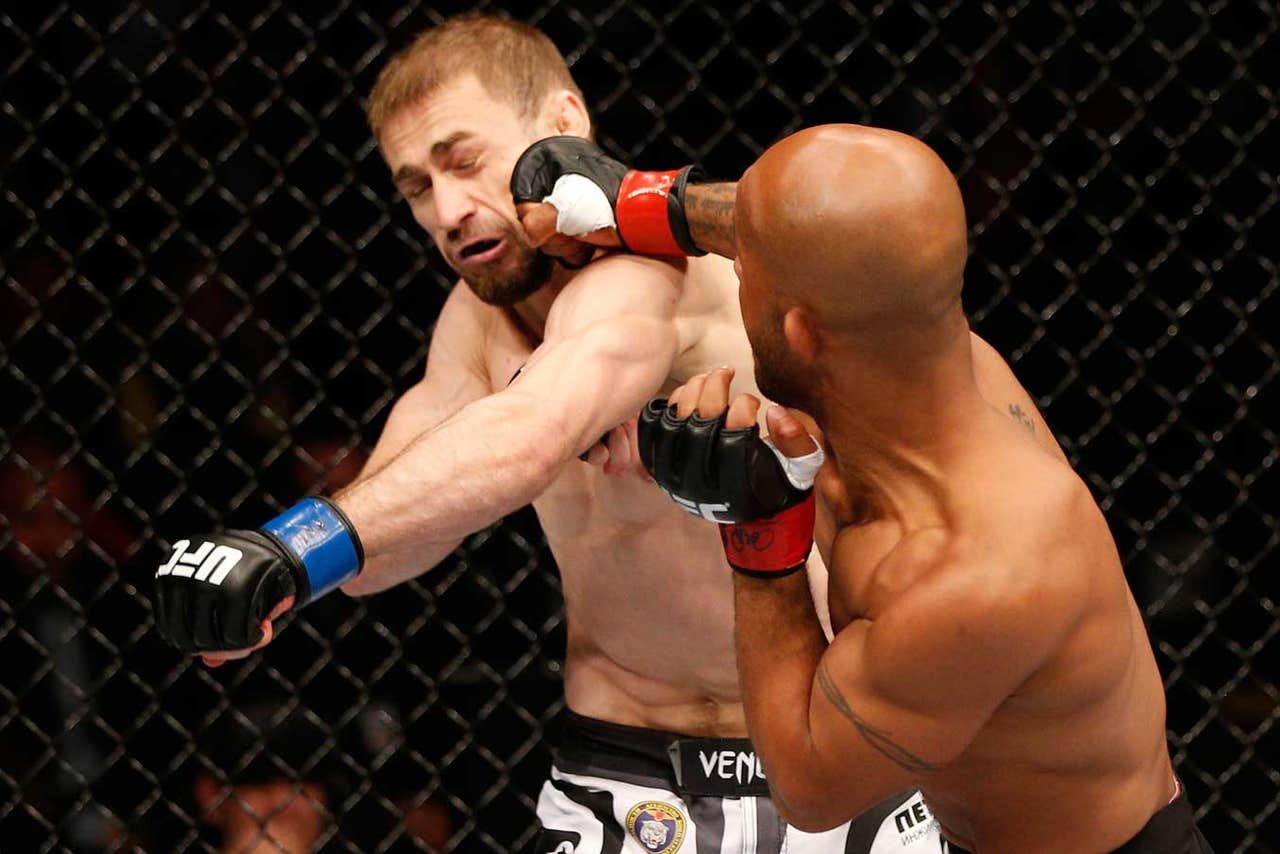 Demetrious Johnson went all five rounds with one of his toughest challengers and made it look easy.
"Mighty Mouse" defended his flyweight title with a unanimous decision (50-45, 50-45, 50-45) victory over Ali Bagautinov in the main event of UFC 174 on Saturday night in Vancouver and it wasn't even as close as the scorecards indicated.
Johnson (20-2) has now won six in a row and established himself as one of the UFC's most dominant champions. One could argue that he's the top pound-for-pound fighter in the world.
In the co-main event, Rory MacDonald put forth his most impressive win to date in a surprising three-round dismantling of Tyron Woodley. That gets MacDonald closer to a welterweight title fight.
Also on the main card, Ryan Bader dominated Rafael Cavalcante by unanimous decision, Andrei Arlovski stunned Brendan Schaub in a controversial split decision and Ovince St. Preux beat Ryan Jimmo by TKO in the second round.
MAIN CARD (PPV)
Demetrious Johnson vs. Ali Bagautinov
How good is Bagautinov? I honestly don't know. But I suspect we'll find out tonight.
We already know how good Johnson is and that's damn good. "Mighty Mouse" is the flyweight champion and one of the best fighters in the world, regardless of weight class.
ROUND 1
Jerin Valel is your referee.
Fast hands shown by Bagautinov early. Not as fast as Johnson ,but who is?
These dudes are quick. Man. They're dodging punches before I can even see them on TV.
Bagautinov goes for a takedown. Johnson stuffs it. Now they're in a clinch against the cage. This is Ali's game. He has an advantage, albeit small, here.
Johnson turns it round and lands some big knees to the body. Bagautinov with a big slam. Johnson is back up, though, The round ends with Bagatuniv locking his arms around Johnson's body from the back.
10-9 Johnson -- Bagautinov had some control agains the cage, but Johnson landed those big knees to the body. Those were more significant than anything Bagautinov did.
ROUND 2
Bagautinov shoots in and Johnson stuffs it again. Back in the clinch and some more knees by DJ.
Head kick by Johnson and Bagautinov eats it. Bagautinov lands a left. But it wasn't hard.
Johnson lands a hard punch. Bagautinov fires back with a punch.
They're in a clinch again. Bagautinov pushing DJ against the cage. Johnson is doing work in this clinch, too. Another knee. Good uppercut by Ali. 
Bagautinov working for a takedown. No dice. Bagautinov is making Johnson work, I'll say that.
10-9 Johnson -- Bagautinov is kind of executing his game plan, but Johnson is doing enough when he's not in the clinch -- and even when he is -- to win these rounds. FightTrax says Johnson has landed 24 shots to the body and 22 to the legs so far.
ROUND 3
More of the same here. Bagautinov is initiating the clinch and Johnson is landing the better strikes.
What else can Ali do here, though? The clinch was his best chance. Bagautinov can't really land at distance.
Bagautinov grabs a hold of Johnson and slams him down. Johnson bounces right back up. DJ has him in a Thai clinch. Landing some knees.
Hard knee to the head by Johnson as Bagautinov was coming in. Johnson is just one step ahead everywhere. The round ends with them exchanging in the clinch.
10-9 Johnson -- Very similar round. Bagautinov is not winning these clinch battles. He needs a new game plan, but I don't know what he can really do. DJ is better everywhere.
ROUND 4
Does Bagautinov go for broke here? He seems to have given up the clinches for the time being, standing in the center of the cage.
Great body kick by Johnson. And a good leg kick. Johnson just missed a takedown attempt and smoothly landed a knee in transition. Beautiful. Smooth. 
Bagautinov lands after DJ slips. That's Ali's best shot, I guess. Hoping for a mistake.
Bagautinov back in the clinch. DJ takes Bagautinov's back near the end of the round, but nothing comes of it.
10-9 Johnson -- Bagautinov hasn't even come close to threatening Johnson. This has not been close. Will Bagautinov come up with something new in the fifth?
ROUND 5
Here are some states for you. Johnson has landed 50 strikes to the head, 56 to the body and 50 to the legs. That's a complete performance, I would say.
Johnson opens up with a nice combination. Bagautinov is still trying for something in the clinch and he's getting eaten up with some knees.
Bagautinov lands a combination. Some life. But of course Johnson throws a wheel kick. Bagautinov tries to get a takedown off it, but he can't. 
Bagautinov ties him up again. Johnson actually wants to finish, but there's no distance to do it. Up against the cage is where this one will end, fittingly.
10-9 Johnson, 50-45 Johnson -- Ho hum. Johnson wins relatively easily. Bagautinov had no answer whatsoever. He never tried to adjust. Dominance.
Official result: Demetrious Johnson def. Ali Bagautinov by unanimous decision (30-27, 30-27, 30-27)
Analysis: Who can touch Johnson in the UFC's flyweight division. The only guy is maybe John Dodson. Maybe. But Johnson has become one of the most dominant champions in the UFC. Bagautinov is fine. He's a top-10, and maybe top-five, type of guy. He's good. Johnson is on a completely different level.
Rory MacDonald vs. Tyron Woodley
Yeah, the winner of next month's fight (on FOX!) between Matt Brown and Robbie Lawler will probably get the next welterweight title shot against Johny Hendricks. But damn, this is an important fight at 170 too.
Woodley is coming off two finishes of Carlos Condit and Josh Koscheck. And remember he almost killed Jay Hieron, too. MacDonald has a win over Demian Maia after a disappointing performance against Lawler
ROUND 1
Woodley has the words "Dude Wipes" on the back of his shorts. So, yeah.
Very technical start. Woodley using his clinch game. MacDonald tries to keep it at distance. He lands a couple of good knees.
Woodley with the clinch against the cage again.
Woodley catches a kick and lands a hard right. Plus the takedown. But MacDonald is back up and stalking.
MacDonald has Woodley looking a little reluctant. MacDonald the aggressor now.
Woodley has his back against the cage. Why? MacDonald with a gorgeous combination. The round ends with MacDonald having all the MacDonald.
10-9 MacDonald -- Really nice round for MacDonald. At the end, he was able to work from distance, which is what he wants. Nice combinations. Well done.
ROUND 2
MacDonald comes out as the aggressor again. Woodley's body language has been weird since a little more than halfway through the first round. Could have been one of those body kicks from MacDonald.
Nice combination by MacDonald. But he eats a body punch from Woodley. Good body kick by MacDonald. Very much a chess match here and that absolutely favors Rory.
MacDonald has outstruck Woodley, 24-9, in head strikes, per FOX Sports FightTrax.
Why is Woodley content to counter here? He's been so effective as the aggressor in recent fights.
Big body kick by MacDonald. Woodley still has his back against the cage.
Very nice right hook by MacDonald. MacDonald is almost clowning Woodley now. This is really weird. Round ends like that. Strange!
10-9 MacDonald -- I don't think MacDonald could have scripted this any better. Woodley is playing only defense and letting MacDonald pick him apart. Weird.
ROUND 3
Oh, there you are Tyron! Woodley comes out firing. He grazes MacDonald with a punch. His best strike in two rounds.
And here's Woodley's back against the cage again. Why? Come forward. Circle out.
Spinning back kick by MacDonald. Woodley tries to say it was low. John McCarthy isn't having any of it.
Woodley throws a left and MacDonald takes down the stud wrestler. Wow. Beautiful timing by Rory.
MacDonald in guard. Woodley is defending very well from the bottom. No damage being taken here. McCarthy should probably stand them up.
MacDonald stands up, avoids some up kicks and lands a punch. And he does that again. MacDonald in mount. Now side control.
MacDonald landing punches on the ground. Woodley's right arm is trapped. That's how this fight ends. Rory's hometown crowd loves it.
10-9 MacDonald, 30-27 MacDonald -- MacDonald completely dominated from the middle of the first round on. Woodley didn't look quite himself and some of that was absolutely due to Rory's technique and strategy. Impressive stuff.
Official result: Rory MacDonald def. Tyron Woodley by unanimous decision (30-27, 30-27, 30-27)
Analysis: MacDonald had his toughest loss in Vancouver four years ago against Carlos Condit. Now he has the biggest win of his career in his hometown. Super impressive performance from the 24-year-old. MacDonald really still has a chance to be the welterweight champion some day. Weird gameplan by Woodley. He didn't do what has made him successful. MacDonald deserves some of the credit, but Woodley has to look himself in the mirror, too.
Ryan Bader vs. Rafael Cavalcante
Interesting light heavyweight matchup here. Feijao is a former Strikeforce champion and has never ever gone to decision. Not in a win or a loss. The man loves violence.
Bader was pretty violent in his last fight against Anthony Perosh too. So this one has some potential. Maybe.
ROUND 1
Yves Lavigne is your referee.
Bader goes for the takedown. He gets Feijao down briefly. Now they're against the cage. Bader is trying for another takedown, but Feijao is defending well.
Good strategy here by Bader even if it's horribly unexciting. Bader misses a giant elbow on separation.
Feijao is trying to turn this into a Muay Thai bout, but Bader is staying away, moving well. And then he lands a beautiful double leg.
Cavalcante is turtled and Bader is working the body nicely. Hard shots to the side. Pretty dominant round here. Feijao is not offering up much resistance right now. Bader lands a hard, hard knee to the body right at the bell. Nice.
10-9 Bader -- Very good round for Bader. Don't underestimage Feijao. He's a very tough dude. Bader is owning him with wrestling and a superior gameplan right now, though.
ROUND 2
Feijao can't get his striking going, because he's so worried about the takedown. And he has reason to be.
Bader gets another takedown. Feijao is just having a really hard time right now. Cavalcante gives up his back with hopes to stand. Hard knees to the ass. Yeah, that's right. Now to the thighs.
This is a butt whooping right now. Literally.
Bader has outlanded Feijao to the head, 22-2, per FOX Sports' FightTrax. That's a blowout if I ever heard one.
Cavalcante looks hesitant and reluctant. To do anything. Bader takes him down again. The round ends with Bader on top and Feijao looking forlorn.
10-9 Bader -- Not much to say. Feijao is getting embarrassed and doesn't even look like he wants to be in there anymore. Bader has been excellent and his game plan has been sound.
ROUND 3
Some life from Feijao. He stuffs a takedown and lands some downward elbows to the side of Bader. Feijao is stalking now.
Bader shoots and the two are against the cage. And some more. Another takedown. Bader is in half-guard.
Hard elbows to the body by Bader. Feijao wants to go watch the World Cup. He does not want to be fighting another human anymore.
The crowd is booing, but c'mon. This is a dominant performance by Bader. Impressive, too. The round and fight ends with Bader on top. Because of course.
10-9 Bader, 30-27 Bader -- Not even close. Complete performance by Ryan Bader. Can't help but be impressed. 
Official result: Ryan Bader def. Rafael Cavalcante by unanimous decision (30-27, 30-27, 30-27)
Analysis: Bader looked great. I still think he can be a serious contender at light heavyweight, even though it has happened later than expected. He has won three of four and he's still just 31. Big fight coming up next. Feijao? Give him a striker, please.
Andrei Arlovski vs. Brendan Schaub
This may or may not be the most intriuging fight on the entire card. How much does Arlovski have left? Can Schaub's chin hold up? Will that even matter or does Schaub just take things right to the ground?
It's a wonderfully weird matchup. Looking forward to it.
ROUND 1
John McCarthy is the referee for this heavyweight fight.
Arlovski closes the distance with punches and pushes Schaub against the cage.
Still against the cage. Arlovski throwing some nothing knees to the legs. Schaub spins out and lands an overhand right.
Back against the cage with Arlovski in the more dominant position. Arlovski is just putting his weight on Schaub. Schaub breaks free.
Schaub's boxing has looked sharp when he's been able to use it. Arlovski looks a little slow.
Arlovski looking for a takedown from a clinch, but won't get it. He really does not want to stand there with Schaub and that's a pretty wise decision.
Schaub changes levels for a takedown attempt. Arlovski shrugs it off. The round comes to an end.
10-9 Schaub -- Arlovski might have had more of that "cage control" stuff. But Schaub was way more effective outside of those clinches against the cage. He landed some punches. Arlovski landed nothing.
ROUND 2
Arlovski lands a groin kick, which is by far the most significant strike from him.
Arlovski moves forward, lands a body shot and pushes Schaub against the cage.
Schaub has a cut under his right eye. Schaub lands a combination.
Feint and left hand by Schaub. He has used that technique quite a bit. Schaub initiates a clinch now and they're back against the cage.
Schaub goes for a takedown, but Arlovski sprawls and they're back up. 
Schaub looks up at the clock and misses on a combination. Hard right hand by Schaub. That wobbles Arlovski.
Arlovski comes over the top with a right, but whiffs.
10-9 Schaub -- Not a whole lot happening here. That right uppercut by Schaub near the end of the round was the best strike. We'll give him the second. Just for that.
ROUND 3
Arlovski lands a left coming in. 
McCarthy warns both men about headbutts.
Schaub is cut on the bridge of his nose. Schaub takes Arlovski down.
Schaub is in closed guard. Not really doing much damage. Working the body a bit.
Arlovski needs to have a little more urgency in trying to get up. If he hangs out here on the bottom, he's going to lose this fight.
Arlovski kicks Schaub off and they're back up. Time is ticking. One minute left.
Schaub ducks under an Arlovski right hand. Some punches thrown late. None really connect. That's how the round and the fight ends.
10-9 Schaub, 30-27 Schaub -- Schaub has a ton of swelling on the right side of his face. Could have been from that Arlovski left. But Schaub did a little more in each of the three rounds to earn this decision. 
Official result: Andrei Arlovski def. Brendan Schaub by split decision (29-29, 28-29, 29-28)
Analysis: Schaub certainly could have been more impressive, but this should have been good enough for a win. Arlovski looked a little slow. His game plan was good, but he never really looked like the better fighter. At all. Schaub got robbed for sure. He should be treated like he won in his next fight.
Ovince St. Preux vs. Ryan Jimmo
Jimmo either knocks his opponent out quickly or has some of the most boring fights in UFC history. There's no in between with him.
St. Preux won his last fight via Von Flue choke and he's a fantastic athlete. OSP was a University of Tennessee college football player as well. This could be an interesting fight. Or really terrible.
ROUND 1
Kevin Dornan is the referee for this light heavyweight bout.
St. Preux being very aggressive and lands some hard left hands coming in. Jimmo, as expected, pulls OSP into a clinch. He wants nothing to do with those big punches.
Jimmo has some blood coming from his nose. He's staying on the outside, trying to pick St. Preux apart now.
St. Preux takes Jmmo down and lands a punch as the two come up. That's how the round ends, with Jimmo ducking away.
10-9 St. Preux -- Way more aggressive and he landed more punches, too. Jimmo was close to executing his game plan until St. Preux took him down.
ROUND 2
Jimmo lands a hard punch. He goes have fight-changing power.
OSP catches a kick and takes Jimmo down. He's in half guard. And now St. Preux is in mount. Jimmo gives his back. Uh oh. Jimmo is in big trouble. Only one hook in, though. Jimmo has a chance to escape. He's turtling and OSP lands some hammerfists. Watch the back of the head, my man.
Wait, what? What just happened? It's over? It's over. Jimmo broke his arm. He verbally tapped. Wow. On the takedown?
OSP ripped his arm in a kimura-type direction. Ouch! Oh man. That was unorthodox, but highly effective.
Official result: Ovince St. Preux def. Ryan Jimmo by TKO (verbal tap; injury) at 2:10 of the second round
Analysis: St. Preux has won five in a row and he is still evolving as an MMA fighter. He's 31, so his time is now. He's ranked in the top 15 and maybe now it's time for him to fight a real contender. Jimmo is not that guy, but this was still a very solid victory for OSP.
PRELIMS (FX)
Daniel Sarafian vs. Kiichi Kunimoto
Sarafian, an Ultimate Fighter Brazil alum, is moving down to welterweight for this one. He has lost two of three. Kunimoto has won five straight, including his UFC debut against Luiz Jorge Dutra in January.
ROUND 1
Yves Lavigne is the referee for this welterweight bout.
Kunimoto's dyed-blonde hair has me slightly mesmerized. Hopefully I snap out of it.
Kunimoto presses Sarafian against the cage. And he takes Sarafian down. Kunimoto has side control and now has Sarafian's back. He has the choke. Sarafian taps. That looked entirely too easy.
Official result: Kiichi Kunimoto def. Daniel Sarafian by submission (rear-naked choke) at 2:52 of the first round
Analysis: Kunimoto executed his strategy. There's no doubt about that. But Sarafian looked all kinds of awful. I don't think 170 agrees with him. The Brazilian seemed like he wanted out of there and quick.
Valerie Letourneau vs. Elizabeth Phillips
This bout was initially supposed to be completely different -- Milana Dudieva vs. Germaine de Randamie -- but both women got hurt, so now we have two women making their UFC debuts. Letoureau is out of American Top Team and Phillips trains with Julianna Pena at Sikjitsu in Washington state.
ROUND 1
Phillips is finding a home with those right hands. Letourneau is getting lumped up.
Nice combination by Phillips. Letourneau's left eye is almost closed up. Phillips is finding that spot often.
Good head kick by Letourneau. Phillips lands a few more.
Head kick by Letourneau hurts Phillips. The two exchange as the round ends. Fun one.
10-9 Phillips -- Letourneau came on a bit late, but Phillips won that round with some really sold technical striking. For an unheralded women's 135er, she looks very solid.
ROUND 2
More stand-up action between the two women.
Letourneau lands a beautiful combination. Her eye looks awful though. Damn.
Hard standing knee and some punches for good measure from Letourneau.
Much better round for Letourneau as she lands another combination. Phillips looks a little tired and her technical boxing has basically gone out the window.
10-9 Letourneau -- The ball is in her court now. That eye is not looking very good, but Letourneau has found her rhythm and she's getting the better of Phillips.
ROUND 3
Nice elbow by Letourneau. She's landing everything now. Body kicks, leg kicks, punches. Phillips is hanging in. She's super tough.
Phillips is trying to pull Letourneau into a grappling match. But it's not really working.
Phillips has given up on combinations. She's just winging punches.
Letourneau's punches are straight and they're landing before Phillips' wild hooks.
Nice exchange to finish. Phillips just kept pushing forward and eating punches.
10-9 Letourneau, 29-28 Letourneau -- Letourneau won the final two rounds, pretty clearly. Let's hops the judges see it that way. Phillips gassed a bit, but hung in and was still coming forward at the end, though not nearly as effectively as early on.
Official result: Valerie Letourneau def. Elizabeth Phillips by split decision (29-28, 28-29, 29-28)
Analysis: It's too early to say whether either one of these women can contend in the women's bantamweight division. Letourneau has some technical ability and obviously a great camp at ATT. We'll see.
#FightTrax Stat of the Fight: Letourneau landed 100 strikes to the head of Phillips. Ouch. 
Yves Jabouin vs. Mike Easton
It's almost a statistical improbability for this fight to suck. Both guys love to stand and strike. Jabouin has a technical edge, but few people are as tough as Easton.
Easton has lost three in a row to the best bantamweights in the world, while Jabouin has lost two of three. Both guys are fighting with a UFC release not too far away.
ROUND 1
Jabouin opens up with an eye poke. Good strategy.
Easton tries to break Jabouin with pressure and lands some hard punches. Jabouin has to go for a takedown. You rarely see that from the Canadian. The dude is a very good striker. Easton's aggression and those hard rights definitely bothered him.
Easton wall-walks his way back up to standing. Jabouin takes him down again. Easton is back up and Jabouin lands a knee. They're in a clinch. Jabouin ends up on top on the ground.
Easton ends up on top and in side control. Of course the two strikers end up in a grappling battle.
Some relative in action on the feet ends the round.
10-9 Easton -- Sure, why not? Jabouin won the cage control criteria -- whatever that is -- with takedowns and ground work for the majority of the first. But Easton almost knocked Jabouin the eff out. So there's that. Could go either way.
ROUND 2
Jabouin is playing the grappling game, which I find really interesting. It's working for him, though.
Jabouin lands a head kick and a spinning back kick to the gut. Easton eats them both. But Jabouin has found his rhythm. And he takes Easton down.
Jabouin is just grinding Easton out on the ground now. Landing some punches and elbows. The referee stands them up.
Easton is wading in and landing again. Spinning back kick to the midsection by Jabouin as the round ends.
10-9 Jabouin -- It hasn't been nearly as exciting as I thought it would be, but this fight has been interesting. We're knotted at a round apiece. Jabouin looked good there. Easton needs to keep things standing.
ROUND 3
Easton comes forward aggressively, but Jabouin is neutralizing him with takedowns and grappling.
Jabouin has top control again. Easton needs to get up if he wants to win this one.
Easton sweeps with a kimura! This is big if he can make it work. Nope. Jabouin is out. Easton is still in side control.
Easton lands some knees to the body. Those are nasty. Easton jumps into guard. But why?
Jabouin lands some elbows from the bottom. The round ends right there.
10-9 Jabouin, 29-28 Jabouin -- The third round was pretty close. Easton seemed to have an opportunity to do more, but might have been too gassed to capitalize. This could be four loss in a row for him.
Official result: Yves Jabouin def. Mike Easton by unanimous decision (29-28, 29-28, 29-28)
Analysis: Easton almost finished the damn thing in the opening seconds. That was his best sequence of the fight by far. He has lost four in a row and this might be it for him in the UFC. Jabouin is 35 and not really going anywhere at 135. But give him credit for a diversified attack. He has actually improved over the years.
Kajan Johnson vs. Tae Hyun Bang
Johnson is a TUF Nations alum who has won seven of eight fights. This is UFC debut. Bang has lost two of three in the UFC, including his UFC debut to Mairbek Taisumov in January.
Also, Bang is not pronounced how it is spelled. So get your mind out of the gutter
ROUND 1
The referee for this lightweight bout is John McCarthy. Good to see him up in Vancouver.
Johnson goes for a head kick. It doesn't land flush. But wow. Bang eats it.
Both these guys aren't really wasting a ton of time. They're going after it.
Takedown by Johnson. He's in side control. Bang sweeps.
Both guys throwing big punches standing up now. Someone should really talk to Bang about that haircut.
Bang crushes Johnson with a left. He's down. Bang searching for a choke. Johnson is surviving. Johnson is turtled. Wild, sloppy scramble. And both men are back up.
Johnson lands a hard left hook. Big punches landed by both men. Johnson hurts Bang with a right and takes him down. Back in side control.
Bang is back up as the round ends.
10-9 Bang -- Johnson had his moments and the momentum seems to have swung his way. But Bang almost finished with that big left. We'll see where this goes from here.
ROUND 2
Big overhand right by Bang grazes Johnson. Bang follows with another right and Johnson is wobbled.
Johnson goes for a takedown and gets it. Bang sweeps. He's on top. Bang is bleeding and I have no idea how.
Johnson hits Bang with a right hand against the cage and goes for a takedown. This is a pretty wild fight. Not technical at all, but fun.
Both men are busted open. Johnson should go for a takedown. He is not winning the stand-up exchanges.
Some inaction on the feet closes out the round.
10-9 Bang -- I guess. It was a back-and-forth round. Lots of big swings and sloppiness. Bang hurt Johnson more with those punches early in the round. Maybe that's enough. But I'm not incredibly confident.
ROUND 3
On the broadcast, they showed a tweet from Tim Tebow rooting for his boy Brendan Schaub. Tebow should just start fighting MMA. If you thought Benson Henderson spoke a lot about Jesus, imagine if Tebow were around.
Bang lands a huge overhand right and Johnson is out cold. El Ka-Bang!
Official result: Tae Hyun Bang def. Kajan Johnson by KO at 2:01 of the third round
Analysis: That was pretty sloppy, but I can't say I was not entertained. Bang showed flashes of being a South Korea Leonard Garcia with some wild swinging and a damn good chin. Johnson should have never stood in front of him. Neither guy is a contender, but put him on some Asian Fight Pass cards and maybe he'll be a cult hit.
EARLY PRELIMS (UFC Fight Pass)
Roland Delorme vs. Michinori Tanaka
Tanaka is 9-0 and just 23 years old. He's arguably the top Japanese prospect in the UFC right now. It's him and flyweight Kyoji Horiguchi.
Delorme, 30, is a Canadian who has won three of his last five. The Ultimate Fighter alum is pretty solid. This is a very interesting bantamweight bout.
Tanaka, however, is coming out to Kesha, which he'll probably end up regretting.
ROUND 1
Yves Lavigne is your referee.
Delorme lands a right hand, catches a kick and takes Tanaka down. He gets him in full mount, but Tanaka is strong. He explodes and actually ends up on tip, in Delorme's guard.
Tanaka drops some elbows. And some punches. He's not doing a whole lot, but he's holding position. That's how the round will end.
10-9 Tanaka -- He held top position for the majority of the round, so there you go. Tanaka did nothing to hurt Delorme and Delorme actually landed the better strike, early in the round. But Delorme needs to get up rather than being content looking for futile submissions.
ROUND 2
Really nice combination by Tanaka. Tanaka is making it really hard for Delorme to hit him with a ton of movement.
Tanaka uses his judo to take Delorme down. He's back in guard. Looks familiar.
Tanaka keeping position well again and how he's in mount. Delorme back to half-guard. Dude, it's time for you to try and get up. This is not working.
A few elbows and punches from Tanaka in guard. Delorme's strategy is all wrong right now. Get up.
10-9 Tanaka -- The second round was very much like the first, though even more dominant for Tanaka. Delorme actually needs a finish now. He won't get it from his back, most likely.
ROUND 3
Beautiful judo throw by Tanaka. He's schooling Delorme right now. I wonder if Delorme watched Tanaka on film at all.
Delorme sweeps and he's on top. And in mount! Huge. But Tanaka hips escapes and he's back in Delorme's guard. The Japanese prospect is very, very tough on the ground.
Delorme is bleeding from a cut near his right eye. Tanaka with some big ground and pound.
Delorme is back up with 30 seconds left, but Tanaka drags him right back down. So much for that. Tanaka is just a damn pest. Excellent control. And that's all.
Official result: Michinori Tanaka def. Roland Delorme by unanimous decision (30-27, 30-27, 30-27)
Analysis: This Tanaka kid is pretty solid. He's going to be a pain for a lot of guys at 135. Very interesting to see where the 23-year-old ends up. He could be a contender for sure. Delorme is essentially a gatekeeper at this point unless he can pull off a significant win.
#FightTrax Stat of the Fight: Tanaka landed 46 strikes to the head of Delorme, compared to just seven strikes landed by Delorme to Tanaka's head.
Jason Saggo vs. Josh Shockley
Yes, his name is Shockley. But please leave your "shocker" jokes at home. We've heard them all before. Saggo, though? OK, fine. Have fun with that one.
Wait, is that Jonathan Brookins? Nope. Shockley is just rocking some kind of dreadlock thing. That's cool.
Saggo walks out to "Kung Fu Fighting." You just earned a fan in me, brother.
ROUND 1
Jerin Valel is the referee for this lightweight fight.
Shockley might look like Jonathan Brookins, but he stole Ross Pearson's tattoo. 
Saggo takes Shockley down and looks pretty slick on the ground. Shockley looks for a triangle from the bottom and Saggo lifts him like he's going to slam him, but he's just a big old tease.
Saggo slips to mount.
Shockley does a nice job defending and makes his way back up to his feet. Saggo hits another takedown. He's fantastic at getting into positions and terrible at actually keeping them.
Saggo has Shockley's back. Then he doesn't. Sounds about right.
Now Saggo has him. He's got Shockley's back and he's pounding away with time running down. Valel comes in and tells Shockley to protect yourself. Saggo keeps dropping punches and Shockley doesn't try to better his position. Valel steps in right at the buzzer!
Wow, Shockley could not survive. Nice win for Saggo.
Official result: Jason Saggo def. Josh Shockley by TKO at 4:57 of the first round
Analysis: Saggo seems to be pretty darn good at getting his opponent down and getting in great positions while he's there. The Canadian is slick on the canvas. The 28-year-old has now won five in a row, this being his UFC debut. He's solid and has a chance to win some fights in the organization.
---
---