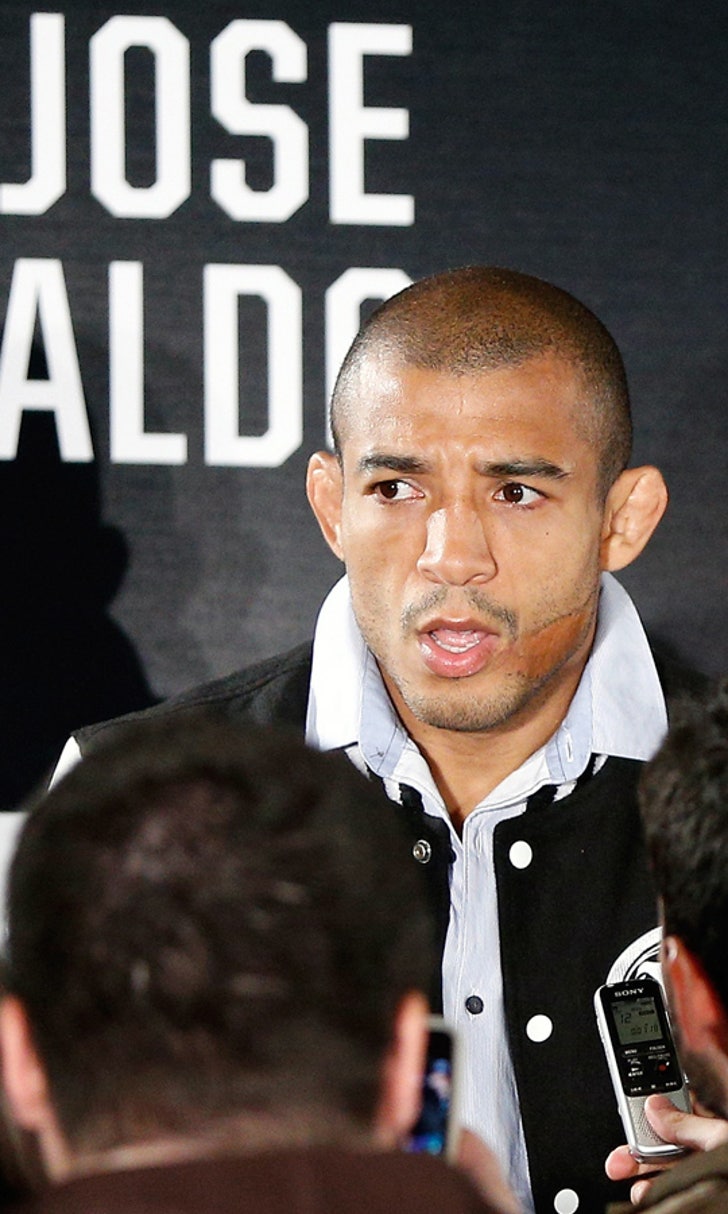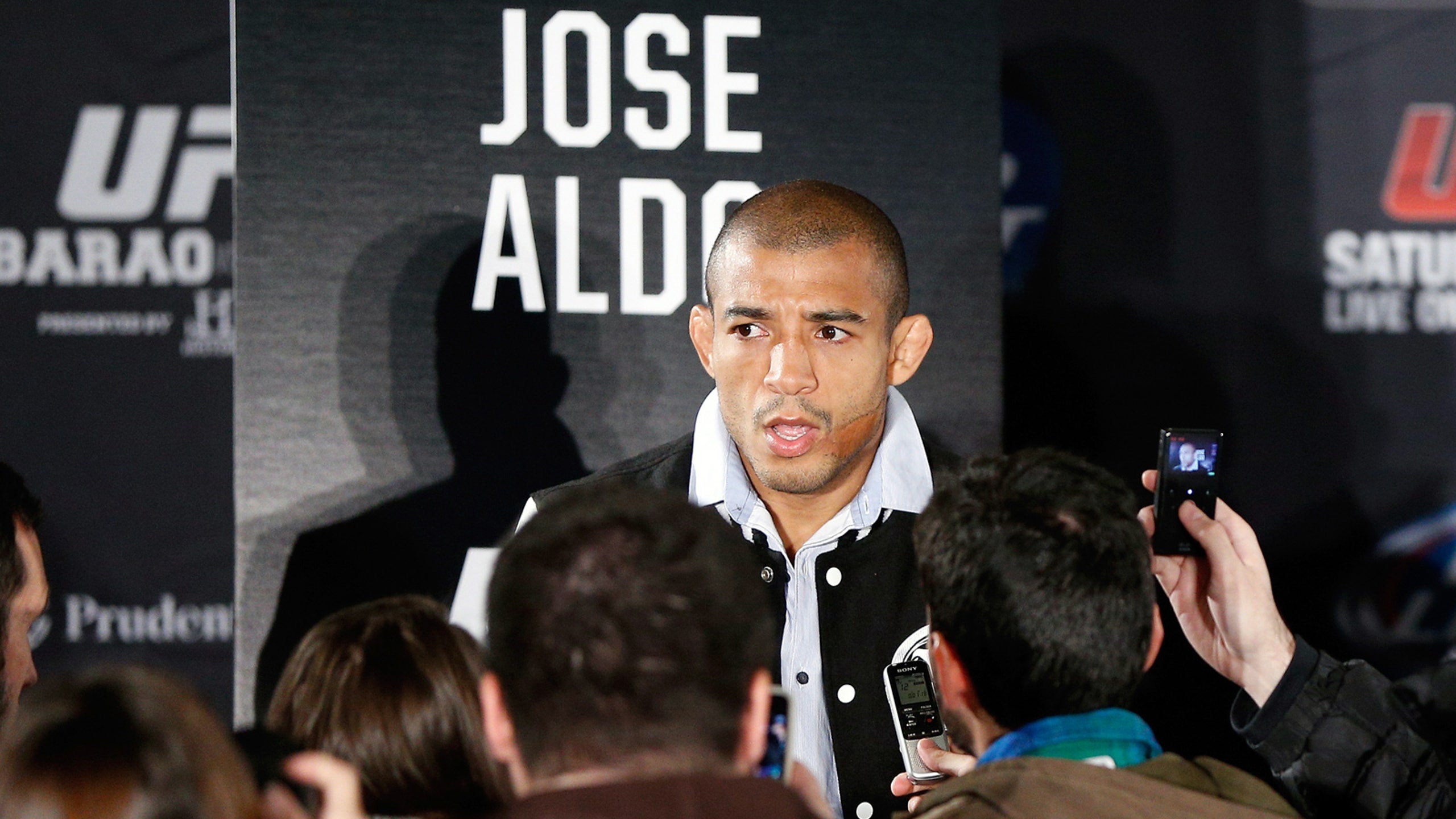 Featherweight forecaster: What happens when Jose Aldo leaves?
BY foxsports • February 3, 2014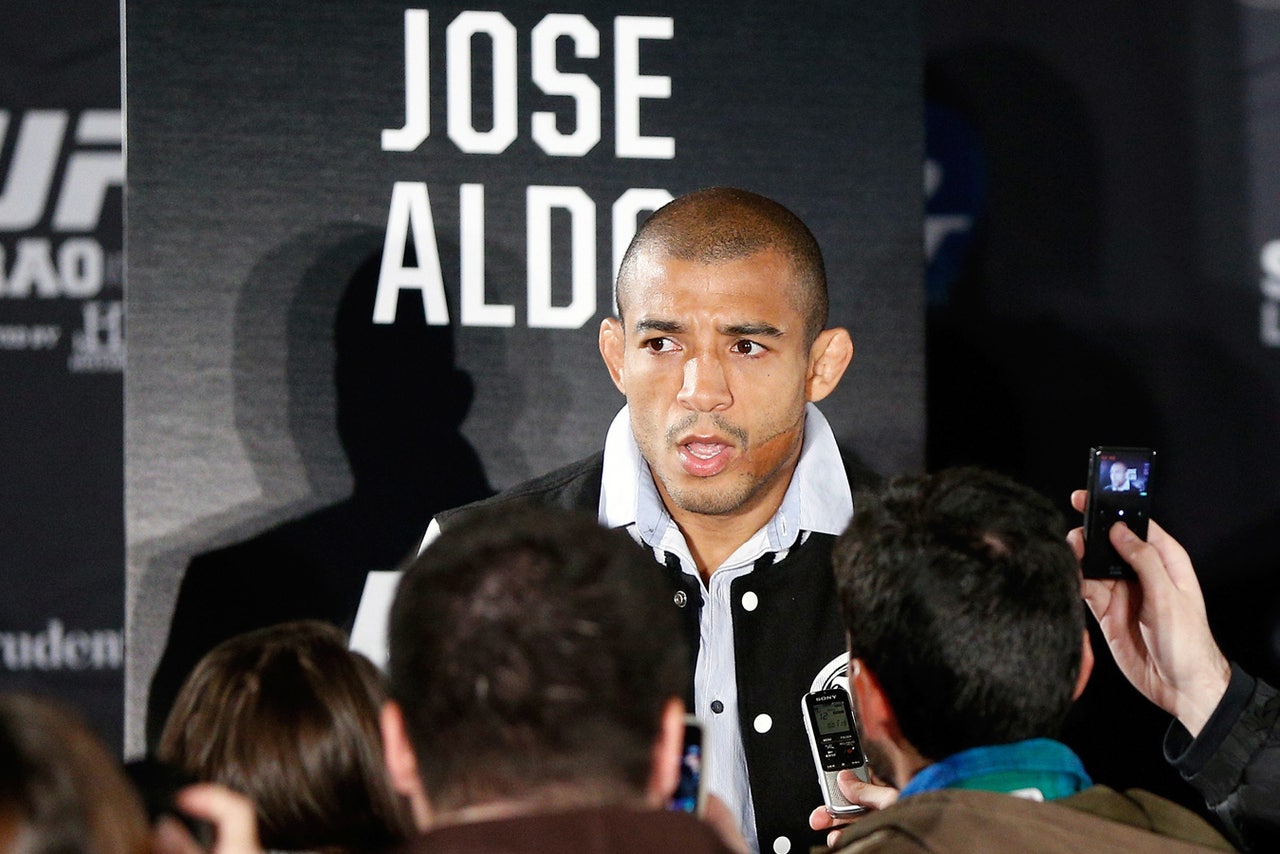 Jose Aldo was barely two hours removed from his unanimous decision win over Ricardo Lamas before his next fight was agreed to in principal, and it's a blockbuster.
Sitting on the dais at the UFC 169 post-fight press conference, the Brazilian superstar suggested he was ready and willing to step up to face Anthony Pettis for the lightweight title whenever "Showtime" was ready to return.
UFC President Dana White wasted no time co-signing the idea, eager to make the superfight that was originally on the books for last August before Pettis injured his knee, and moments after saying his flip phone didn't get service in the bowels of the Prudential Center, White was relayed a message informing him that Pettis was on board with the idea of facing Aldo.
Just like that, the next lightweight title fight was set and the 145-pound weight class became the most interesting division in the UFC.
While it has always been rich with talent and a reliable source of terrific fights, Aldo has stood as a dominant force atop the division since its inception three years ago. Between then and now, he's turned aside six consecutive challengers to run his winning streak to 17 overall, including a perfect 14-0 combined between the WEC and UFC.
Though he faded down the stretch of a couple of those contests, including Saturday's win over Lamas, Aldo was always far enough out in front that losing the final frame was never an issue, and no one ever came close to wresting the featherweight strap away from him. It always seemed like the only way he was going to part ways with the 12 pounds of gold and leather was by turning it over the UFC, and that's just what he intends to do.
Although Aldo won't officially vacate the title until his bout with Pettis is signed, sealed, and scheduled, the UFC needs to start planning for his departure immediately, and fight fans need to familiarize themselves with the handful of names that could find themselves battling it out for a chance to fight for the featherweight title once Aldo ships off to the 155-pound ranks.
The Contenders
Ricardo Lamas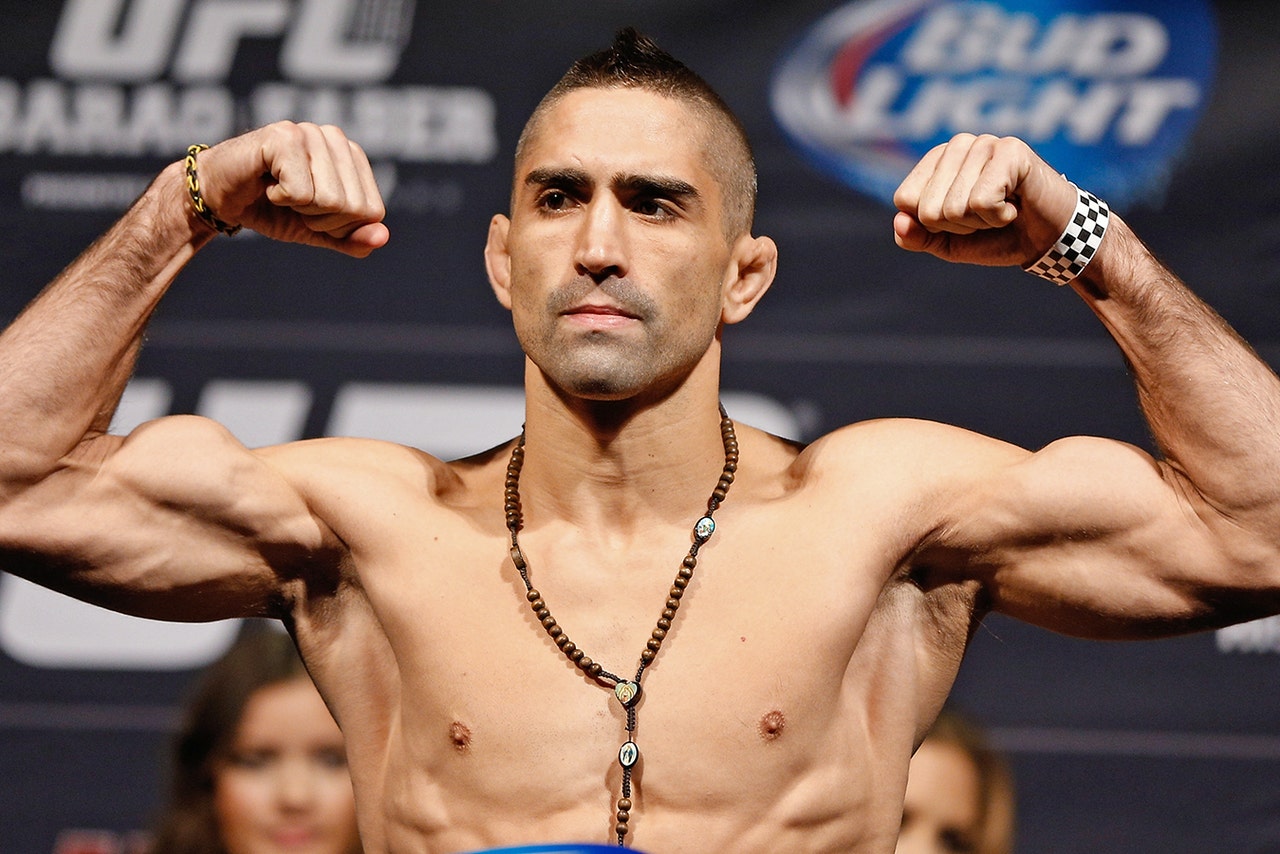 The UFC 169 challenger certainly remains in the mix, having won four straight in impressive fashion before coming up short against Aldo on Saturday night. After sitting out over a year in order to preserve his place in line to fight for the title, don't be surprised if the Chicagoland native is champing at the bit to get back into the cage and position himself for a second shot at UFC gold later this year.
Chad Mendes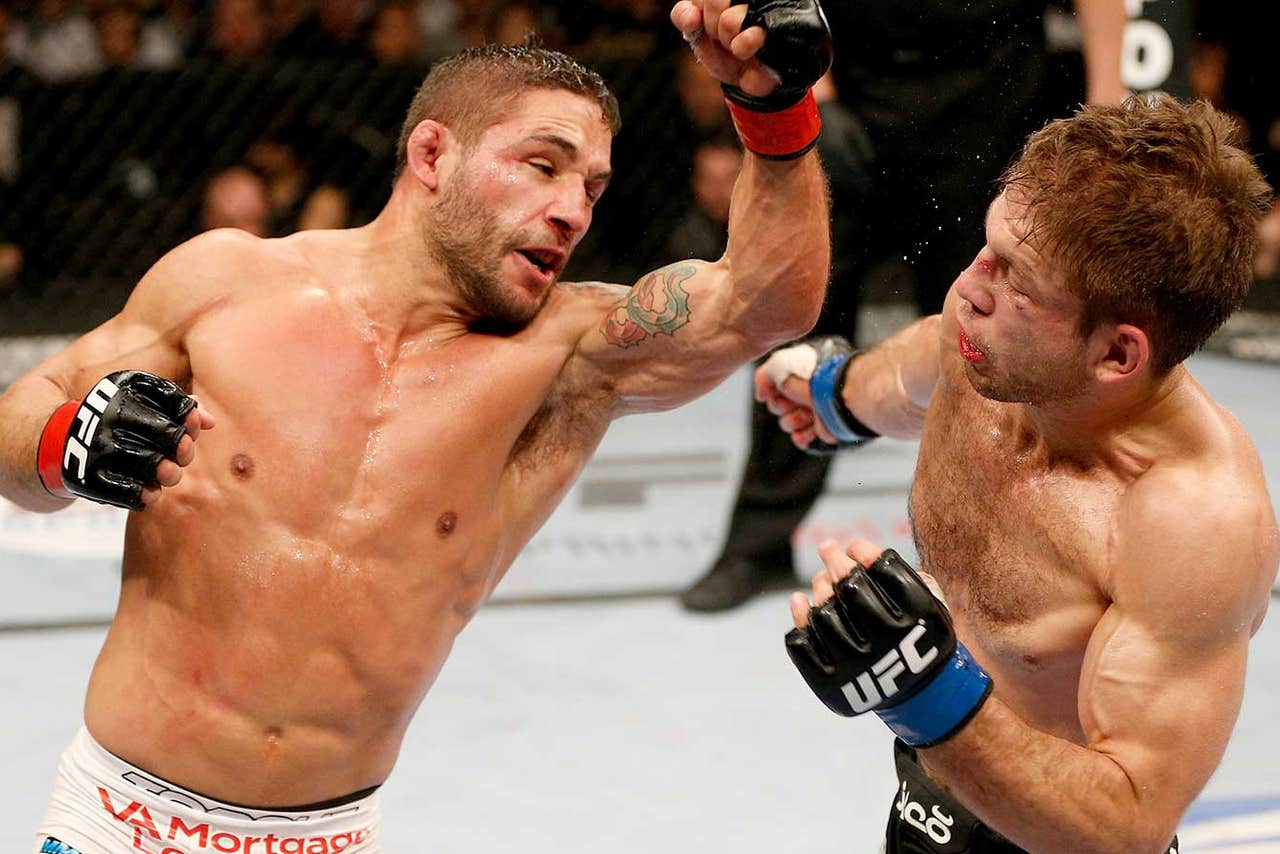 The current No. 1 contender in the featherweight division, Mendes is 16-1 overall and riding a five-fight winning streak, with his only loss to date coming against Aldo at UFC 142. Mendes actually was acquitting himself quite well in that fight prior to Aldo grabbing the fence to prevent a takedown and blasting him with a knee to the dome. Any discussion of what comes next in the 145-pound weight class has to involve the Team Alpha Male member.
Frankie Edgar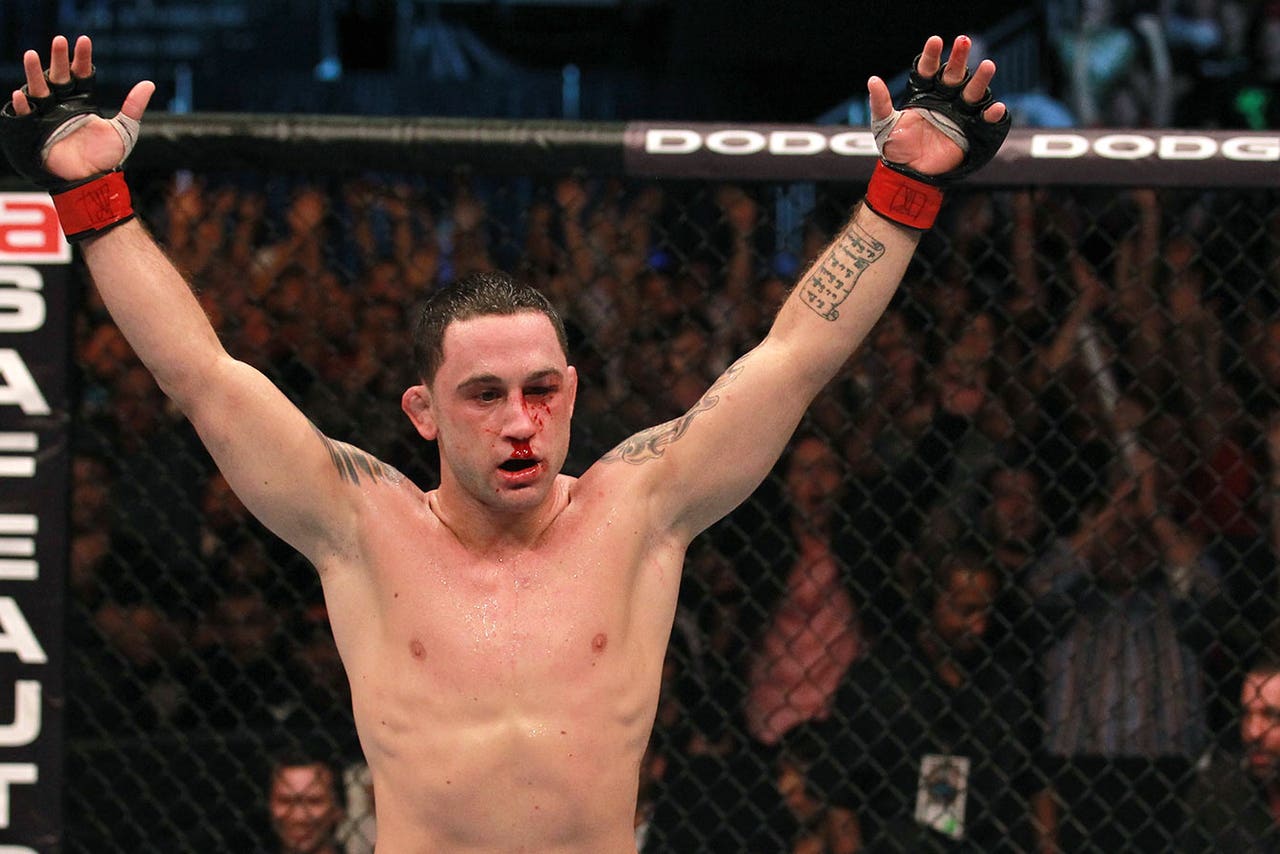 After losing to Aldo in his featherweight debut, "The Answer" rebounded with a solid decision win over Charles Oliveira, halting his three-fight losing streak in the process. As arguably the most recognizable fighter in the division, the former lightweight champion is definitely "in the mix" when it comes to figuring out what comes next in the featherweight division.
B.J. Penn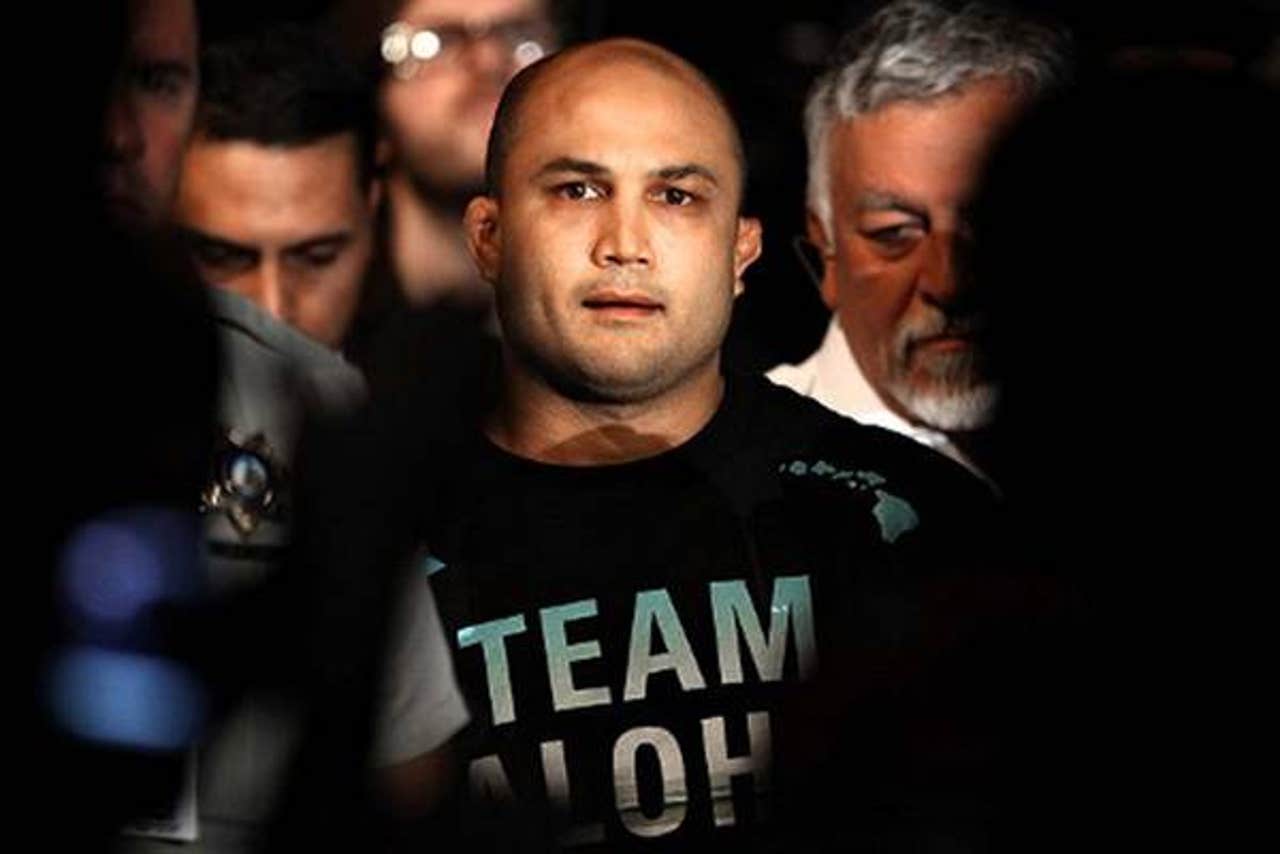 Not someone that immediately jumps to mind when discussing featherweight contenders, Penn is set to face Edgar for a third time later this year after the duo serve as coaches on the upcoming season of The Ultimate Fighter. While it seems crazy to consider given that he's 1-4-1 over his last six fights dating back to April 2010, a win over Edgar would put "The Prodigy" in the thick of the chase for the vacant featherweight title.
Chan Sung Jung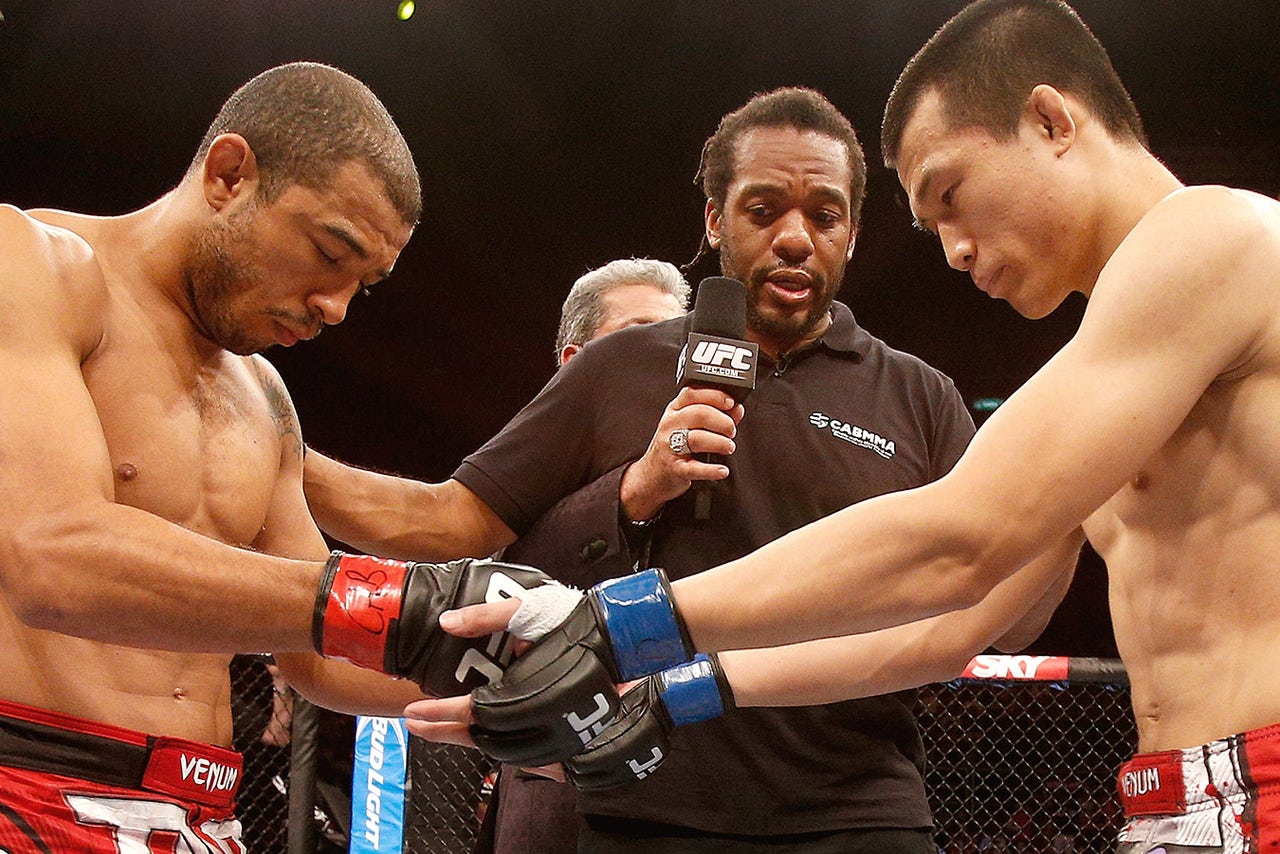 "The Korean Zombie" came up short in his quest to beat Aldo, suffering a dislocated shoulder in the process. There is no timetable for his return as of yet, but the popular South Korean fighter has earned his place in the upper echelon of the featherweight division, and shouldn't lose it due to injury.
Cub Swanson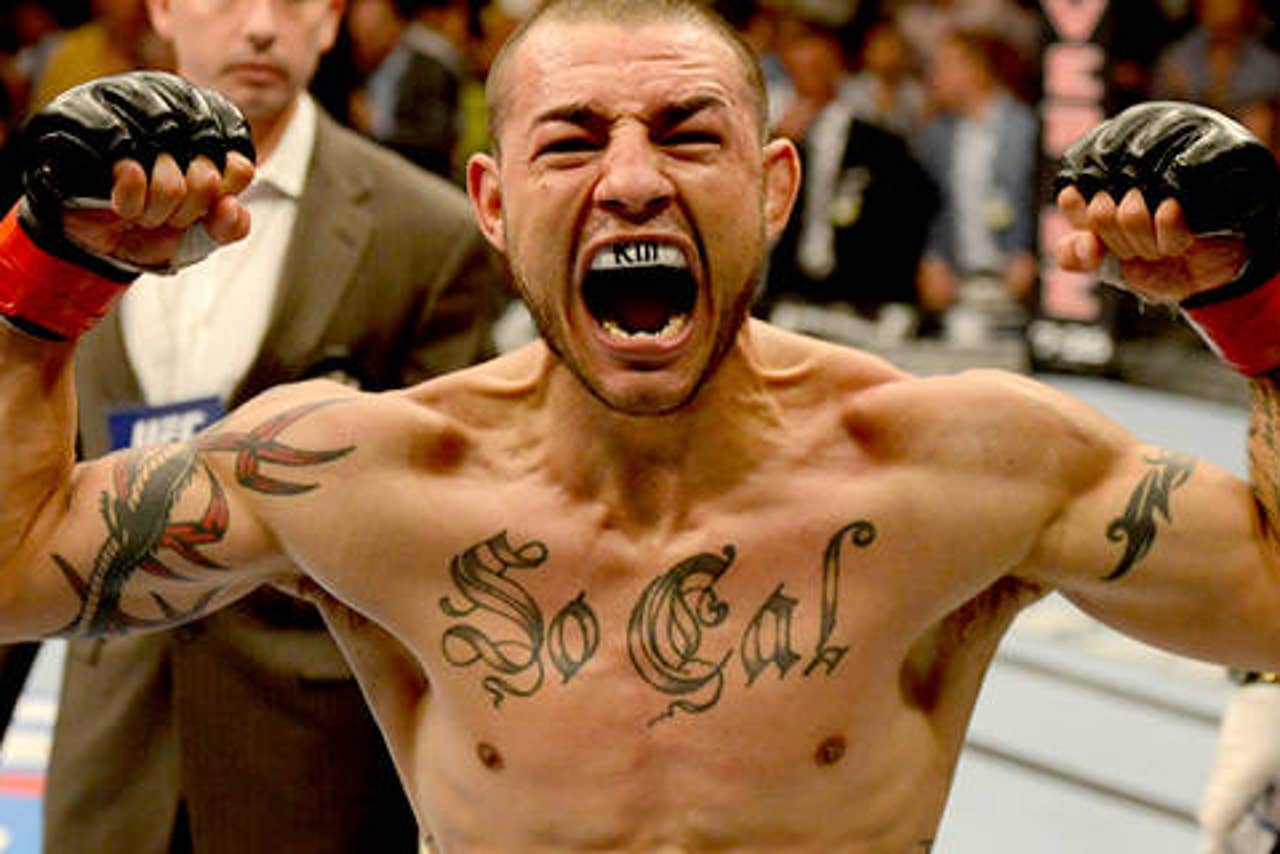 It's been a minute since "Killer Cub" stepped into the Octagon, but the Team Jackson-Winkeljohn fighter has won five straight, and looked dominant in doing so. The one thing potentially working against Swanson at this point, however, is that he's already lost to Mendes and Lamas in the past.
Dustin Poirier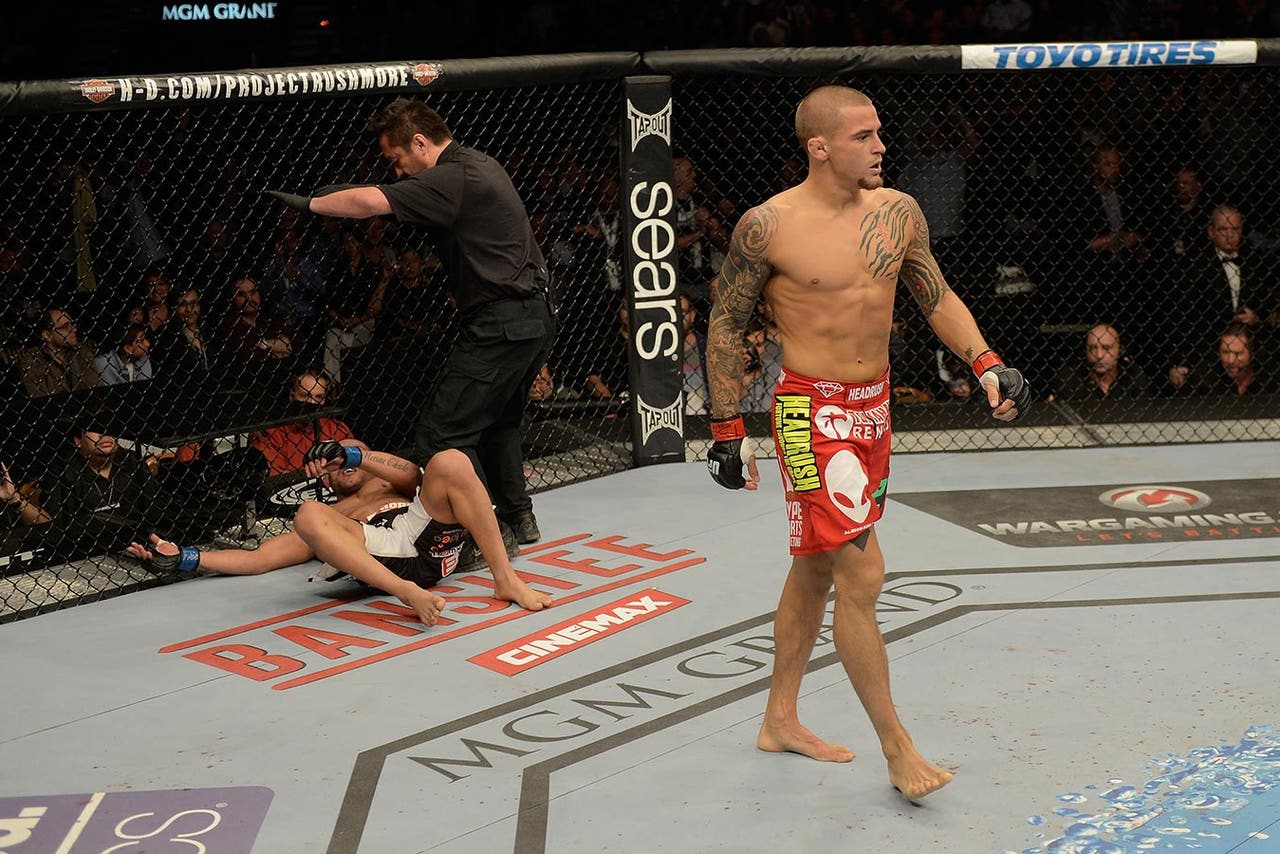 Just as Swanson is stuck behind Lamas and Mendes, Poirier is stuck behind Swanson and Jung for the time being, having lost to both men in the last two years. While "The Diamond" has looked sharp since joining forces with American Top Team full time, those two setbacks somewhat limit his options for the time being.
Renan Barao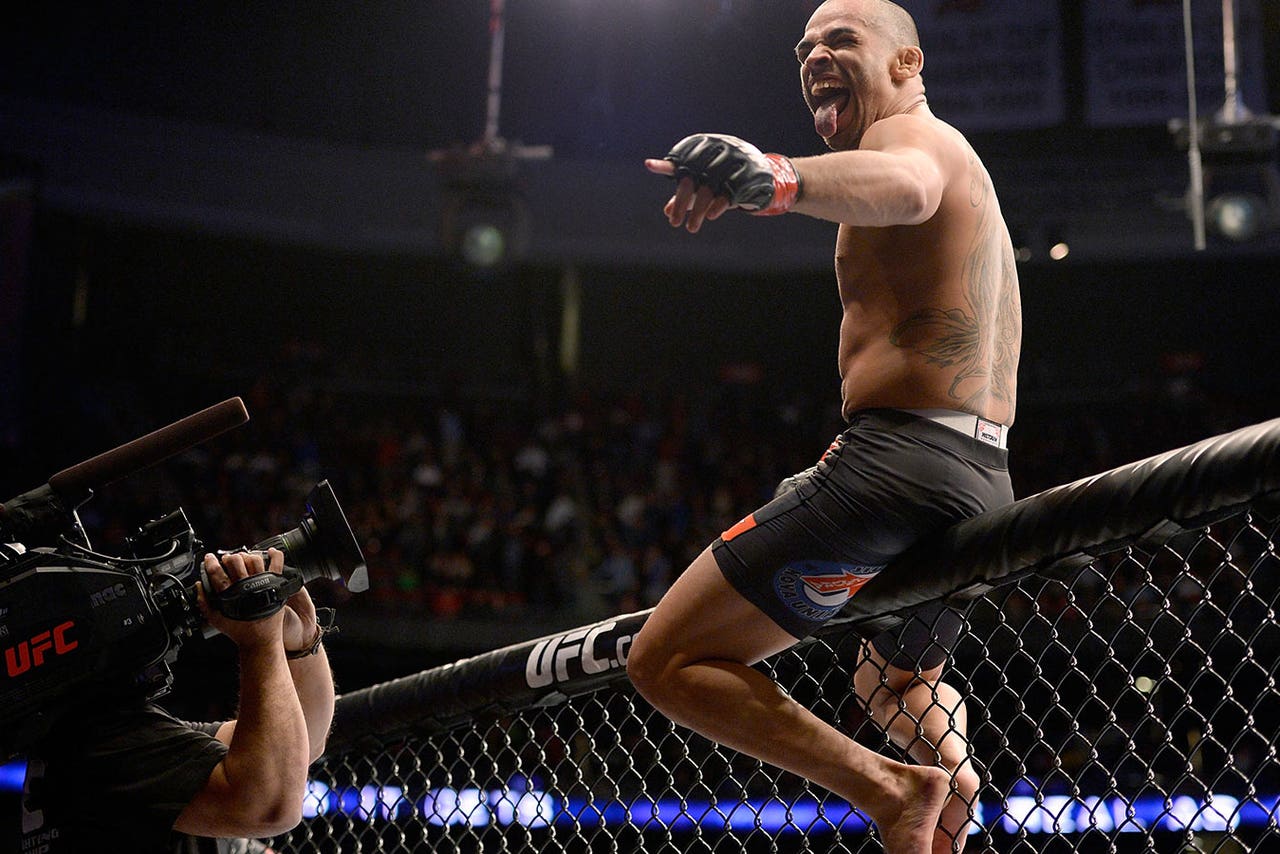 There always has to be one wild card entry into a discussion like this, and the reigning bantamweight champion is a perfect fit. With his friend and teammate Aldo moving on, Barao could conceivably follow suit, leaving the 135-pound ranks in search of a new challenge one division higher. He's beaten everyone there is for him to beat at bantamweight, and would be worthy of title consideration upon arrival.
How It Plays Out
Remember the four-man tournament set-up the UFC used to crown the first flyweight champion? Don't be surprised if they break that bad boy out of storage and put it to use here in order to determine the new featherweight champion.
For one thing, everyone loves tournaments and it automatically gives you three sellable fights. Plus it certainly doesn't hurt that one half of the bracket is already established.
As much as Penn hasn't done anything recently to merit entry into a tournament like this, he's a major name and his pairing with Edgar is on the books for later this year, so they become the first two entrants into this little four-man dance to determine a new champion.
Since Mendes has beaten everyone he's faced before and after Aldo, there is no way to keep him out of the title tournament either, which leaves one spot up for grabs. While Lamas' success prior to UFC 169 could score him the final vacancy, Swanson makes for a more exciting match-up with Mendes and gets the call instead.
With those four set to battle it out to determine the new champion, Lamas can get the fight with "The Korean Zombie" he was schedule to have last year, and Poirier can face off with someone climbing the ranks, likes Jeremy Stephens or Conor McGregor once he returns.
Because there is no reason for Barao to move up at this time, he'll go back to brutalizing the opposition at bantamweight for the time being, adding a couple more dominant performances to his resume, only to follow Aldo's lead and challenge the new featherweight champion in early 2015.
Go ahead —try and say that doesn't sound awesome.
---
---