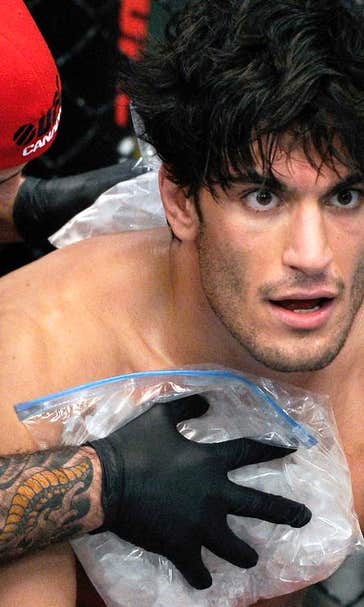 Elias Theodorou says 'Hi mom!' while finishing Sheldon Westcott by TKO
BY foxsports • April 16, 2014
How badly was Elias Theodorou battering Sheldon Westcott? He had time to say hi to his mom into the camera during the onslaught.
Theodorou defeated Westcott by TKO at 4:41 of the second round Wednesday night in the TUF Nations middleweight championship fight in Quebec City. Referee Phillippe Chartier pulled Theodorou off Westcott after some prolonged ground and pound. Theodorou follows up Chad Laprise as the second Canadian TUF winner.
"This is honestly the greatest moment of my life and I'm so happy to share it with all of you," Theodorou told Kenny Florian afterward.
Westcott actually started off the fight in the first round very strong, getting a takedown and controlling Theodorou (9-0). But then he lost a ton of steam and by the end of the first, Theodorou was landing on the feet at will.
That was the case again to start the second round. And when Theodorou got Westcott against the cage, he landed a myriad of punches, kicks and knees followed by a takedown. Westcott (8-2) was basically spent at that point and Theodorou poured it on. Chartier pulled him off after Theodorou had time to say hello to his mother.
A few minutes later, Theodorou was apologizing to his mom after telling Florian that he proved people wrong on "the internets."
"I think this proves that I can kick ass," he said.
Indeed. Theodorou remains undefeated and, at 25, is an interesting prospect at 185. Westcott, 29, will have to go back to the drawing board after somewhat of a disappointing performance.
"This is the amazing thing that ever happened to me," Theodorou said.
---
---