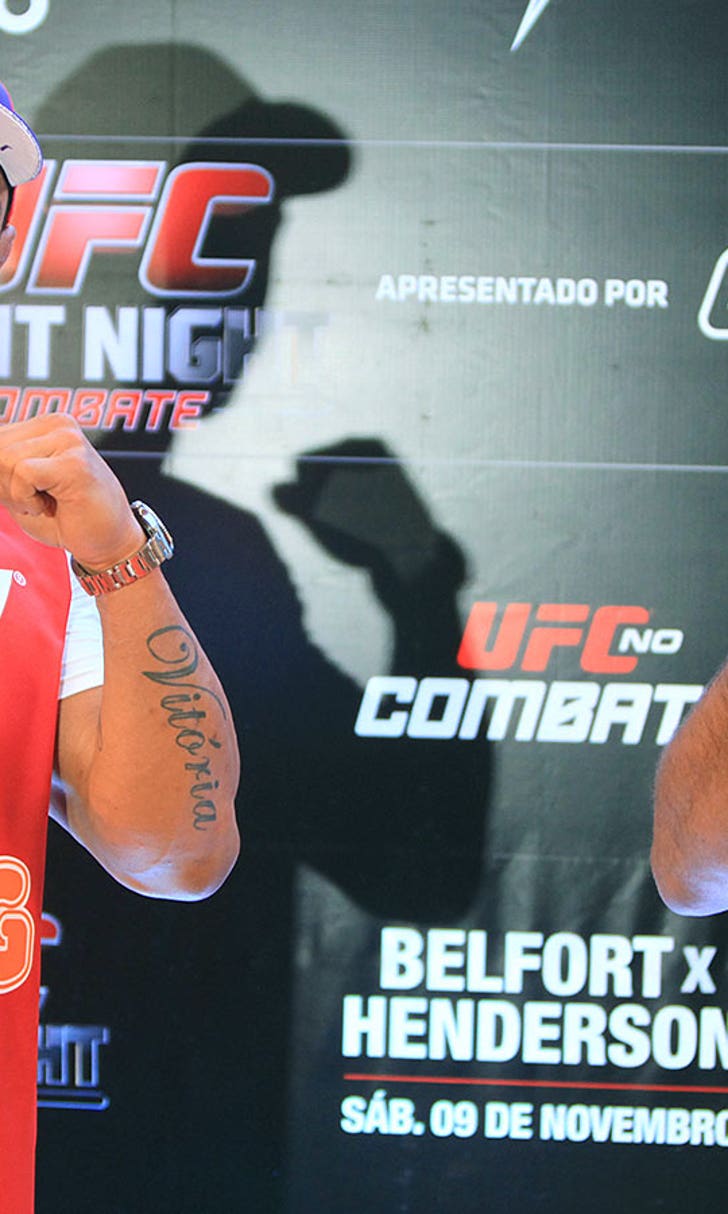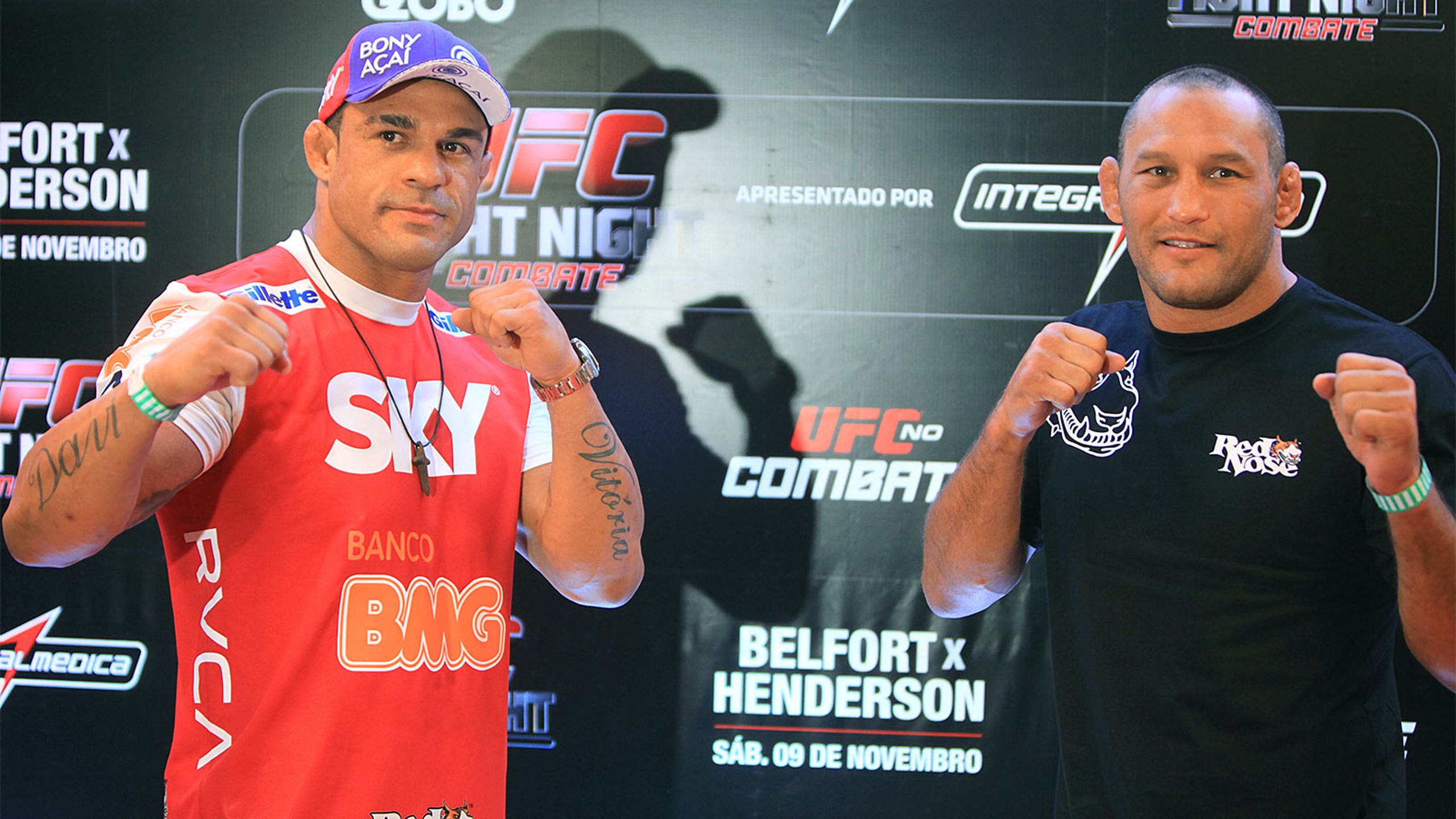 Dan Henderson and Vitor Belfort fighting for all-time great status in main event
BY Damon Martin • November 4, 2015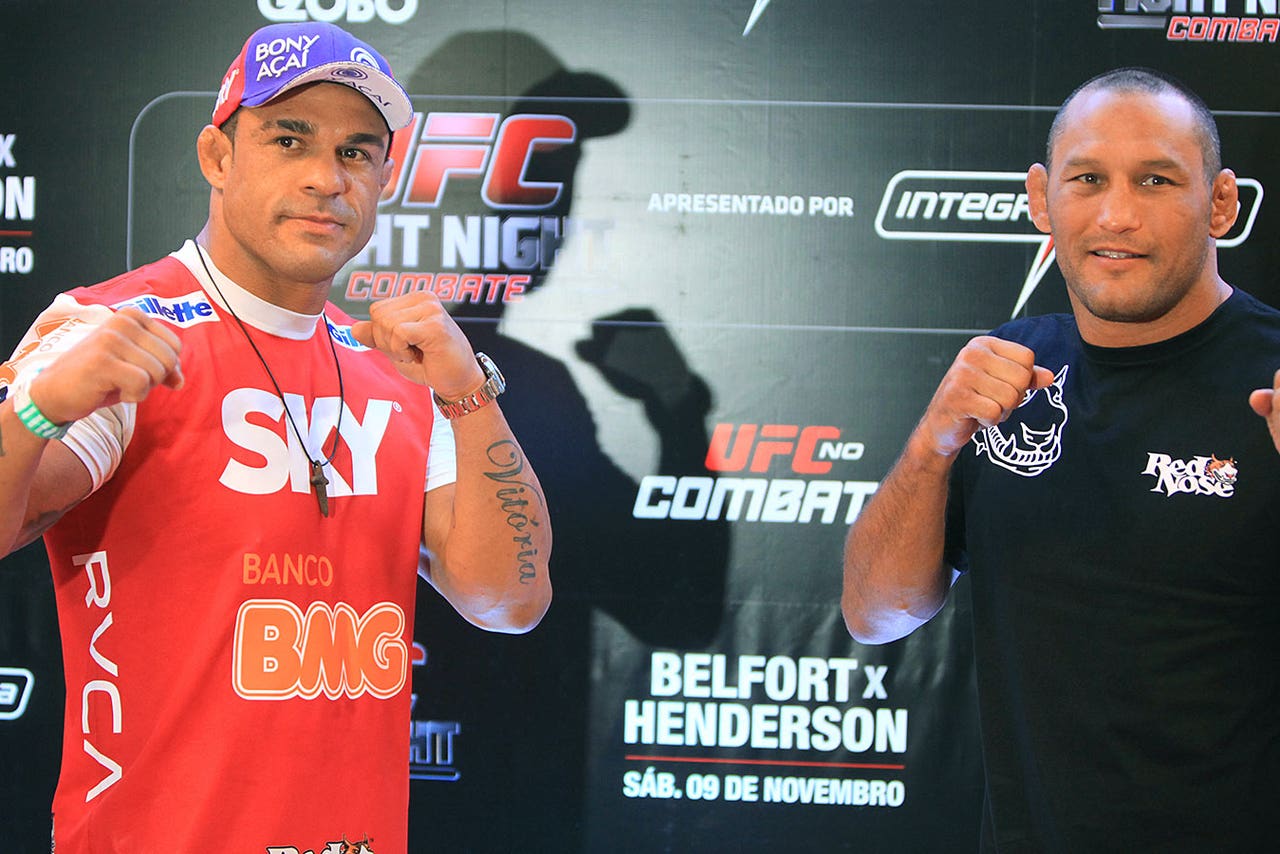 Vitor Belfort and Dan Henderson have managed to remain relevant and ranked for the biggest part of the last 20 years, so it's no mistake that as these fighters embark on the final stages of their careers, each one has a legacy that will live on forever.
Henderson has been a two-division champion while competing in PRIDE Fighting Championships, not to mention a Strikeforce champion and perennial contender at both middleweight and light heavyweight.
He's fought the best of the best for the past two decades and that kind of longevity as well as consistency puts Henderson near the top of the list when discussing the greatest fighters of all time.
"Top 15 and you can make an argument for top 10," FOX UFC analyst Brian Stann told FOX Sports when discussing Henderson's place all-time. "I was actually thinking about this yesterday, how many guys when you look at it have been two division champions. He held two belts in PRIDE, he's beaten some of the top guys and he only loses to the best guys.
"Let's run through a list of some of the guys he's beaten: He beat Wanderlei Silva before Wanderlei Silva was on a decline, he beat (Mauricio) 'Shogun' Rua twice, who is a former UFC champion, he beat Fedor Emelianenko, who a lot of people consider as the greatest heavyweight in the history of the sport, so I think he's a legitimate top 15 guy ever when you look at his body of work."
The fight with Belfort came together this weekend thanks to a request Henderson made of UFC officials, which is something the 45-year-old veteran rarely has done during his career. Henderson always has preferred to let the fights come to him, but following a win over Tim Boetsch in June, he made the call and asked to fight Belfort.
Henderson has several reasons to want a third fight with the Brazilian, most notably the knockout loss he suffered to him the last time they met in 2013. Stann believes that has to eat away at Henderson because up to that point in his career though nearly 40 fights, he had never been knocked out — and Belfort did so in spectacular fashion.
"If you look at all the fights he's fought and even the ones he's lost, he's never been part of a highlight reel," Stann said. "Dan Henderson is not a highlight reel kind of guy if you beat him. Typically it's a decision, usually a split decision, or even with the (Gegard) Mousasi fight, which was a quick finish. Vitor Belfort went out there and knocked him out. It was really the first time we saw Dan Henderson like that, knocked out, busted up, down and out and it was over.
"I don't think that sits well with him. He's as tough as a guy as you'll ever meet and when he sees that highlight getting played for another guy, it pisses him off."
On the flipside of that same argument comes Belfort's own claim on a spot among the best fighters to compete in MMA. He was flash of fists and fury during his earliest days when he joined the UFC as a 19-year-old phenom out of Brazil and while he's endured plenty of ups and downs during his career, the fact that at 38 he still is competing for a title says a lot about his career.
For all the good Belfort has done, it's impossible to ignore the bad as well.
Belfort was busted for steroids in 2006 and rather than follow the Nevada State Athletic Commission's suspension, he flaunted the system and fought out of the country where the governing body couldn't reach. Over the past few years, Belfort has been caught up on a wave of bad press with his use of testosterone replacement therapy (TRT) and testing that showed on at least one documented occasion that he was well over the legal limit.
Most recently, Belfort has been faced with more accusations about his drug use after a Deadspin article shared information that he also tested positive for elevated levels of testosterone prior to his fight with Jon Jones in 2012.
Despite all the past wins, titles and accolades that Belfort has earned, his reputation has been tarnished, but the Brazilian has a chance to right a few wrongs by showing up in a big way against Henderson on Saturday night.
"He needs to close his career well to maintain his own legacy as a world class fighter and a guy that goes down in the history books as a perennial contender in every weight class he's ever been in," Stann said about Belfort. "The last time he fought Dan Henderson it was lopsided. When he fought Chris Weidman — and yes, Chris is the best middleweight in the world if not the best middleweight ever — Vitor went out there and handed it to him for about 90 seconds. He showed brilliance in his game regardless of TRT and chemicals. He had fast hands, good combinations, going to the body, but then something happened and that's always been the question with Vitor, is the mental side of it.
"When Chris got him down, Vitor made some very, very fundamental mistakes in jiu-jitsu and we know Vitor is better than that. I think Vitor needs to come out in this fight and make a statement and finish Dan Henderson and then come out and win a couple more."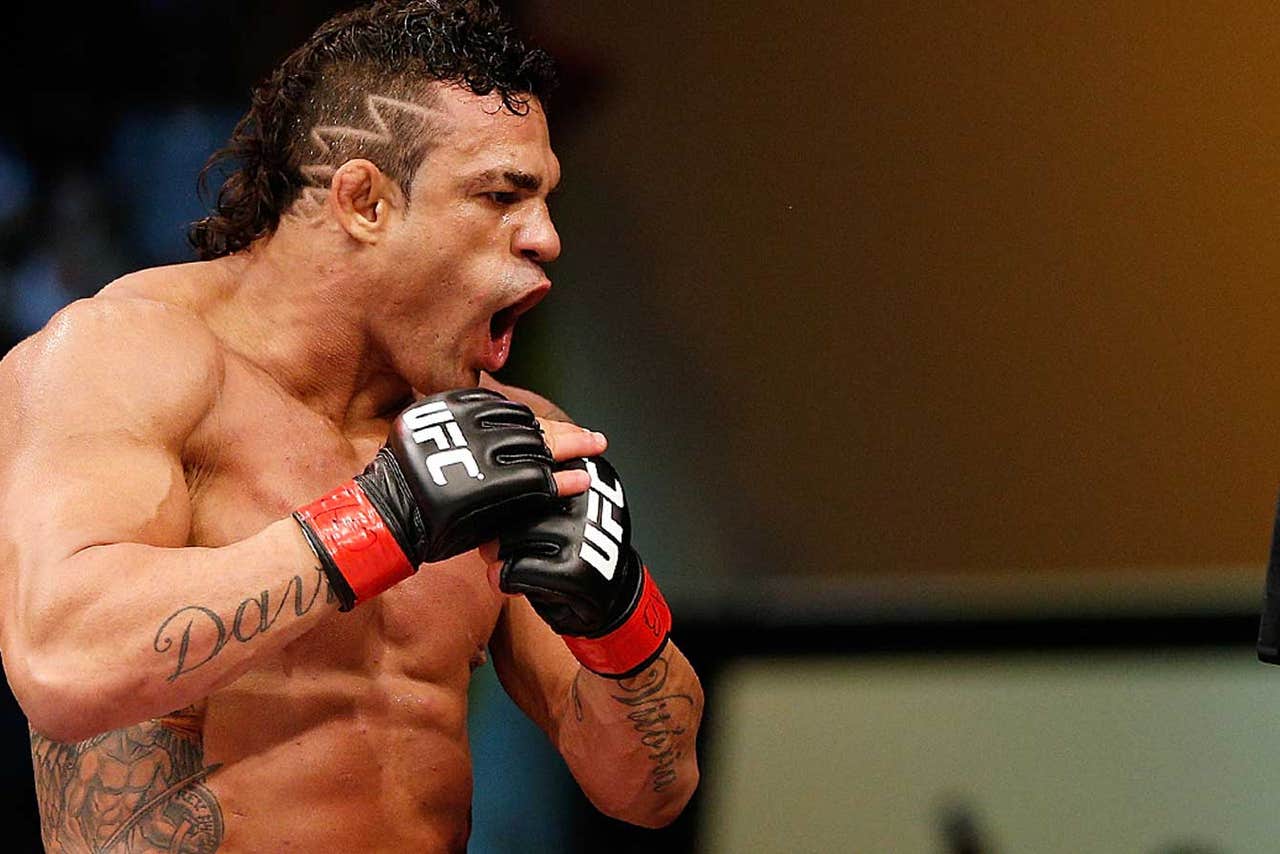 HOW DOES IT PLAY OUT?
Belfort and Henderson obviously know each other very well having fought two times previously, but Stann says there are still some advantages each can hold over the other if they are smart.
For Belfort it actually comes down to his stance as he approaches Henderson, who is well known for uncorking one of the most hellish right hands in the history of the sport. Henderson's right hand has been so devastating during his career, MMA play-by-play man Mauro Ranallo dubbed it "The H-Bomb," and he's finished more than a few fighters over his career just by landing that single punch.
Belfort has a great way to counter it and all he has to do is look at the main event from the last UFC card in Japan to see how it's done right.
"On the technical side, one of the things I wanted to talk about, and you saw this when Josh Barnett fought Roy Nelson," Stann explained. "Josh Barnett went out there and fought him southpaw. One of the main reasons he did that — and this is one of the main advantages for Vitor — the overhand right is harder to land on southpaws because their stance is more open to the right side of an orthodox fighter's body, they can see that punch coming easier.
"Whereas when you stand in a right-handed, orthodox stance, when your opponent throws that overhand right, at a certain trajectory and arc, it will go out of your vision especially if you're keeping your chin tucked. You don't see it coming. They'll throw it right between your left hand and your head. Now you're facing a southpaw, that punch is harder to land and you don't have the same knockout button targets."
Stann still sees a way that Henderson could land that dreaded punch, and that happens when he doesn't simply load up while looking to land that one shot. When Henderson puts together combinations and even mixes in some wrestling, he's one of the deadliest fighters in the UFC.
If Henderson is just looking for that one haymaker to land, it could be a long night for the American in Brazil.
"It's really important now with Dan Henderson fighting a southpaw, he needs to mix things up in order to land some of his punches," Stann said. "I really think it would be smart of Dan Henderson, round one, to take Vitor down. Take him down. Everybody knows Vitor is dangerous early so take him down, make him work from underneath you."
Stann will call the action from Brazil this weekend alongside Jon Anik so don't miss a minute of FS1 UFC Fight Night: Belfort vs. Henderson on Saturday night. 
---
---