CM Punk: A lot of pro wrestlers have fantasies of doing MMA
BY Damon Martin • March 28, 2015
For only the second time in the past seven years, CM Punk will sit at home during World Wrestling Entertainment's biggest event, Wrestlemania, and the truth is with his new life focused on mixed martial arts he doesn't miss it one bit.
Punk exited the professional wrestling world a year ago amid a contract dispute with WWE and six months later signed with the UFC to pursue his dream as a full-time fighter.
While Punk may have been on his way out at WWE regardless, the decision to leave wrestling behind in favor of the UFC while still young enough to forge a career there was an easy one.
"I definitely think part of that is what influenced this. There's a lot of guys in pro wrestling that just kind of have this MMA fantasy and they never act on it. I'm acting on it," Punk told FOX Sports recently. "I don't want to be one of those guys who sits there and goes, 'I could have done that or I should have done that.' I can, so I'm doing it."
Punk says if the UFC had sooner developed into the powerhouse promotion, in which fighters are able to make millions, many of the top pro wrestlers would have opted for a career in fighting instead of working for the WWE.
Unfortunately, when many of the biggest names in professional wrestling were making a transition from another sport such as football or college wrestling, the WWE was the best option with the biggest upside financially.
"A lot of guys say it. I think The Undertaker said it, I think there's a ton of guys out there, if the money was different in the '90s, they would have done it," Punk said.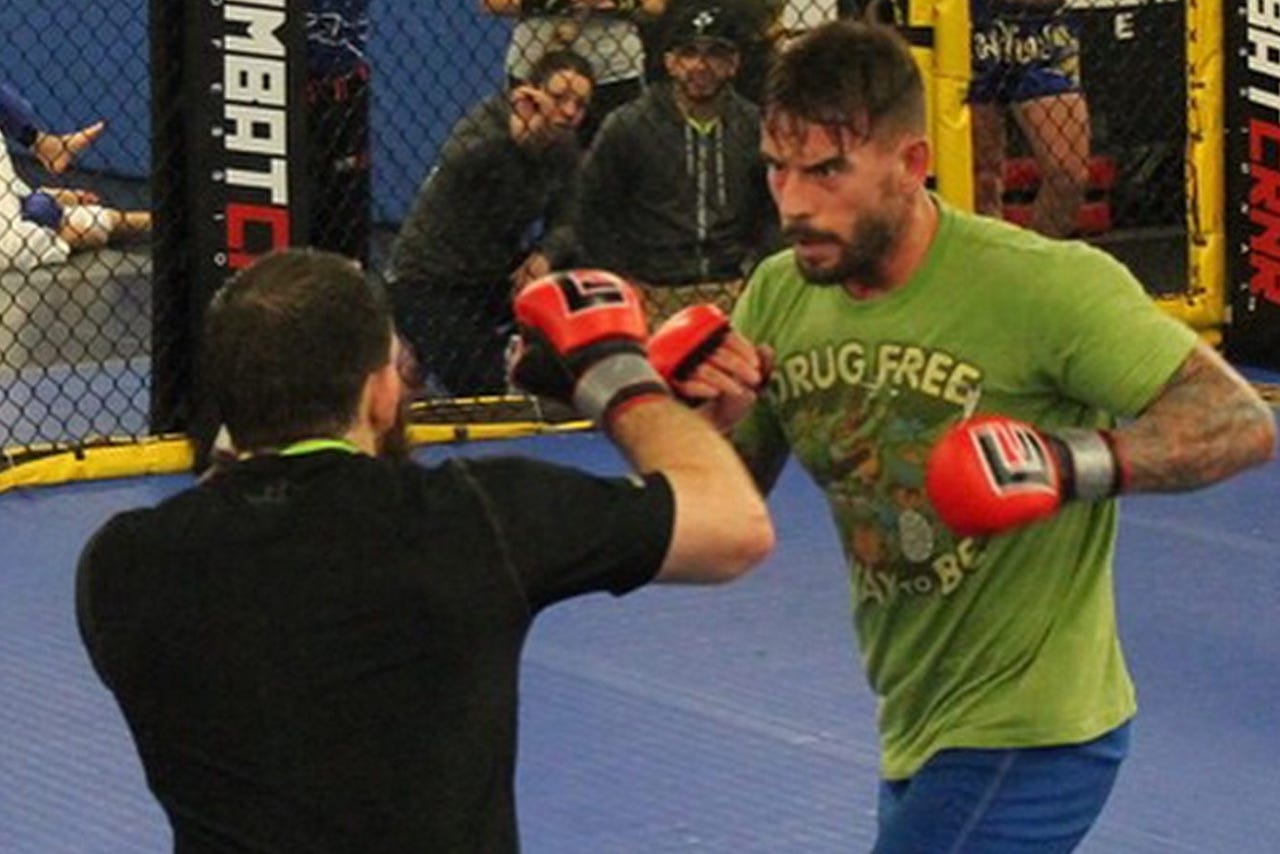 Dwayne "The Rock" Johnson, arguably the biggest pro wrestling star of the past 20 years, agreed with Punk when it came to fantasizing about a career in fighting.
"If the UFC were as popular as it is today and I had the opportunity to make money in the UFC, if it was as popular back then as it is today, I would have easily done that and gotten involved in MMA," Johnson said in 2014.
Pro wrestling may be scripted, but the men and women who do it still have to be capable of pulling off some incredible athletic moves that require years of training.
Punk was considered one of the best of his time, but he's left it all behind for the chance to be a complete novice at a sport he's never competed in and never had any formal training for until just recently.
Some have said Punk has no business being in the UFC. Others have said he's going to get destroyed when he faces a real fighter inside the Octagon.
No matter what happens, Punk promises that he's going to give it everything he's got just like he did in his biggest matches during his professional wrestling career. But win, lose or draw, he's the only one who has to live with the result once his first fight is over.
"I will be as prepared as I can be, 100 percent. Hypothetically, say I go in there and I get starched in 20 seconds, I'm sure somebody's going to be on Twitter, 'Oh you made a mockery of the sport!'" Punk said. "But you know what? F--k you, pal. I'm the one that's in there. A big part of me doesn't understand why people are so worried about it."
The only thing Punk can do right now is to train for what's ahead when he finally debuts in the UFC. There's no timeline for when he'll actually fight although coach Duke Roufus hopes to have the 36-year old rookie for at least a year before he accepts his first fight.
Punk was one of the most outspoken and confident professional wrestlers to ever step in the ring or pick up a microphone. Now he's the new guy and sitting on the absolute lowest rung in the ladder.
But while Punk carries an air of humility when it comes to his MMA career, each day he steps out of the gym his confidence grows just a little bit more.  By the time he debuts, Punk promises he'll be ready.
"I lose every day in the gym so when I step in the Octagon I don't lose," Punk said. "Everything's going to be 180 degrees from now until then. I'll win my first fight for sure, but just getting there, walking in the Octagon, I think, is 100 percent a victory."
---
---