Chris Weidman responds to Michael Bisping's recent tirade
November 15, 2016

Chris Weidman doesn't mind getting into a war of words with Michael Bisping, but he'd much rather go to battle with him in the Octagon.
The former middleweight champion doesn't pay too much attention to what Bisping says about him, but when he had a quote read to him by the outspoken Brit, it didn't take him long to figure out where it came from.
"It's about time that Chris Weidman just shuts the (expletive) up. He's acting like a little (expletive), and we all know it. Everybody is sick of him and all that whining. He's always feeling sorry for himself and making excuses. Quit being a little (expletive), Chris. Get back in the cage, win a fight and then maybe we can talk," Bisping said.
Weidman hadn't heard the statement but it didn't take him long to figure out that it came from the current UFC middleweight champion.
"That sounds like Michael Bisping. The guy has been hating on my accomplished career since the beginning," Weidman told FOX Sports. "I came in and went right through the ranks and was fighting Anderson Silva for the championship at 9-0, meanwhile that guy was in the UFC for I don't know how much longer than me and has way more fights than me and wasn't close to getting to that point.
Weidman was gunning for a shot at Bisping and the middleweight title almost immediately after he won the belt in June with a first round knockout over Luke Rockhold.
It was actually supposed to be Weidman in that fight until he suffered a neck injury that forced him out of the bout and Bisping ended up being the person to replace him.
Several months later, Weidman is now rumored for a fight against Yoel Romero at UFC 205 while Bisping is set to face Dan Henderson in October after the two fighters first met at UFC 100 in 2009. On that night, Henderson knocked Bipsing out with a vicious right hand and now the new champion is looking to avenge the loss in his first title defense.
At the same time, Henderson has gone just 3-6 in his last nine bouts and has stated that win, lose or draw, he will retire after the fight with Bisping at UFC 204.
"(Bisping) holding that belt, they gave him a very gracious first title defense," Weidman said. "I don't know the last time someone got a first title defense against a 46 year old guy and that's with all due respect to Dan Henderson, because the guy's a legend, he's probably one of my favorite fighters but in recent years he hasn't accomplished the things that would deserve a title fight.
"Bisping's got a great opponent, but I still think he can lose this fight. I still think he can get knocked out. Him holding the belt's not going to be going on very long."
The fight between Bisping and Henderson puts Weidman in a strange position.
He admits to being a huge fan of Henderson and would like nothing more than to see him land another knockout over Bisping. At the same time, Weidman would like nothing more than to be the fighter to knock the smug look off Bisping's face and then take the title away from him.
Still, Weidman can't help but to root for Henderson and hopes he gets the job done to silence Bisping in front of a sold out crowd in Manchester, England.
"I'm a fan of Dan Henderson's to be honest with you. As much as it bothers me that he got the title shot, I'm rooting for the guy, I'm rooting for him to have success," Weidman said.
"The fight's on and I'll be rooting for Dan Henderson in that fight.
"I think he's like an American hero, every time he walks out it gives me the chills."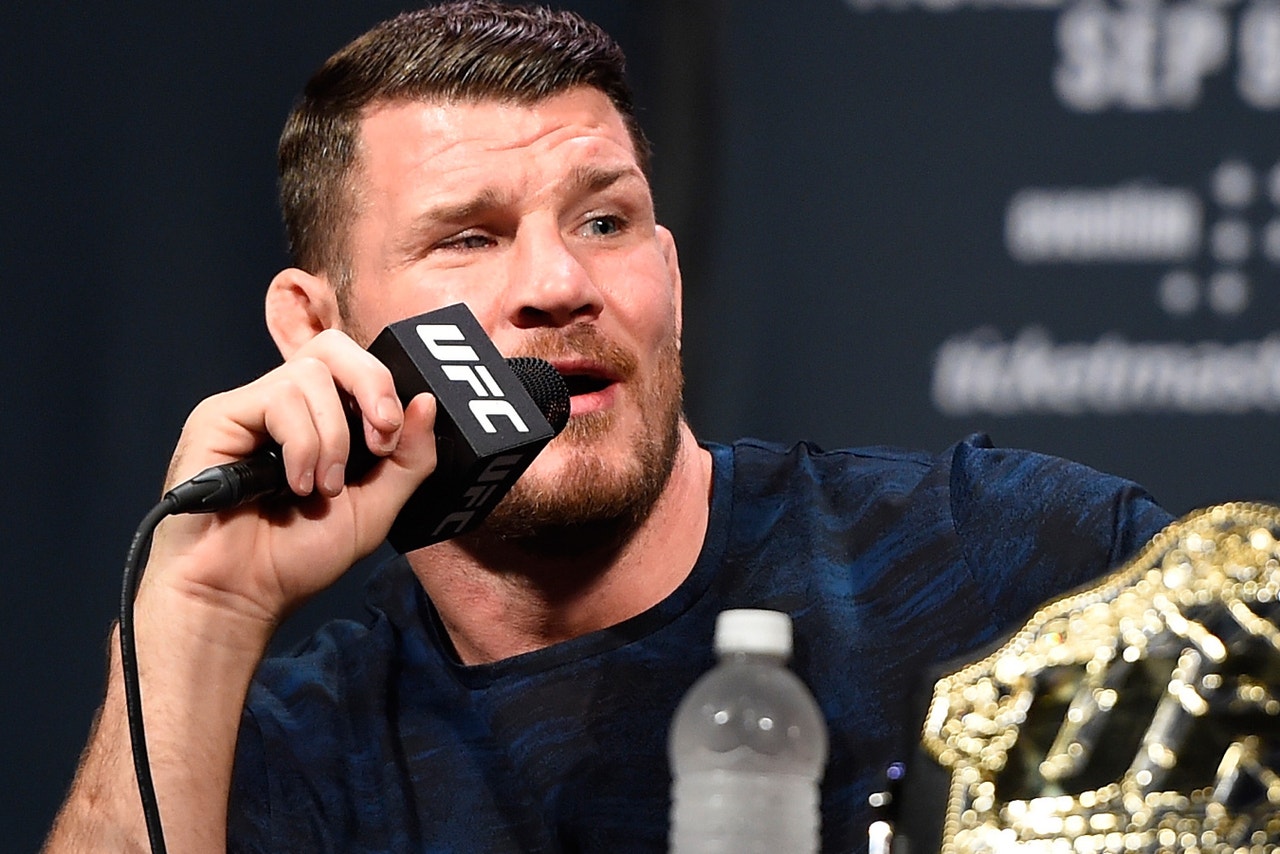 ---
---