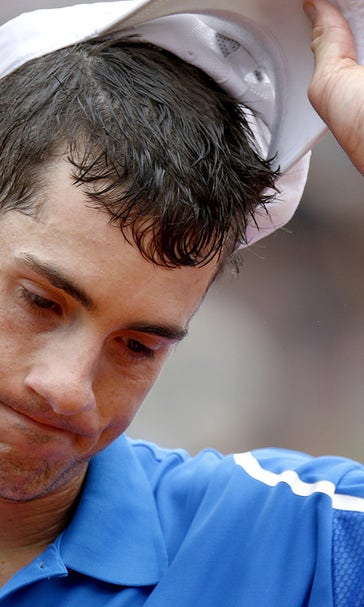 US men fall short of French quarters with Isner loss
June 1, 2014

Hard-serving John Isner was broken a total of once through his first three French Open matches.
His opponent Sunday, Tomas Berdych, needed all of one game Sunday to equal that total, breaking Isner at love to begin their fourth-round encounter.
As omens go, it was telling. The 10th-seeded Isner failed in his bid to become the first American man in the quarterfinals at Roland Garros since Andre Agassi in 2003, losing serve once in each set of a 6-4, 6-4, 6-4 defeat against No. 6 Berdych of the Czech Republic.
"It was big. I mean, it wasn't huge, but I started off a little slow," said Isner, best known for winning the longest match in tennis history, 70-68 in the fifth set, at Wimbledon in 2010. "Just wasn't as lively -- everything really -- at the very beginning of the match."
The 6-foot-10 Isner, who lives in Florida, was the last of the eight U.S. men in the draw. No American man has made it to the quarterfinals at any Grand Slam tournament since 2011.
There is one woman from the United States left in singles at the French Open: No. 15 Sloane Stephens, who faces No. 4 Simona Halep of Romania in the fourth round Monday.
Isner recognizes this is a fallow period for a nation that produced the likes of Agassi, Pete Sampras and Jim Courier not too long ago, along with other past Grand Slam champions such as Bill Tilden, Don Budge, Arthur Ashe, John McEnroe and Jimmy Connors.
Right now, there are no Americans in the top 10 of the ATP rankings; Isner, who is 11th, is his country's only member of the top 60.
"I'm the No. 1 American now, which isn't as cool as being the No. 1 American in the `90s or something, or the 2000s," the 29-year-old Isner said. "It's pretty neat to say, but it's nothing I would brag about or anything like that."
Isner has lost seven consecutive matches against top-10 opponents and he never really got into the match against Berdych, the Wimbledon runner-up and a French Open semifinalist in 2010.
Berdych broke again to open the second set, then waited until Isner was serving at 1-all in the third to get that set's lone break.
"Quick breaks in each of the sets," said Berdych, who erased the two break points he faced. "That's something which really helps through all the match, especially with a guy like John."
By the end, Isner was muttering to himself between points. He slammed his racket against his leg, bending the frame, then folded the handle in half and chucked it behind his changeover bench at Court Suzanne Lenglen.
He was outaced by Berdych, 11-7, and wound up with more than twice as many unforced errors, 29-13.
"He was a lot better than me today, and that's really all it was to that match out there," Isner said. "He was just the better player."
---
---