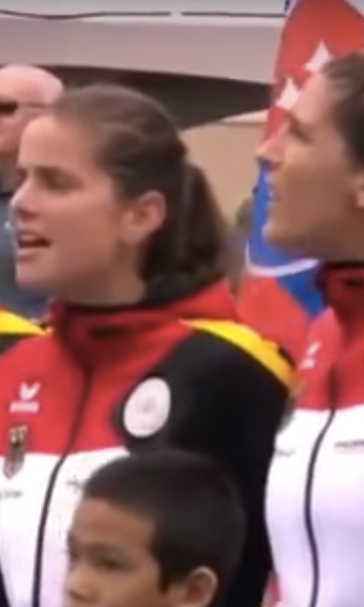 U.S. tennis apologizes after Nazi-era verse sung during German national anthem
February 12, 2017

The United States Tennis Association issued an apology this weekend after a performer at the USA-Germany Federation Cup tie sung an obsolete verse of the German national anthem that hasn't been used since the Nazi era.

A singer used the lyrics from the first verse of Deutschlandlied - which includes the words "Germany, Germany above all, above all in the world" - a song written in 1841 but adopted as the German anthem by the Weimar Republic in 1922. The words became closely associated with Nazi Germany (though they were written almost a century before) and were dropped after World War II. The current German anthem uses the third verse from the same song.

The anthem was performed before the matches at the biggest national team tournament in women's tennis.

https://www.youtube.com/watch?time_continue=6&v=Ac4LEopZXjQ

German tennis players were upset by the mistake. "It was an absolute outrage and affront, the lowest," Andrea Petkovic, the thoughtful and outspoken tennis German star said later. "It was by some way the worst thing that's happened to me, especially in the Fed Cup."

"I thought it was the epitome of ignorance."

Petkovic, who was upset at the outset of the match and lost 7-6 (10), 6-2 to American Alison Riske, said her teammate Julia Goerges began to cry when she first heard the words. By the end of the anthem, Petkovic, Goerges and most of their teammates were loudly singing along to the proper lyrics.




The USTA later apologized for the error:

"The USTA extends its sincerest of apologies to the German Fed Cup team and all of its fans for the performance of an outdated national anthem prior to today's Fed Cup competition. In no way did we mean any disrespect.
"This mistake will not occur again, and the correct anthem will be performed for the remainder of this first-round tie."
---
---