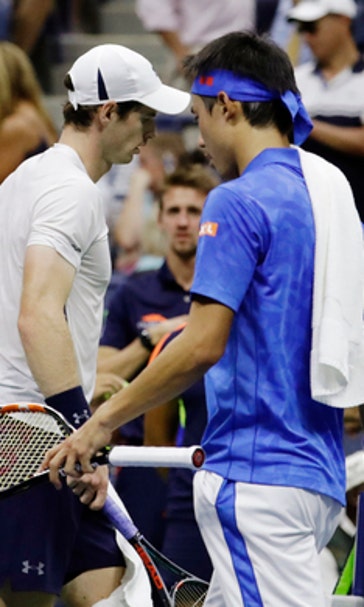 The Latest: Murray loses way after let, beaten by Nishikori
BY foxsports • September 7, 2016
NEW YORK (AP) The Latest on the U.S. Open (all times local):
6:10 p.m.
Andy Murray dropped seven consecutive games after a let call caused by a loud noise in the arena's speaker system during a fourth-set point and lost to Kei Nishikori 1-6, 6-4, 4-6, 6-1, 7-5 in the U.S. Open quarterfinals on Wednesday.
Murray, the No. 2 seed and 2012 champion at Flushing Meadows, disagreed with chair umpire Marija Cicak's decision to immediately halt things when play was interrupted by a sound similar to that of a gong being struck. It happened with Murray already up two sets to one and holding a second break point at 1-all in the fourth.
Murray complained about the ruling right away, gave away the next three points to lose the game, then brought it up again with Cicak at the ensuing changeover, saying something similar had happened earlier without a re-do of the point.
Nishikori was the 2014 runner-up at Flushing Meadows.
---
5:05 p.m.
Andy Murray was bothered by the chair umpire's decision to call a let on a loud noise that came from the stadium's speaker system and now finds himself headed to a fifth set against Kei Nishikori in the U.S. Open quarterfinals.
Murray led two sets to one - 6-1, 4-6, 6-4 - and held break points at 1-all in the fourth Wednesday. But during that second break chance, the point was interrupted by a noise something akin to a gong being struck. Chair umpire Marija Cicak immediately halted play. Murray complained about that right away, then again at the ensuing changeover, when he also spoke to a tournament supervisor.
He wound up losing 12 of 14 points right after the let call and five games in a row to drop that set 6-1.
---
1:20 p.m.
Karolina Pliskova dominated with her serve to roll past 18-year-old Ana Konjuh and into the U.S. Open semifinals.
The 10th-seeded Pliskova won 6-2, 6-2 in just 57 minutes Wednesday, losing only one point on her serve in the first set. She'll face No. 1 Serena Williams or fifth-seeded Simona Halep on Thursday.
The 24-year-old Czech came into the U.S. Open with the distinction of being the only woman in the top 20 to never reach a Grand Slam round of 16. Now she's blown past that milestone, riding the momentum of a breakthrough title at Cincinnati, where she beat second-ranked Angelique Kerber in the final.
The 92nd-ranked Konjuh hadn't been past the third round at a major before this tournament. Also a big server, she had more aces than Pliskova on Wednesday, but she was broken four times and made 27 unforced errors.
---
12 p.m.
The last spots in the U.S. Open semifinals will be decided Wednesday, with Serena Williams, Andy Murray and Juan Martin del Potro seeking to keep their dominant runs going.
The top-seeded Williams, who hasn't lost a set or had her serve broken in the tournament so far, faces No. 5-seeded Simona Halep. Williams has won seven of their last eight meetings.
The other women's quarterfinal pits two women who've never been this far before at a Grand Slam tournament: 10th-seeded Karolina Pliskova of the Czech Republic and 92nd-ranked Ana Konjuh of Croatia.
On the men's side, four of the tour's best hard-court players meet in the last two men's quarterfinals, with the No. 2-seeded Murray facing No. 6 Kei Nishikori in the afternoon, and No. 3 Stan Wawrinka taking on del Potro at night. Murray has dropped only one set in the tournament, and del Potro has lost none.
The roof on Arthur Ashe Stadium is currently open under partly cloudy skies, with a chance of rain in the afternoon.
---
---