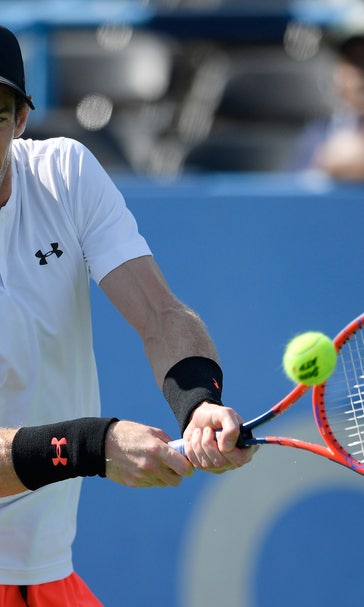 Tennis head touts windfall for nations to approve World Cup
August 7, 2018
Tennis leaders are offering to lob more cash at countries to persuade them to back plans for a $3 billion revamp of the Davis Cup.
But the International Tennis Federation will be ceding some control of the final of its flagship men's event to investors bankrolling the World Cup of Tennis project, including tech billionaire Larry Ellison, who can sell off the hosting rights.
The introduction of a one-week, one-location, men's event for 18 nations is the latest attempt by the ITF to transform national team competitions. The final of the current Davis Cup is between two countries, one of which decides the venue.
The ITF's first vision — combining the Davis Cup and Fed Cup finals in Geneva for three years — was abandoned as resistance built before the ITF annual general meeting.
"In tennis you don't win every point. You don't win every game," ITF President David Haggerty said in a telephone interview with The Associated Press. "Not everyone always agrees with things that you do. That being said, feedback from the nations has helped us improve the final product that we're taking to the AGM for approval."
That will happen next week in Orlando, Florida.
There are parallels with another international sports governing body. FIFA has seen plans to introduce new international soccer competitions, backed by $25 billion in funding from external investors over 12 years, stymied by widespread skepticism and concerns about the lack of transparency.
The numbers are smaller in tennis but the ITF has also faced questions about the financing. Tennis Europe President Vladmir Dmitriev has complained about a lack of details about bank guarantees for the $3 billion, 25-year offer from the Kosmos investment group, which was founded by Barcelona and Spain soccer player Gerard Pique and has the backing of Ellison.
"It's obviously very sensitive information as we're finalizing the contract," Haggerty said, pressed on the structure of the deal.
What Haggerty will divulge is that $25 million will be distributed annually to member nations if the deal is approved, requiring the ITF to cede commercial and hosting rights for the World Cup of Tennis to Kosmos while retaining control of on-court regulations. Haggerty said there are "many protections" to ensure Kosmos does not sell the competition or hosting rights to a country with a questionable human rights record.
The ITF is stipulating the final event must initially be at "one iconic location in Europe." Ellison said the Indian Wells Tennis Garden in California, which he owns, was being considered for the 2021 World Cup of Tennis finals.
The men's tennis tour has already stolen a march on the ITF, with plans in place to revive the ATP World Cup from 2020. The tournament would offer $15 million in prize money to 24 participating teams in 2020.
Haggerty maintains that the ITF's event is focused on providing funding for the next generation of players, rather than just enriching the elite men.
"The nations are the only bodies that run the junior events, the junior tournaments and those nations that provide coaching opportunities for young players when they start out, that have rigorous pro circuit events so that players can continue to develop within their nation," Haggerty said.
Haggerty said he found a meeting attended by more than 40 European nations to be "very supportive" of his proposals, despite the head of the continent's sports body expressing opposition.
"I have had quite a few calls and letters over the last four or five days with people disagreeing with that letter," Haggerty said. "While not every nation is supportive, I can tell you that that significant numbers of nations are very, very supportive of this Davis Cup reform."
Established in 1900, the Davis Cup has struggled for relevance at times in a crowded sporting calendar in recent years because many top players have chosen not to play.
If approved, World Cup of Tennis would be played over seven days in the traditional week of the Davis Cup final, rather than across four weekends in February, July, September, and November. It would comprise a round-robin format followed by a knockout stage. Each tie would be best-of-three sets and consist of two singles and a doubles.
---
---