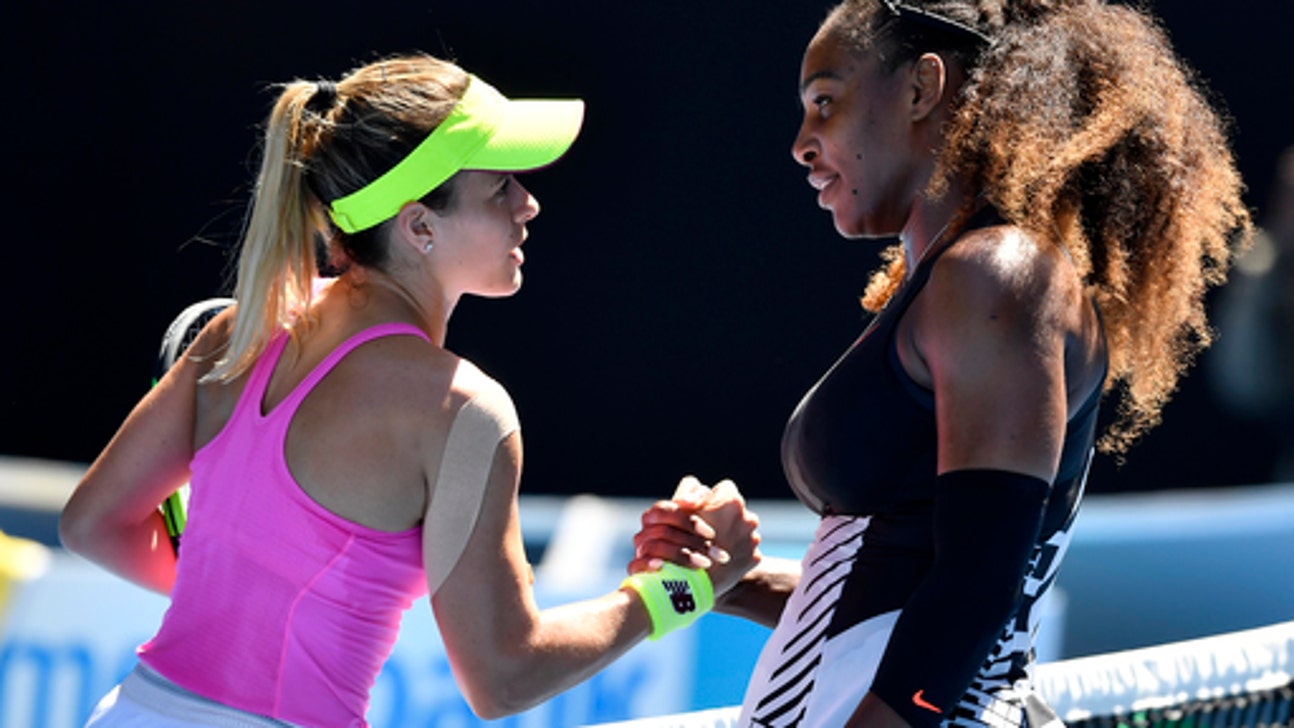 Serena Williams, Barbora Strycova renew Grand Slam rivalry
Updated
Mar. 4, 2020 11:02 p.m. ET

MELBOURNE, Australia (AP) Serena Williams and Barbora Strycova meet for the third time on Monday, and once again it's on one of the grandest stages in tennis.
Williams, seeking her Open era-record 23rd major title, has beaten the Czech player both previous times. Both were in 2012 and in straight sets at majors - in the second round at the Australian Open, and in the first round at Wimbledon.
They come into Monday's opening match on Rod Laver Arena without having dropped a set in their three previous matches. But that's where the similarity ends: Strycova's fourth-round appearance last year at Melbourne Park was her best result here; Williams is a six-time champion.
Still, Strycova wouldn't have it any other way.
''That's why you train, why you work hard, to play these matches on these stages and against the best one,'' she said. ''She's a powerful player, and I'm so small.
''I don't give anything for free, and I fight all the time. She's human, and she is beatable.''
And more about that height difference: Strycova is 1.64 meters (5 foot-4), Williams is 1.75 (5 foot-9).
Williams said she's familiar with Strycova's game
''I have seen her play a lot ... she's super fit, she has a good game, she's very aggressive, Williams said.
Williams has an added incentive to clinch her 23th major following defending champion and top-ranked Angelique Kerber's loss in the fourth round to CoCo Vandeweghe on Sunday night. That means Williams can overtake Kerber for the No. 1 ranking if she wins the Australian Open title. Kerber took the top ranking from Williams after winning the U.S. Open last year.
Here is a brief look at some of the other matches Monday which complete the fourth round:
----
No. 9 Rafael Nadal vs. No. 6 Gael Monfils: The Spanish lefthander has beaten the often- acrobatic Monfils 12 out of the 14 times they've played, and the last four matches in a row. Nadal, the 14-time Grand Slam champion and only remaining major winner in this half, is coming off a tough five-set, four-hour win over 19-year-old Alexander Zverev. U.S. Open semifinalist Monfils beat Philipp Kohlschreiber in straight sets. They open night play on Rod Laver Arena.
-
No. 3 Milos Raonic vs. No. 13 Roberto Bautista Agut: Raonic has had a cold and fever since his first-round match, but his career record against Bautista Agut might make him feel better - he's 4-0. ''(He) tries to take over a little bit more with the forehand. Also, you know, doesn't suck you in as much into his game,'' Raonic said. '' So I've been able to find the solutions for him a few times in the past ... it's going to be a match that I'm going to have to step up and dictate and take it on my terms.''
-
No. 9 Johanna Konta vs. No. 30 Ekaterina Makarova, the rematch: Konta came out of nowhere last year to make it to the semifinals here to start a breakout year. She won the Sydney International to this season. She owns a 3-0 record against Makarova, a semifinalist at Melbourne Park in 2015. ''We played fourth round last year here and we had an incredibly close one, I believe it was 10-8 (actually it was 8-6) in the third. I'm ready for a battle and it will be nothing short of that.''
-
No. 5 Katarina Pliskova vs. No. 22 Daria Gavrilova: Last year's U.S. Open finalist Pliskova will attempt to end the strong run of the Russian-born Australian. Pliskova has beaten Gavrilova both previous times they played. ''I'm used to having the crowd against me, so nothing's going to surprise me,'' Pliskova said. Gavrilova said Pliskova was playing ''unbelievable'' tennis and that at the beginning of the tournament, she picked Pliskova to win it, if it wasn't her.
-
No. 15 Grigor Dimitrov vs. wild-card entry Denis Istomin: both have played some difficult and high-profile matches: Dimitrov beat Richard Gasquet in straight sets in a match that began two minutes before midnight and ended around 2 a.m. Sunday. Istomin upset second-seeded and six-time champion Novak Djokovic in the second round. They'll play late Monday afternoon on Margaret Court Arena.
---