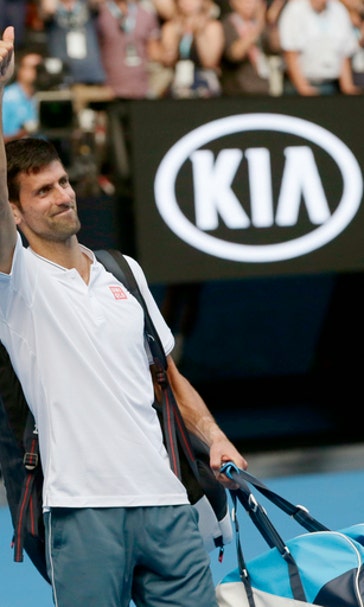 Novak Djokovic will return in Acapulco
February 23, 2017

MEXICO CITY (AP) Nursing an aching right shoulder injury, Novak Djokovic planned to return to tennis at Indian Wells in the California desert. But the Serbian star changed his mind and accepted a wild card to play in the Acapulco tournament that starts Monday.
Djokovic, who earlier this month required treatment in the shoulder after a four-set Davis Cup win over Russia's Daniil Medvedev, joins a loaded field of six top-10 players, tournament director Raul Zurutuza announced Thursday.
The 29-year-old Serbian Djokovic declined to play in Dubai, where he has played every year since 2007.
''Great news, you'll see me back on court next week in Acapulco,'' Djokovic said on Twitter. ''Did you miss me?''
Besides Djokovic, the Mexican Open will feature Milos Raonic (4), Rafael Nadal (6), Marin Cilic (7), Dominic Thiem (8) and David Goffin (10). U.S. Open champion Juan Martin Del Potro also is playing.
''When we saw the chance we did not hesitate to offer an invitation. We knew it was tough, but we were gladly surprised when we got his answer,'' Zurutuza said. ''Novak is thrilled to come to Acapulco for the first time and to be a part of the best field in the tournament's history.
''Having Nadal, Raonic, Cilic, Thiem, Goffin and now Djokovic makes us very proud, there are just of handful of tournaments in our category, that can brag about having six of the top 10 players in the world.''
Djokovic has played in only eight matches this season. He opened the year beating Andy Murray for the Doha title, but then suffered and unexpected loss against Denis Istomin in the second round of the Australian Open.
His last match was on Feb. 3, against Medvedev in the first round of the Davis Cup.
---
---