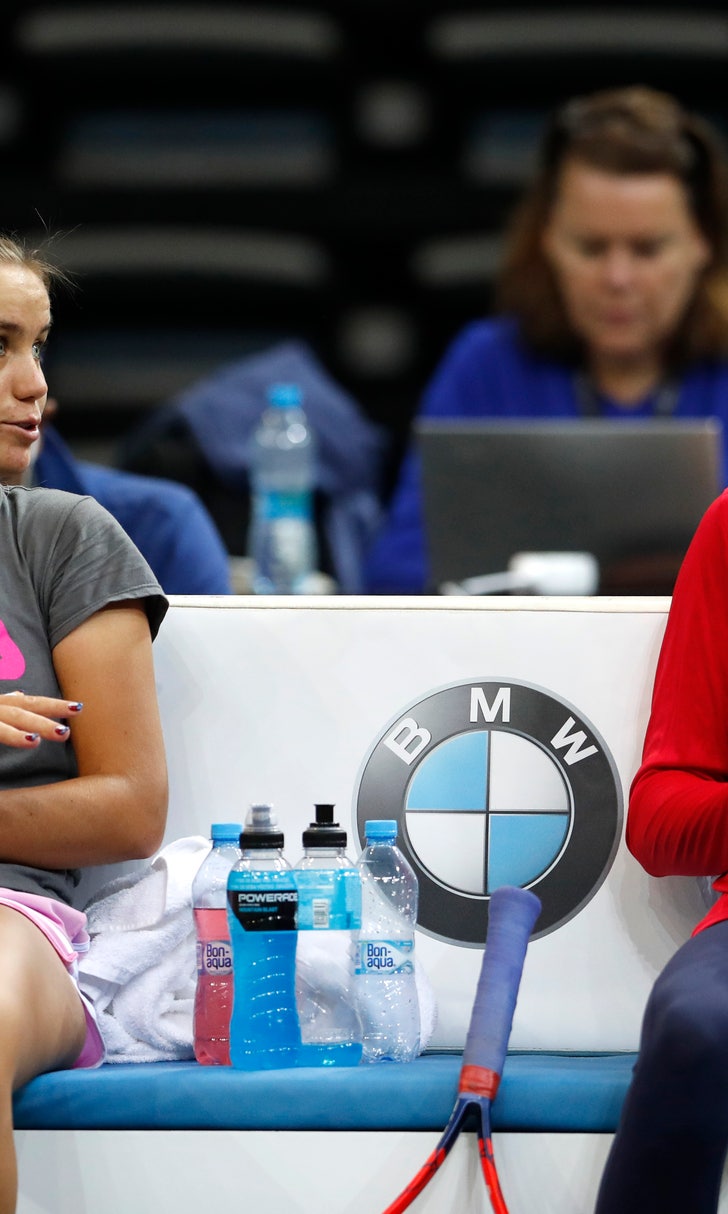 Kenin to open Fed Cup final for US against Strycova
November 9, 2018
PRAGUE (AP) — America's chances of retaining the Fed Cup this weekend improved on Friday when two-time Wimbledon champion Petra Kvitova was ruled out of the opening singles for the Czech Republic due to illness.
Kvitovsa was the second top-10 player lost to the Czechs, after Karolina Pliskova was ruled out last Saturday by calf and wrist injuries.
The Czechs won the Fed Cup in five of the previous seven years, and Kvitova contributed to each one to sit fourth among women with the most Fed Cup trophies.
But she fell ill after the WTA Finals in Singapore and didn't train this week due to a high temperature. She still might recover in time to play the reverse singles on Sunday.
"Chances are still there (for me to play)," Kvitova said after the draw on Friday. "I'm feeling a bit better. We're going to decide (that) tomorrow."
Kvitova returned to the team this year after recovering from injuries she suffered during a knife attack at her home in December 2016. She won all four of her singles in the Fed Cup.
"It's unusual, that never happened before," captain Petr Pala said about losing his best two players. "But still I think we're the favorites. I'm still very confident about my team."
United States captain Kathy Rinaldi said she also believed in her players.
"We were preparing for everyone," she said. "The Czech Republic has a long list of great players to choose from. We're ready to compete."
Rinaldi helped the U.S. last year win an 18th Fed Cup, but first since 2000.
For this final, three U.S. players will make their Fed Cup debuts. Only Alison Riske has participated before, in three ties.
Sofia Kenin is scheduled to play Barbora Strycova in the opening singles on Saturday on an indoor hardcourt at the O2 Arena.
"I'm really looking forward to the experience," the 19-year-old Kenin said. "It's a once-in-a-lifetime opportunity."
Riske was drawn to play Katerina Siniakova in the second singles. The two met three times before at WTA tournaments, with Siniakova leading 2-1.
"I'm really looking forward to it," Riske said. "We've had a great week of practice, and the pressure is on them. It will be a fun day."
Siniakova said: "I'm expecting a tough match. Every match was tough with her."
In Sunday's reverse singles, Kenin will go against Siniakova, and Riske will meet Strycova.
In doubles, the last match of the final, Riske and Danielle Collins are scheduled to meet No. 1-ranked pair Barbora Krejcikova and Siniakova.
The Czechs have never beaten the Americans in the Fed Cup as an independent nation. Their last victory was in 1985 as Czechoslovakia, which won five titles.
---
---