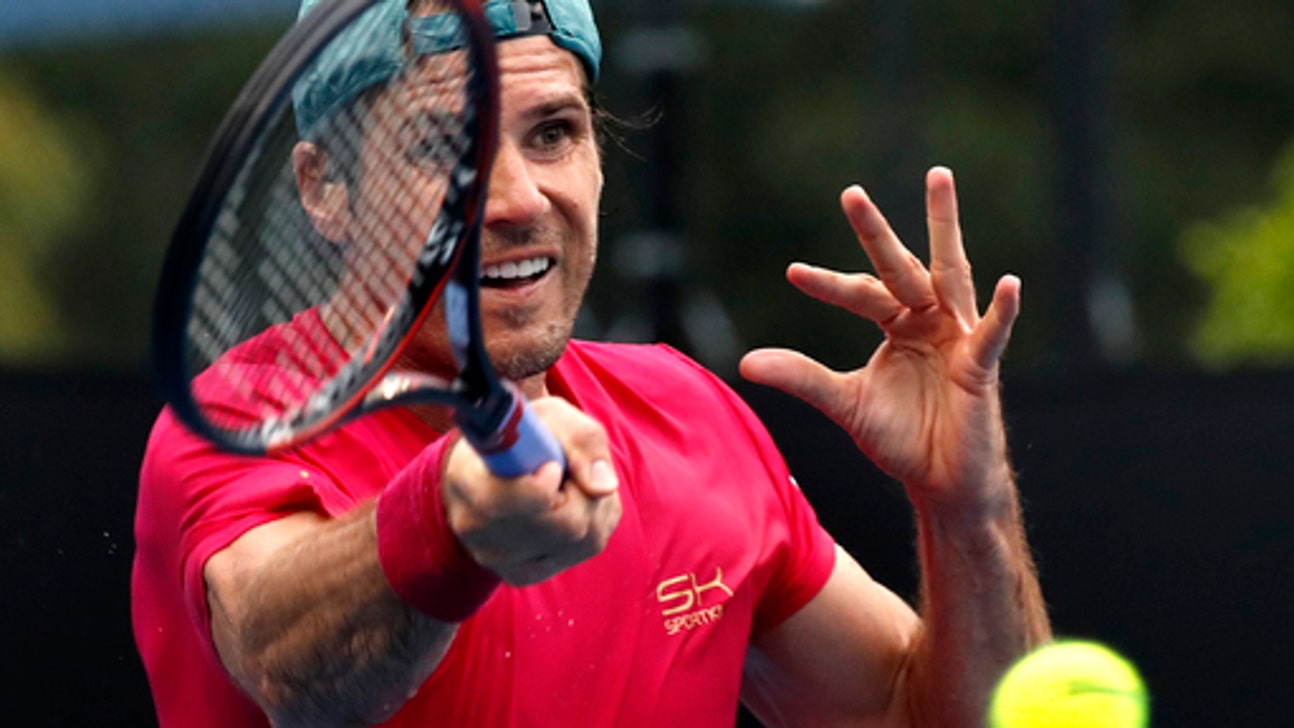 Comeback kid? Tommy Haas, 38, returns for proper farewell
Updated
Mar. 4, 2020 4:06 p.m. ET

MELBOURNE, Australia (AP) Tommy Haas already has a job as the tournament director at the Indian Wells event in California when he finally decides to hang up his tennis racket after two decades on tour.
But he's not quite ready to plunge full-time into the suit-and-tie world just yet.
His love for the game compelled the 38-year-old German to return from his latest surgery to play for one last year, beginning at the Australian Open, where he retired from his first-round match against Benoit Paire with an illness on Tuesday night.
And there's another reason: He wants his 6-year-old daughter to be able to watch him play.
''I would love to see (her) sit in my box the next few months and watch her daddy play and realize what I'm doing and really remember that for the rest of her life,'' Haas said. ''That's another big motivation for me.''
Haas has had plenty of comebacks. He's undergone surgeries to repair just about every part of his body - his shoulder, rotator cuff, elbow, hips, ankle. Last April, he had his ninth surgery to fix a torn ligament in his foot - and soon after announced yet another comeback.
''I could have easily decided couple of times that I probably won't come back at all and not do this to (myself), trying to get back into playing shape,'' he said.
''This is not just about trying to get back on court, going left and right, not really having a chance to win. I'm still very competitive. I like to see what else I can still achieve.''
Haas doesn't have much left to prove. Once ranked as high as No. 2, he reached four Grand Slam semifinals (three at the Australian Open, one at Wimbledon) and won the silver medal at the 2000 Sydney Olympics.
In recent years, though, his results have tailed off. He's only been past the fourth round at a major once in seven years. And in his previous year on tour - in 2015 - he posted a humbling 2-9 record.
Will the motivation still be there if the first-round losses continue? Will his body hold up?
Haas, who turns 39 in April, has already seen how tough it will be from a fitness perspective. He retired from his match against Paire after feeling physically spent and experiencing shortness of breath, trailing two sets to none.
''I'm not getting any younger,'' he said. ''So trying to get back to a certain shape and ... playing tournaments, it's going to take a long time and it's going to take probably more digging, you know, sacrifice than ever. It'll be a challenge.''
But it's one he feels is worth it to say a proper farewell to the sport. And when he's ready to stop, he'll stop.
''I don't like to talk about it too much, every tournament this might be my last time,'' he said. ''It's really just for me. I think really that's all it is.''
---