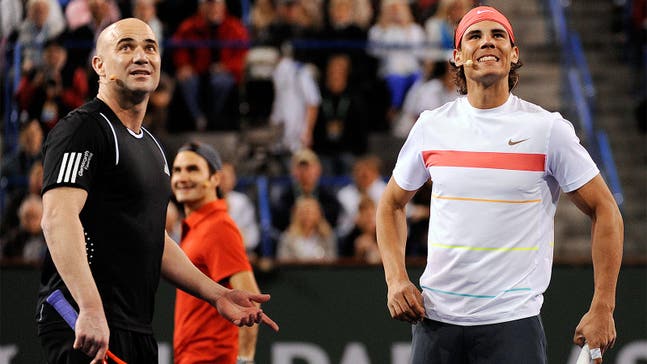 Agassi says Nadal is greatest tennis player ever
Published
May. 8, 2014 12:27 p.m. EDT

SINGAPORE (AP) Andre Agassi says Rafael Nadal should be considered the greatest tennis player ever, not Roger Federer.
Agassi made the comments in an interview with Singapore newspaper Straits Times, saying Nadal's achievements are more impressive because he has had to deal with tougher opponents.
Federer has 17 Grand Slam titles to Nadal's 13, although the Spaniard leads his Swiss rival 23-10 in head-to-head meetings.
Agassi is quoted as saying that ''I'd put Nadal No. 1, Federer No. 2,'' adding that ''it's just remarkable to me what he has done, and he has done it all during Federer's prime.''
The former No. 1 says ''Nadal had to deal with Federer, (Novak) Djokovic, (Andy) Murray in the golden age of tennis. He has done what he has done and he's not done yet.''
---
---