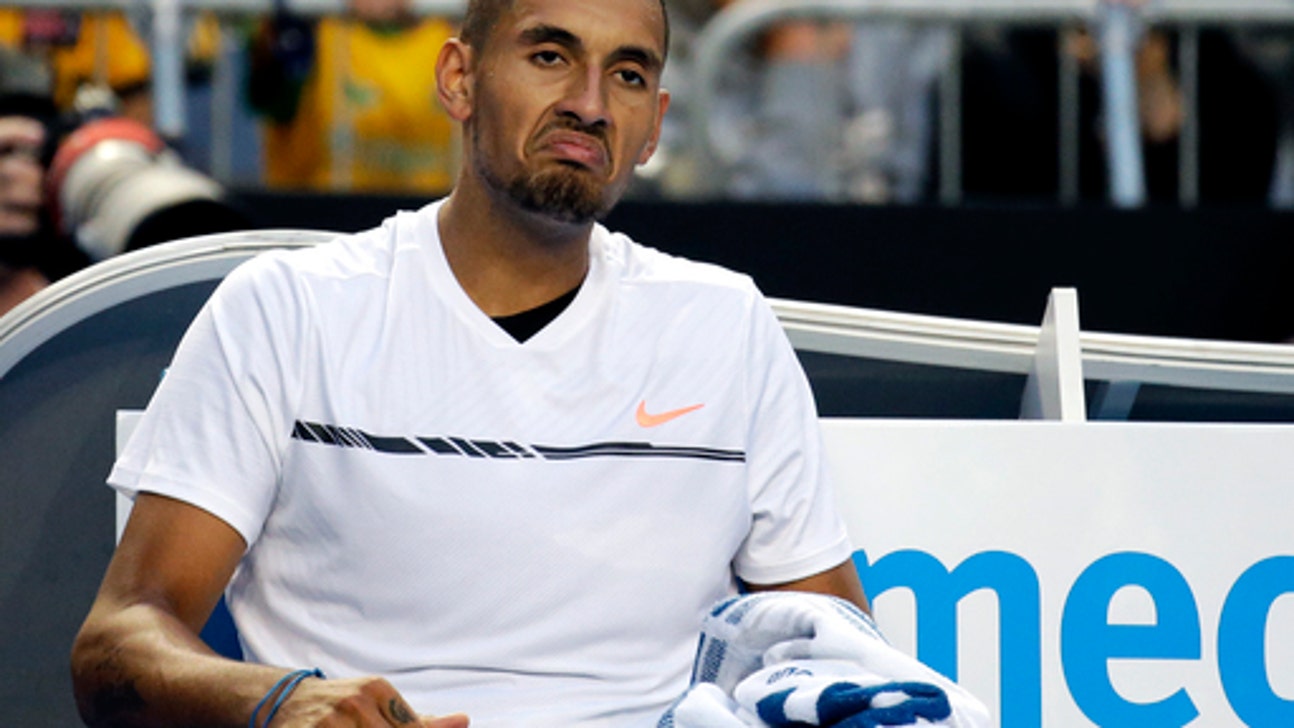 Agassi relates to Kyrgios - but doesn't want to coach him
Updated
Mar. 4, 2020 2:18 p.m. ET

MELBOURNE, Australia (AP) Troubled tennis player Nick Kyrgios acknowledged after his testy loss to Andreas Seppi at the Australian Open this week that he could certainly benefit from having a coach.
Andre Agassi says he feels a certain kinship with Kyrgios, but he's not the man for the job.
''Time is an issue that I don't have the luxury of giving at the moment,'' he told a news conference in Melbourne via a video link from Las Vegas.
The other factor, Agassi said, is that if he's going to coach, it would have to be with someone who wants to learn.
''(Kyrgios is) young, and he's an interesting person, one that I would need to spend a lot more time with to understand,'' he said, ''and hopefully there would be desire on his part regardless of who he works with to grow.''
Kyrgios was booed for appearing not to give his full effort at times during his five-set loss to Seppi in the second round at Melbourne Park. When Seppi was trying to serve for the match, Kyrgios even struck a risky shot between his legs - known as a `tweener' - for no apparent reason.
Though he nearly won the match anyway, Kyrgios was still criticized for his actions. John McEnroe, not one known for his calm on the court, said Kyrgios was a ''black eye for the sport'' while commentating for a European broadcaster.
Kyrgios, who was also suspended last season after showing lack of effort in a match in Shanghai, said he realized he could benefit from having a coach.
''I think that's one area where I obviously need to start taking a bit more seriously,'' he said. ''I don't think there's anyone in the top 100 without a coach except for me. That needs to change.''
Agassi can relate to the scrutiny Kyrgios is under. He, too, was once ''loathed'' for his ''Image is Everything'' persona and perceived lack of interest in the sport.
''I don't know (Kyrgios') background,'' the eight-time major winner said. ''I know that I was always somebody that cared more than I portrayed because it was my defense. It was my way of hiding myself from myself, and I needed to come to terms with that through a long, painful process.''
''The journey I lived has taught me a lot about how deep one's struggles can be and how much good can still exist at the same time.''
Agassi added the fact Kyrgios has admitted to not loving tennis could actually be a good thing. The American shared a dislike for the game, but kept it hidden.
''I'm actually uplifted by his willingness to admit it, because for me, it took me a long time to understand my particular feelings for many years and certainly didn't feel the need to communicate it as I was going through it,'' he said.
As far as coaching goes, though, Agassi is not prepared to step into that role for Kyrgios - or anyone at the moment.
But he didn't close the door to the idea.
''I have no interest in imposing what I believe on someone,'' he said. ''I would have a lot of interest in somebody's desire to want to make themselves better and possibly me being a vehicle that's best to help them take those steps.
''Those would be the two working components that would either keep me from coaching or make me ever do it.''
---