Zinedine Zidane's first year as Real Madrid manager was basically perfect
Zinedine Zidane's first year as Real Madrid manager was basically perfect
BY Ryan Rosenblatt • January 4, 2017
To say that Zinedine Zidane has been a smash success as Real Madrid manager is a massive understatement. He's turned the Merengues nearly unbeatable.

Since taking over as the boss at the Bernabeu on January 4, 2016, Zidane has led the club to three trophies -- the UEFA Champions League, the UEFA Super Cup and the Club World Cup. Racking up three trophies in a year is impressive, but even more impressive is that he's lost just two matches ... total.

That's right, Zidane has more trophies than losses.

It's easy to try to diminish Zidane's run. After all, he has Cristiano Ronaldo, Gareth Bale, Karim Benzema, Luka Modric and Toni Kroos. His "weak" defense is anchored by Sergio Ramos and the team's biggest problem is World Cup hero Keylor Navas in goal.

To say that Real Madrid are stacked is an understatement. Of course, they're good. But go back to when Zidane was hired.

Real Madrid had just fired Rafa Benitez, a manager who hadn't just lost some matches and had the team playing disjointed, vulnerable soccer -- he had upset most everyone at the club. Ronaldo was sending out signals that he'd leave the club and the same was true of Bale. It took all of four months for Benitez to light the team on fire, essentially. And it came in the season after Real Madrid went trophy-less, costing Carlo Ancelotti his job. There were questions about the squad, its balance, its future and most everything else.

That is the team Zidane took over and it's the same one that somehow has only lost twice as he begins his second year in charge of the Merengues.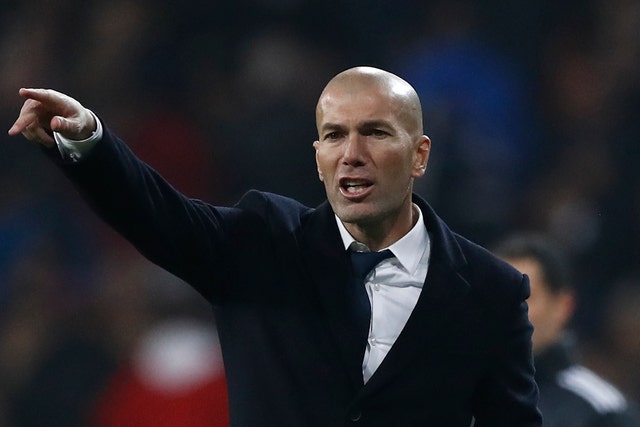 It took weeks for Zidane to repair Ronaldo's relationship with the club and pledge his loyalty to Real Madrid. Bale did the same and now, even after 30 months of minimal playing time and just four starts in the first half of the season, James Rodriguez has opted to stay with the Merengues. The players have bought in and love being Real Madrid players under Zidane.

On top of that, he's fixed the team's balance issues. Casemiro became a regular player, giving them a much-needed defensive midfield. But even in his absence, the team has showed that they can play without that. Toni Kroos is in the form of his career and despite several aging stars -- from Ronaldo to Ramos -- they haven't looked like they are slowing down at all. Lucas Vazquez and Marco Asensio have been brought in to provide additional depth, joining the likes of Danilo, Mateo Kovacic, Alvaro Morata and Nacho as lesser-known players who have made it possible for the Merengues to shine despite a rash of injuries this season.

To say that Zidane's Real Madrid bears no resemblance to Benitez's sells the work that Zidane has done woefully short. This is an even better team that the one Ancelotti led to the Champions League title three years ago. It's the best Real Madrid team in recent memory.

Talk all you want about the players, but Zidane has as much to do with this as anyone else. Just look at the wins. Look at the (absence of) losses. Look at the trophies. It's astonishing, and for Zidane to astonish anyone after his spectacular playing career says something.

Zidane went straight into management after his playing career and worked in the Real Madrid system with the youth teams. He made his way to an assistant manager and, finally, after Benitez was sacked, got to be the boss. It was nearly impossible for him to be as good of a manager as he was a player and while one year is far too short to say he is also an all-time great as a manager, there's no arguing how magnificent he's been in that one year.


---
---