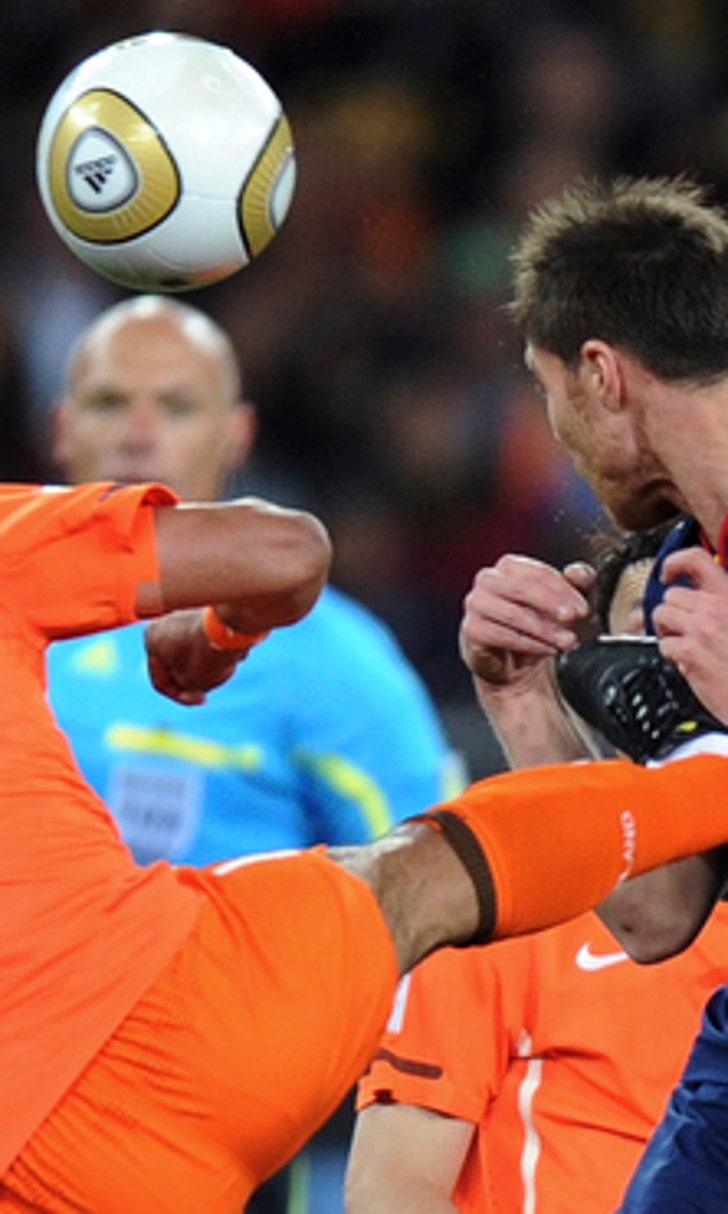 Webb says de Jong would have been sent off with video review
BY AP • July 21, 2017
NEW YORK (AP) Howard Webb would have given Dutch midfielder Nigel de Jong a red card in the 2010 World Cup final if a video assistant referee had been in place.
The English referee showed de Jong a yellow card in the 28th minute for his karate kick into the chest of Spain's Xabi Alonso.
''Yes, it was a clear red card,'' Webb said Friday during a media seminar ahead of the Aug. 5 launch of video technology in Major League Soccer. ''It was a clear and obvious error on my part not to send the player off, and VAR would have been able to recommend a review to me, and I would have been able to make the right call.''
Now 46, Webb was a Premier League referee from 2003-14. He worked the Champions League and World Cup finals in 2010, became director of referees at the Saudi Arabian Football Federation, and started in March as manager of video assistant referee operations for the Professional Referee Organization, which oversees on-field officials in the U.S. and Canada.
The International Football Association Board, soccer's rules-making body, in March 2016 approved trials of video technology. A fifth member of the officiating crew will be at each MLS stadium and have access to all videos of the television broadcasts. The VAR can alert the referee to initiate a review for ''potential clear and obvious errors or serious missed incidents'' involving goals, penalty kicks, straight red cards and mistaken identity.
Webb admitted soon after the 2010 final that de Jong should have been ejected. Spain went on to win 1-0 on Andres Iniesta's goal in extra time.
''I would have liked video review, somebody to have a look at that,'' Webb said. ''It's an example of how the angle that you have as an official sometimes doesn't give you the answer that you want and another angle does. Just because something goes to video review doesn't mean a referee's made a bad mistake. I want people to move on from that in their minds. It could be that they've made - that they've just misjudged something - but quite often what we've seen is that actually they just don't have angle that opens up the answer, and a different TV angle does.''
---
---