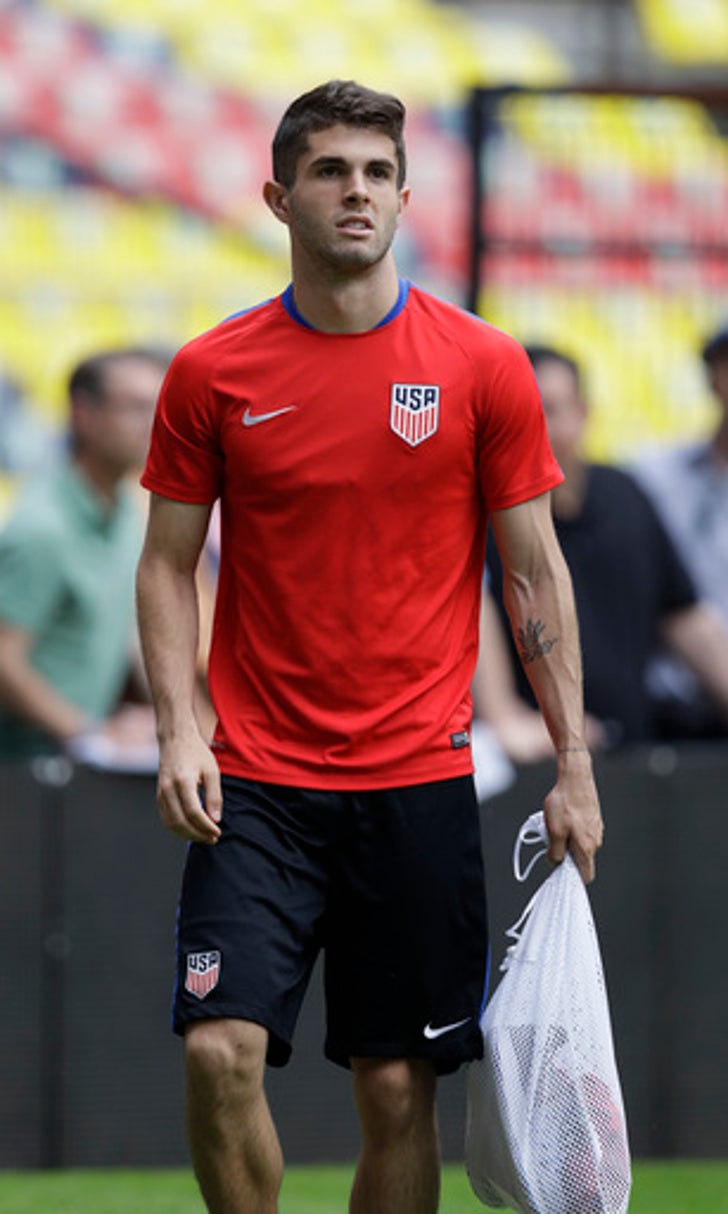 US players thinking of 3 points in Mexico, not border wall
BY AP • June 10, 2017
MEXICO CITY (AP) Getting three points, not heightened political tension between the United States and Mexico, is the focus of American players going into Sunday night's World Cup qualifier at Azteca Stadium.
''When these guys are bearing down on you, Donald Trump is the last thing on your mind,'' U.S. goalkeeper Tim Howard said Saturday at the cavernous stadium.
Mexico upset the U.S. 2-1 at Columbus, Ohio, on the opening day of the final round of qualifying in November and is in position to sweep the Americans in a qualifying cycle for the first time 1972. El Tri leads the North and Central American and Caribbean region with four wins and a draw at the halfway point and with a victory could pretty much make certain a seventh straight World Cup berth.
''I think we have the greatest respect for Mexico, its people, its football team,'' U.S. coach Bruce Arena said. ''I live in Los Angeles. I experience on a daily basis people of Mexican heritage. They're wonderful people. They contribute greatly to our society in many ways. We think the world of them. I'm ashamed that there's perhaps some discord on the political side, but believe me, I think most Americans appreciate the Mexicans that have come to America to make a better future for themselves and their families and the way they have contributed.''
Mexico leads the hexagonal with 13 points, followed by Costa Rica (eight), the U.S. (seven), Panama (six), Honduras (four) and Trinidad and Tobago three. The top three advance to next year's World Cup in Russia, and the fourth-place team faces Asia's No. 5 nation in a playoff.
El Tri has outscored opponents 10-0 in the current World Cup cycle and has lost only two qualifiers at Azteca, to Costa Rica in 2001 and Honduras in 2013.
Still, opponents have been able to come away with draws. The U.S. got points from 0-0 qualifiers in 1997 and 2013, and Mexico also was held to 0-0 ties at home in 2013 by Jamaica and Costa Rica.
The U.S. was 0-19-1 in Mexico City - getting outscored 81-14 - before a 1-0 exhibition win five years ago.
''I think it's one of the great football stadiums in the world,'' said Arena, who has been coming to Azteca since 1986. ''I don't think it's lost any mystique.''
Opened in 1966, Azteca hosted World Cup finals in 1970 and 1986. After several renovations, capacity has been reduced from 120,000 to 87,000, but it remains imposing. There is a small lower deck, topped by three levels of suites and a huge upper deck that rises to a roof.
''It's going to be pretty cool. So hopefully we can silence them,'' midfielder Kellyn Acosta said.
Howard was in goal for the 2012 win, captaining the U.S. and making three saves. Michael Orozco scored in the 80th minute for a 1-0 margin, proof for Howard that victory Sunday is possible.
''We feel confident we can do that again. It's good to know that we have,'' he said. ''Before then, it was what if?''
Both teams have little recovery time from qualifiers on Thursday. The U.S. beat Trinidad and Tobago 2-0 at Commerce City, Colorado, on a pair of second-half goals by 18-year-old Christian Pulisic, and Mexico won 3-0 at home against Honduras.
Pulisic has seven goals in 15 international appearances. He boldly predicted Thursday that a win at Azteca was possible.
''It's going to take a lot, but I think with the guys we have and the confidence we have, there's no reason why we can't do it,'' he said.
Mexico coach Juan Carlos Osorio says midfielders Jesus Corona and Andres Guardado, and defenders Nestor Araujo, Miguel Layun and Rafael Marquez will miss the game. Defender Carlos Salcedo is available after injuring a leg and coming out of Thursday's match.
Pacing will be a key at Azteca, which is at 7,820 feet above sea level.
''You kind of need to overwork in warmup, just kind of get your wind going, getting your lungs used to it,'' Acosta said.
---
---