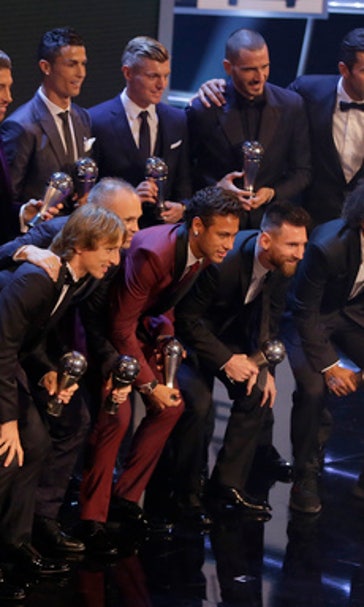 UEFA-led plan for global soccer competition every 2 years
November 3, 2017

GENEVA (AP) The biggest-ever soccer competition for 223 national teams, peaking with a series of eight-team knockout tournaments in June of every odd-numbered year.
It is a vision of the UEFA-led Global Nations League project which was disclosed on Friday.
The headline attraction of a complex format - involving regional qualifying groups with promotion and relegation and intercontinental finals brackets in seven divisions - is the top-tier finals that could first be played in June 2021.
It shapes like a mini-World Cup and would include three European teams, two from South America, plus one each from Africa, Asia, and the North American region.
They would play quarterfinals, semifinals and final in an intense week of action in a single host nation, officials briefed on the Global National League told The Associated Press. The officials spoke on condition of anonymity because talks have been confidential.
The plan would invite all 223 members of soccer's six continental confederations and take place every two years. The Global Nations League would directly replace many of the often-meaningless friendly matches on already scheduled fixture dates.
The format expands on UEFA's Nations League, which kicks off next September in Europe.
''UEFA can confirm that it has initiated discussions regarding the evolution of the UEFA Nations League,'' the governing body of European soccer said in a statement.
FIFA said in a statement it was ''involved from the beginning in the process.''
''Thanks to the cooperative atmosphere FIFA will continue to have constructive discussions about the next steps together with UEFA and the other confederations.''
Teams would be graded in seven divisions according to their FIFA ranking. Each confederation would run its own qualifying groups with promotion and relegation every two years.
Group winners would advance to eight-team intercontinental tournaments in each of the seven divisions played in June, and broadcast around the clock.
If approved, it means teams like Germany and Brazil, Spain and Argentina, Japan and the United States, could play each other competitively between each World Cup, maybe even twice.
In the competition format being discussed, the top division final tournaments would include three European teams, two from South America, plus one each from Africa, Asia, and the North American region. Oceania teams would play in the fourth tier, the officials said.
The project is still being discussed by the confederations with FIFA. They would be invited to team up in a new entity to jointly manage the event.
''These constructive discussions involve our national associations, European football stakeholders, all confederations and of course FIFA, with whom we have a very good relationship,'' UEFA said. ''No decisions have been made at this time.''
The concept is to give national teams competitive games against opponents at a similar level, and to replace friendlies that are less interesting to fans and broadcasters.
The likely appeal of the Global Nations League for most FIFA member federations, who rarely qualify for a World Cup, is a realistic chance to compete for a trophy and prize money by qualifying for a final tournament.
It would also align with the FIFA-managed calendar of playing dates when clubs must release players for national-team duty.
The June 2021 dates are seen as a prime slot for a new or expanded competition because FIFA has said the Confederations Cup is at risk of being scrapped.
A potential issue is FIFA President Gianni Infantino's suggestion of a 24-team Club World Cup as an option for June 2021. The FIFA council will discuss a review of international competitions in March at a meeting in Bogota, Colombia.
Still, a Global Nations League raising the profile of national teams would appeal more to FIFA member federations. They get few benefits from the success of elite clubs and are in line to get a share of Global Nations League revenue from centralized commercial deals.
Broadcast rights to the proposed new competition are seen as likely to interest media companies now focusing on sports, such as Amazon, Google and Netflix, according to a briefing document seen by the AP.
---
---