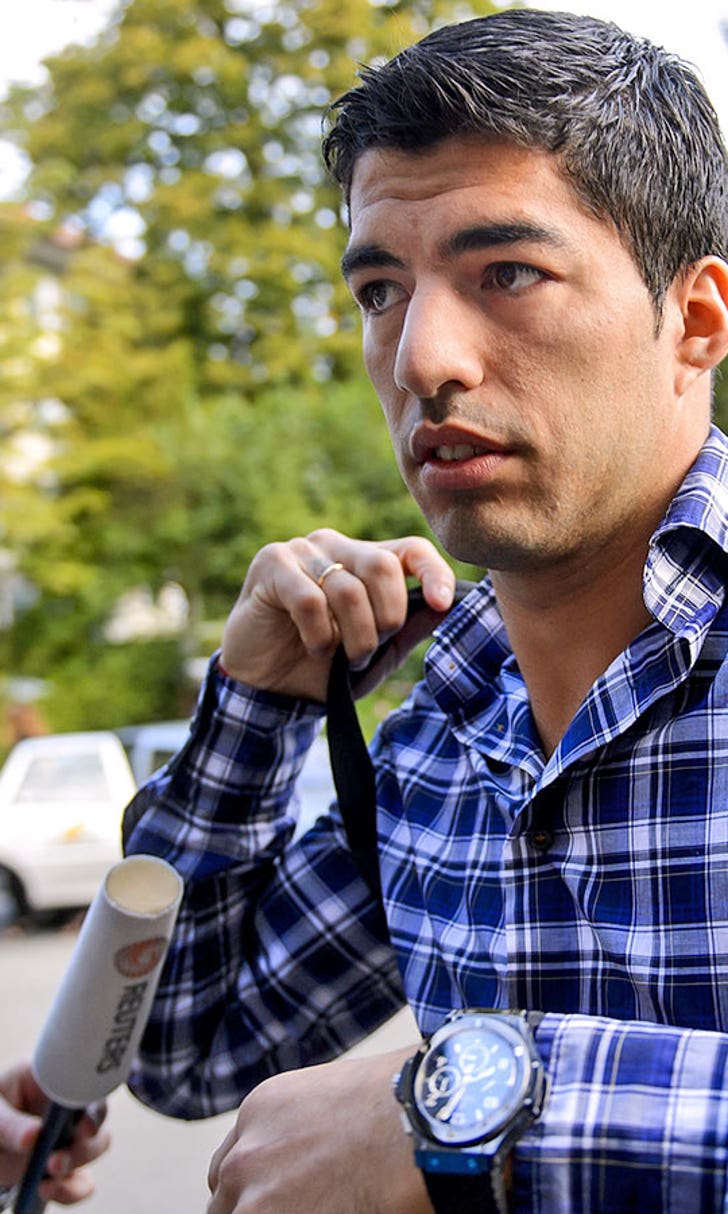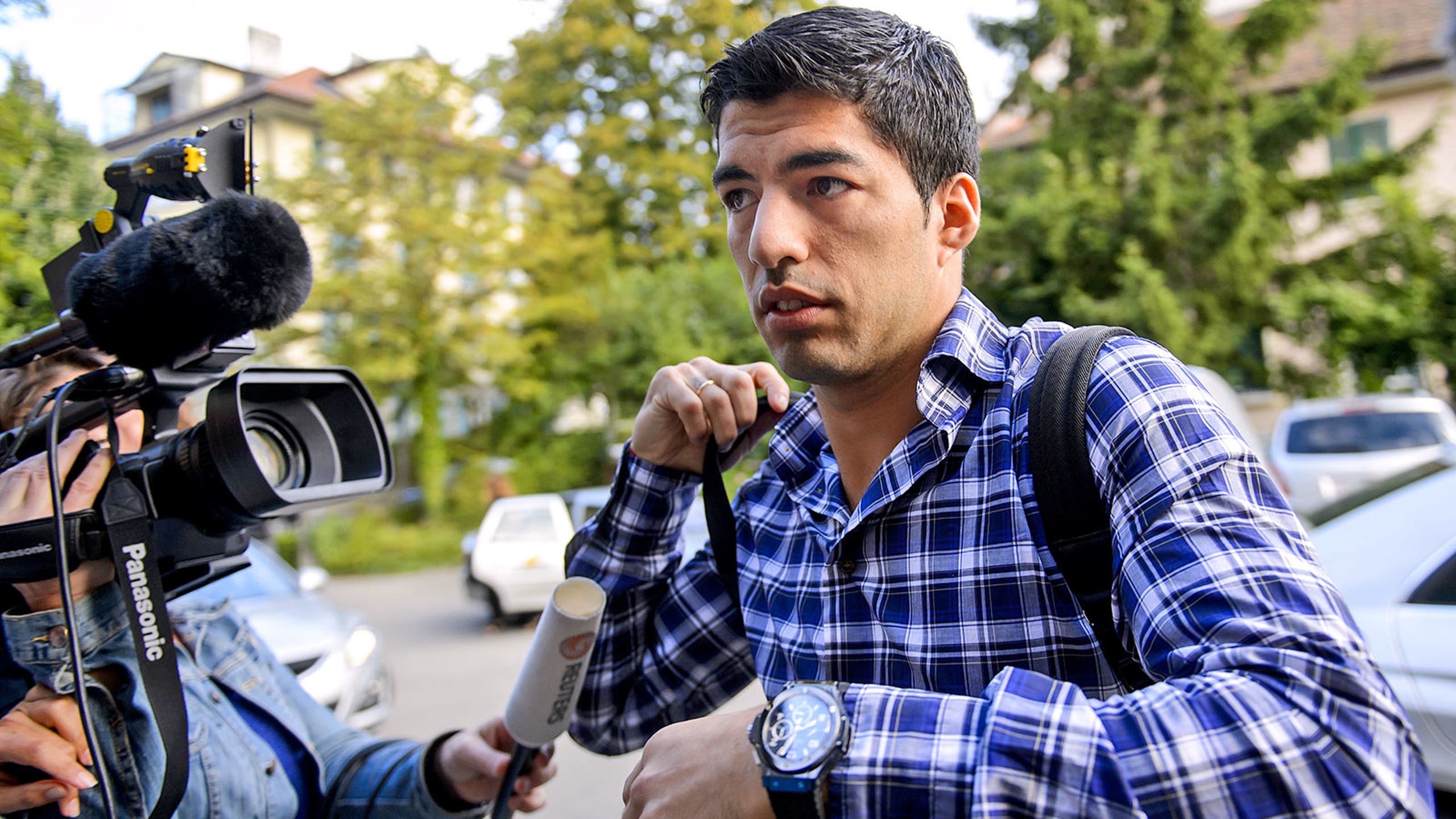 Suarez arrives for appeal hoping to halve four-month suspension
BY foxsports • August 8, 2014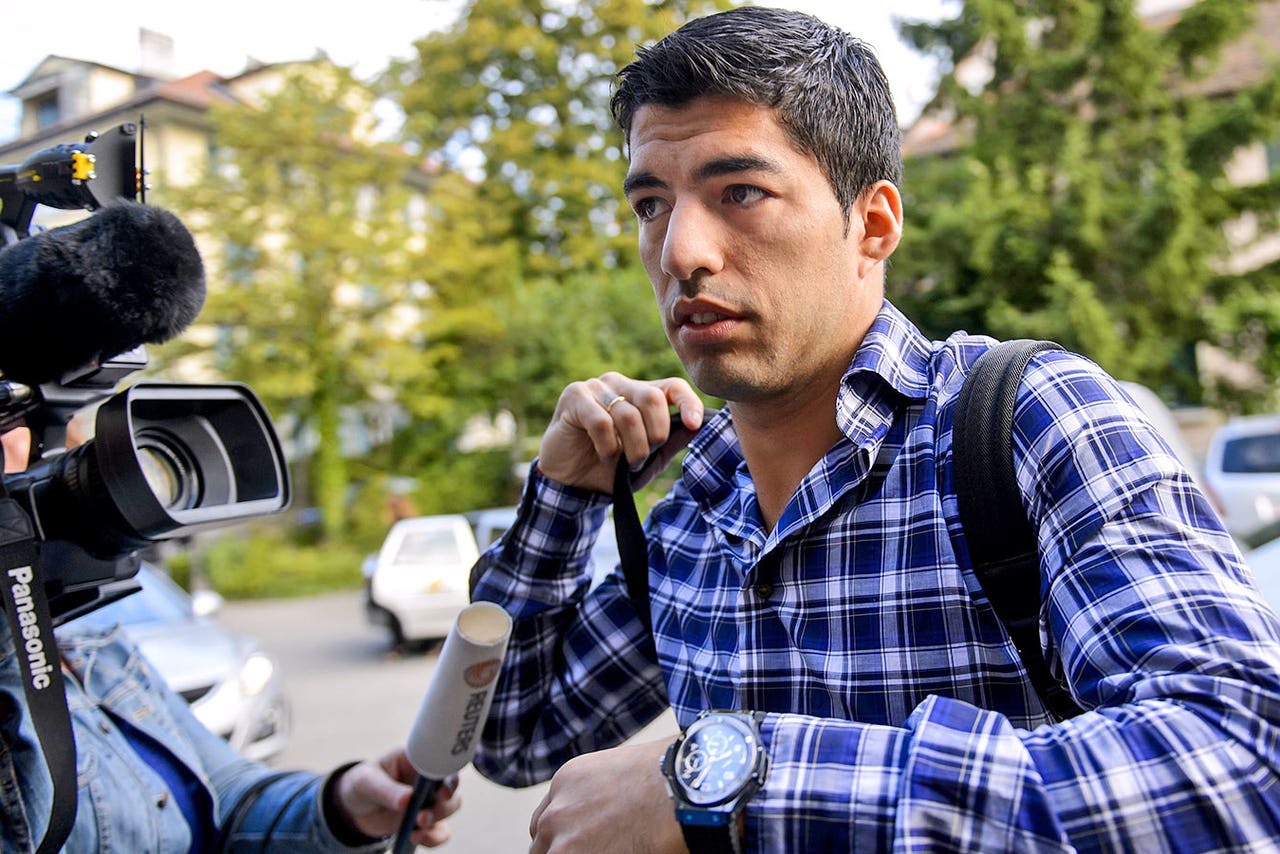 Luis Suarez's legal representatives are confident they can persuade the Court of Arbitration for Sport to halve the striker's four-month ban at an appeal hearing in Lausanne today.
The Barcelona striker was handed the suspension, a nine-match international ban and a £66,000 fine, for biting Italy's Giorgio Chiellini during Uruguay's 1-0 World Cup victory on June 24.
Suarez's lawyers are at CAS headquarters in Lausanne, Switzerland, to argue the incident took place while the former Liverpool star was playing for his country and should be limited to international football.,
The legal team are confident of obtaining a reduction to two months and for him to be allowed to train with Barcelona for the duration of his suspension. If successful, he would be available to return to action on August 25.
CAS had said a final decision is likely "some days after the conclusion of the hearing" but there is a chance it could be made as early as Friday once the appeal is over.
Suarez's lawyer and adviser Alejandro Balbi, who is also a member of the Uruguay FA's executive, admitted there was less chance of overturning the nine-match ban, but said there is scope for the four-month suspension to be reduced on the grounds that it infringes the player's fundamental rights.
Balbi, quoted in the Uruguayan newspaper El Observador, said: "It would be more logical to reduce the sanction by a few months than to reduce the ban concerning international games, because legally it's easier to contend against the terms of the suspension that forbid him from training and from being at the club, because they violate fundamental rights.
"The other ban (the nine-match ban for Uruguay) is more a question of the level of the punishment."
Balbi also confirmed that the Uruguayan FA's lawyers will lead the defence despite reports in Spain that Barcelona's lawyer will represent Suarez.
He also claimed the player's absence from internationals cost Uruguay hundreds of thousands of dollars for each match.
"In Spain they are saying that the lawyer who represents him at CAS will be sent by Barcelona, but that's not the case, Barcelona's lawyer is just consulting with the Uruguayan Football Association," added Balbi.
"It is clear that Uruguay are interested in reducing the penalty imposed on Luis by the number of matches while Barcelona want to reduce the sentence by a number of months.
"But we will defend him on everything, bearing in mind the fact there is also an economic effect on the AUF because not having Suarez means it loses between $250,000 and $359,000 every game."
Barcelona paid Liverpool £75million for Suarez after he received his FIFA ban, which as it stands keeps him out until October 25.
---