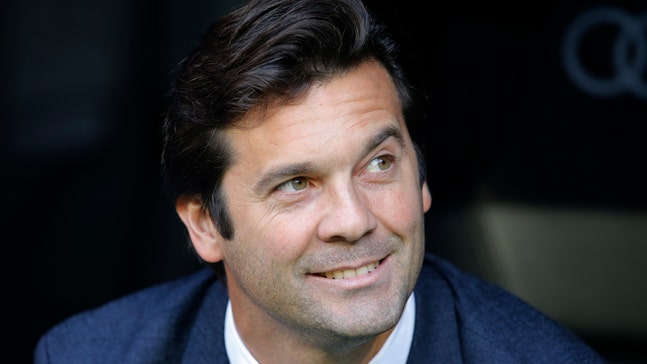 Solari making his case to stay as Real Madrid coach
Updated
Mar. 5, 2020 12:37 a.m. EST
MADRID (AP) — After only two games, Santiago Solari is making Real Madrid fans forget about the search for a new coach.
And Madrid may very well give it up if he keeps succeeding.
Solari has done well since taking over from Julen Lopetegui, pleasing players and fans, and increasing his chances of taking over the squad permanently.
Discussions about Antonio Conte and Roberto Martinez have faded since Solari took control and quickly put Madrid back on track. In his short time in charge, Solari boosted the squad's confidence and got the victories that had eluded the team.
The former Madrid player arrived with the club in crisis and enduring a run that included five losses in seven matches in all competitions, including a demoralizing 5-1 loss to Barcelona at Camp Nou.
The 2-0 win over Valladolid on Saturday halted the team's five-match winless streak in the Spanish league. Madrid had entered the match at the Santiago Bernabeu Stadium having lost four of its last five games in the competition, including three straight.
"Real Madrid needed the victory. It's not easy to win when you are going through a difficult moment," Solari said. "Football is all about state of mind, emotions, self-confidence."
In the Argentine's first game in charge, Madrid routed third-division club Melilla 4-0 in the Copa del Rey, scoring the same number of goals that Lopetegui's team had netted in the seven previous matches.
TRUSTING VINICIUS JUNIOR
One of the right moves made by Solari was to give more playing time to Vinicius Junior, the young Brazilian forward who arrived amid high expectations but had been relegated to the "B'' team under Lopetegui.
Vinicius Junior was the man of the match against Melilla and helped open up the game when Madrid struggled against Valladolid. He came off the bench in the 73rd minute and 10 minutes later scored the team's opening goal.
"We'll keep going step by step to try to get back to where we deserve to be," Vinicius Junior said.
The decision to give more chances to Vinicius Junior was highly popular, helping Solari earn credit with the tough Madrid crowd and further increase his chances of staying on the job.
SOLID DEFENSE
Solari also didn't hesitate to use young fullbacks Alvaro Odriozola and Sergio Reguilon in defense while the regular starters were injured. Lopetegui thought differently and often improvised players at the back when needed.
The defense improved under the Argentine coach, with two consecutive clean sheets. Madrid had conceded 10 goals in its last seven matches under Lopetegui.
AWAY CHALLENGES
Solari will be fully tested in a stretch in which Madrid will play four consecutive games away from the Bernabeu, starting on Wednesday at Viktoria Plzen in the Champions League.
The team then plays at Celta Vigo and at Eibar in the Spanish league, and finishes the month with a Champions League match against Roma in Italy.
If Solari survives and is still in charge by then, it will mean Madrid's search for a new coach will likely be over.
FLIRTING WITH RELEGATION
What started as a promising season has turned into an endless struggle for Villarreal and Valencia.
The two clubs finished fourth and fifth in the league a year ago, and both had high hopes entering this season.
Neither team can get things going, though, with Valencia in 15th place and Villarreal in 16th.
Valencia, with only one win in 11 league matches, is two points from the relegation zone. Villarreal, with two wins, is one point away.
They are just in front of Athletic Bilbao, another struggling team which usually contends for the positions near the top of the table.
---
---