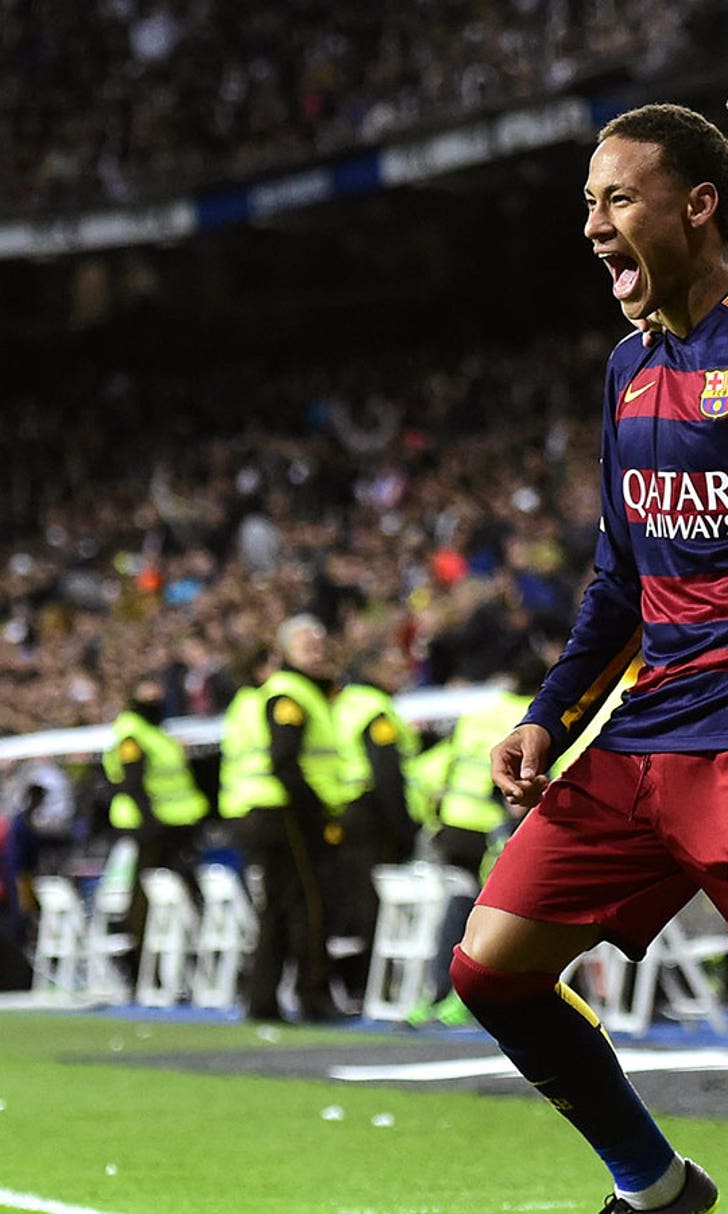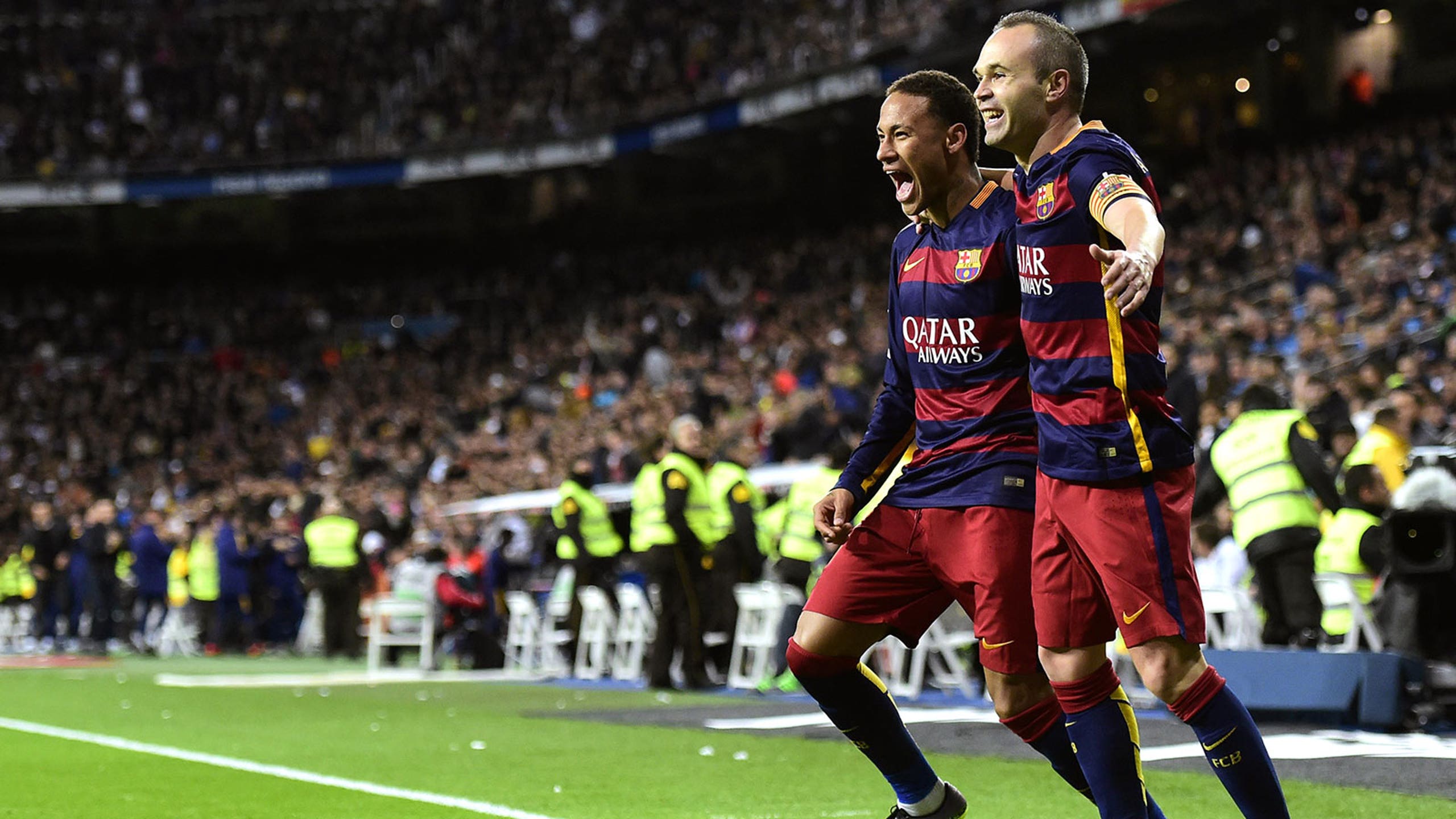 Ruthless Barcelona punish Real Madrid for memorable El Clasico win
BY Kyle McCarthy • November 21, 2015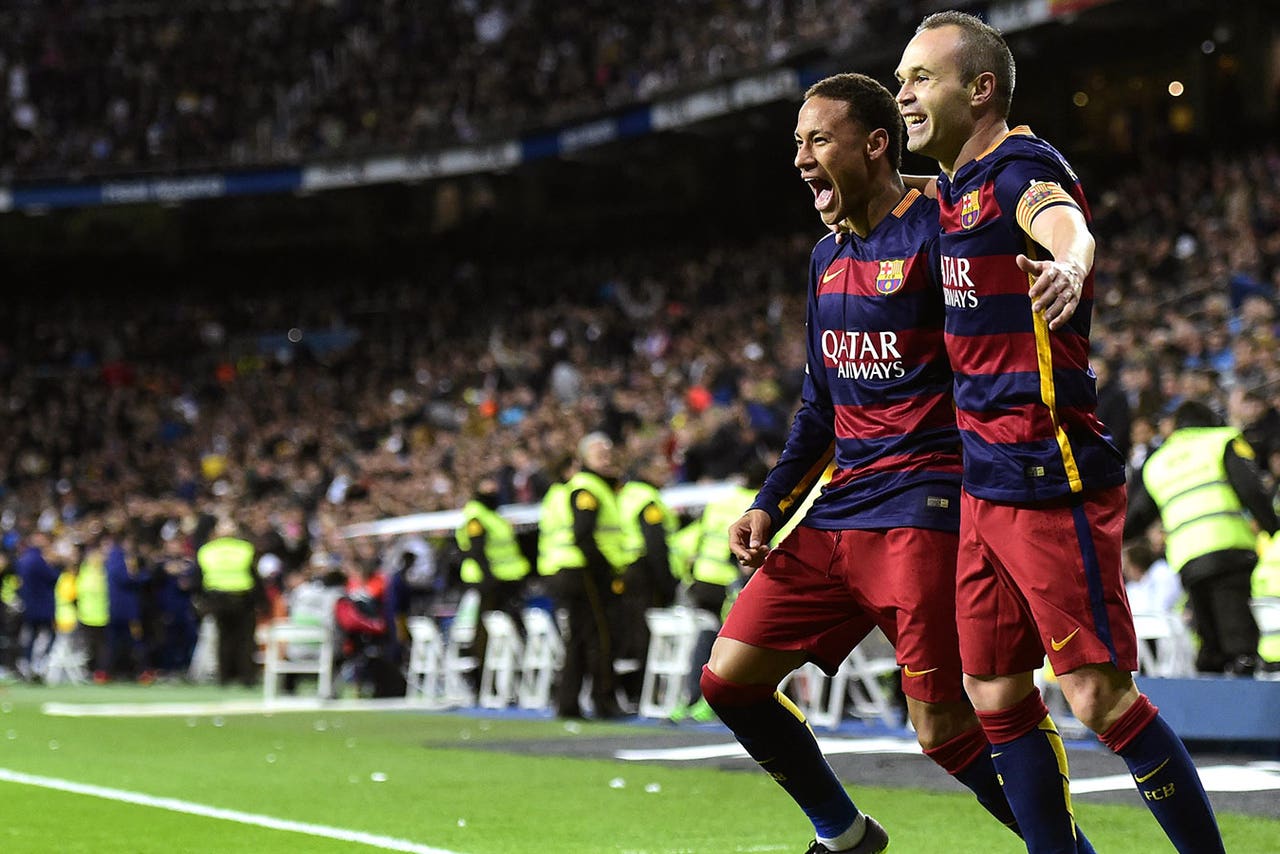 Barcelona swept aside Real Madrid at the Santiago Bernabeu 4-0 on Saturday night thanks to goals from Luis Suarez, Neymar and Andres Iniesta – and this despite having the best player in the world confined to the bench for much of the match. Real Madrid finished the match with only ten men after Isco was shown a straight red with six minutes to play.
"This victory is glorious, especially in the way that it came about," Barcelona manager Luis Enrique said after the win. "We were the better side and the triumph is down to us. I think we have been at a higher level and we generated superiority in the areas we wanted. I think the game is more merit of Barcelona than demerit of Real Madrid."
Enrique added: "There is a long way to go but it is always important to win here. It has been an all-around performance. It will go down in history as a memorable game for the Blaugranas."
Internal pressure forced Real Madrid manager Rafael Benitez out of his comfort zone in the buildup to El Clasico. Benitez forged his career based on pragmatism and solidity, but he succumbed to the desire of his players to play more expansively.  
Iniesta, Neymar and Suarez once again served as the protagonists. They quickly assessed the space allotted by the decision to pick Toni Kroos and Luka Modric ahead of the more conservative Casemiro. Their response -- an array of runs to stretch the Madrid midfield shape beyond recognition -- which Los Blancos completely exposed.
Suarez's opener after 10 minutes summed up the problems to follow. Modric stepped too earnestly in the middle third and permitted Sergio Busquets to play Sergi Roberto behind him. Sergio Ramos tried to cover the space, but he vacated his responsibilities to track Suarez in the channel. Suarez collected the resulting pass and slotted home. The series of intricate passes carved open Los Merengues far too easily and pointed the profitable way forward.
Neymar and Suarez pulled into awkward positions to present similar decisions time and again. Iniesta tormented Kroos and Modric by darting past them and locating space throughout the longevity of the game. Madrid offered no answers as Kroos and Modric chased shadows and the triumvirate of Gareth Bale, James Rodriguez and Cristiano Ronaldo supplied no cover and no relief with Busquets thwarting any opportunities on the break.
Barcelona's movement off the ball forced Madrid into difficult decisions and picked that poorly constructed shape apart. Neymar added a second before halftime, while Iniesta thrashed home the third shortly after the interval to erase any lingering doubt. Suarez's second after 74 minutes sent the Madrid faithful streaming toward the exits.
Perhaps the most galling part for Madrid: Barcelona tore them apart with Lionel Messi only deployed as a second-half substitute. Messi -- back from injury just in time for the derby he often dominates -- proved superfluous on this afternoon with Iniesta, Neymar and Suarez so effervescent and Madrid so poorly constructed. Ronaldo, was only seen in flashes on Saturday, bypassed almost completely by a fast and slick Barcelona side that took advantage of Rodriguez and Karim Benzema to stretch the game and run at Keylor Navas' net with abandon.
This famous victory piled the pressure on Benitez and underscored the potential peril of opening too much with Barcelona in this sort of scintillating form. The result leaves Barcelona a full six points clear atop the Liga table from their arch-rivals, and piles more pressure on Madrid manager Benitez.
"I want to thank the fans," Barca captain Iniesta told Canal Plus after the giant victory at the Bernabeu. "We feel very good, we played a complete game in every way. We gave them very few chances, we hardly lost the ball. We were very effective. We've done it and we minimized our opponent. There's a long way to go, this isn't decisive at all, but we leave here very satisfied."
FOXSoccer.com's Jamie Trecker contributed to this report.
---
---