Roque Santa Cruz will try to lead Paraguay to glory one last time at Copa America
May 13, 2016

Roque Santa Cruz is set to play (most likely) his last major tournament for Paraguay. Coming up on 20 years as a professional footballer, the 34-year-old striker with the Hollywood name and good looks has not only made himself a glittering career on the pitch, but managed to do some good off it as well.
Santa Cruz is Paraguay's all-time leading scorer, which is as much a result of longevity as it is quality (and he gets full marks for both). He started as a professional for Olimpia in his home country before most American kids even learn to drive, at the absurdly young age of 15. Two years later he moved to the club where he truly made his name - Bayern Munich.
In eight years with the Bavarian giants, Santa Cruz had as many ups as downs. He won a number of trophies, but never found any real consistency and never scored more than 10 goals in a season. After leaving Bayern, he landed in England, bouncing from Manchester City to Blackburn - he scored 20 goals in a season there, the best year of his career - before taking off to Spain with Betis and Malaga. In 2015 he signed with Cruz Azul for a short spell before then returning to Spain, where he currently plays with Malaga on loan. 
Maybe the real story of Santa Cruz's career isn't the goals he's scored, but his life off the pitch. Despite having won Champions League with Bayern Munich and earning himself multiple lucrative contracts, Santa Cruz has always shied away from the flashy lifestyle many players covet.
"In terms of my conscience I just wouldn't feel right driving around Paraguay in a Ferrari when I see the lives people have there," Santa Cruz said in 2011. "If you drive whatever car for £50,000, you will get a luxurious car. There is probably no need to have a £200,000 car. I really love cars but I wouldn't buy a car for £200,000. I don't like 'big' things. I wouldn't spend money on jewelery but I do let myself have a good car. It's around £50,000. You should live well, that is what we are working for. Everyone has this edge [limit] and mine is that I believe in not having more then you need."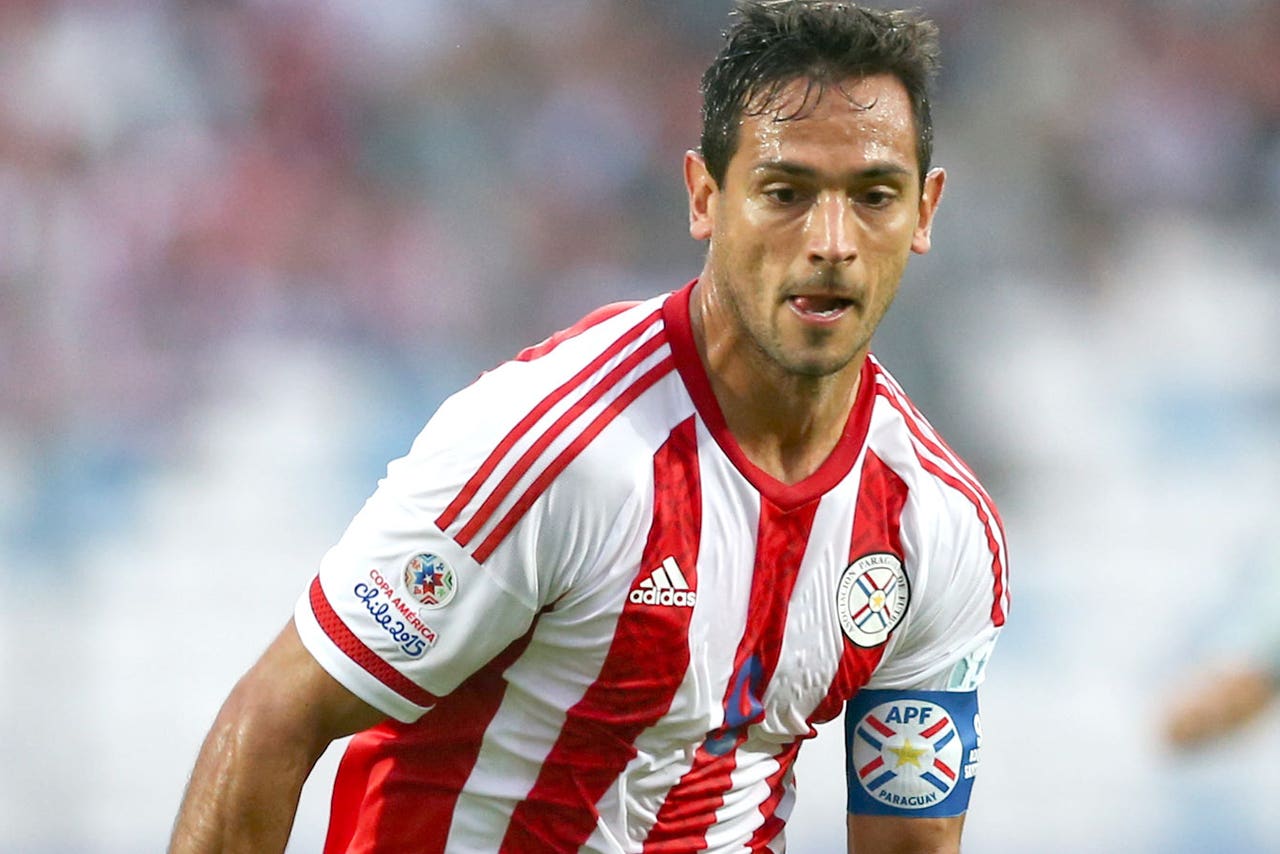 Santa Cruz launched a foundation in his name to help the underprivileged children in his hometown of Asuncion have a better life. While he refuses to put a number on just how much he's given back to the community, estimates are well into the millions. With his mother at the helm of the project, the striker gave some insight into how the process works.
"They will tell me £20,000 to finish that bit, so I give them the £20,000, they finish it and then we try to decide which school we help next."
Unsurprisingly, Santa Cruz is a hero in Paraguay. The people love him for his work off the pitch, but it also helps that he's been brilliant on it. And now he gets another big stage to shine on in Copa America Centenario.
Drawn into Group A with the United States, Colombia and Costa Rica, Paraguay face a tough test. But having beaten Brazil in penalties at last year's Copa America, expectations are high.
Paraguay will be able to lean on veteran leadership, and not just from Santa Cruz. Justo Villar will provide 114 caps worth of experience to direct the Albirroja backline from goal and captain Paulo da Silva brings 133 caps to the table, with Santa Cruz rounding out the old-head brigade as vice-captain.
If Paraguay are to succeed at Copa America they don't need expensive cars, they need goals. Filling the net will be the biggest concern for Paraguay, with Santa Cruz far and away the most prolific of those selected to Paraguay's 23-man roster. After Santa Cruz, manager Ramon Diaz's next best option is Seattle Sounders' Nelson Valdez, whose international record of 13 strikes in 74 appearances isn't the most inspiring. A glimmer of hope in the darkness however, Dario Lezcano looks to be the next (great?) hope for the boys from the heart of South America. He's scored four out of Paraguay's last six, including a double against Ecuador and an important tally against Brazil in World Cup qualifying.
Whatever his role is in this Paraguay team, if this is indeed Roque Santa Cruz's last bow, his home country will hope he remembers to pack his shooting boots in the trunk of his £50,000 car. At the very least he'll have to bring along a few pairs for his teammates. Their hopes of sending Santa Cruz out on top depend on it.
MORE FROM FOX SOCCER
---
---