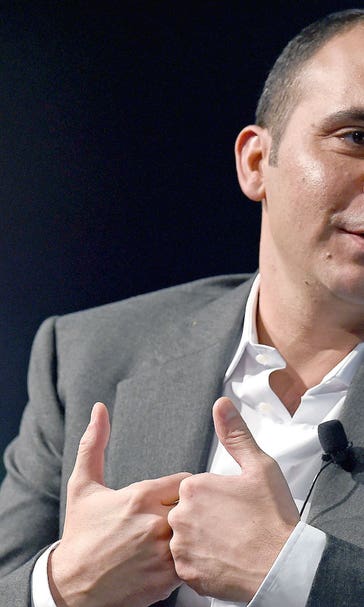 Prince Ali still deciding whether to run for FIFA president
September 7, 2015

MANCHESTER, England --
Prince Ali bin al-Hussein is still considering whether to run again for FIFA president, less than four months after losing to Sepp Blatter in the previous election.
The Jordanian prince surprisingly denied Blatter a majority in the first round of voting in May but stepped aside before the second round. Blatter, though, announced his plans to quit four days later as separate U.S. and Swiss criminal inquiries into soccer corruption escalated.
The deadline for Prince Ali and other candidates to gain the five required nominations from federations to stand in the February election is Oct. 26.
''I am talking to national associations and listening to their opinions,'' the prince told the SoccerEx conference in Manchester on Monday. ''Right now we need a candidate who is forward thinking, with new ideas who is not tainted by the past ... if the election is done correctly, cleanly and properly, I believe I can win.''
The former FIFA vice president said favorite Michel Platini is the wrong person for the job, given that the UEFA president helped Blatter first get elected in 1998. The prince is turning on Platini despite the former France great being his key supporter before the May election.
''FIFA is in a crisis right now and we need a new beginning,'' the prince said. ''Michel Platini's introduction into football governance was as a protege of Sepp Blatter, that's a reality.''
The prince said FIFA requires a candidate who ''really believes in reform and true transparency, not as a slogan because that is very fashionable right now.''
Expanding on what transparency should look like at FIFA headquarters in Zurich, the prince told delegates: ''You take the locks off the doors and open the windows. There is no need for secrecy.''
Blatter is entering the final months of his curtailed fifth term and the prince said the 79-year-old president has some responsibility for the current corruption crisis despite not being directly implicated.
''He should have stepped down a while ago if he had the best interests of football,'' the prince said.
Fourteen officials have been indicted by U.S. authorities as part of a wide-ranging investigation into bribery and financial wrongdoing, including some of Prince Ali's former FIFA executive committee colleagues.
---
---