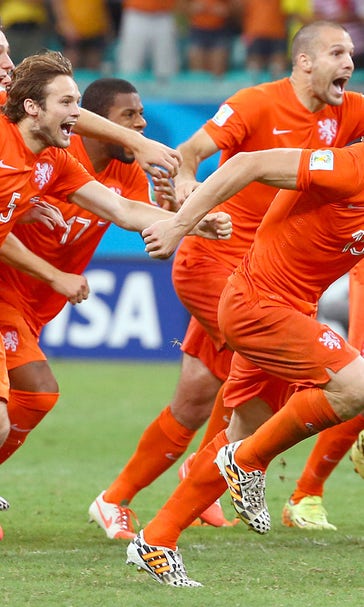 Netherlands' collective belief growing ahead of Argentina semifinal clash
BY foxsports • July 8, 2014
SAO PAULO --
Sometimes the stick-in-your-mind moments are not the obvious ones. The thing I remember most vividly about when Holland came up against Argentina at the World Cup at France 1998 was the moment after Dennis Bergkamp's jaw-dropping match-winner. Not the goal itself, which was a timeless masterpiece. But the seconds that immediately followed it, which seemed to capture exactly why sport can seize your emotions and hurl them any which way with force that can floor you in a heartbeat.
Argentina were crushed. Holland consumed by sudden, euphoric madness. It was what Bergkamp did immediately after the ball went in that stuck in the mind. He covered his face with his hands as he ran off. The gesture seemed to be a mixture of not believing what had just happened, and wanting to shut out the rest of the world, just for a second, to have the moment just for himself before it would be endlessly replayed and analyzed by millions.
A player like Bergkamp was interesting in that he was a great example of a gifted virtuoso who knew he had the ability to make the difference, but his priority was to think about how that difference was important to his team. He was what you might call a perfect team individual.
Within a collective sport, especially in high pressure situations like an epic World Cup knock out game, the consequence of four years work -- in some cases a lifetime of effort to improve to get to the highest stage in your chosen field -- often boils down to individuals, and one special moment.
With this in mind, it was fascinating to be presented in Rio with a burning question about the individuals who are expected to decide the semifinal between Holland and Argentina.
The query was delivered with a mischievous flourish: Based on this World Cup, who would you rather have on your side: Lionel Messi or Arjen Robben? At first it seemed an extraordinary remark. But there it was, hanging with a flash of shock factor in the air. The question was the centerpiece of an argument delivered by Humberto Tan, a Dutch television and radio reporter who expresses himself with compelling and dramatic oopmh.
That was just part one of his argument predicting how and why he felt the Netherlands would beat Argentina. The second part was delivered with even more swagger. "We have Robben, van Persie, Sneijder, Depay, we even have two goalkeepers," he grinned in the aftermath of the switch to clinch victory over Costa Rica on penalties. "Argentina just have Messi."
The Dutch, however, might be without the services of van Persie after the captain succumbed to a stomach problem on Tuesday. Though van Persie trained separately with the team, manager Louis van Gaal said he would not rush into deciding whether Van Persie is fit to play at Sao Paulo's Itaquerao Stadium.
''I have to make a decision tomorrow. I'm not going to do that today. We have more than a day,'' Van Gaal said. ''Van Persie is a very important player for us.''
Although there was deliberate audacity about Tan's observations, it did distill a critical difference in the vibrations around the two camps ahead of a colossal semifinal match-up. Messi's gargantuan influence seems even more important since Angel di Maria suffered an injury to rule out the attacker who had best dovetailed with Argentina's main man at this World Cup.  
Holland feel they have options to play with. Besides, going back to that original burning question, even if Messi has produced a string of sparkling moments to drive Argentina onwards, Robben has played with considerable dynamism and impact to match. He has been brilliant for his team. It is certainly a worthwhile topic for debate, and we may come closer to an answer at dusk in Sao Paulo on Wednesday.
''If you score so many goals, you have something extra. And he always shows it on the biggest stages,'' van Gaal said of Messi. But he added, ''he has sometimes had problems for the national team. He wants to change that and we want to make sure he doesn't.''
Holland's progress has been remarkable, really. It's a tale of a team that has been ever-changing, with van Gaal selecting different strategies, different players in different positions -- sometimes even making significant alterations during the game. His players trust him, respond to him, and try their utmost to do what he tells them.
Holland are one game away from repeating the feat they managed four years ago when they reached the World Cup final in South Africa. They didn't exhibit all their finery as they were beaten by Spain. This is a much-changed team, with only seven members of the 23-man squad from 2010 involved in 2014. There is more vibrancy about today's team.
This time, to reach the final again, they are hopeful that one (or more) of their variety of attackers will be able to trump Argentina's ace.
---