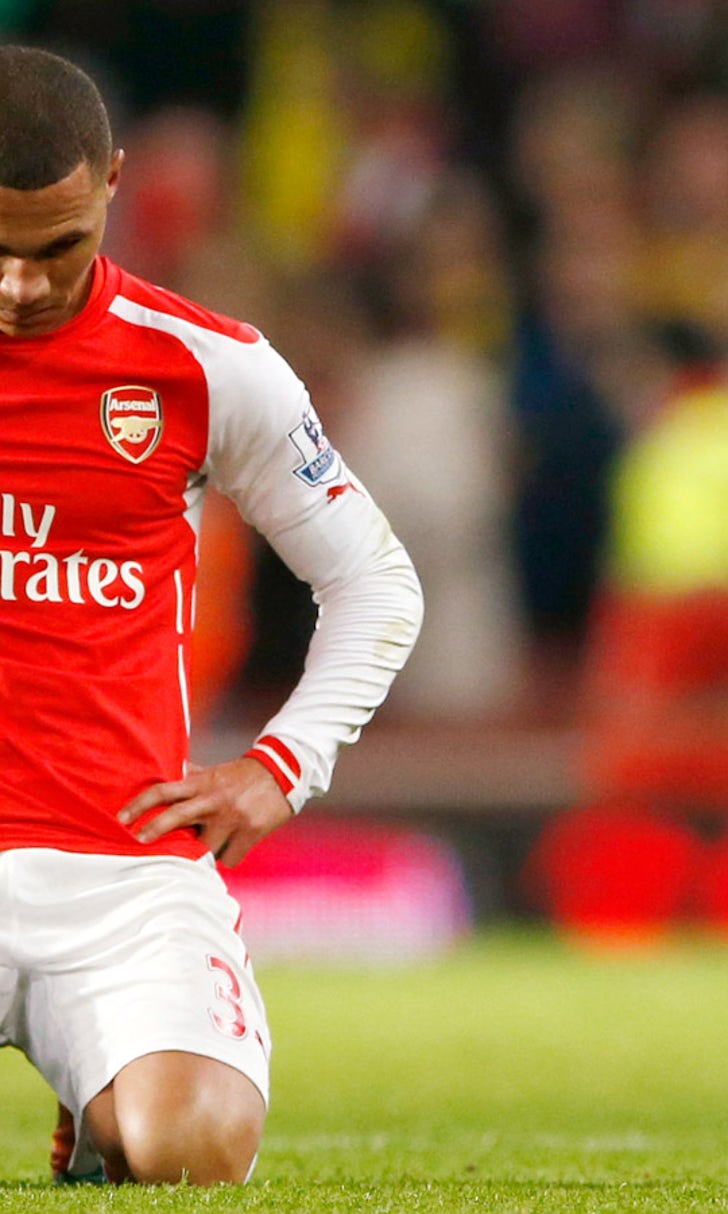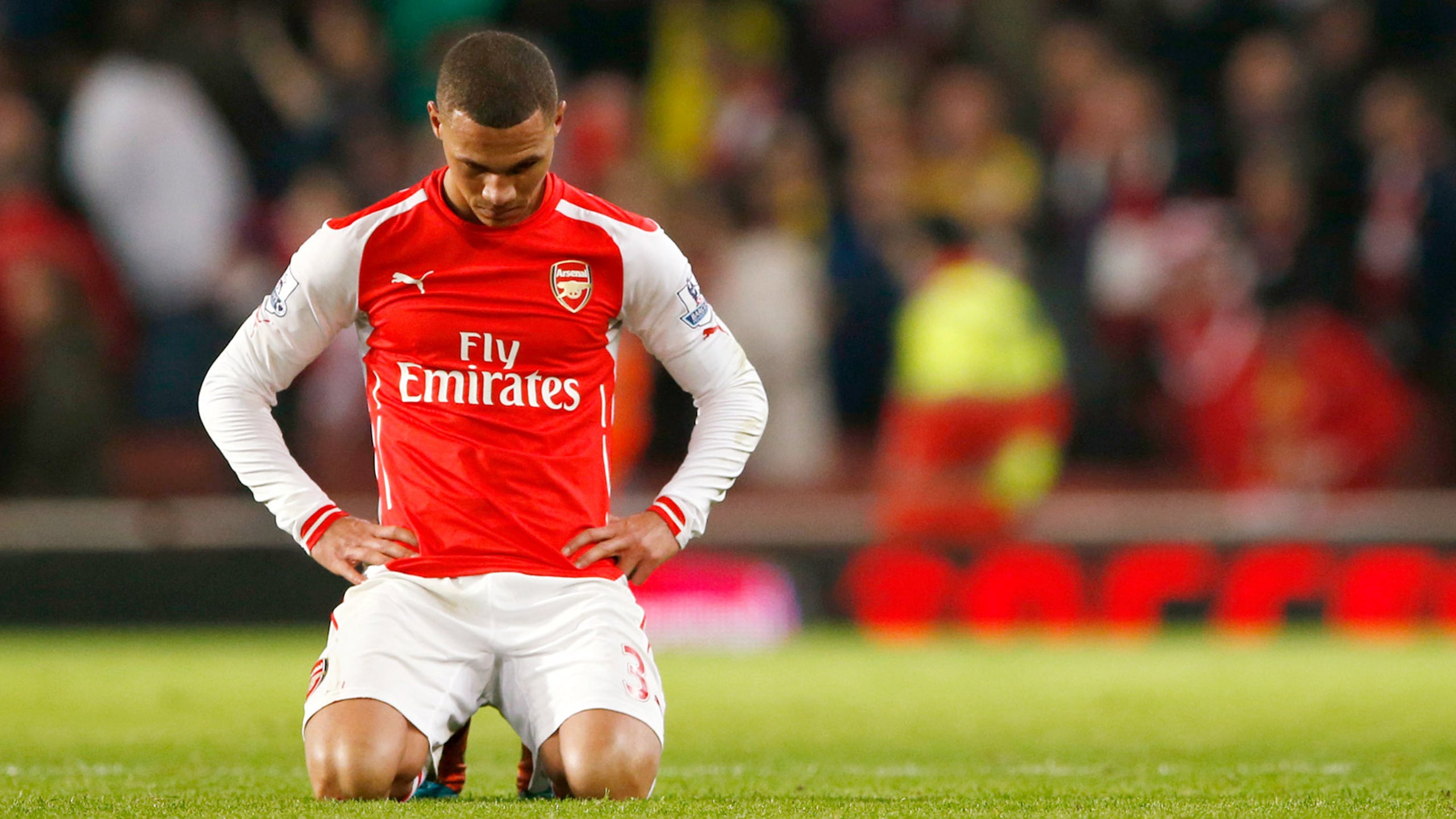 Manchester United stun Arsenal to get first away win of the season
BY Jonathan Wilson • November 22, 2014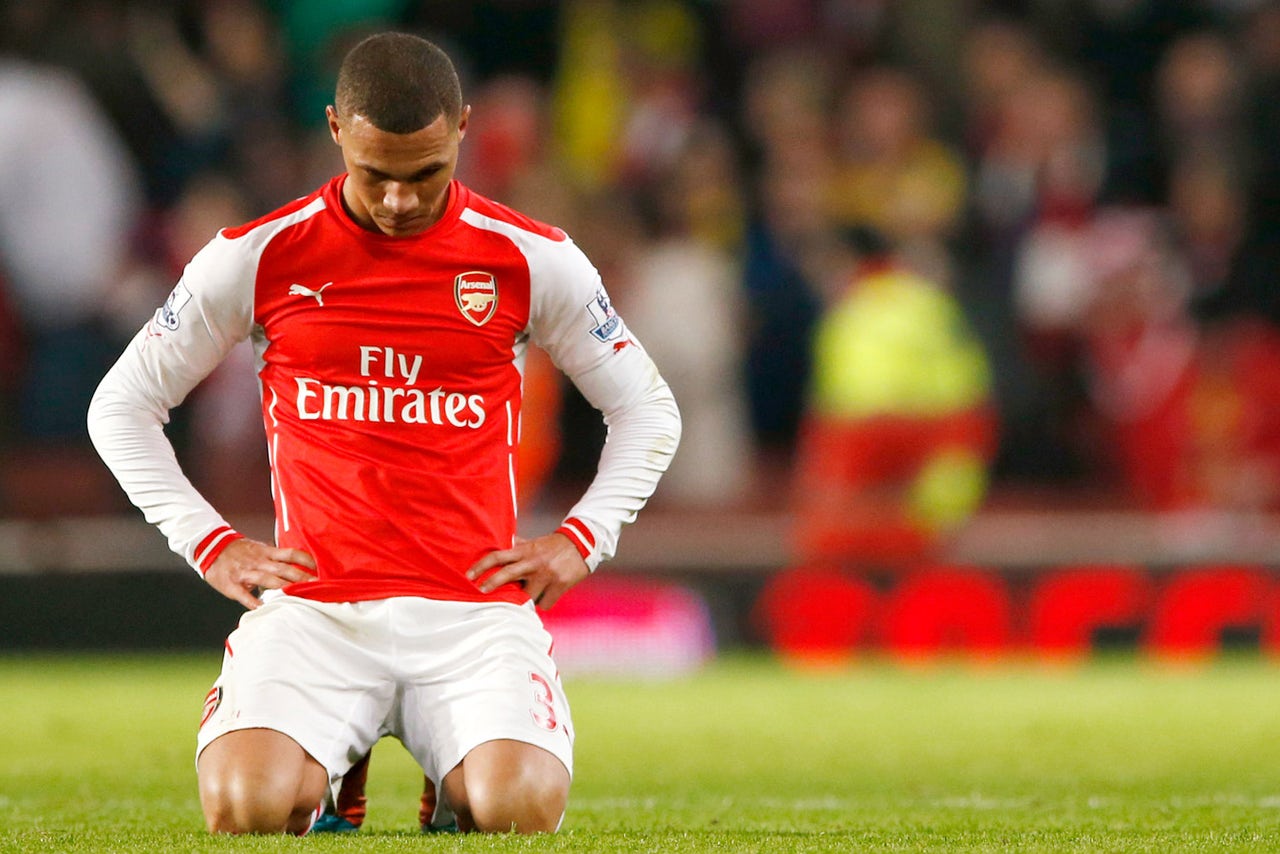 As Arsenal chance followed Arsenal chance, there was something inevitable about Manchester United taking the lead. Arsenal's capacity for slapstick self-destruction has been tuned to a fine art, but even by their standards, the way it went Saturday was farcical. 
United's Ashley Young crossed from the left, Arsenal's Wojciech Szczesny came flying out, flapped at the ball and clattered into teammate Kieran Gibbs. His weak punch came to United's Antonio Valencia in the corner of the box and, as Valencia returned the ball to the center, the grounded Gibbs instinctively flicked out a leg, turning the ball into his own net. Szczesny was then forced to leave the field, just two minutes after teammate Jack Wilshere had been forced off with an ankle injury. United was ahead without having had a shot on target.
Jim Carrey and Jeff Daniels had been on the pitch before kick-off to promote "Dumb and Dumber To." Some gags write themselves.
"It was a fantastic result," United manager Louis van Gaal insisted in a post-match interview. "We had a lot of injuries and in spite of that we have won. In an away match, it is very difficult. Arsenal are a very good team, an attacking team and that I knew in advance. That is why I chose this strategy and at the end I can laugh, but at the same time, you can imagine that if Arsenal could have scored one of the four or five chances in the first half, then maybe this would have been another game."
The 2-1 win lifted United to fourth, still 13 points behind the runaway leaders Chelsea and five behind Manchester City, but at least on the Champions League qualifying slot that is their target for the season. They have their first away win of the season, but to pretend all is suddenly well at Old Trafford would be highly misleading. After the recent improvement, this was a weak display, certainly at the back, and a more clinical team than Arsenal would have been well ahead in the first hour.
The back three returned for United for the first time since a 0-0 draw at Burnley in August, Tyler Blackett and Paddy McNair flanking Chris Smalling. At the other end, Wayne Rooney, Robin van Persie and Angel Di Maria formed a fluid front three, the Argentinian often the most advanced of them as Van Gaal sought to use his pace as he had used that of Arjen Robben for the Netherlands during the World Cup. Di Maria looked dangerous on the break, relishing his opportunities to get a run at Arsenal, but Blackett in particular struggled with his distribution and United was left thanking David De Gea and the remarkable magnetic qualities of his chest.
Danny Welbeck, playing against his former club for the first time since his £16m-move to Arsenal on deadline day, spurned two early chances conjured down by Alex Oxlade-Chamberlain. After his fine performance for England against Scotland on Tuesday, Oxlade-Chamberlain started superbly, attacking the space behind Luke Shaw. The full-back added to United's lengthy injury list when he was forced off after 16 minutes to be replaced by Young — the 40th different injury suffered by a United player in Van Gaal's four months in charge.
Arsenal had by far the better of the early stages: Alexis, looking faster than anyone else on the pitch, forced Blackett into an awkward backpass that put De Gea under pressure. His clearance hit Arsenal's Aaron Ramsey and bounced for Welbeck, who laid in Wilshere. The midfielder's finish through came off the chest of De Gea and bounced to safety. Oxlade-Chamberlain laid through one-on-one was then denied by De Gea. United's defense was a shambles and, at that stage, it felt that Arsenal might embarrass them.
"It's a game that we dominated for 80 percent of the time and we haven't dominated a game like that against Manchester United for a long time," Arsenal manager Arsene Wenger said in a post-match interview. "At the end of the day we were not efficient enough in the final third, defensively, and we made a mistake at the back which they took advantage of. That's the story of the game. We had plenty of chances. Their keeper is man of the match. That tells you the story of the game."
But among Arsenal's many problems is a lack of ruthlessness. They failed to punish United for their sloppiness and frustration set in. Wilshere could have been sent off when, failing to get sufficient height to land a head-butt on Marouane Fellaini, he ended up burrowing his forehead into the Belgian's prodigious chest hair. 
In a sense that sums Arsenal up: For all that was unfortunate on Saturday, their lack of discipline, occasional petulance and lack of sharpness seem to invite bad luck. In this sort of mood, they need to really dominate a game to be sure of winning it. In some ways they've never recovered from United ending their famous 49-game unbeaten away run 10 years and a month ago. Part of the reason is financial and part to do with the mysterious absence of a ball-winner at the back of midfield, but there is also just a lack of hardness.
Arsenal had chances late on, De Gea saving well against Arsenal's Santi Cazorla and Smalling making an excellent tackle of Welbeck as he ran through, but there was never the sort of sustained pressure that might have forced an equalizer. With five minutes remaining, Di Maria led a break and Rooney was able to to dink the second.
The Gunners made an attempt at a comeback when Olivier Giroud scored in stoppage time, but it was too little, too late.
United rode their luck and, in a display that fell short in many ways, there was at least a spirit to be discerned, a capacity to fight and get the most from the game. That's not in itself going to win titles, but it is at least something to work from when the injury crisis clears.
---