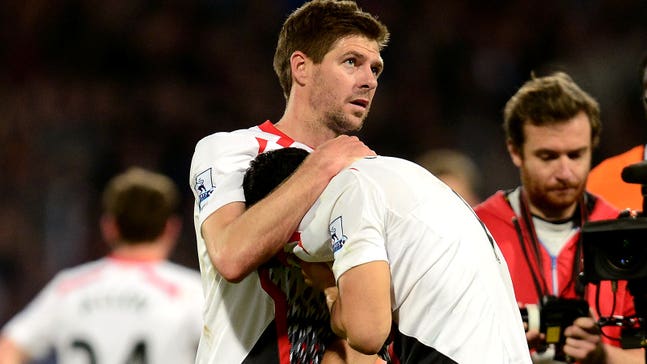 Liverpool blows 3-goal lead to draw Crystal Palace in stunner
Published
May. 5, 2014 4:56 p.m. ET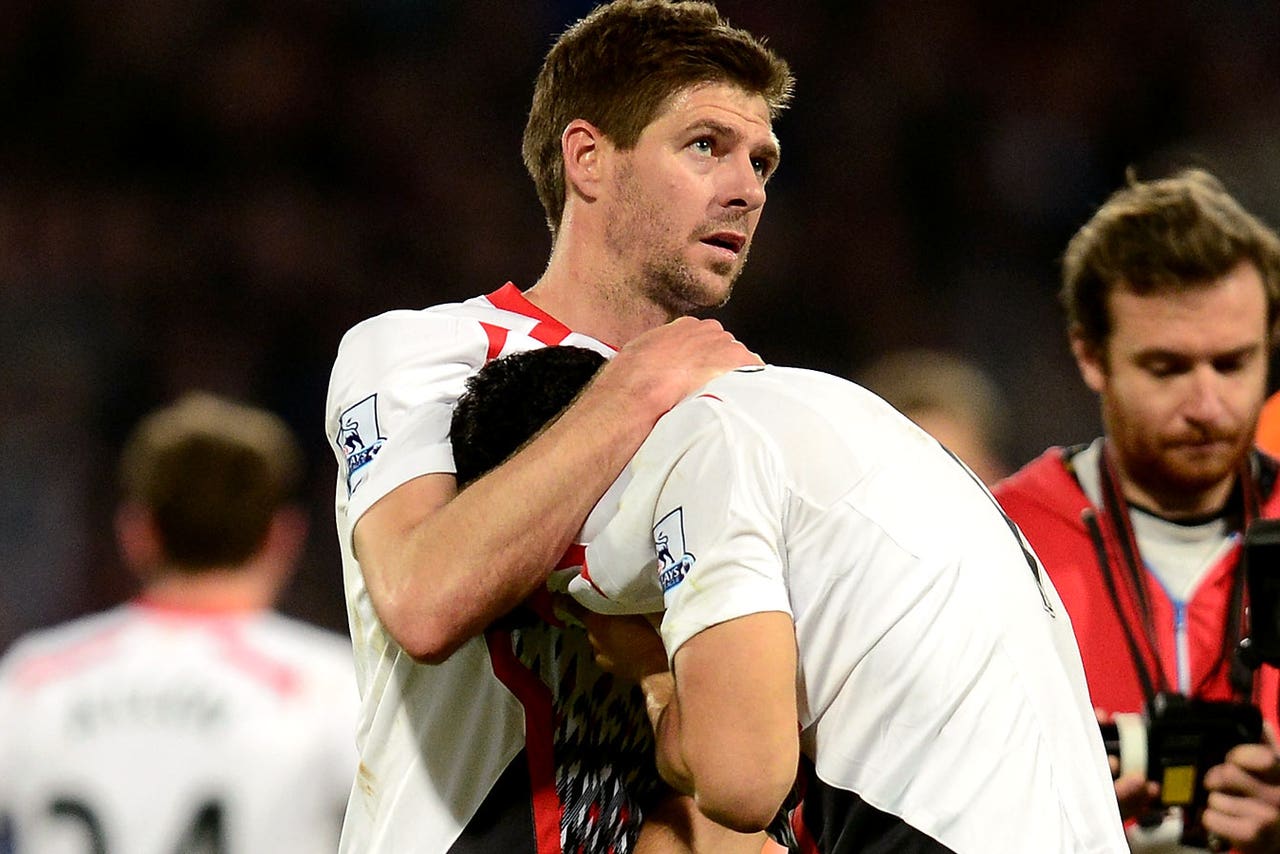 LONDON -- Liverpool let the Premier League title slip further out of their grasp Monday night, allowing Crystal Palace to come all the way back to draw 3-3 in a thriller here at Selhurst Park.  Dwight Gayle was the hero for Palace, scoring two late goals to help the Londoners recover from a 3-0 deficit.
The result does put the Reds back atop the table for at least 48 hours, but Manchester City can retake the perch when they host Aston Villa on Wednesday night. And, in truth, nothing but a win was really good enough for the Reds tonight. At the end, Liverpool's players had their heads in their hands. They knew they had blown a golden opportunity. Liverpool were by far the better team here for much of the match and it was something of a shock that they couldn't really rack up even more than they did – and deeply damaging that Palace were allowed to come back so late.
After the match, Liverpool boss Brendan Rodgers lamented his team's lack of focus late in the contest. "You cannot come here against a very good side, be the threat that we were and then defend as we did. It is criminal really. It is 99 goals we have scored, which is a phenomenal achievement by the team - but you have to defend," Rodgers said.
"It is no good scoring all those goals if you defend as we did tonight. You have to have that maturity to see it through and we did not do that."
That it took even twenty minutes for the Reds to score was something of a surprise. By that point, Glen Johnson had already had a shout for a penalty denied after Yannick Bolasie was seen to miss the ball and hack him in the box (Bolasie was not only lucky not to concede, he was lucky not to be directly sent off); Mamadou Sakho missed with a free header from three yards; and then Johnson headed a sublime pass over Julian Speroni's bar.
Finally, Daniel Sturridge took a speculative shot from range that caromed off the shoulder of Damien Delaney and out for a corner. Steven Gerrard sent that corner in and as Marouane Chamakh ran flat-face into a pick, Joe Allen raced into the space left by Joe Ledley to nod home his first league goal for Liverpool. It was too easy – and the first time Palace had conceded from a set-piece under the rigid Tony Pulis.
But Palace – who are poor passers and can be embarrassing in possession – still have something. I'm not sure what it is aside from sheer bloody-mindedness, but despite the chances raining in from Liverpool, they continued to roam up the field themselves. Palace only had two solid chances in the first half, but one of them, a scorching effort from Mile Jedniak, forced keeper Simon Mignolet into a world-class save, demonstrating again how valuable he has been to Liverpool's title effort.
After the break, the gates opened. Sturridge first forced Speroni to tip his shot onto his own post, and then slammed home the decisive goal through a pack of Palace players. Gerrard served in a long outlet crossfield to find the young England striker, and he slipped left, dragging the defenders with him, to coolly shoot low and hard into the near corner.
Minutes later, Luis Suarez finally made his presence felt. Off-song much of the night – and seen asking the trainer for a pill pre-game, the assumption being that he had a headache – he finally put in one of his shots after fine interplay with Raheem Sterling. With the goal, he equaled the 31-goal mark for a 38-game Premier League season set by Alan Shearer and Cristiano Ronaldo. An hour was gone, and belief coursed through the Reds that they could really erode City's advantage.
And then: Palace. In a reversal, Delaney powered in a shot from range into the top corner with ten to play and suddenly Selhurst Park came alive. Not two minutes later, Palace repeated the feat, exposing the softness that has led to Liverpool's goal difference in the first place. Bolasie went on a rampage down the left side, squared the ball through Martin Skrtel and Johnson and Dwight Gayle was there to stroke it home. It was a classic bit of smash and grab from Palace and suddenly the question wasn't how much Liverpool would win by – but if they could win at all.
The question was answered shortly enough. Seven minutes later, Gayle completed the turnaround when he latched on to a long outlet from Murray and fired it past a helpless Mignolet. He raced to the Holmesdale Stand, hand cocked to his ear while Suarez was left shaking his head in disdain.
Attention now shifts to Manchester. It's easy for them: they need four points from Villa and West Ham, while Rodgers has all but condeded defeat.
"There is no doubt. Manchester City will go on now to win it. We needed to win to keep the pressure on going into the last game and we did not do that," Rodgers said after the match.
There's little Liverpool can do about it now – except hope for some help. But great teams make their own help, and their own luck. Tonight, Liverpool's failings stood exposed and it is likely to cost them the trophy they so covet.
---