Jurgen Klinsmann doubles down on hands-off philosophy as USMNT coach
BY Caitlin Murray • January 21, 2017
When Jurgen Klinsmann spoke at last week's NSCAA convention, it was his first public appearance since he had been fired as the United States national team coach. And for those who were critics of his methods, even though Klinsmann is no longer at the USMNT helm, he offered up new fodder to rile up frustration with his track record.

"For me, when I came here, I was a little bit overwhelmed with the kids all the time looking at us coaches – they want an answer from us to everything that happens out there," he said, according to one report of his talk. "For me, overwhelmingly, was always the fact saying to the player: 'You solve it. You are the player. You've got to figure it out.'

"As coaches, we put you in a safe environment, hopefully in a fun environment, hopefully the chemistry of the group that we gather is a good group of kids and players. But then it's a player's game."

If it sounds like Klinsmann is suggesting that, as a coach, he shouldn't need to teach his players how to do the things he wants them to do, that's because that is what he is saying.

It's not exactly new from Klinsmann, who has talked about needing players to figure things out on their own during matches. And to some degree, that is the case across soccer because coaches get so few opportunities to make changes during games. But Klinsmann has never put his hands-off philosophy in such specific terms.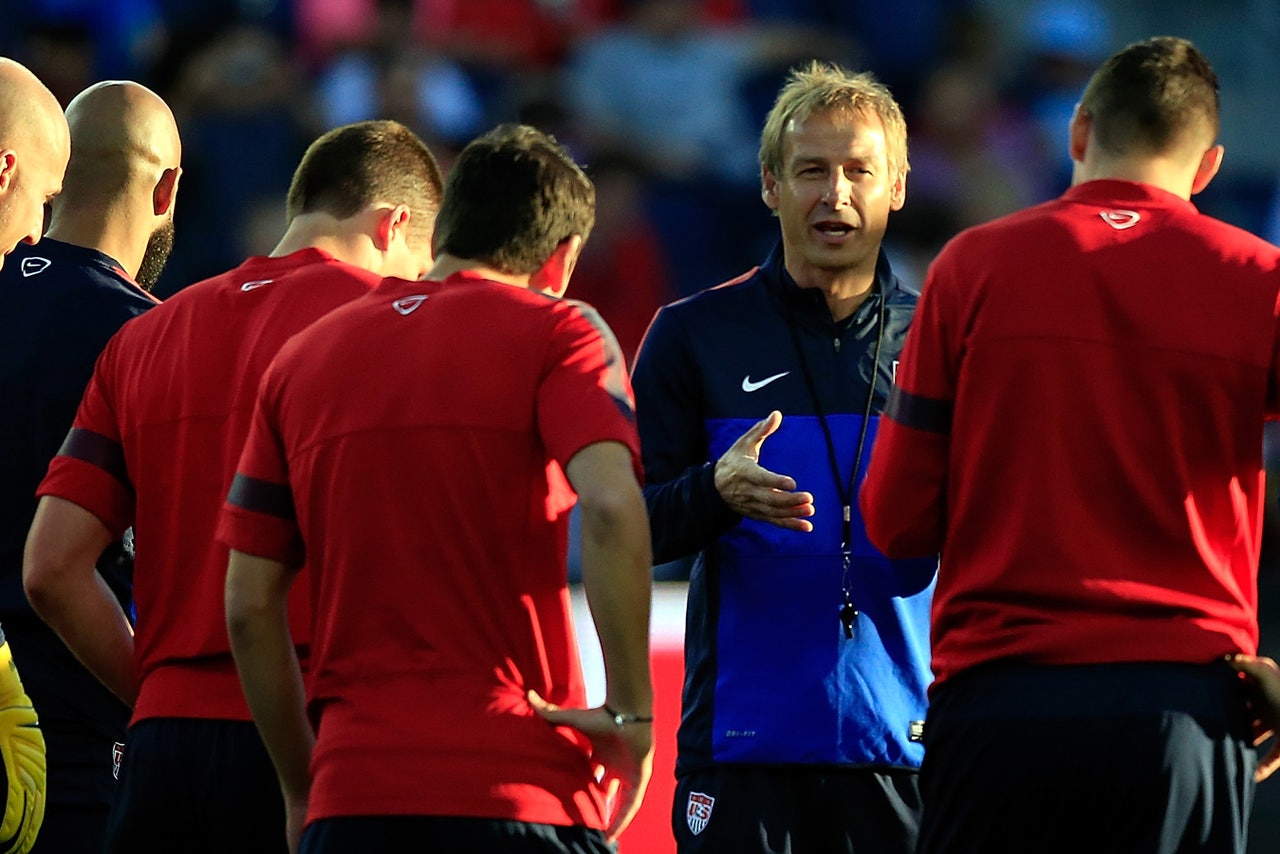 "We always discuss movement off the ball – so how does this happen? Well, movement off the ball, I cannot show you on the whiteboard, because movement off the ball is something that I read on the field because I read space, I create space," Klinsmann said.

"I cannot put that into a lecture – I mean, obviously I can talk about it. But all these element.... Just do it. If you do it five times the wrong way and five times you run into the wrong guy, the big guy, and he just takes you off, I think the sixth time you want to go around."

Whether his coaching style can be effective or not, it clearly didn't work for the U.S., where players at times complained about feeling left in the dark by Klinsmann's lack of communication.

After a November loss to Mexico – Klinsmann's second-last match before he was fired – Michael Bradley hinted that the team wasn't clear on everyone's roles and which spaces they should occupy. Jermaine Jones said the same thing.

The comments weren't all that dissimilar from those players anonymously made in a controversial exposé that accused Klinsmann of offering little direction and leaving players unclear of their jobs. That Sporting News report in 2013 was seen as a turning point that forced Klinsmann to change his ways and the team started to play better, eventually going on a record 12-game winning streak that year.

But the end of Klinsmann's career and his latest comments make it clear that his philosophy largely stayed the same, and it was a philosophy that created strain between him and the players of the USMNT. Perhaps, then, Klinsmann's most recent comments confirm that his separation from the USMNT was best for everyone.

MORE FROM FOX SOCCER



 
---
---