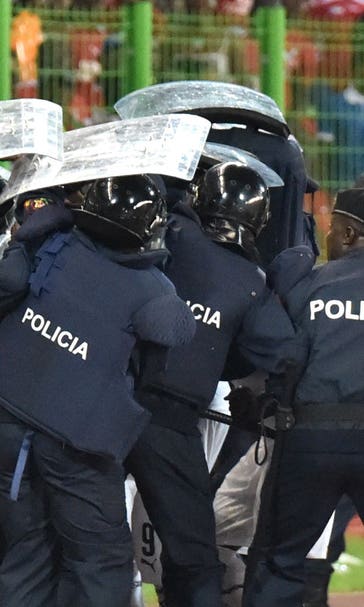 Ghana beat Equatorial Guinea in Cup of Nations semifinal marred by unruly fans
BY Jonathan Wilson • February 5, 2015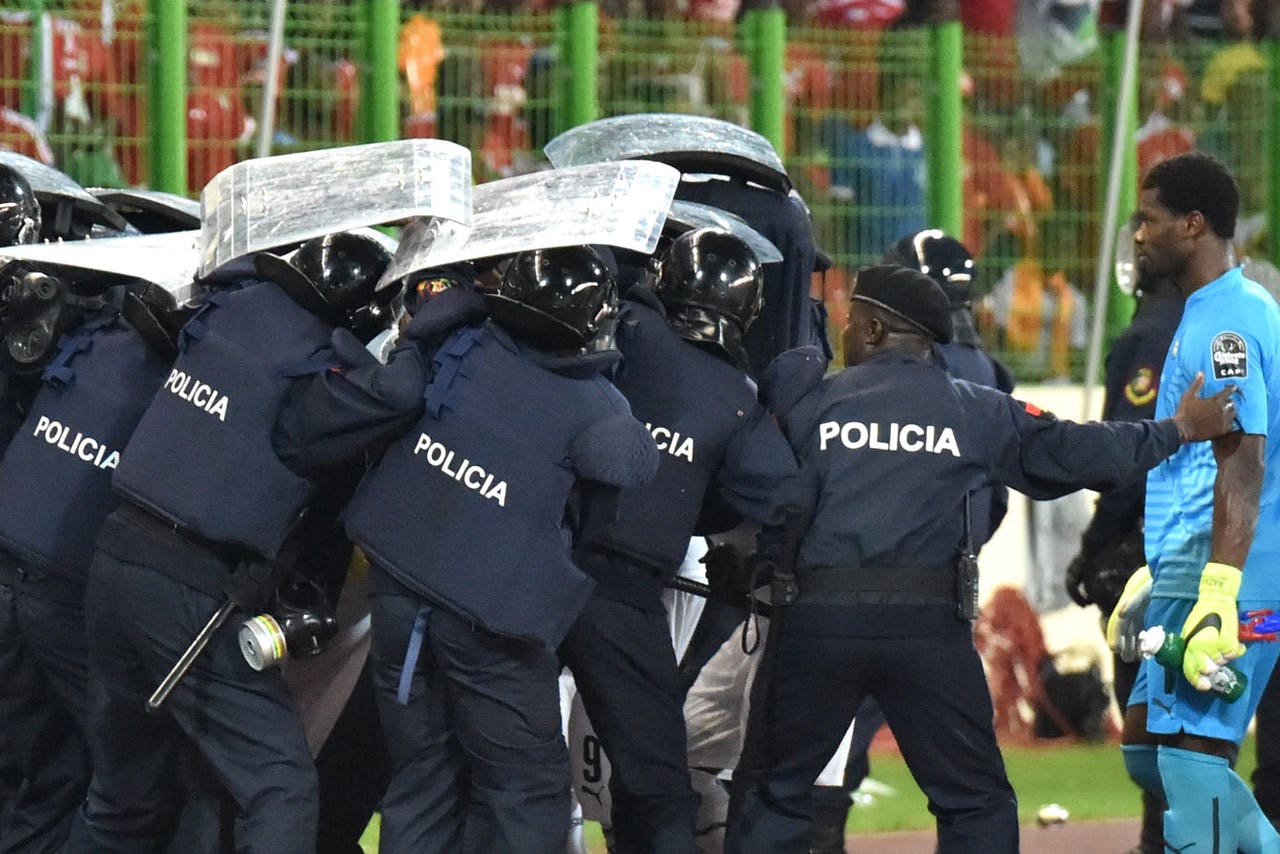 A tournament that has been beset by scandal for most of the past week slid further into controversy on Thursday. Ghana reached Sunday's final with a 3-0 vicotry over tournament hosts Equatorial Guniea. They will meet Cote d'Ivoire in the final, but their achievement in reaching a second final in four tournaments was overshadowed by disgraceful crowd disturbances that led to the game being suspended for over half an hour.
As soon as Ghana had taken the lead, their bench was battered by a hail of bottles and, as the deluge of missiles continued, riot police had to create a barricade with their shields to allow Ghana to leave the pitch. In the end, as Ghanaian fans were targeted, the game had to be stopped.
Equatorial Guinea forward Emilio Nsue apologized to Ghana after the match.
"Ghana played very well. I've never played in front of anything like that and I'd like to say sorry on behalf of my team. It was an odd experience -- one I've never felt before," said Nsue.
Hosting this tournament on short notice was supposed to raise Equatorial Guinea's profile, and to show that the country was both willing to make sacrifices for the good of Africa and capable of staging major events. In many ways it has done a remarkable job, but the memory will be soured by the violence and lack of sportsmanship of this semi-final.
Crowd control was an issue from the start. A section had been set aside for Ghanaian fans, a sensible and probably necessary step, but it was about twice as big as necessary, meaning around 500 seats in one corner lay empty while other parts of the ground were over-filled, with fans packing the aisles and stairwells. Outside the ground before kick-off a crush developed, with fans pressed up against three turnstiles as police tried to beat them back.
Initially the crowd was good-natured, the home fans conducting the Ghanaian anthem with their orange inflatable hands, before belting out their own anthem with tremendous gusto, but the mood soon turned.
After all the controversy over the refereeing in Equatorial Guinea's quarter-final win over Tunisia, the Gabonese official Eric Otogo was admirably firm, although he did at one point give Ghana an extremely soft free-kick after Iban Edu had dispossessed Wakaso and seemed to be clean through. Given the linesman, no more than 15 yards from the incident, gave nothing, it was hard not to wonder whether Otogo, after Rajindraparsad Seechurn's experience, was determined not to be seen to favor the home side.
Ghana generally had the better of the game, Wakaso again and again looking to hit Dede Ayew early, but clear chances were limited against a dogged Equatoguinean rearguard. Equatorial Guinea's coach Esteban Becker had left out both the full-backs who started the quarter-final, Randy and Sipo, and, although Daniel Evuy on the right acquitted himself well, Ruben Belima, more usually a left-sided midfielder, looked distinctly shaky.
Ghana's Jordan Ayew, a painfully frustrating player, blessed with significant talent and extremely little sense of how to use it, repeatedly wasted good opportunities by needlessly wandering offside. He also contrived to block a shot from his teammate Wakaso Mubarak, prompting a counter in which Wakaso ended up committing a foul for which he was booked.
Finally, four minutes before half-time, Ghana made the breakthrough, Christian Atso laying in Kwesi Appiah, who was brought down by the goalkeeper Felipe Ovono for a penalty. The decision looked clear enough, but Equatoguinean players furiously surrounded referee Otogo.
Jordan Ayew, revelling in the fact that you can't be offside when taking a penalty, shuffled in his run up and rolled the ball home.
As Ghana celebrated, Equatorial Guinea attempted a quick kick-off, but were pulled back by Otogo, whom they again surrounded. That prompted fans to hurl bottles at the Ghana bench and for a time the substitutes had to move on to the field for protection.
Equatoguinean discipline had gone completely and in the final minute of the half, piling men forward for a corner, they were undone by a simple breakaway, Atsu laying in Wakaso to score the 1500th goal in Cup of Nations history.
That brought more missiles and, after the half-time whistle had gone, Ghana's players were stuck on the pitch for several minutes, unable to make their way down the tunnel because of the cascade of bottles until police created a walkway.
At the start of the second half, fans were warned that the game would be abandoned if there was more bottle-throwing, but that just drew a further barrage. The Equatoguineans took the field and pleaded for calm, but for several minutes Ghana was unable to emerge from beneath the riot shields. When Razak Braimah, the goalkeeper, emerged, he was clutching a Spiderman figurine that he positioned in the back of his goal.
From then on the pattern repeated. Referee Otogo made a decision, the Equatoguinean players protested and more bottles were thrown onto the field. Eventually Dede Ayew added a third goal for Ghana, touching in Appiah's cross.
Predictably, that brought more bottles, some aimed at the Ghanaian fans, who retreated into a corner of the stand before police attempted to lead them out of the ground. A further hail of bottles, though, trapped them by the side of the pitch, forcing the game to be halted after 82 minutes.
Eventually, police cleared two stands, using a smoke bomb or tear gas in one of them, and led the Ghanaian fans to safety.
More than 30 minutes after the game was halted, the match was restarted and three uneventful minutes of stoppage time was played before the final whistle. The game finished, but the shameful stain remained.
---
---