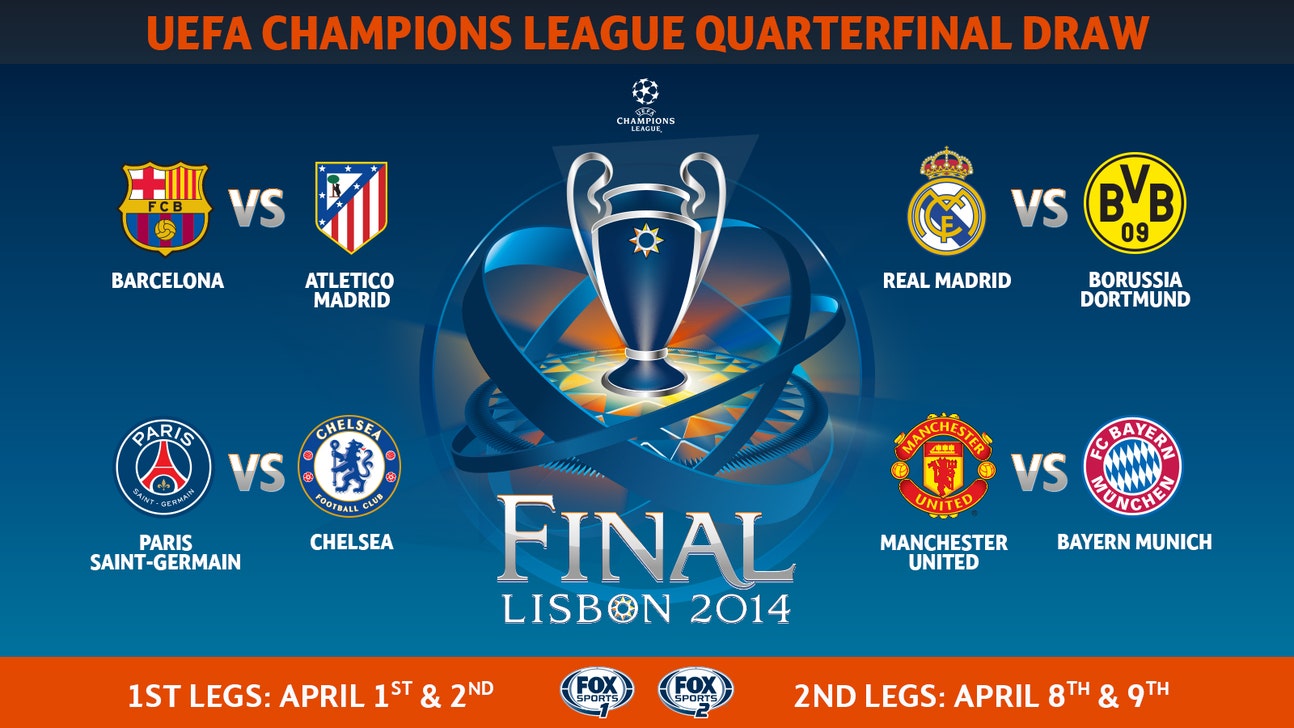 Four matches, countless tactical battles for Europe's finest
Published
Mar. 21, 2014 5:02 p.m. ET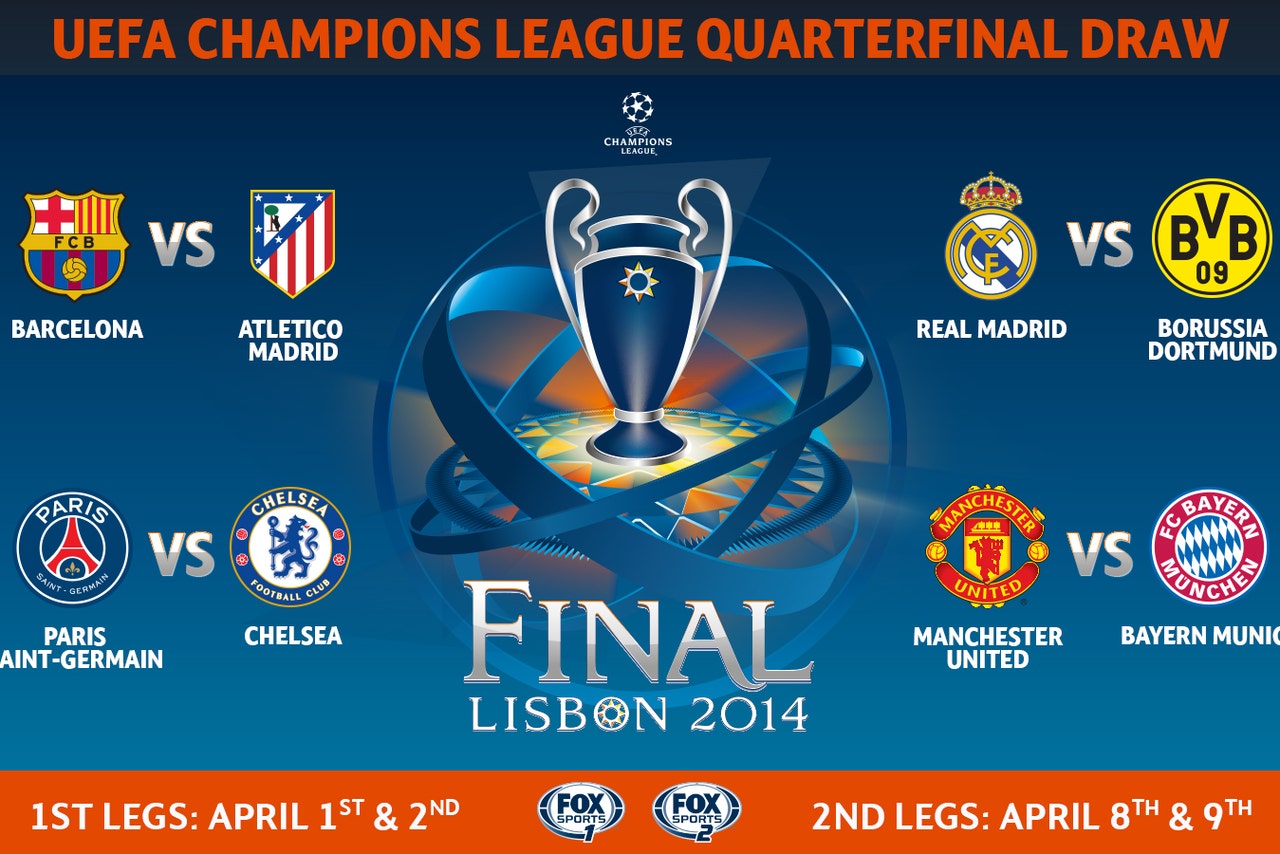 LONDON -- The field is set for the UEFA Champions League quarterfinal round. Below, we offer a quick review of the challenges and matches ahead:
Barcelona vs. Atletico Madrid
Barcelona and Atletico have met three times already this season, producing three draws two goalless draws and a 1-1 and two more tight games seem probable. The league match at the Vicente Calderon in January probably offers the template, although Lionel Messi, just recovering from his hamstring injury, was restricted to a role on the bench that night. The styles are contrasting: Atletico playing deep and narrow, excellent at regaining possession, always snapping and looking for rapid counters; Barcelona more patient, playing higher up the field, adept at transitions but essentially focused on keeping possession, working spaces, looking always to get its fullbacks forward.
The game was played largely in Atletico's half, but Barca for all its domination of the ball struggled to create chances: with Messi rather than Cesc Fabregas as the lone forward, of course, that may be different. Neymar also missed that game through injury, and his presence adds a creative dimension, but the sense is always that if Pedro or Alexis Sanchez don't play, Barca can lack a little penetrative pace.
The other key lesson of that league game was the way Diego Costa closed down Sergio Busquets preventing him being Barca's playmaker from deep. Indeed, both Costa and David Villa were defensively superb, getting the balance right between harassing Barca's defenders and dropping back to that at times Atletico effectively had six midfielders squeezing the space and disrupting Barca's rat-a-tat passing. Atletico has shown signs of fatigue in recent weeks, but if it can find an extra spurt for the Champions League, this will be extremely tight.
Real Madrid vs. Borussia Dortmund
When they met in last season's semifinal, Dortmund destroyed Real Madrid in Germany with an astonishing display of modern, transition-based football that seemed to highlight a lack of dynamism in the Spanish game. On the evidence of that match and the other semifinal, in which Bayern hammered Barcelona, it seemed that the Bundelsiga was simply too quick and too strong for the two Spanish giants, whose dominance of their own league had perhaps lured them into complacency.
That feeling hasn't entirely gone away, but this is a re-energized Real Madrid, the dirty politicking of the end of the Jose Mourinho era giving way to Carlo Ancelotti's more affable style of leadership, while Dortmund, having lost Mario Goetze and beset by injury problems, has reached nothing like the same heights this season. Add in the fact that Robert Lewandowski, who scored four in the first leg last season, is in nothing like the same form, and a repeat looks unlikely. Lewandowksi is suspended for the leg and as many as seven of the eleven who started for Dortmund in the semifinal will be missing in the first match.
The sale of Mesut Ozil has only made Real more dynamic, with Gareth Bale now on the opposite flank to Cristiano Ronaldo and, while the injury to Sami Khedira has removed an element of defensive protection, the sheer quality on the ball of Xabi Alonso, Luka Modric and Angel di Maria mean Dortmund is likely to find it far less easy than it did last season to rampage through midfield.
Paris Saint-Germain vs. Chelsea
With PSG, the focus is always first on Zlatan Ibrahimovic, and then on Edinson Cavani and Ezequiel Lavezzi, and only then on the defensive solidity of its spine. The battle between Zlatan and Chelsea's central defensive pairing of John Terry and Gary Cahill should be fascinating, but the key battle is more likely to be at midfield.
The trio of Blaise Matuidi, Marco Verratti and Thiago Motta (with Yohan Cabaye and Javier Pastore as cover) is beautifully balanced, a combination of steel, energy and creativity that provides the ideal platform for the vaunted front three. Jose Mourinho's problem is that, although he only re-joined the club in January, Nemanja Matic has already become a vital pillar in his Premier League strategy: remove him and Chelsea's midfield seems suddenly a little flimsy at best. If Mourinho sticks with the 4-2-3-1 he tends to prefer, there is a real danger of Ramires and Frank Lampard being over-run. It may be that he switches to 4-3-3, which means Jon Obi Mikel being recalled or David Luiz operating in a midfield role in which Mourinho is clearly reluctant to use him, with Chelsea sitting deep and looking to use the pace and directness of Eden Hazard and Willian on the break.
Back in September, Manchester United went to Manchester City, saw its midfield obliterated and was hammered 4-1. Ten days later, Bayern Munich went to Manchester City, obliterated its midfield and won 3-1. To say that United's midfield will face two challenging nights is the grossest of understatements. The center of midfield has been United's weakness for several seasons now and, well as Ryan Giggs did in the role against Olympiakos on Wednesday, it says much for the problems at Old Trafford that it takes a 40-year-old to show how it's possible to guard the defense and still play incisive forward passes.
---