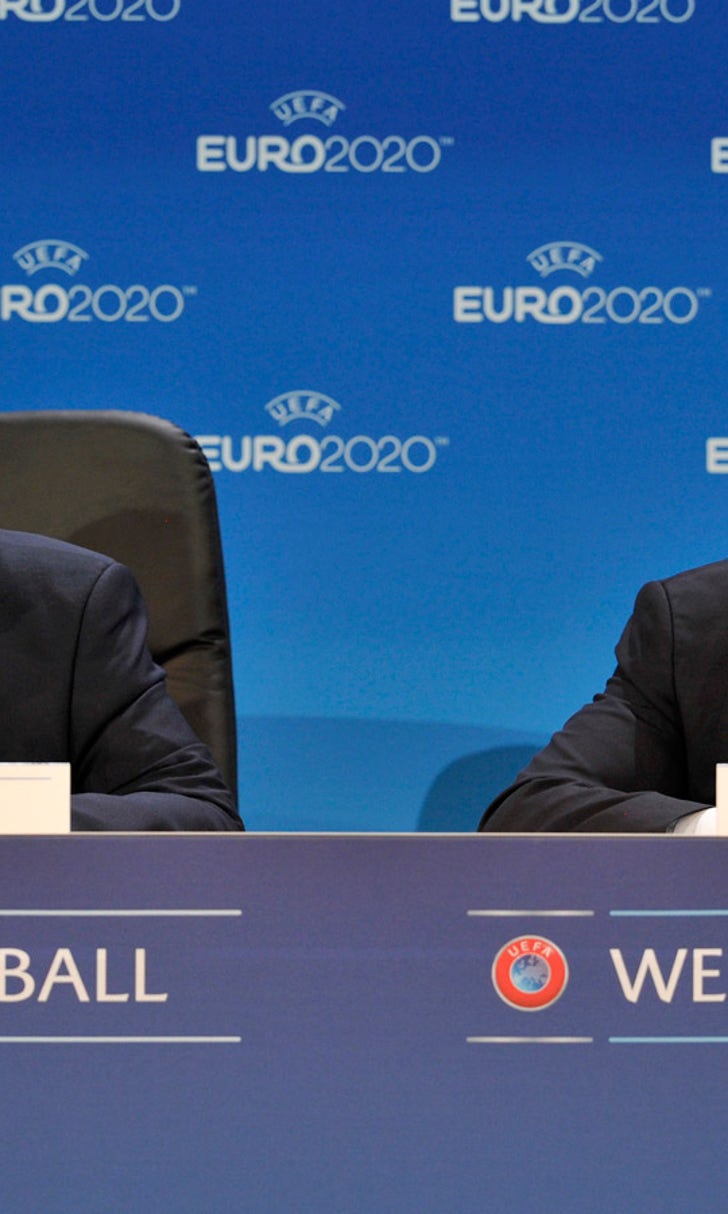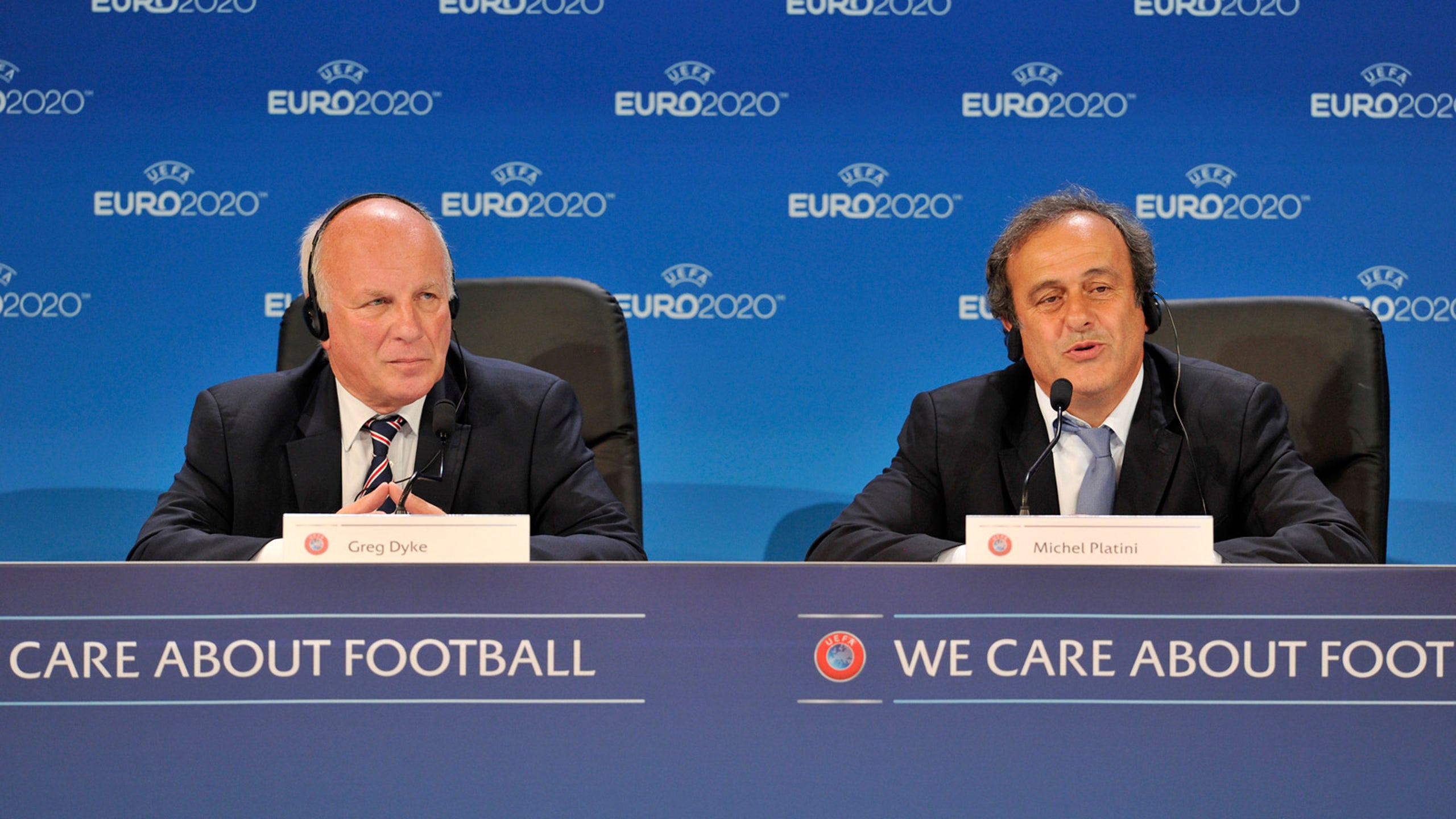 FA chairman Greg Dyke supports Platini's run for FIFA presidency
BY foxsports • July 29, 2015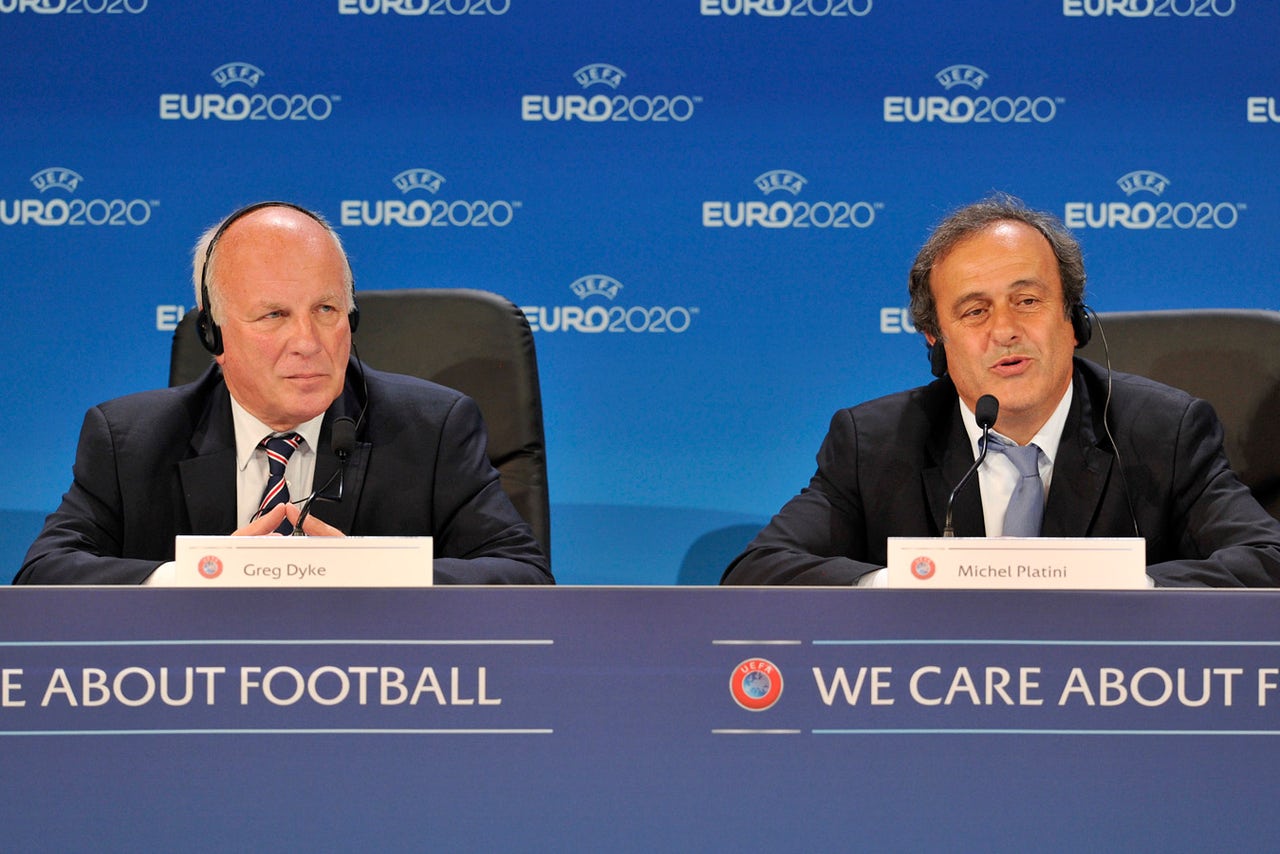 Michel Platini has been given the firm backing of the Football Association after formally declaring he is to run for the FIFA presidency - and despite his public backing for Qatar to host the 2022 World Cup. The 60-year-old UEFA president said he wants to he wants to restore the world governing body's dignity after the corruption crisis which engulfed the organization and led to Sepp Blatter announcing he will quit as FIFA president.
FA chairman Greg Dyke has thrown his weight behind the Frenchman but warned it will be a challenging task to change FIFA. Platini has also championed Qatar's 2022 World Cup despite the controversy surrounding the bid and the decision to play the tournament in the winter. Dyke said: "We support Michel Platini's candidacy. We have a good relationship with him and hope he can gain the necessary global backing to lead a new FIFA during the most difficult period in its history. Mr Platini has always made it very clear that he voted for Qatar. If all the other people who voted for Qatar had been quite as transparent it would have been more helpful."
Dyke reiterated the need for  fundamental reform within FIFA. Dyke said: "We understand there will be a number of candidates, which should result in a strong and healthy debate. However, we should not underestimate how challenging it will be for anyone to lead an organization that has been so tainted. The whole structure of FIFA must be reviewed and fundamentally changed. With FA vice-chairman David Gill newly-appointed to the FIFA Executive Committee and the level of worldwide scrutiny on the reform process, the opportunity is there to bring about positive change. While we have yet to see Mr Platini's manifesto, we believe he will fully support an ongoing reform process."
Platini has also been supportive of the FA in terms of backing an increase in the number of home-grown players in squads, and last year UEFA awarded the semi-finals and final of Euro 2020 to Wembley. Blatter is to step down on February 26 due to the corruption crisis which has engulfed the organisation. Platini has written to all 209 member associations of FIFA to inform of them of his intentions. He said in the letter: "There are times in life when you have to take your destiny into your own hands. I am at one of those decisive moments, at a juncture in my life and in events that are shaping the future of FIFA."
The Frenchman said he wants to "to give FIFA back the dignity and the position it deserves". Platini added: "This was a very personal, carefully considered decision, one in which I weighed up the future of football alongside my own future. I was also guided by the esteem, support and encouragement that many of you have shown me. During this last half-century or so, FIFA has only had two presidents. This extreme stability is something of a paradox in a world that has experienced radical upheavals and in a sport that has undergone considerable economic change. However, recent events force the supreme governing body of world football to turn over a new leaf and rethink its governance."
Blatter, 79, was re-elected in May but within four days had announced he would quit after FIFA's involvement in payments to officials was uncovered. Platini has been promised the support of the four of the six FIFA confederations, including the powerful Asian bloc, which makes him the clear favorite to succeed Blatter. If Platini succeeds in becoming FIFA president, one implication is a likely slow-down in the further introduction of new technology such as video replays into the game. Platini has been an opponent of goal-line technology, which has been adopted by both the Premier League and by FIFA for their competitions, and instead has favored an extra official behind each goal-line.
After his announcement, Platini found himself under immediate attack by Jordan's Prince Ali Bin al Hussein, who lost heavily to Blatter in May's election despite support from UEFA and Platini. Prince Ali, who appears to be preparing to run again, said: "Platini is not good for FIFA. Football's fans and players deserve better. FIFA is engulfed in scandal. We must stop doing business as usual. The practice of back-room, under-the-table deals must end. I believe that the voices of the individual football federations must be heard. In the coming week, I will be consulting with them about what is in the best interests of football. What is clear is that FIFA needs new, independent leadership, untainted by the practices of the past."
Meanwhile, the head of the German football federation Wolfgang Niersbach, who is the favourite to succeed Platini at UEFA, has also given his backing. He said: "Michel Platini and I have a different view in the awarding of the 2022 World Cup to Qatar, but that does not spoil our good relationship. I can assure you that he has our full support."
---
---