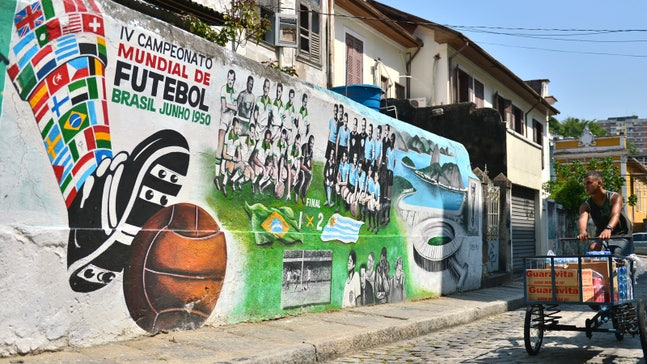 Brazil's fixation remains on the 1950 World Cup they didn't win
Published
May. 10, 2014 8:49 p.m. EDT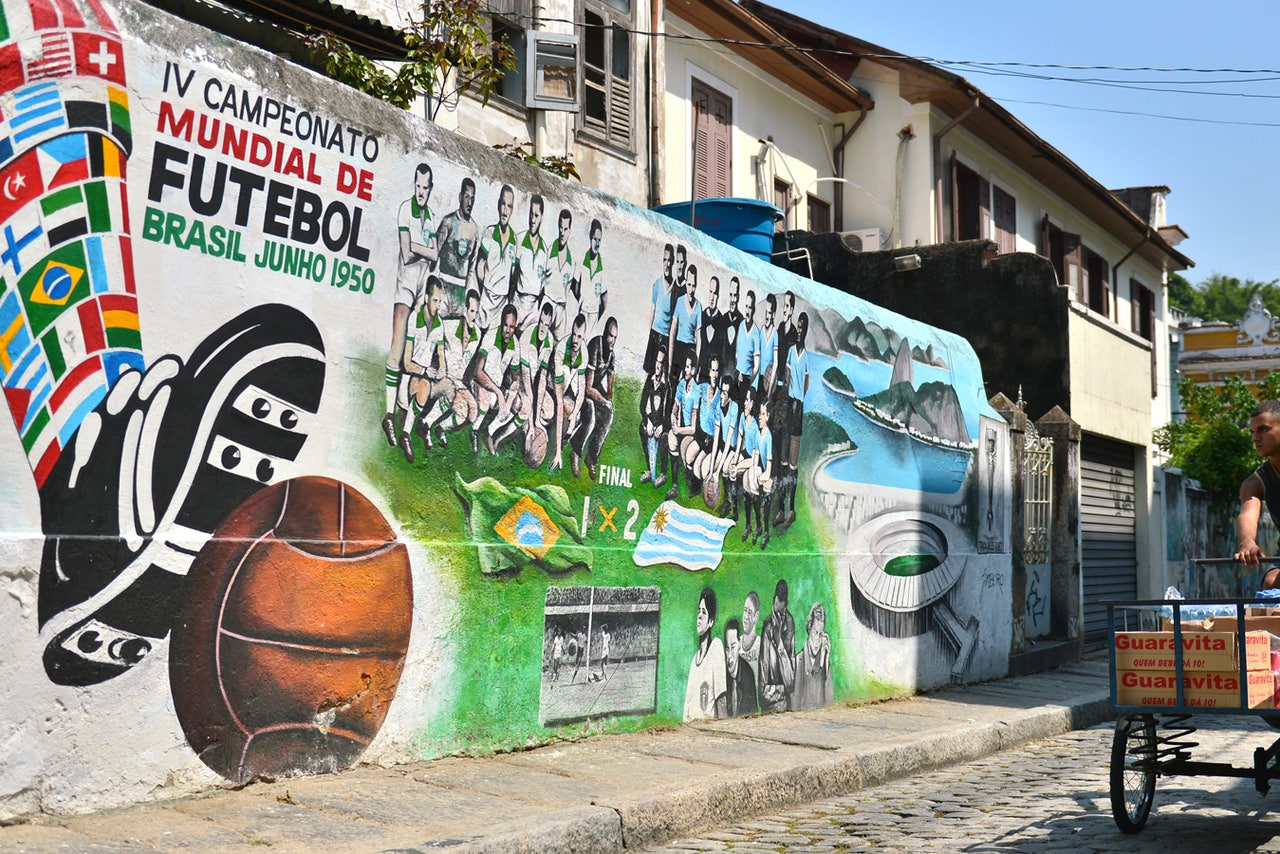 The headline had already been written and the triumphant front page of the newspaper printed. "These Are The World Champions," O Mundo'€™s cover read, by a picture of the Brazilian national team on the day of the game, before a ball had even been kicked. In fact, Gazeta Esportiva had beaten them to it. "Tomorrow We Will Beat Uruguay!" screamed its front page the day before the decisive match of the 1950 World Cup in Rio de Janeiro'€™s brand-new 200,000-seat Maracana stadium.
There was no official final for the fourth World Cup, held in Brazil and consisting of a group stage and another round-robin of group winners to anoint a world champion. All Brazil needed from their last match against the Uruguayans was a tie. And so confidence ran amok.
Prior to the game, the mayor of Rio de Janeiro addressed the team and the capacity crowd. "You Brazilians, whom I consider victors of the tournament, you players who in less than a few hours will be acclaimed champions by millions of your compatriots," the man crowed to the stadium, which still wasn'€™t quite finished. "You who are so superior to every other competitor... You whom I already salute as conquerors."
But the Brazilians lost 2-1, shushing a boisterous nation into a stunned silence. Since then, Brazil have won five World Cups, more than any other country. But their fascination remains fixated on the one they didn't win. On the one that should have been theirs -- their first, on their home turf -- but that slipped away through some sinister aberration of history, a collusion of diabolical fates that they have never, and might never, completely processed and gotten over. Brazil's great playwright Nelson Rodrigues called it "our Hiroshima" and while that may seem like a reckless metaphor, the hideous scars on the national psyche do bear a resemblance to those of a famous and deadly attack suffered on home soil.
No World Cup had been played since 1938, courtesy of World War II, when the first World Cup was held on Brazilian soil, to be followed this summer by a second. The tournament was still in its infancy. England finally deigned to compete. But Scotland, Czechoslovakia and Austria pulled out in spite of qualifying. Portugal refused to take Scotland's spot and France wouldn't come in Turkey's place in protest of the savage in-country travel that the schedule prescribed for them -- whereas Brazil would play five of six games in Rio. Germany was banned from international competition and Russia and Hungary were now disconnected from the Western world behind the iron curtain. Consequently, Group IV had just two teams -- I and II had four, and III had three -- so Uruguay destroyed Bolivia 8-0 and were into the next round.
Before the big showdown, Brazil coach Flavio Costa warned against overconfidence, pointing out that Uruguay always played Brazil tough. Over the last dozen years, their record against Uruguay was a solid 8-5-4, but hardly automatic. And in a recent friendly series, they had won two and lost one.
The stadium crackled with tension. Uruguay's Julio Perez wet himself during the national anthems. Playing physically as ever, La Celeste kept Brazil at bay in the first half. Just after the second began, Friaca put the home team ahead. But Juan Alberto Schiaffino equalized in the 66th minute. And Alcides Ghiggia put up the fateful final score for Uruguay in the 79th minute when he made it 2-1 on an unorthodox finish. Goalkeeper Barbosa, considered one of the finest at his position of his era, became a national goat and was haunted by the goal for the rest of his life, even though the assertion that he'd made a mistake was hardly conclusive.
There was no violence after the game, although a bust of the mayor was knocked over. As Ghiggia would later point out: "Only three people have, with just one motion, silenced the Maracana: Frank Sinatra, Pope John Paul II and me."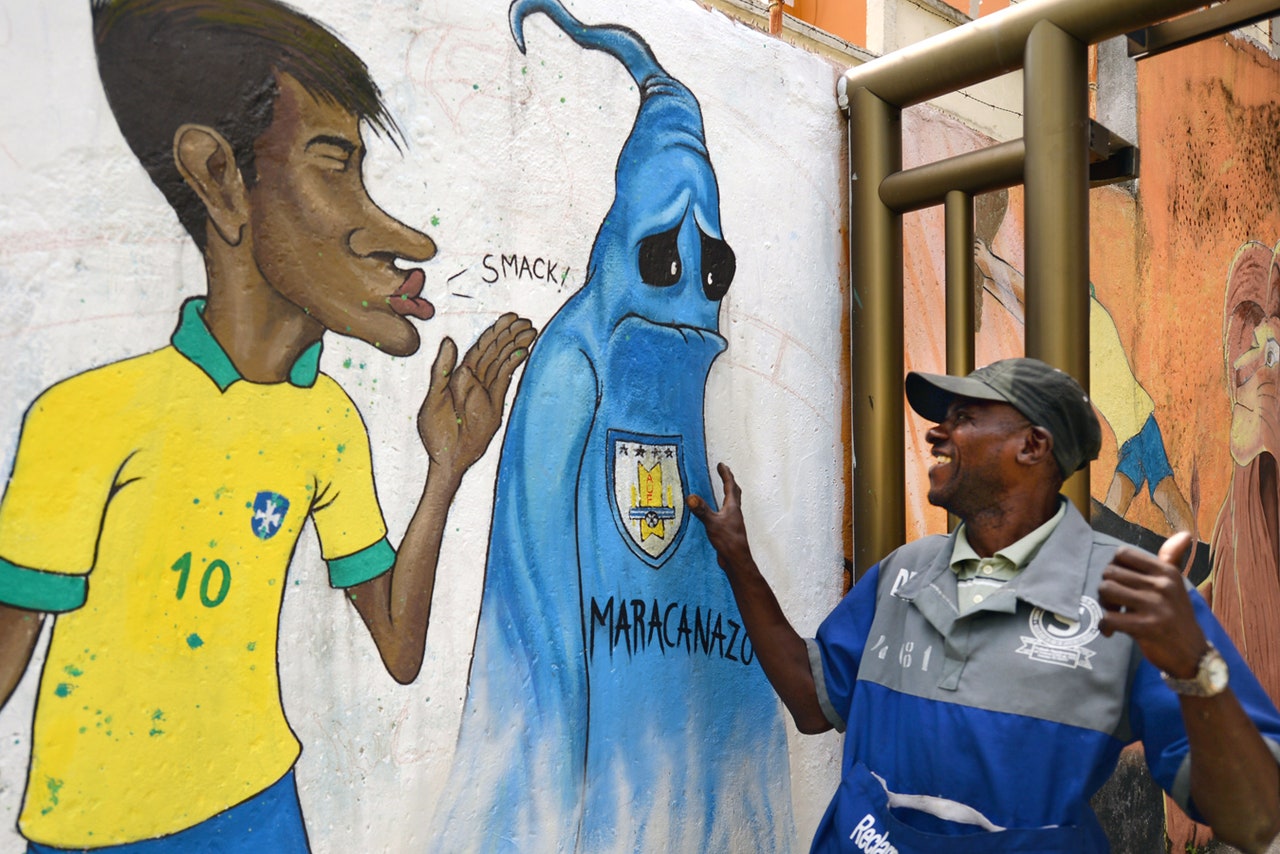 A pedestrian smiles as he sees a mural depicting Brazil's Neymar smacking the "Maracanazo" in Rio de Janeiro.  
In his excellent account of Brazilian soccer Futebol, Alex Bellos tries to appropriate the all-encompassing angst this ugly episode has caused the Brazilians. He argues that a nation not so far removed from dictatorship and newly convinced of its own grandeur had suffered no major collective setbacks -- Brazil has never fought a war. A vast and disparate nation knew, and knows, few unifiers, but the national team was one that appealed to the lowest common denominator.
All possible factors, no matter how tenuously connected, were blamed for the loss at one time or another, as generations of sociologists and anthropologists picked apart the details. Even the white jerseys -- predecessors to the yellow Brazil wear now -- were accused of lacking "€œpsychological and moral symbolism." One particularly wounded broadcaster once doctored the game footage to show Ghiggia'€™s shot caroming off the post, rather than slipping into the net, and Brazil going on to win the World Cup.
"No matter how well the national team does," writes Bellos, "its contemporary history will always begin with the Defeat -- just as no amount of victories at the Maracana can mask that it started life as the stage of national humiliation."
There could be a reprieve from the trauma this summer, when another World Cup final is scheduled for the refurbished Maracana and Brazil gets a chance for vindication. A sixth World Cup title won where the very first was lost could assuage a lot of anguish, albeit probably not 64 years of it. And there may be no helping the Brazilians if they lose it.
---