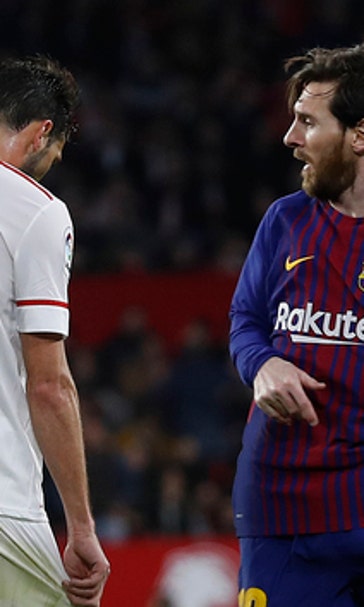 Barcelona has doubts about Messi, Busquets for Roma in CL
April 3, 2018
MADRID (AP) With doubts about Lionel Messi's fitness, Barcelona will host Roma in the quarterfinals of the Champions League on Wednesday.
Messi is expected to play in the first leg at Camp Nou, but he hasn't started in three consecutive matches because of a leg muscle problem and it remains uncertain if he can play at full strength for 90 minutes.
There are also doubts about Sergio Busquets, a key piece of Barcelona's midfield, who should be in the lineup but is coming off a long layoff because of a broken bone in his foot.
In addition, playmaker Philippe Coutinho is ineligible after playing for Liverpool earlier in the competition.
Messi missed two Argentina friendlies during the international break because of abductor muscle discomfort he felt in practice with the South American squad. He was on the bench for Saturday's Spanish league match against Sevilla, but entered in the second half - with Barcelona behind 2-0 - and scored an 89th-minute goal that salvaged a 2-2 draw.
Messi didn't start in Seville because he still felt some pain related to the abductor muscle. Barcelona coach Ernesto Valverde said at the time Messi was ''still bothered'' by the problem, ''but it was already expected that he would play a few minutes'' against Sevilla.
Messi has scored nine goals in his last seven matches.
''Messi helps our team a lot, and he is a big concern for our rivals,'' Barcelona defender Jordi Alba said Tuesday. ''Everything changes when he plays. Our chances of winning are much greater with him.''
Busquets hasn't played in nearly 20 days since hurting his right foot against Chelsea. He practiced with the squad this week but it was unclear how Valverde would use him on Wednesday at Camp Nou.
''He is an important player for our team,'' Valverde said. ''We hope he will be able to play tomorrow (Wednesday). We miss him when he is not playing. He is key to our team, maybe not like Messi is, but we miss him a lot.''
If Messi and Busquets play from the start, Valverde would be able to count on his ideal starting lineup, with Luis Suarez and Ousmane Dembele up front. Without Busquets, Paulinho would be a likely replacement as a defensive midfielder, playing alongside Andres Iniesta and Ivan Rakitic.
''Busquets being back will be very important. He gives us balance,'' Alba said. ''When he has the ball at his feet, he's the world's No. 1 in his position.''
Barcelona has been eliminated in the quarterfinals of the Champions League in three of the last four seasons, including the last two. The last time it made it past the last eight was in 2015, when it went on to win the European title for a fifth time.
Roma, in the quarterfinals for the first time in a decade, doesn't have fond memories from the last time it visited Camp Nou. It lost 6-1 in the group stage of the Champions League in 2015.
''We are here to face a team which is totally accustomed to these type of big matches, perhaps the strongest team in the world,'' Roma coach Eusebio Di Francesco said. ''Our desire and our aim is to do something extraordinary and we have a positive attitude. We want to keep on dreaming.''
---
More AP Champions League coverage: https://apnews.com/tag/ChampionsLeague
---
Tales Azzoni on Twitter: http://twitter.com/tazzoni
---
---