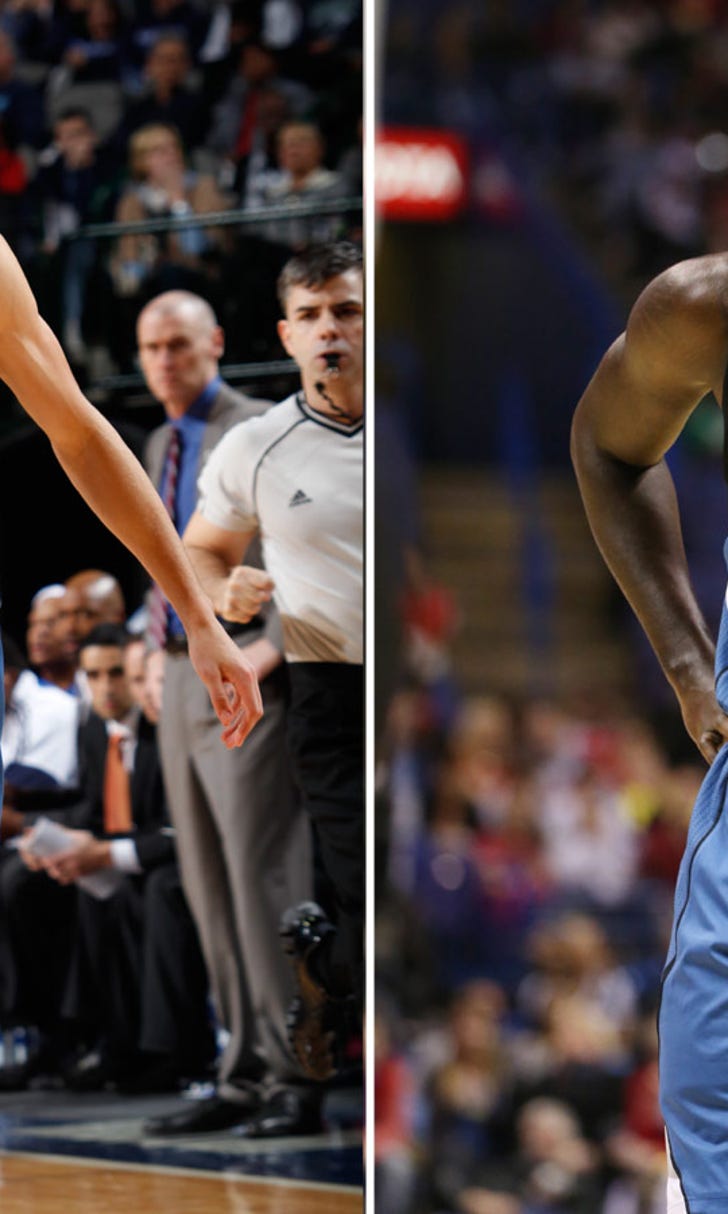 Young Wolves players forced to learn on the fly
BY foxsports • November 18, 2014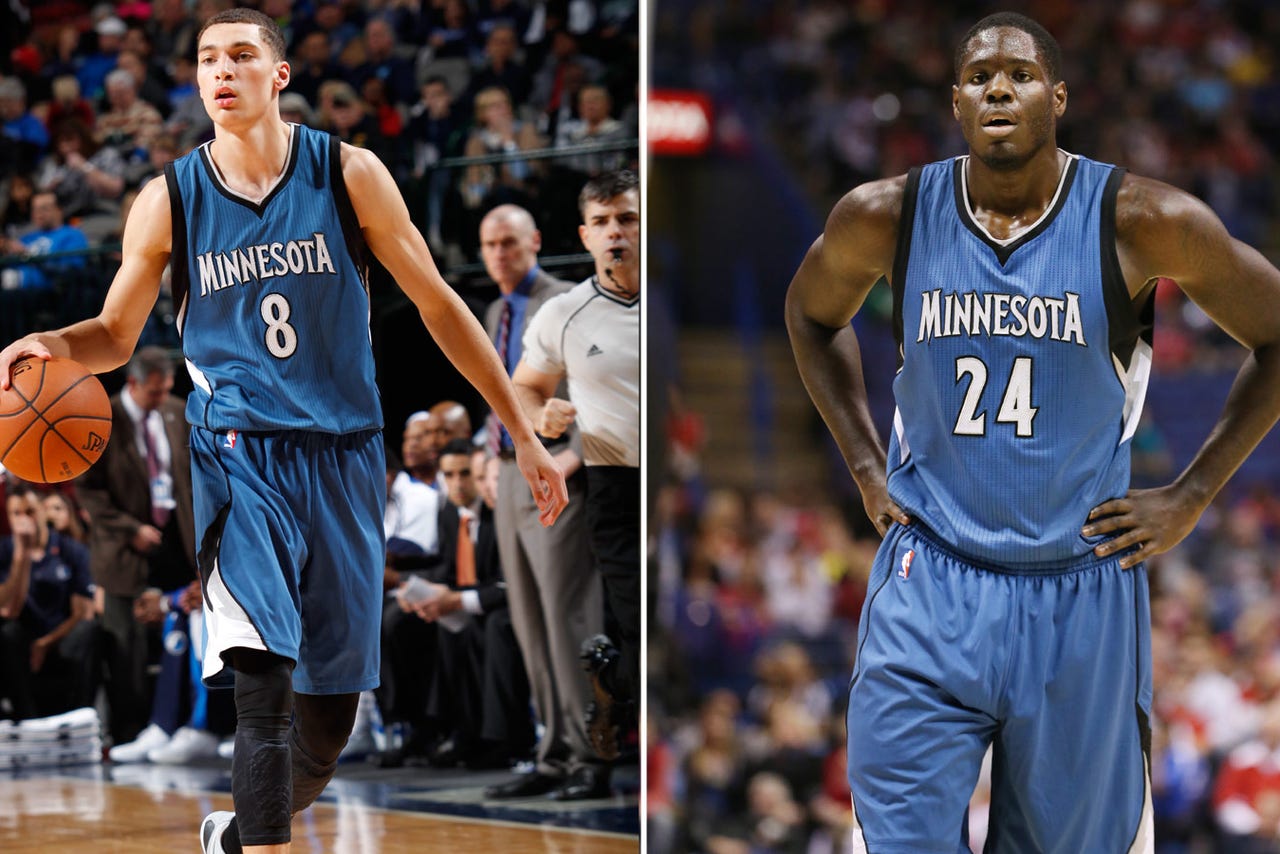 MINNEAPOLIS -- Flip Saunders understands the often-delicate psyche of young, impressionable players.
Even the most elite one he ever coached had to bide his time before being entrusted with starting responsibilities. Future NBA MVP Kevin Garnett didn't start until 31 games into his rookie campaign.
Some players can handle it right away -- the next season, 1996-97, point guard Stephon Marbury started in his NBA debut and went on to start 64 of 67 games he played that year. Having an NBA-ready skill set, of course, expedites the process, too -- see No. 1 overall draft pick Andrew Wiggins, who's started all nine of the Timberwolves' games so far this season.
All three were 19 years old when they entered the league.
It requires striking the age-old balance between enhancing a green athlete's experience level and destroying his confidence. But after an agonizing, six-game road trip that cost Minnesota much more than its five straight losses, Saunders no longer has that luxury.
This year's roster was composed to let youngsters grow behind veterans. But when the veterans exit the stage, there's nowhere else to turn.
Point guard Ricky Rubio is out indefinitely with a severely sprained ankle, making way for combo guard Zach LaVine -- drafted 13 overall this year -- to plunge in at his less comfortable position. Power forward Thaddeus Young is away from the team dealing with the death of his mother, so second-year four-man Anthony Bennett's role is increased. And second-year center Gorgui Dieng is preparing for an amplified role, yet again, in the wake of another Nikola Pekovic ankle flare-up.
"Sometimes, when you throw a baby in the water and they can't swim, they find a way to swim," said Saunders, the Wolves' coach and president of basketball operations. "Our guys are going to have to find a way to swim."
Wiggins, this year's No. 1 overall draft pick, was always going to be asked to. But Saunders never planned to toss LaVine, also 19 and more of a project player, into the pool this early.
But rather than replace Rubio with veteran Mo Williams -- thus increasing the 31-year-old's minutes and stripping him from the second unit -- Saunders has opted to go with LaVine. In four starts, he's shot 34.3 percent from the floor, committed 13 turnovers to 14 assists and scored in double figures just once.
Saunders admitted he'll have to be careful so as not to break LaVine's spirit. Part of his thinking, the coach said, was the fact LaVine faced off against Miami's Norris Cole and Houston's Isaiah Canaan in his first two starts. Things got a lot tougher when LaVine, 6-foot-5 and 183 pounds, was asked to guard and run the offense against New Orleans' Jrue Holiday and Dallas' Jameer Nelson.
"He got woken up a little bit," Saunders said after practice Monday. "We'd like to be in a situation to keep him where he can have success playing against some backups; unfortunately, we weren't able to totally do that."
Saunders had similar aspirations for Bennett -- a huge reason why he included Young in the Kevin Love trade that brought in Wiggins and Bennett this past summer. But until Young returns, Minnesota has no choice but rely heavily on the second-year, 21-year-old 2013 No. 1 overall draft pick.
A sore knee has hampered him a bit and kept him out of the Miami game entirely, but Bennett is shooting 52.8 percent and averaging 19.8 points and 10.9 rebounds per 48 minutes. Saturday in his first NBA start, he made 4 of 8 field-goal attempts and a pair of free throws for 10 points to go with seven boards and four assists.
"He tried to play within himself," Saunders said. "When you get your first start, you don't want to be too wild. You don't want to try to do too much and play out of character. I thought he played within character."
Dieng already has proven he can fill in admirably for Pekovic, evidenced by his 15 starts late last season that vaulted him to all-rookie second-team honors. But he may be asked to do so much earlier this time around, depending on the status of Pekovic's ankle, which kept him out of the second half Saturday at Dallas.
Pekovic didn't practice Monday due to a personal reason, and Saunders said his health status is unclear.
It's not so much a concern as to which players give the Wolves a chance to win. But in a season that was supposed to be developmental in nature, Minnesota already has had to shift course a bit.
"Now they're having development on the fly; it's not as much development where they can look and you can put them in situations where you can guarantee them they're going to have success," Saunders said. "That's the ideal thing. Now, we can't guarantee that.
"You still have to be demanding on them. You still have to continue to keep on working with them. It's just a different way of development, and you have to adapt to that."
Follow Phil Ervin on Twitter
---