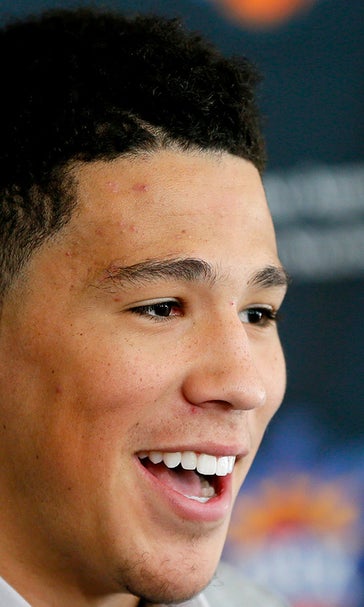 Young Suns begin prep for Las Vegas Summer League
July 7, 2015

PHOENIX -- Less than two weeks after the Phoenix Suns selected him with the 13th pick in the NBA Draft, Devin Booker saw his first official professional action Tuesday morning when he practiced at US Airways Center in preparation for NBA Summer League.
The former Kentucky guard known for his shooting prowess is focused on results, even in the offseason exhibition.
"Just go out there and compete," he said of his expectations. "We don't know who's going to officially be on the (regular season) roster or anything like that but I'm just ready to go out there and compete and try to get wins."
Summer league play has already started in Utah and Orlando, but the Las Vegas edition will begin Friday, culminating in a tournament that will run from July 15-20.
For Suns third-year guard Archie Goodwin, each NBA season has begun in the summer league. He believes he can impart some wisdom on players like Booker who will see their first NBA action in Las Vegas.
"I feel like I have stuff that I can tell people that haven't been playing because I've seen the highest level, and I play at the highest level," Goodwin said. "Some of these guys haven't done it yet so I can tell them a lot of things that I see or that I know is going to happen."
Summer league may not carry the weight of the regular season, but it's an important tool for NBA franchises. Teams use it to assess players' potential in a more free-flowing game against a lower level of competition than the regular season.
Nate Bjorkgren, who will coach the Suns summer league squad, specializes in preparing players for the NBA.
He's worked throughout the NBA Developmental League, including leading the Suns' affiliate, the Bakersfield Jam, to a 34-16 record last season in the first year of the partnership between the teams. He was named the Suns player development coordinator and assistant coach earlier this offseason.
"It doesn't matter who's scheduled to be a roster player in the D-League or in the NBA," Bjorkgren said. "These guys are fighting for positions and fighting for playing time. Every little practice and every little game counts."
Bjorkgren also said that to be successful in a situation as compressed as summer league, players and coaches must foster teamwork and trust from the beginning.
"Chemistry has to be developed in these early stages of practice," he said. "It just gives a sense of confidence knowing that when you have the ball and you're going to move it, you're going to get it back to be able to make plays."
After being drafted 14th overall by the Suns in 2014, forward T.J. Warren earned Second-Team All-Summer League honors prior to his rookie year. He will return to Las Vegas this summer.
He said he has more to prove the second time around, but he is still going in with a positive attitude.
"(I am) working on things I'm not as good at as well as my strengths," he said, "continue to play with confidence, have fun out there and definitely work on my defense."
Warren and the Suns play their first summer league game at 3 p.m. Saturday against the Washington Wizards at COX Pavilion.
---
---