You won't see them for USC-UCLA, but Arbogast and Roberts are calling all the shots
BY foxsports • November 19, 2014
While the USC and UCLA football teams and their coaches are on lockdown during rivalry week, the team's play-by-play voices are proving everyone can get along, and even crack a smile or two before Saturday's game at the Rose Bowl.
The longtime voices of college football in Los Angeles, Pete Arbogast at USC and Chris Roberts at UCLA, spoke Wednesday at the Southern California Broadcasters Association lunch at Lakeside Golf Club and didn't disappoint.
From their highlights in the rivalry to bloopers and surprising predictions, these two friends shared plenty of laughs.
"The way I see Saturday unfolding is really basic, 'TOUCHDOWN, UCLA!'" Roberts said, imitating his call of UCLA scores.
For Roberts, this will be the final time he does play-by-play for the Bruins since he's retiring after the basketball season. He's trying not to think about Saturday's game being the last rivalry game he'll call. Roberts said he'll probably do that after, but for now, there's plenty of work to be done.
"All I'm thinking about is Saturday, and we're doing basketball already," Roberts said.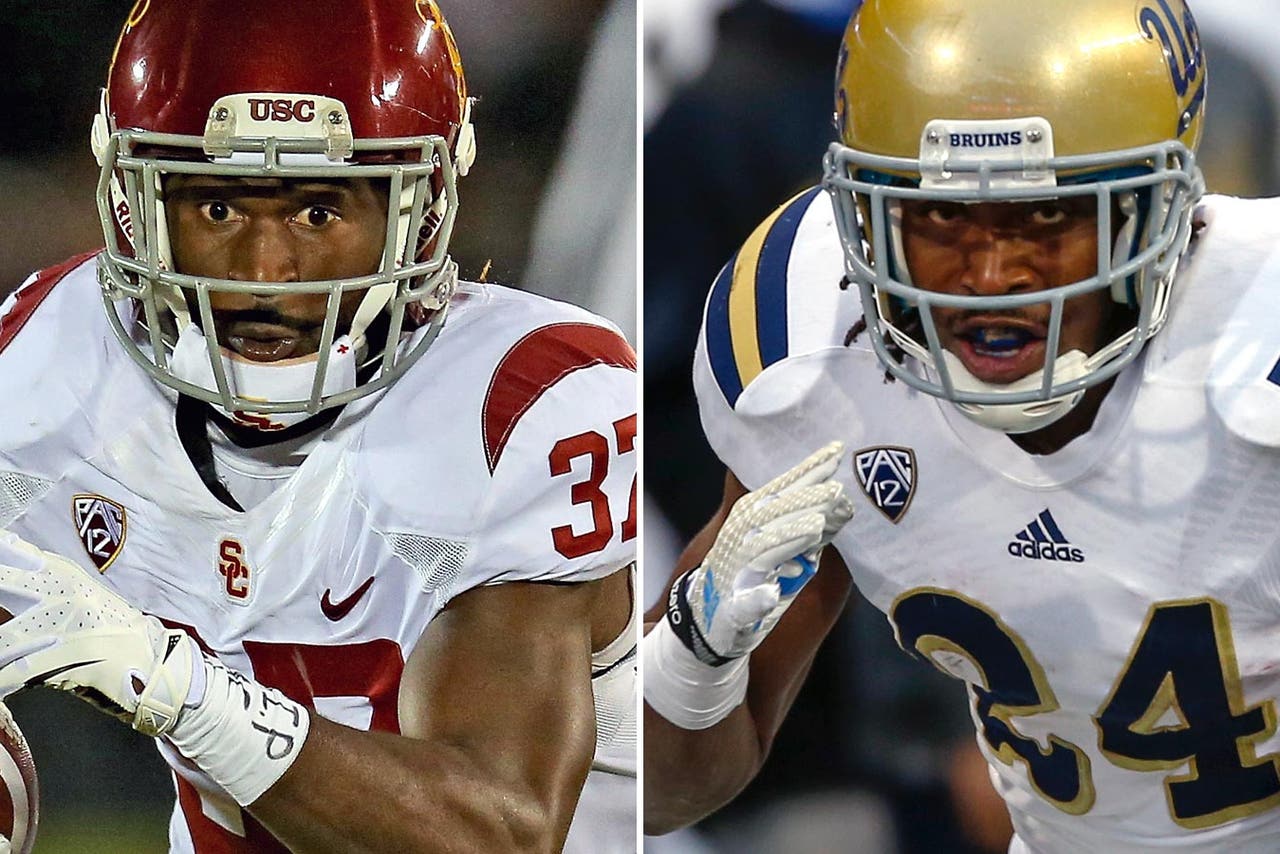 Breakdown: No. 24 USC at No. 11 UCLA, Saturday, 5 p.m.
Robert predicts a UCLA win, 31-21. Arbogast predicted a UCLA win as well, 31-17. Arbogast gave an honest, truthful evaluation shared by most.
"No one will ever mistake me for a UCLA homer, but I believe Chris has it just about right," Arbogast said. "I think it's going to be around that, 31-17, is what I was thinking, somewhere along that line. I don't want that to happen. I'm wishing it doesn't happen ..."
UCLA opened as a 3 ½-point favorite. Roberts and Arbogast are on the same page on this one.
"I think it's going to be that 10-point margin," Roberts said. "I think the Bruins are going to play some good defense. We'll see how it unfolds Saturday. Sometimes, we're always surprised. I'm not picking them with my heart. I'm picking them because I know they're good."
Arbogast even had some fun when asked about Pac-12 officiating. Surely no conference's officials have been criticized more for calls they've made than Pac-12 officials. And been the subject of as much vitriol online.
"Especially a lot more penalties against USC and UCLA," Arbogast said of the penalty-riddled conference. "If that continues Saturday, we could be there five hours ... These two teams are awful in penalties. We could be there a long, long time. You don't want to give away yards like that, as little as you possibly can in a game like this. Field position is huge."
The game is big no matter who's favored. UCLA has won the last two games in this series, and this is Steve Sarkisian's first game in the rivalry as a head coach. He was the former USC offensive coordinator, so he knows the magnitude of the game. Perhaps that's why he'll mention his two older sisters graduated from UCLA but not one detail more.
Roberts knows the magnitude of the moments in this series and offered a blooper blooper of his own.
"I made a mistake in 1996. It's funny, they have it on the Pac-12 Network as one of the great games. They didn't include the mistake," Roberts said. "In double overtime, when Skip Hicks scored, it was the first time they had the new format with OT where you have the ball first and then you have to let the opposition get the ball to try to send it to maybe another OT.
"Skip Hicks scores on a run through the middle and goes around the outside and scores. I said, 'Touchdown, UCLA. Bruins win. The Bruins have won in OT. My stat man, Dave Davis, said 'oh no they haven't. You better stop.' I was a little excited at the time because I thought it was a victory. Eventually, it turned into a Bruins win. I never forgot that. I never made that mistake again in any OT."
Roberts and Arbogast can remember their first time calling the USC-UCLA rivalry game like it was yesterday.
"It was awful," Arbogast said of the 1989 game.
"Mine was good," Roberts interrupted of his first rivalry game in 1992.
"Eighty-nine was a dog," Arbogast said. "It was 10-10. (UCLA's) Alfredo Velasco hit a (54)-yard field goal, it hit the crossbar, bounced back on the field of play, and it ended up 10-10. It was one of the worst USC-UCLA games I''e ever seen."
Roberts was thrilled to call the 1992 game in which walkon John Barnes made a name for himself by his play in that game.
"The first one is my favorite. The reason why is John Barnes, a fifth-string quarterback Terry Donahue had to play in that game. The Bruins weren't playing well that year. That game against the Trojans was like their bowl game on a Saturday night game in the Rose Bowl.
Shaw's return to the football field for USC more physical than mental
"John Barnes had, I don't want to say a trick up his sleeve, but a guy by the name of J.J. Stokes. (A) 5-yard look-in, boom, 95-yard touchdown. (A) 10-yard lookin, 90 yards, touchdown. Set a record at the time for most yardage in a USC-UCLA game. A fifth-string quarterback has been to five different colleges in four years, and he's a hero in Westwood."
UCLA rallied to win that game, 38-37.
The quarterbacks, USC's Cody Kessler and Brett Hundley at UCLA, will surely provide storylines for the 2014 installment of the rivalry game. So will USC defensive back Josh Shaw, who might play after a 10-game suspension. And running backs Buck Allen and Paul Perkins.
Arbogast and Roberts look forward to calling all those moments.
---