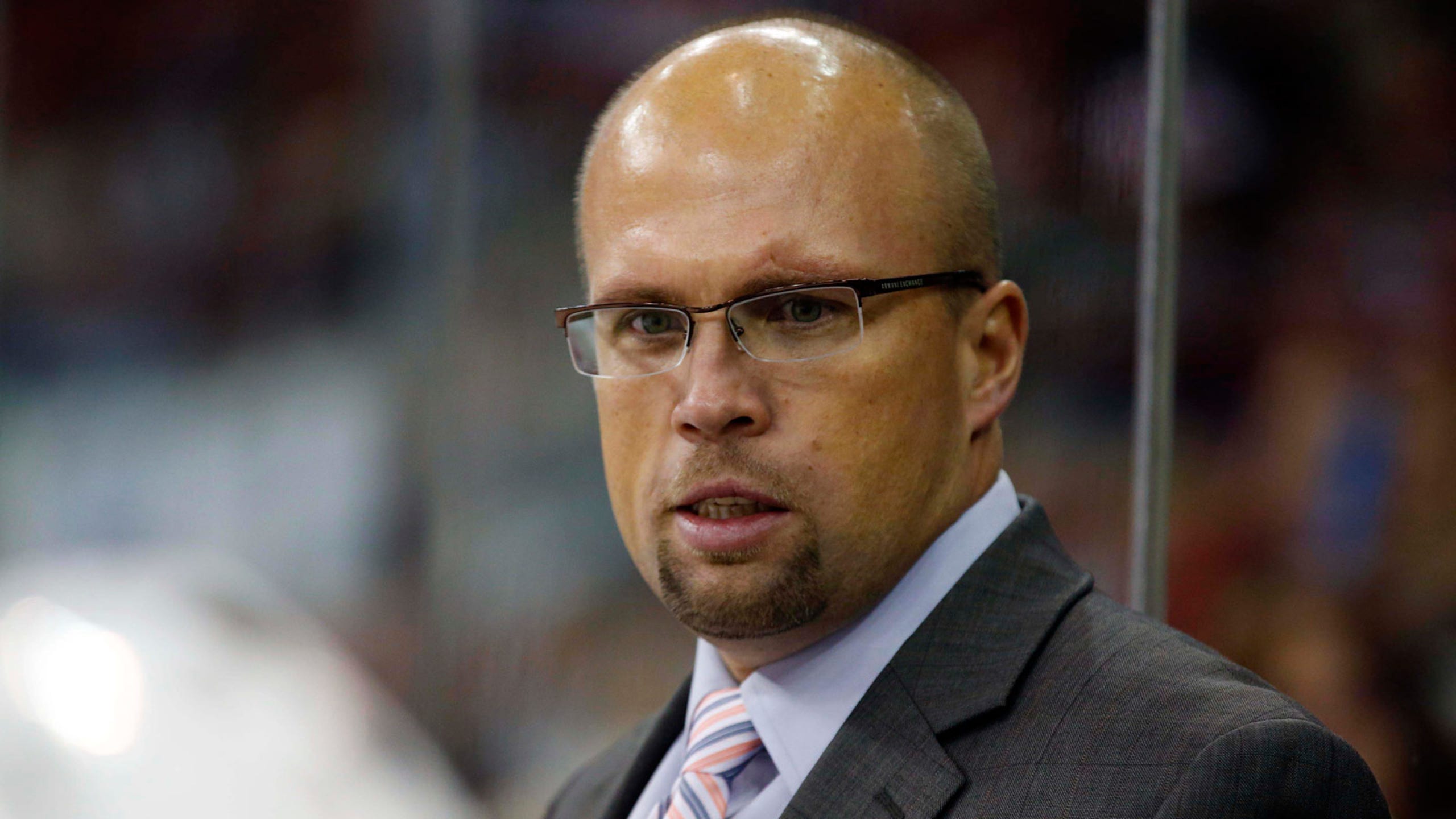 Yeo snaps, storms off during 'bad' Wild practice
BY foxsports • January 7, 2015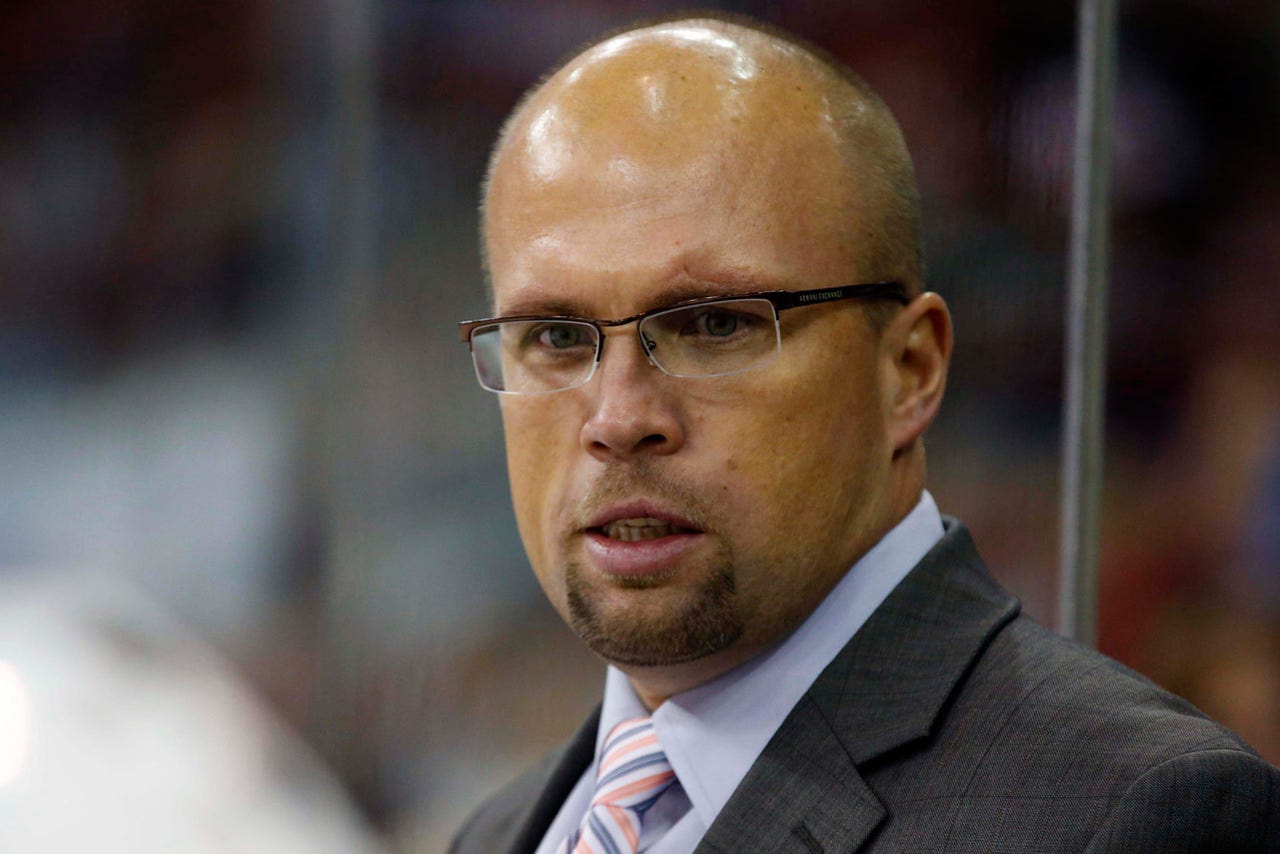 ST. PAUL, Minn. -- For the first several minutes the Minnesota Wild were on the ice for Wednesday's practice, head coach Mike Yeo seemed agitated. He collected his team together and reprimanded them for a sluggish start to practice.
Practice continued and Yeo didn't see the response he wanted. So, one last time, he brought them together near center ice and admonished them with an expletive-laced outburst, as animated as the usually mild mannered coach has been seen publicly.
Yeo slammed his stick on the ice, questioned his team and then skated toward the bench. He slammed the stick one more time against the boards, then threw it into the bench area and left the ice.
"I think Yeosie finally lost it here," Wild forward Thomas Vanek said. "I think he's been pretty good with us and staying upbeat. I think we played well last night, but it's not good enough when you lose hockey games. I think that was his message and he didn't like how some of us practiced and came out, so I think those things happen."
Yeo had simply seen enough and felt he got his message across to the players.
"Well, we weren't good enough and we're not in a position where we can come in and have, let alone decent practice, bad practice. So I'm not going to accept that," Yeo said. "I think I made my point that time and so that was enough."
In sinking to 11th place in the Western Conference, Minnesota has lost eight of its past 10 games either in regulation or overtime. The Wild are six points out of a playoff spot and have recovered before. But Yeo and the players seem to realize the necessity of digging themselves out of the hole immediately.
"He's obviously fed up with it and we've got to be, too," forward Charlie Coyle said of Yeo. "We've got to get that mindset where we can't accept what's been going on here. If that's what we need, that's what we need. If we come tomorrow and we come ready to play, because we need it tomorrow, it's a big one."
Minnesota, with 41 points, hosts the Chicago Blackhawks on Thursday. Chicago is third in the West with 54 points and is 6-3-2 in its last 10 games. The Wild are 2-4-4 in their last 10 games.
Yeo feels the team has played better since the holiday break, but its 2-2-2 since returning.
Minnesota was coming off a disappointing 7-1 loss at Dallas and returning home for an important stretch featuring three games against teams ahead of the Wild in the Western Conference. Minnesota then lost 4-3 in overtime to the San Jose Sharks on Tuesday, giving up a 2-0 lead and a 2-1 lead entering the third period to suffer its fifth home loss in overtime or the shootout since Nov. 29.
"We played, for the most part, a good game last game," Yeo said. "We lost the game. We came to the rink today and, what, are we going to have a practice like that? That's not good enough. So I know one thing: We can hang our heads, we can feel sorry for ourselves, we can point fingers, we can do whatever we want, but those types of things are not the types of things that winners do, and those types of things do not help you get out of something like this. And I know what I'm going to control, and I'm going to make sure that I bring it."
Yeo's pointed remarks touched home and some players said they perhaps needed to see Yeo upset the way he was.
"You hate to think that it takes something like that to wake us up but maybe that's what's needed," center Kyle Brodziak said. "We just got to make sure we come ready to do what we need to do tomorrow."
Yeo had calmed down by the time he spoke with the media, but his intensity was still apparent. He said he went back and broke down video after leaving the ice. The rest of the players stayed on the ice and continued practice with the assistant coaches leading the way.
"He's been great," Vanek said of Yeo. "There's only so much you can say before you kind of snap. I think it was good. I think we'll respond just fine."
Missing players: The Wild were without a few players during practice and two others left early.
Leading scorer Zach Parise is still away from the team to be with his ailing father, J.P., who is batting lung cancer. Yeo said he hadn't talked with Parise on Wednesday and just wanted to give Parise time.
Defenseman Marco Scandella missed practice Wednesday and Yeo said "you can count him out" for Thursday's game against Chicago. Scandella's nine goals are tied for sixth among all defensemen in the NHL. He's added six assists and is averaging 22 minutes, 17 seconds of ice time this season.
Yeo said Scandella has an upper-body injury but didn't reveal any more information. Yeo said he doesn't think it will be multiple weeks for Scandella, who was injured in Tuesday's game.
Defenseman Nate Prosser was out again as he deals with an illness. Center Mikko Koivu left temporarily but returned.
Goaltender Darcy Kuemper left practice with what appeared to be a possible injury as well. Yeo said he hadn't received and update from trainers regarding Scandella, Koivu or Kuemper.
"He got something minor as far as I'm concerned," Yeo said of Kuemper.
Follow Brian Hall on Twitter
---