Xs and Os: The Worst Decisions of Tony Romo's Career
BY foxsports • November 22, 2013
Today, I wanted to finally get to a project I have had on my list for a while and a few of you have encouraged me to go ahead and finally get it done.  However, I know just from the theme of the post that many of you would rather go do something else today.  That is fine, but I would challenge you to not assume this is just another negative Romo write-up from somebody who is piling on. That isn't what this is all about.  And hopefully, you know by now, I have been pro-Romo for most of his career here.

It is the study of Tony Romo's worst moments from a purely Xs and Os viewpoint.  Sometimes teams will try to self-scout themselves during the offseason or bye week and try to critically analyze why some things are not going right inside their organization.

They will "make a reel" of all situations that are similar, and then everyone will sit down with a pen and paper and try to find if there are anything these similar situations have in common, so that we may figure out why these things happen more than once.

This particular study, however, would not be useful to a coaching staff, I don't believe, because our search perimeters are too wide as I am trying to look at the entire body of work for Tony Romo, pick what i think are his 5 worst decisions that were the most damaging to the Cowboys fortunes and then compare them.  If these 5 moments led directly to defeats, then are there are any particulars that these have in common to make them related in any way?

But, does it explain the coaching philosophy of Jason Garrett?  I don't think it excuses being ultra conservative, but should we at least consider how we got here?  Should we ask ourselves to wonder why Garrett thinks like he thinks?

It is, indeed, a subjective study that tries to factor in a number of aspects of his game and it is all done against the backdrop of my thinking for years and years, which is that Tony Romo is a very good QB who is often treated unfairly in NFL media circles because of a few late-game miscues.  I don't believe that he has more late game horrors than almost everyone else with a similar resume, but he doesn't necessarily have enough high profile moments of greatness to counter-balance these conclusions - especially of the playoff variety.

I didn't include the moment that got this all rolling - the moment in Seattle that has been replayed a trillion times because I don't consider that related at all to his QB play.  You can disagree, but since I felt that day that he was done a disservice by still being the holder once he was promoted to starting QB 3 months earlier, and more importantly because it was not a snap at QB, I don't apply it to his ledger any more than I would if he recovered an onside kick if was ever on the hands-team.

The plays I did include were all game-deciding plays.  However, my personal feelings are based on the idea that playing QB is like playing poker sometimes.  You have to gamble to be good at it, so I think it is important that we judge when and why they decide to gamble.  For instance, his final throw in the Giants playoff game of 2007 was a 4th and 11 throw that was picked off in the end zone on a pass intended for Terry Glenn.  I do not debit that decision very harshly, because on 4th and 11, your alternatives to check down and play it safe/smart are gone.  He had 1 chance, to throw it into the end zone and the Giants knew that.  It was an interception, but that was what the situation demanded.  You can not treat that decision as anything more than trying to come up with a miracle.  The plays below are not in that category.  A strong QB has to "know when to hold them and know when to fold them".  When is the right time to push all of your chips in on one throw?  When is the right time to not gamble?

These are the 5 worst examples of a very poor decision leading to a game-losing throw.  Let's examine them one by one in chronological order.

#1 - December 7, 2008 - Dallas at Pittsburgh - 2/8/D17 - 1:51 - 4Q - Pittsburgh 13, Dallas 13

The Cowboys were 8-4 when they headed to play the Steelers in the first weekend in December back in 2008.  Everything was great at this point of the season and there was a real feeling that Dallas was going to go back to the playoffs for the 3rd straight year of the Romo run.

They were shorthanded in this game with rookie Tashard Choice as their only option at RB, but he had done a nice job in this game and with the wind blowing everywhere and the temperature dropping, the Cowboys had a 13-3 lead and had the ball with 10:00 to go in the game.  But, for the rest of the game, the Cowboys attempted 11 snaps and accumulated 15 yards, punted twice, threw an interception for a Touchdown, and then turned the ball over on downs to end the game with a disastrous 4th Quarter implosion on both sides of the ball.

But, the play in question was the one we are about to examine.  The score is tied and we are inside 2 minutes to go.

Romo to Witten INT Deshea Townsend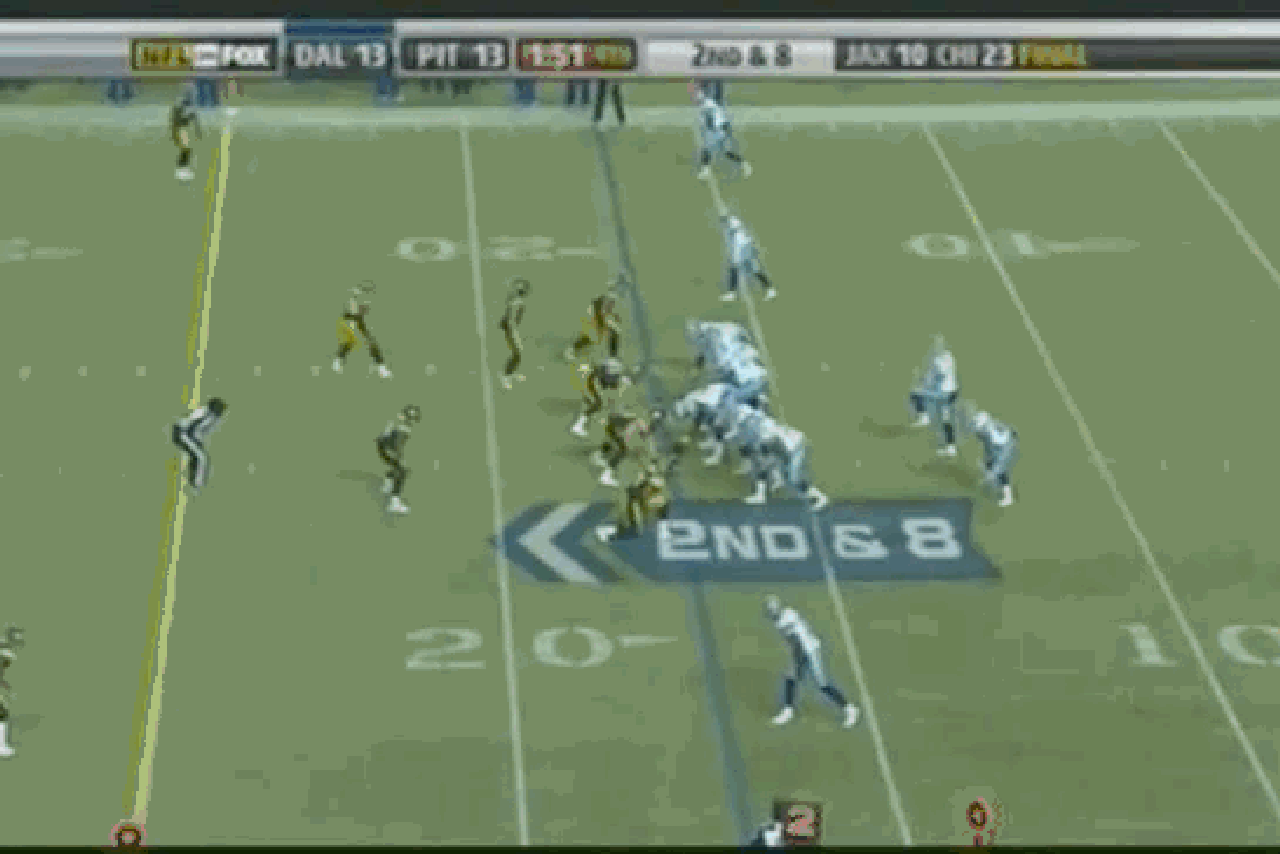 The Cowboys are surely going to be careful here, but Pittsburgh had just taken its 1st timeout after 1st down and had 2 more planned for the next two snaps so they could get the ball back in time for a now-confident Ben Roethlisberger and his offense to get the win.  The Cowboys needed a drive here to save the win in what would be a season altering win.

And that is why this extremely safe throw from Romo to Witten is so perplexing.  Yes, it was windy, and we can assume it impacted every throw, but this is such a poor throw that it seems that Witten is running one route and is Romo looking for something different?  Witten is open and if the throw is on him, it looks like it might be a 1st Down.  Instead, Romo missed the only place he couldn't afford to miss, and DeShea Townsend picks it off and returns it for a Touchdown.  There is pressure, but it really is just a horrible throw that resulted in the start of a December swoon that really pushed the Romo narrative forward.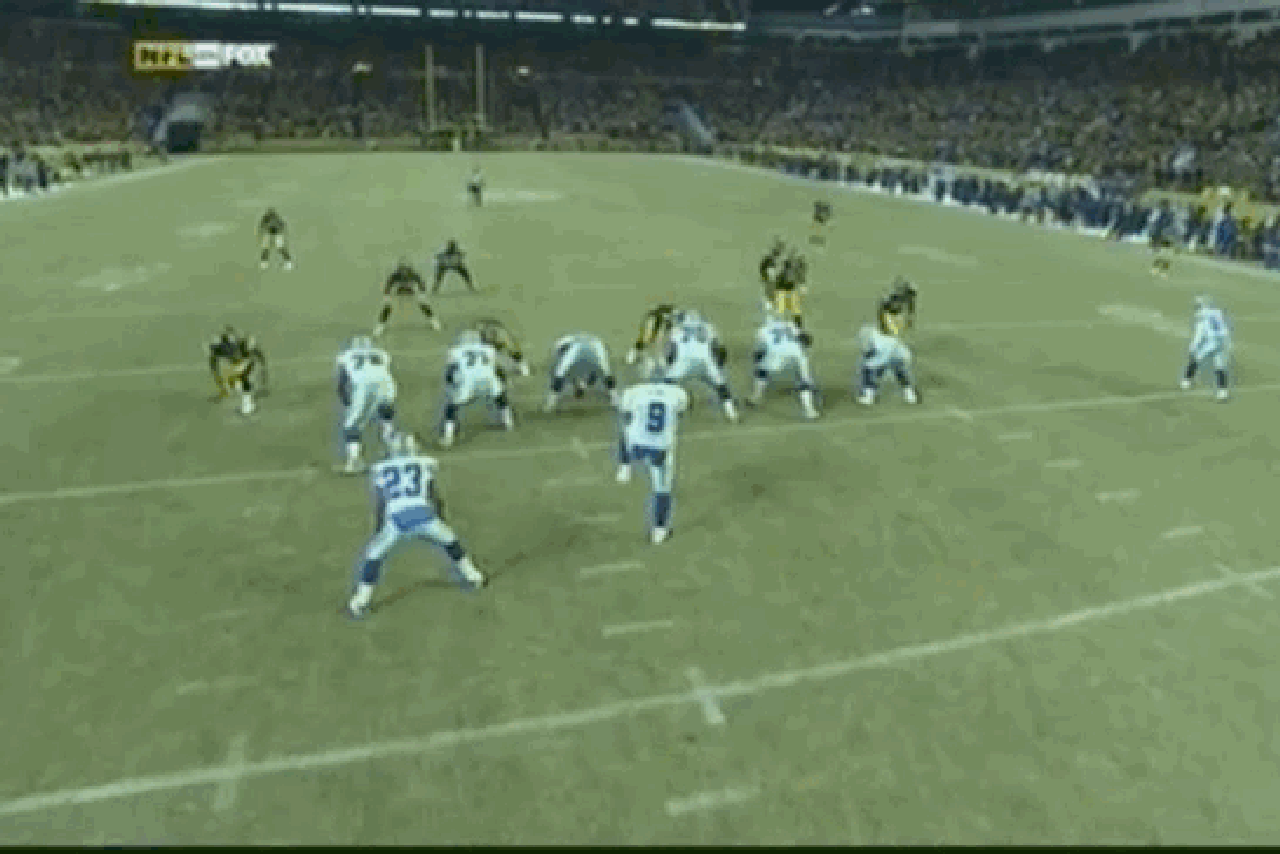 Romo's Decision:  In this case, the decision process from Romo looks like it makes plenty of sense.  It is 2nd and 8 so he is not gambling here on a throw.  He looks like maybe his arm is affected in the throw by the pass rush and perhaps that explains the execution.

Romo's Execution:  Look at the top view and his arm looks free to make the throw.  This end zone view looks like he has no follow through.  It is very windy, but this might be his least accurate throw of his career.

Outcome:  Game was lost, the locker-room fracture happened the next week, and then losses to Baltimore (final game at Texas Stadium) and Philadelphia (44-6) finished December 2008 with Romo's infamous post-game quotes that certainly did not help his image.


September 11, 2011 - Dallas at NY Jets - 1/10/D41 - 0:59 - 4Q - Dallas 24, NY Jets 24

This is the one that really still confounds most observers and if you want to look at why Jason Garrett and Tony Romo have become far more conservative in their old age, I think the first 4 weeks of 2011 tell us a lot.  Remember that 2010 was a big year in that Romo was lost with his broken collarbone in late October and Wade Phillips was replaced by Jason Garrett as head coach in November.  So, as we head into 2011, the excitement of having those two back together gave optimism to those of us who remember the gun-slinging of 2006-2007 so fondly.

This season opener at New York had everything - certainly a game that is impossible to forget.  But, early in the 4th Quarter, the Cowboys are up 24-10 against a team that doesn't really have an offense.  But, things start happening.  Mark Sanchez hits Plaxico Burress for a Touchdown, Romo fumbles trying to scramble into the end zone and turns the ball over.  The Cowboys get a punt blocked for a Touchdown and the game is tied 24-24.

But, the defense digs in, and Anthony Spencer's sack insures that the Cowboys will get the ball back in great field position and will have 0:59 to get into field goal range with 2 timeouts remaining.

Romo to Bryant INT Darrelle Revis



There is a lot to this play and to the game situation - which I break down here in great detail - but the bottom line is that as Jason Garrett would say in the days after the game:  
"The decision was a little aggressive certainly for that situation." One would say that that is an amazing understatement. Again, it is late in the game and there is some urgency. But, this is where gun-slinging and growing up watching Brett Favre goes wrong. This is an inexcusable decision for a QB based on 4 very clear reasons. 1) Dez Bryant is clearly not healthy. 2) Darrelle Revis might be the best corner in football, so therefore, even if Bryant is healthy, you might want to consider other alternatives. 3) a safety was sitting over Dez the entire time, so there is really nothing there. And 4) most importantly, it is 1st Down.

 
I know this play in imprinted in your memory, but perhaps what is not is the down and distance and the idea that you have timeouts and time and all you need is 25 yards.  There is no desperation here at all for a veteran QB.  So, to force a ball to Dez, who had not looked right since the 1st Quarter and was impaired for most of the game, was just crazy.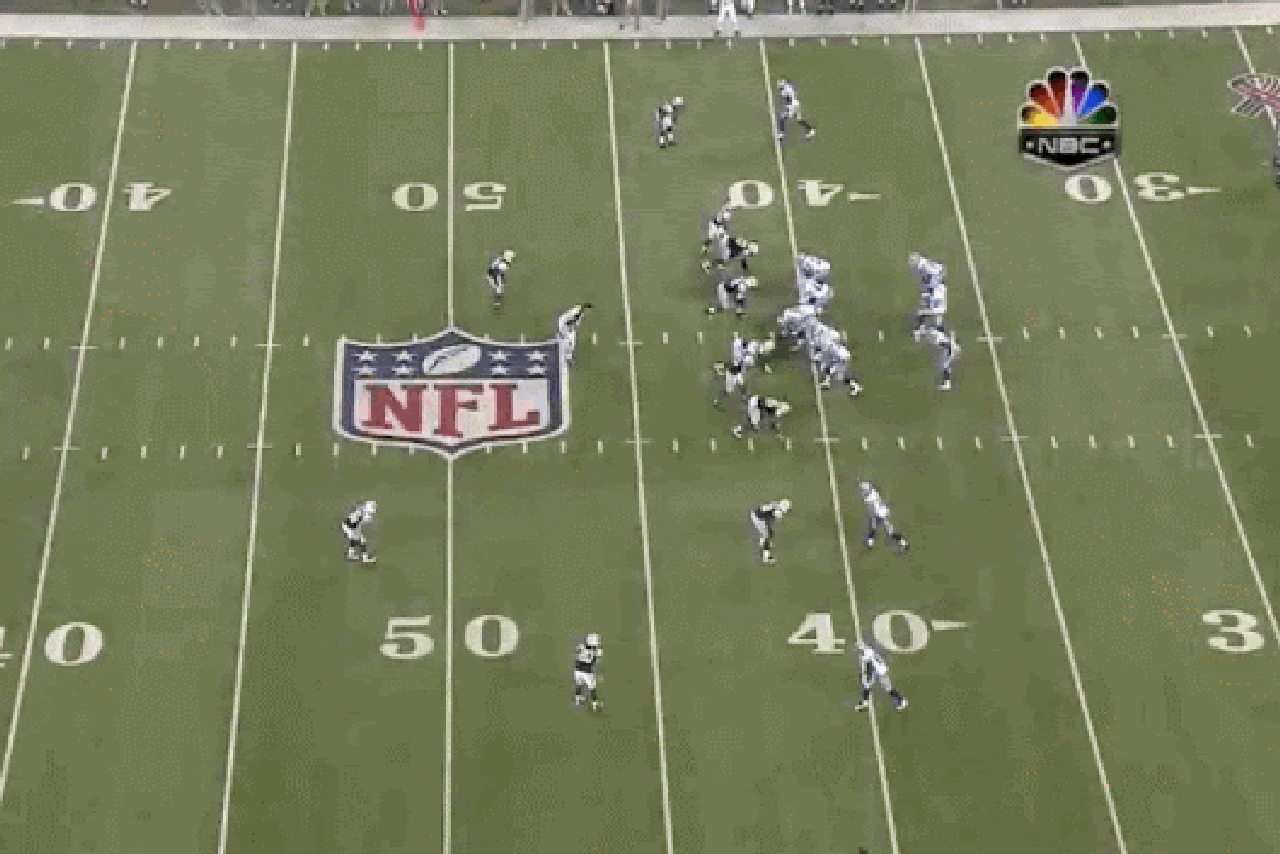 Romo's Decision:  Horrendous.  There is no other way to categorize this decision because - I want to point out again - it is 1st and 10.  That down and distance is where the QB has the safest setting, unless there are scoreboard reasons (down 10 with 2 minutes to go).  This game is tied.  The Cowboys are in charge here.  So why is Romo going All-In on this play and throwing at Revis and seeing a safety clearly over the top with his young weapon not at full strength?

Romo's Execution:  This is odd as well, because the throw looks like a back-shoulder fade, but the WR either doesn't know it or doesn't make much of an effort.  I know at the time people wanted to blame Dez on this play, for not fighting harder, but Revis knows what is coming and the way he jumped on it speaks to his skills and instincts as a stud.

Outcome:  The Jets have the pick returned into Field Goal range and kick the game winner.  You will see that most of these plays happened, coincidentally, with the entire country watching (NBC) and the decision was just not a very high football IQ decision.  But, it does go a long way in helping people make their judgement on a guy who is very good at what he does, but does seem to make poor decisions at very inopportune times.

#3 - October 2, 2011 - Detroit at Dallas - 1/10/D20 - 4:22 - 4Q - Dallas 30, Detroit 27

I don't know what the record is in NFL history for teams that are ahead 27-3 in the 3rd Quarter, but there can't be many cases of a team losing.  However, this time, it happened.  And it only happened because Romo threw 2 interceptions in the 3rd Quarter that were both returned for Touchdowns by Bobby Carpenter (of all people!) and Chris Houston.

But, in today's crazy NFL, games are going to require resolve and composure.  Neither of those throws are going to make the list, although the Carpenter throw was on 1st Down and a risky throw for no reason when you are up 24 does not make anyone happy.

But, the true gaffe is below.  The Cowboys are ahead and have the ball here with 4:22 to play.  They have the lead and it is 1st Down.  So again, you want your QB to understand where he is and what the situation is before he tries anything to crazy.

Romo to Witten INT Stephen Tulloch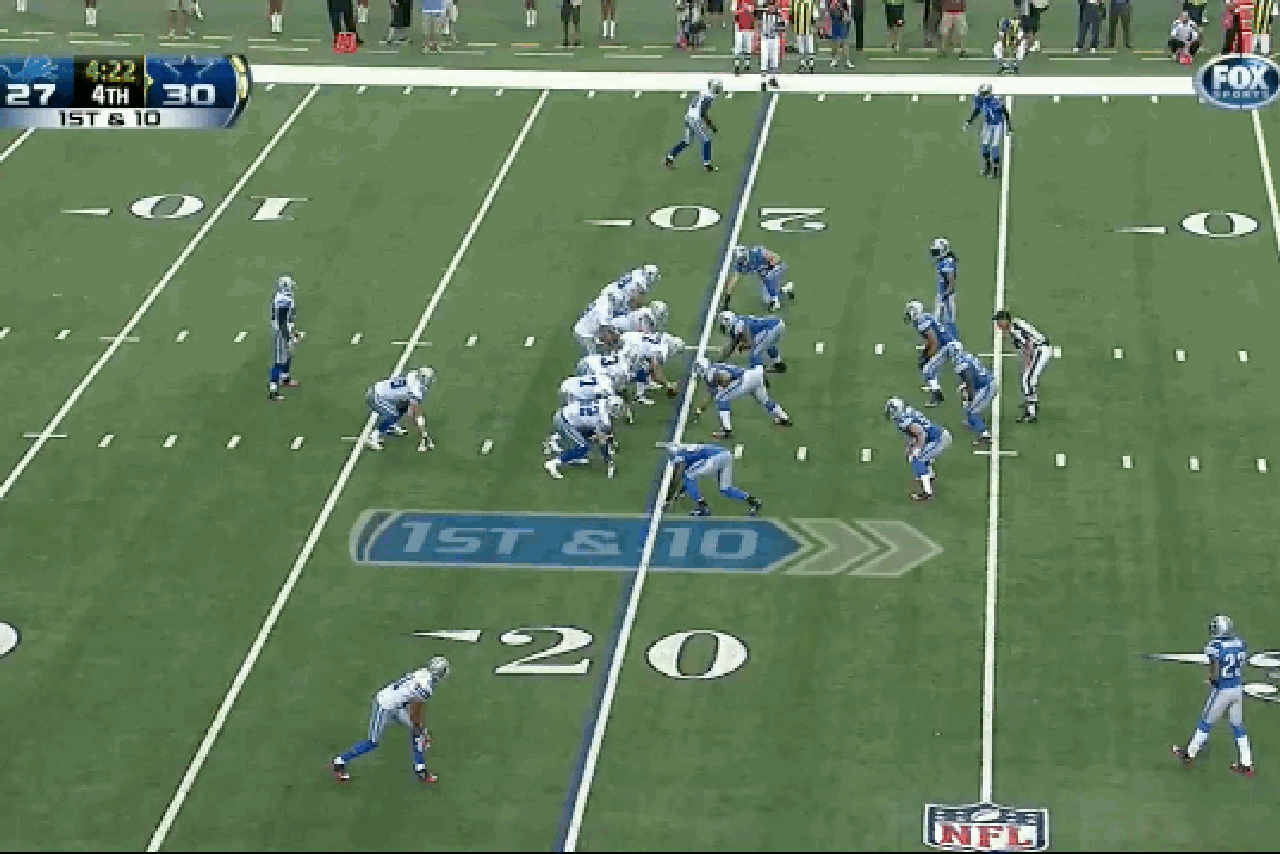 Romo, instead, is going for the kill shot because he sees Witten on a seam route against a linebacker.  He knows that this might be a Touchdown for 80 yards if he can put enough on the throw.  But, as is the case quite frequently, he can't step into his throw because the pocket is breaking down.  Instead he throws off his back foot and severely under throws this pass which not only misses the Touchdown, but sets Detroit up to take the lead and the win on a very short field.

If the play was successful, it would have been called back because Kyle Kosier is called for a holding penalty here as well, but Detroit gets the takeaway on a fine interception from Stephen Tulloch and clearly every time the Cowboys and Lions play, there is going to be some sort of crazy and fantastic or painful finish.




Romo's Decision:  Here is where everything in playing QB is about shades of gray.  You have to know that it might still require more points to win this game and you also have to know that they are planning on you being conservative on 1st down.  If you wait until 3rd Down, these opportunities will not be here and the safeties will not be leaving the middle this wide open.  So, I understand that he knows where is mismatches are and where his automatic throws are going to be, but he also has to know that his pocket is crumbling under this stout Detroit front.  But, more than anything, you cannot throw a pick on 1st Down when you are ahead and have the ball.  That is simply the situation here again.  No reason to gamble this much.

Romo's Execution:  The ball is badly under thrown, partly because he can't step into the throw.  Notice the themes here?  Easy to say that when you can't make a strong throw, don't try it, but this is what high school QBs are told constantly.  Nothing gets QBs at every level in more trouble than when they attempt to make a throw with just their arm strength over coverage.  He saw something awesome, but he couldn't make the throw.

Outcome:  The outcome is a familiar one.  Detroit goes in and gets 7, and the Cowboys last ditch effort fell short and lost the game 34-30.  Combine the Jets and Lions debacles, both games that were firmly in hand, and you might now fully understand the ultra conservative approaches that Garrett takes to game-planning ever since.


#4 - December 30, 2012 - Dallas at Washington - 1/10/D29 - 3:06 - 4Q - Washington 21, Dallas 18

If you make me pick 1 game or 1 throw that I cringe most about when discussing a QB I truly like, it would be this one.  Again, his timing is not ideal as he picked maybe his worst game ever in maybe his most important game (or the latest version of it).  This game was a winner-take-all matchup against a team that was on a roll, but also playing with a QB who was hobbled and an offense that had very little to work with.  Meanwhile, the Cowboys were blessed with amazing field position and all 5 of their first 5 drives were into Washington territory, but because of interceptions and mistakes, they only had 7 points to show for it.

Meanwhile, Jim Haslett was blitzing over and over all game long, daring the Cowboys to make him stop and they never did.  So here, with the game and the division on the line, we see the Cowboys with a quick 14 yard gain to Witten.  Here is 1st and 10 and the game is all in the Cowboys' hands.

Romo to Murray INT Rob Jackson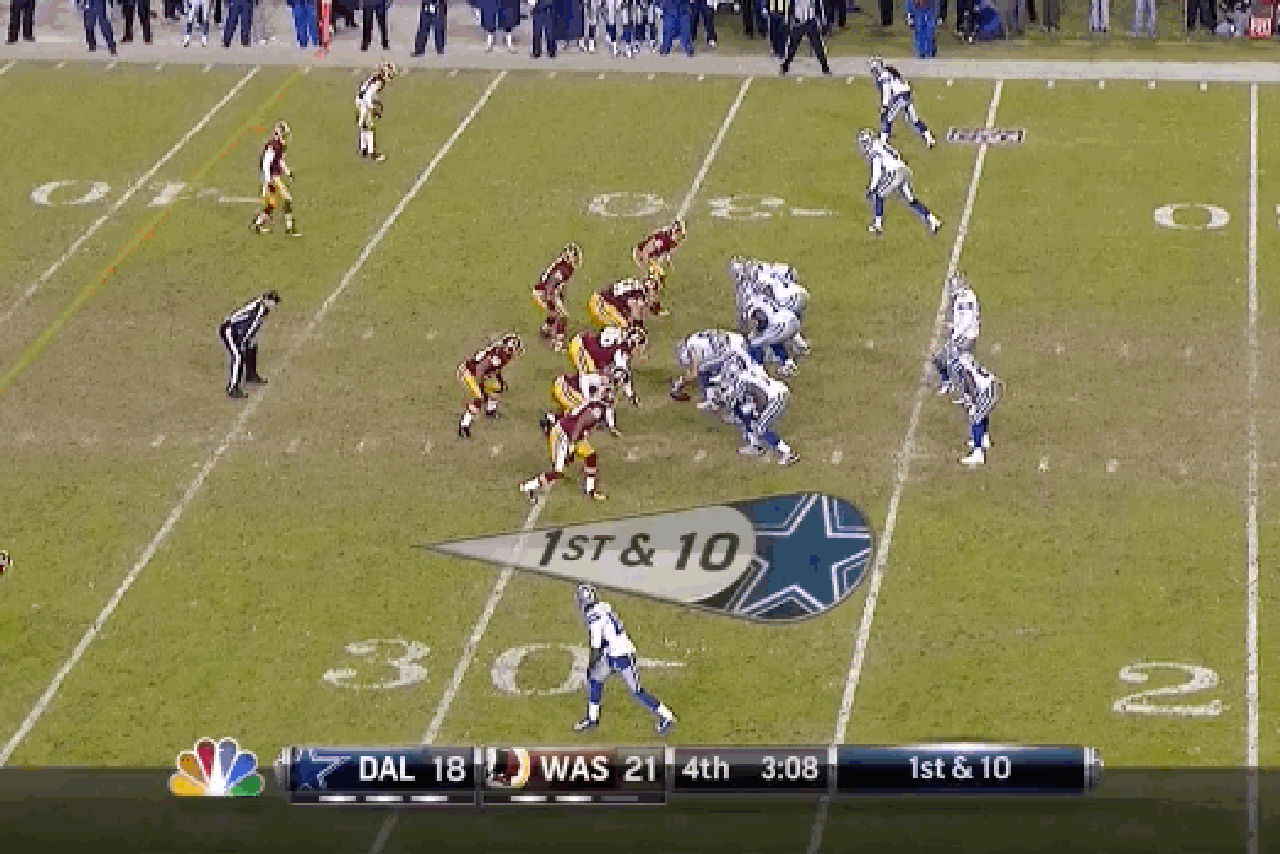 From my write-up the next morning:


The Redskins bring tons of pressure all game and that particular blitz was seen on several occasions.  In fairness to Romo, if he can get the ball over the top of Rob Jackson, the right outside linebacker who starts toward Romo and then peels off to stay with Murray, then Murray will have the ability to run a long, long ways.  The Redskins are defending with recklessness and despite their success, if the Cowboys can break one play on this final drive, they can win the game and the NFC East.

 
But, because of the pressure, Romo is back-pedaling.  This will not allow him to measure his throw with any amount of precision.  And because he is off balance, his lofted throw is short and Jackson is able to recover and and attack the ball, securing it for the biggest play of his career.

 
There are a number of problems with this decision from your QB, with the most obvious one being that it is 1st Down.  You cannot likely survive a sack, but this is where you either see Witten open over the blitz or you throw the ball into the sideline.  You cannot make a risky throw on 1st Down with everything on the line.  And you also cannot excuse him because of some Jim Haslett ambush call.  That blitz was as predictable as could be after seeing his calls for 57 minutes already.  Romo just got it wrong at the most inopportune time - possibly of his career.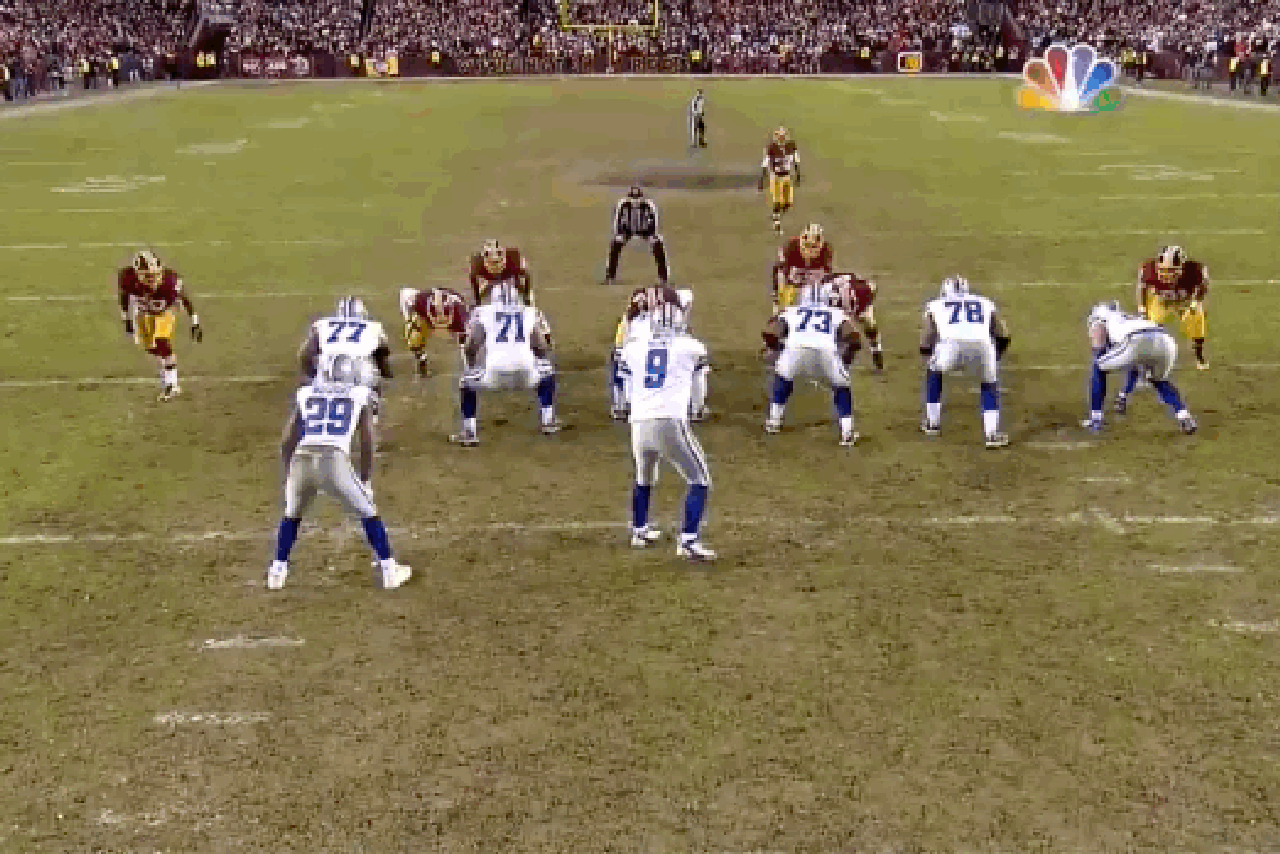 Romo's Decision:  I imagine you are now seeing the trend on these plays.  Let's say it again:  "It is 1st Down!  Why are we taking chances late in a game on 1st Down?  Why are we not seeing the blitz and dropping LB when Haslett has run it several times?  Why are we short-circuiting at the worst possible time?

Romo's Execution:  Again, any defensive coordinator worth his salt not only designs a blitz to bring pressure, but then designs it to take away the QBs first option as well.  In other words - like the Saints almost did last week - set up circumstances in which you think you know how the QB will react, and then plan for his reaction.  Here, with pressure, they know that his read will be DeMarco.  And his execution is such that if he can loft his throw, maybe it is huge yardage.  But, he can't.  Back foot, fade-away throw and it is devastating.

Outcome:  The Redskins kill the game and win the division.  Romo walks off the field after being consoled by a rookie QB on the other side.  The Redskins go on to the playoffs and host a game, while the Cowboys stick at 8-8 and found themselves at a bit of a crossroads with coach and QB.  They responded by signing Romo to a $108 million contract extension in March.

#5 - October 6, 2013 - Denver at Dallas - 2/16/D14 - 2:04 - 4Q - Dallas 48, Denver 48

And then, this final one from earlier this year.  As is the case on this list, this game was viewed by over 28 million people and was one of the most viewed regular season games in NFL history.  This time, however, it could be argued that the performance was one of the very best of his entire career.  Romo wasn't just good on this day, he was fantastic.

But, Peyton Manning was wonderful, as well, so it was almost a tennis match of who could break serve of his opponent, first.  And for 58 minutes, nobody could.

Romo to Escobar INT Danny Trevathan



So, this is 2nd and 16, and of all of the throws on this list, this is one where we must concede a few things here.  Basically, if the Cowboys have to punt, all viewers are confident that Manning will get the Broncos into FG range and therefore, even though the game is tied, we might need to concede that the Cowboys cannot punt here.  Therefore, we should not act like Romo can be careful like it is 1st and 10 against the Jets.

1st Down was a sack and the Broncos have been getting to Romo all day - and he has escaped on several occasions.  But, here, on 2nd and 16, we look at DeMarco Murray underneath as a real plan to cut the 3rd Down to 3rd and 7 or so.  Instead, Romo wants it all back on a throw to Gavin Escobar (of all people) and tries to thread the needle.  Again, his pocket breaks down and again, a throw from Romo is affected by not being able to step into it as his foot is being stepped on by Tyron Smith.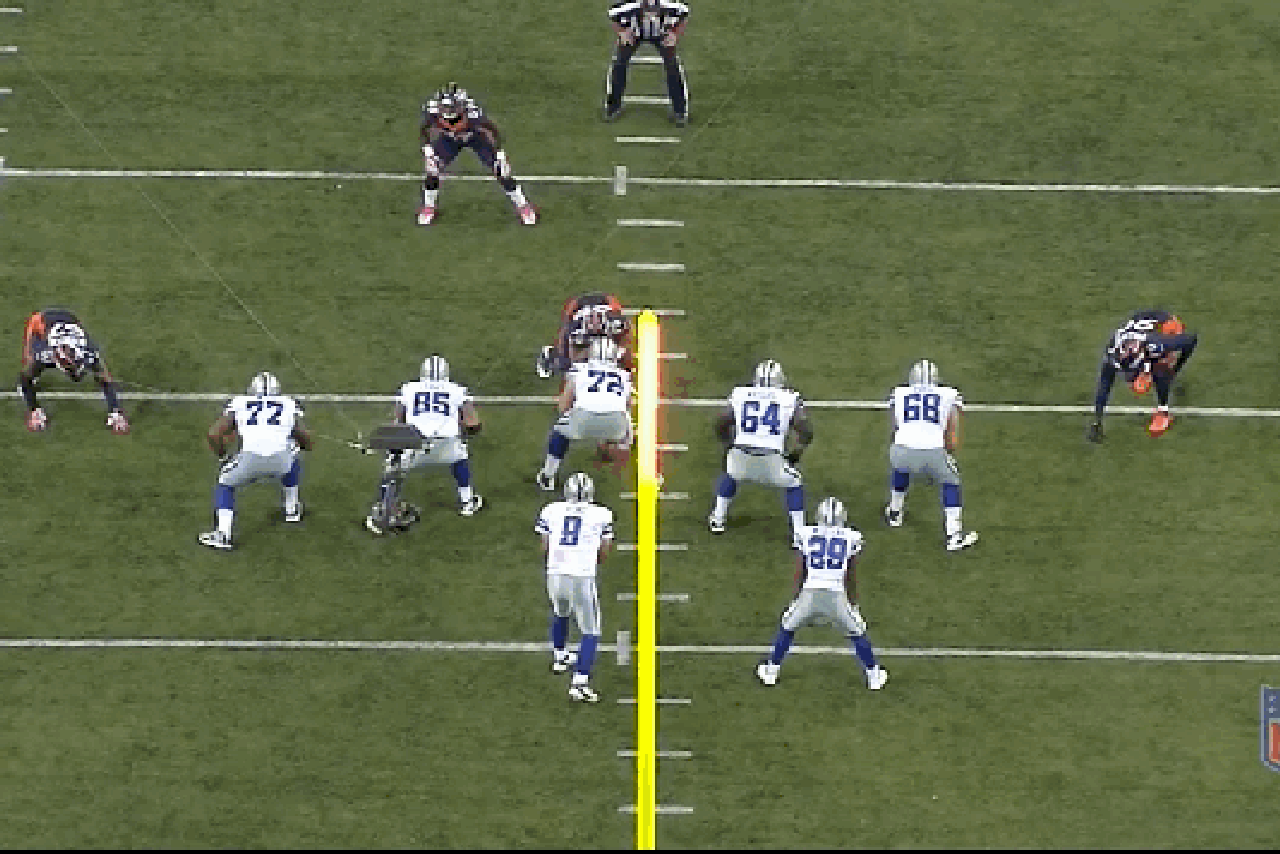 Romo's Decision:  The more you look at this play, the more you wonder why Murray wasn't his play here.  The Broncos are hoping he throws the dig to Escobar and have the play covered well.  It would take a wonderful throw and even then it still might not get there.  Also, the Broncos are only rushing 3 and collapsing the pocket with an 8-man coverage.  Romo has to check it down here.  If it is 3rd and 16, then he gambles, but on 2nd down, take the yards.

Romo's Execution:  The theme continues.  He has a very strong arm, but if he can't get his whole body into it, it just produces a weak throw without the proper zip.

Outcome:  Denver then milks the clock all the way down and kicks the winner as time expires to win 51-48, and despite maybe his finest performance of his career, the game ends in a sadly familiar way.

=====

Summary:  If you know my work, you know how I feel about Tony.  I think he is a very good QB who is consistently under-rated by most national talking heads.  But, this study has revealed 5 scenarios that all have helped to shape his legacy.  And in pretty much all 5 situations, he made a risky decision despite facing a 1st or 2nd Down.  This exposes a bit of a trend.

We want him to take more chances and be more aggressive.  But, these 5 spots show that there are times to do that and times to be smart.  He is a smart guy, and his success in golf is based on the ability to understand risk/reward in high tension decision situations.

Do you try to reach the green over the water, or do you lay-up and play the percentages?  He clearly knows this and demonstrates good and proper decision making in 99% of his situations as he throws a very small number of interceptions.  But, it does seem that in these spots - the most vital in rating QBs in the NFL - he does seem to not always understand how many chips to push into the middle of the poker table at the proper moment.

There will be another similar spot for him like this coming soon.  He surely knows where he has tripped in the past and will hopefully learn from these spots.  It is not too late to turn this around, but it is getting late.



---