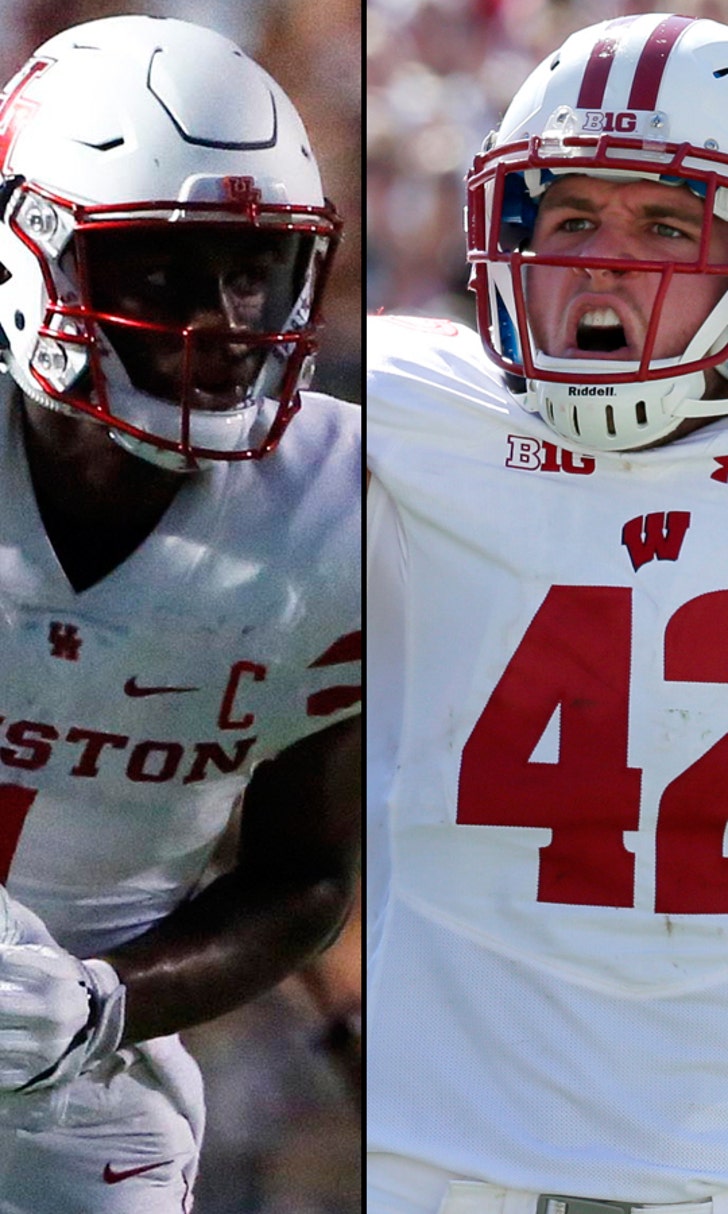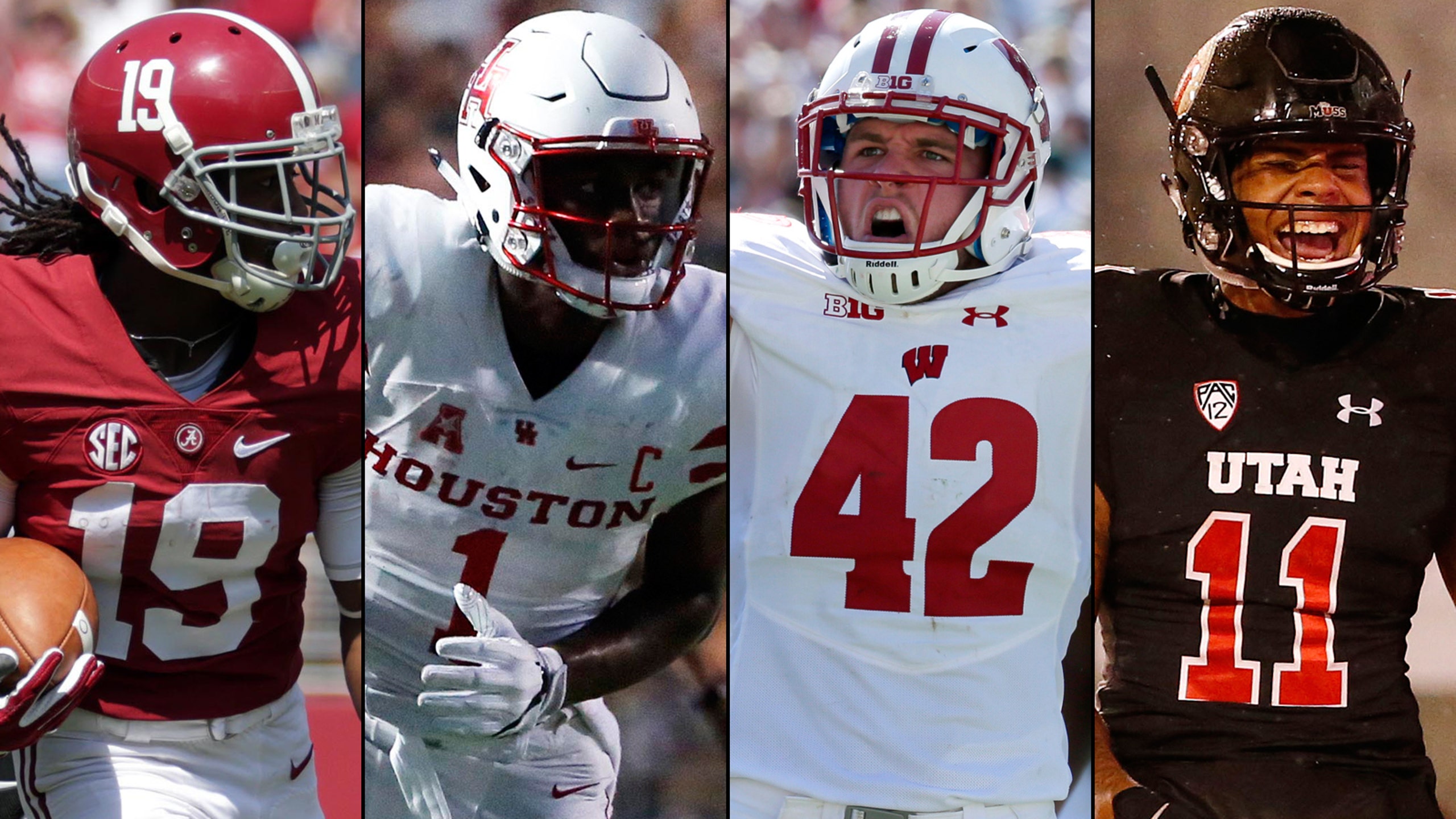 Woodshed Top 20 college football rankings: Week 4
BY foxsports • September 26, 2016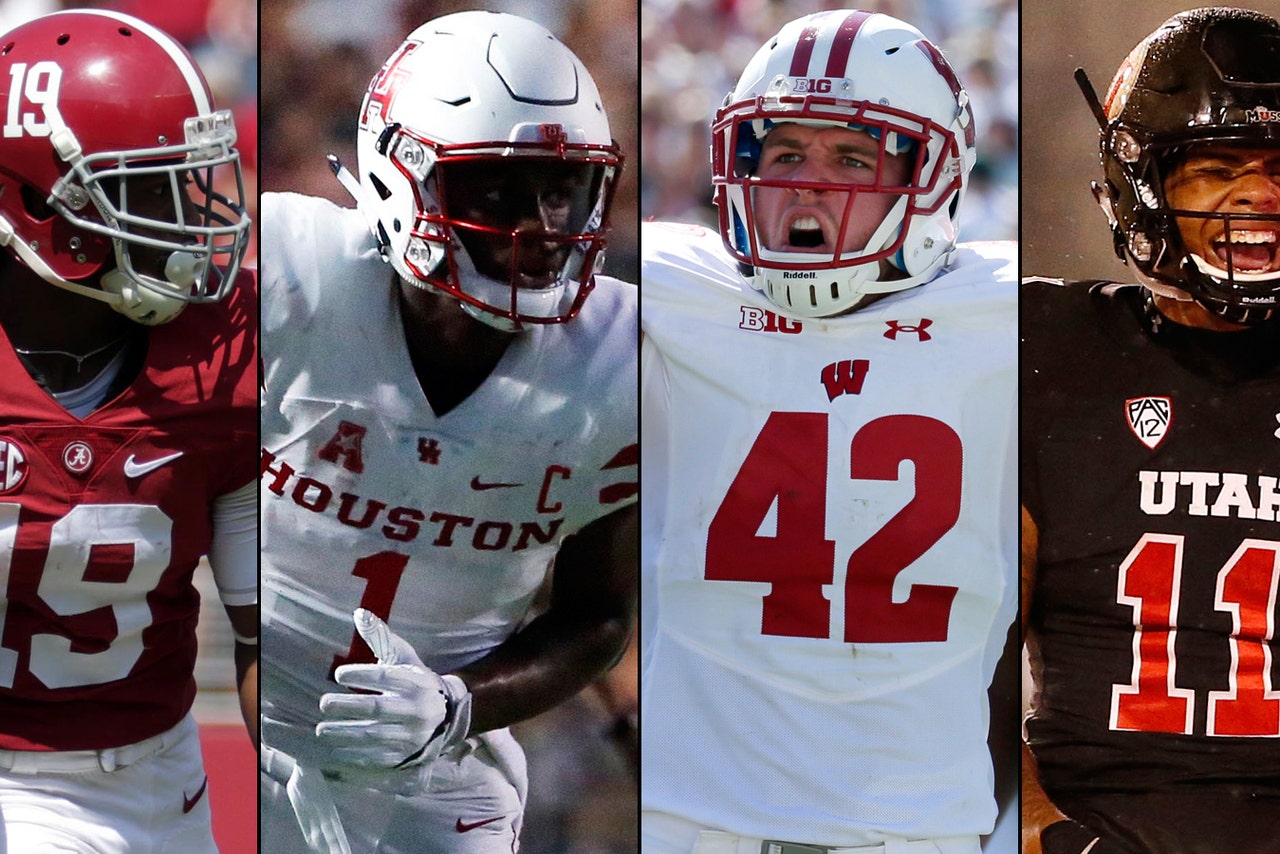 This is a tough week if you're a fan of LSU, Michigan State, UCLA, Notre Dame, Arkansas, USC or, my personal favorite, Florida.
I know my household is a miserable place to be on Saturdays now because my wife found out that there is no "D" in Notre _ame. Brian Kelly did the right thing, but shame on him for blasting his kids. I'm a fan of Kelly, but if I had my pick, Houston's Tom Herman would be their next head coach. I'm not about firing coaches either, but the Irish are going the wrong way with zero hope in sight. My wife actually said to me, "I can't wait till basketball season." Isn't that what Hawkeye fans are saying already?
Clock Management
First of all, my biggest pet peeve is when officiating becomes part of the story. The ending of the LSU-Auburn game was a fiasco. If you're an Auburn fan, it's justified because the clock did hit zero before the snap. But from the TV wide shot of the field, I never saw an official wind the clock. Les Miles wasn't fired for losing this game, although the fact the offense wasn't sitting at the line regardless of where the ball was placed is reason enough.
Clock management is on the coaching staff. Twenty-one seconds ran off as the Tigers tried to call a play two downs before the ending of the game. I know, I'm not a coach, but these are things they can control. Sorry LSU, but you deserved to lose. And if Tigers fans really want to blame the officials, quarterback Danny Etling was past the line of scrimmage on that last play (#thingsthebroadcastmissedfor1000alex).
Good ol' Rocky Top
Gators fans, I see you hiding in your cubicle holding on tightly to your red stapler. Milton, I'm talking to you. If I didn't dislike hearing Rocky Top so much, I'd play it on my phone all day because the Gators fans in my office have it coming.
The smack talk I had to endure last week, "We're No. 1 in the nation on defense, we gave up 50 yards to Texas State." I just laughed it off because it was the Armadillos that they were beating their chest about.
I do believe before the season started I told my chomp chomp friends that Tennessee and Georgia would beat Florida. Georgia doesn't have the bite I thought it would thus far, so I'm not as confident in that pick. But Florida, that second half collapse, I'm taking you to the WOODSHED.
1. ALABAMA
The Tide sleepwalked over the Golden Flashes of Kent State. The spread was somewhere around 40 points, and they got that by halftime. Games like this are only good for the backups due to the risk of injury. My friend in the office will be happy to know that no heart medicine was needed for her Pa, but the game did get their starting running back dinged up. Don't worry, 'Bama play Kentucky next week. It's almost like having a bye week. Kentucky will be better once they hire Les Miles. Too soon?
2. OHIO STATE
The Buckeyes were on a bye week. Do you remember the butt whipping they handed Oklahoma two Saturday's ago? A bye week in Columbus is one of the more boring weekends of the year, especially in the fall. Lots of OSU fans probably watched the rivals play to learn about who they will be facing at the end of the season. The most exciting tweet was seeing a picture of Urban Meyer cleaning his windows on Saturday.
OSU fans will be happy to know that nobody got into trouble during the bye week, which continues this week as they face Rutgers on Saturday.
3. LOUISVILLE
Seriously, can we just hand Lamar Jackson the Heisman Trophy already? To me, he's the most fun player to watch in the nation. Yes, I know Dalvin Cook finally showed up in the stats column. The real test is this week in Death Valley where Bobby Petrino's Cardinals face unbeaten Clemson. Clemson's Deshaun Watson is a handful, but I'm on the Jackson bandwagon. Whoever wins this game is in the driver seat in the ACC and most likely one of the playoff seeds. I know two Herd fans in Ohio that are bragging about the 28 points they put up on the board, the most given up by the Cardinals all year. Maybe the Cardinals were too busy looking for Matthew McConaughey on the Herd sideline. "Alright, Alright, Alright."
4. MICHIGAN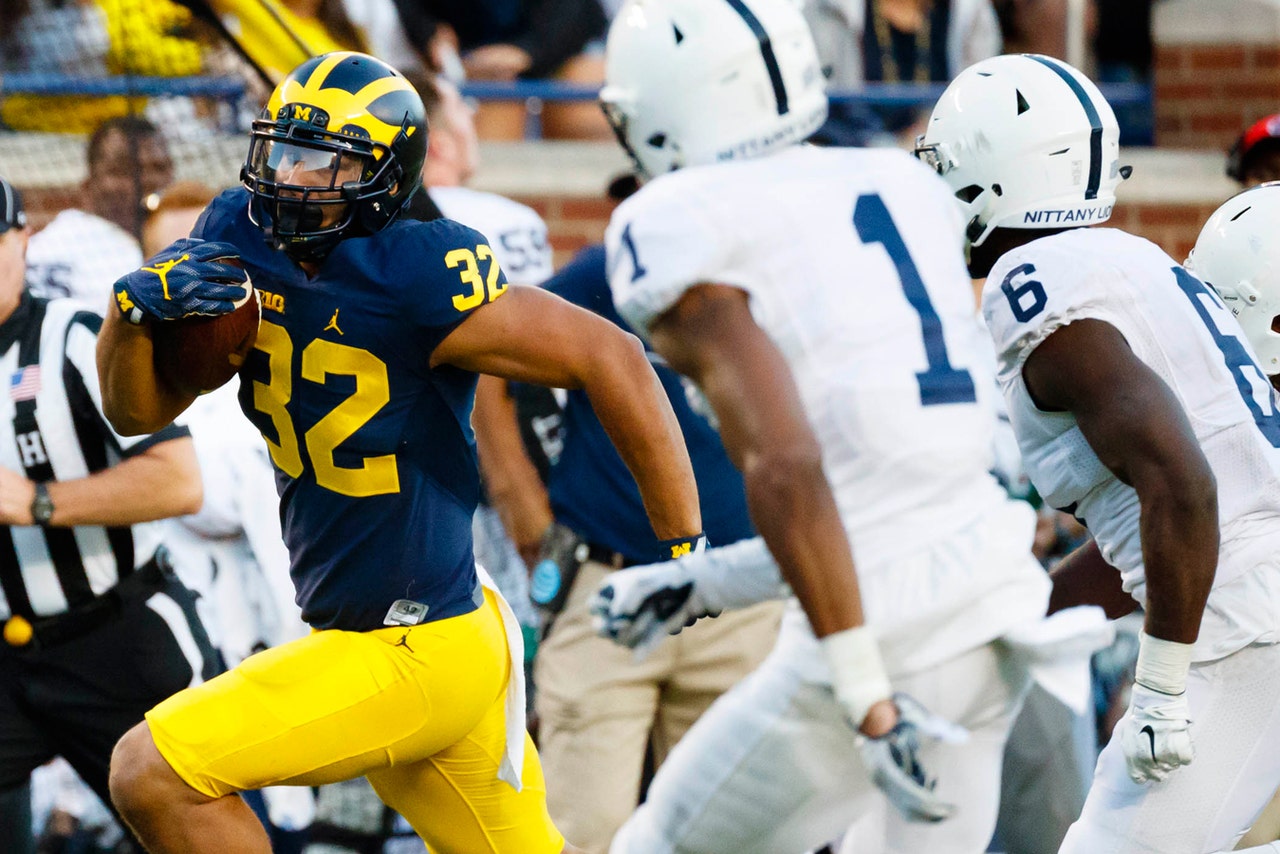 Michigan Wolverines running back Ty Isaac.
I know it may be a little early, but either this team is getting a lot better or Penn State is really that bad. The Wolverines had 326 yards rushing vs. the Nittany Lions, so I'm guessing PSU is just that terrible. If I'm Penn State, I get into the Les Miles sweepstakes before Purdue grabs him. Think about it, he's a better fit than Art Briles. Jabrill Peppers is fun to watch on defense. It seems wherever he lines up, he is part of some scheme to create chaos. Jim Harbaugh's Wolverines host the Badgers this week, their first real test of the season.
5. HOUSTON
The Cougars just keep rolling. It's really not going to be fun to talk about these guys until they face Louisville later in the season. They are not better than the teams above them. Even if any of those teams take a loss, they are still better than Houston.
6. CLEMSON
Deshaun Watson threw for 304 yards vs. Georgia Tech, which was nice. Georgia Tech just kind of puts you to sleep; the game on Thursday was a yawner. I'm suspect on the Tigers. The game vs. Louisville this week will give us a better understanding of who's the best in the ACC.
7. WISCONSIN
The Badgers have beaten LSU and Michigan State, but let's not also forget they had a close shave against Georgia State. The Badgers beat up ol' Sparty in their house in impressive fashion. I have a lot more respect for Wisky. I was wrong that they would lose four of their next five games. Wait, that still can happen. This week they head to the Big House. Still not giving them respect.
8. TEXAS A&M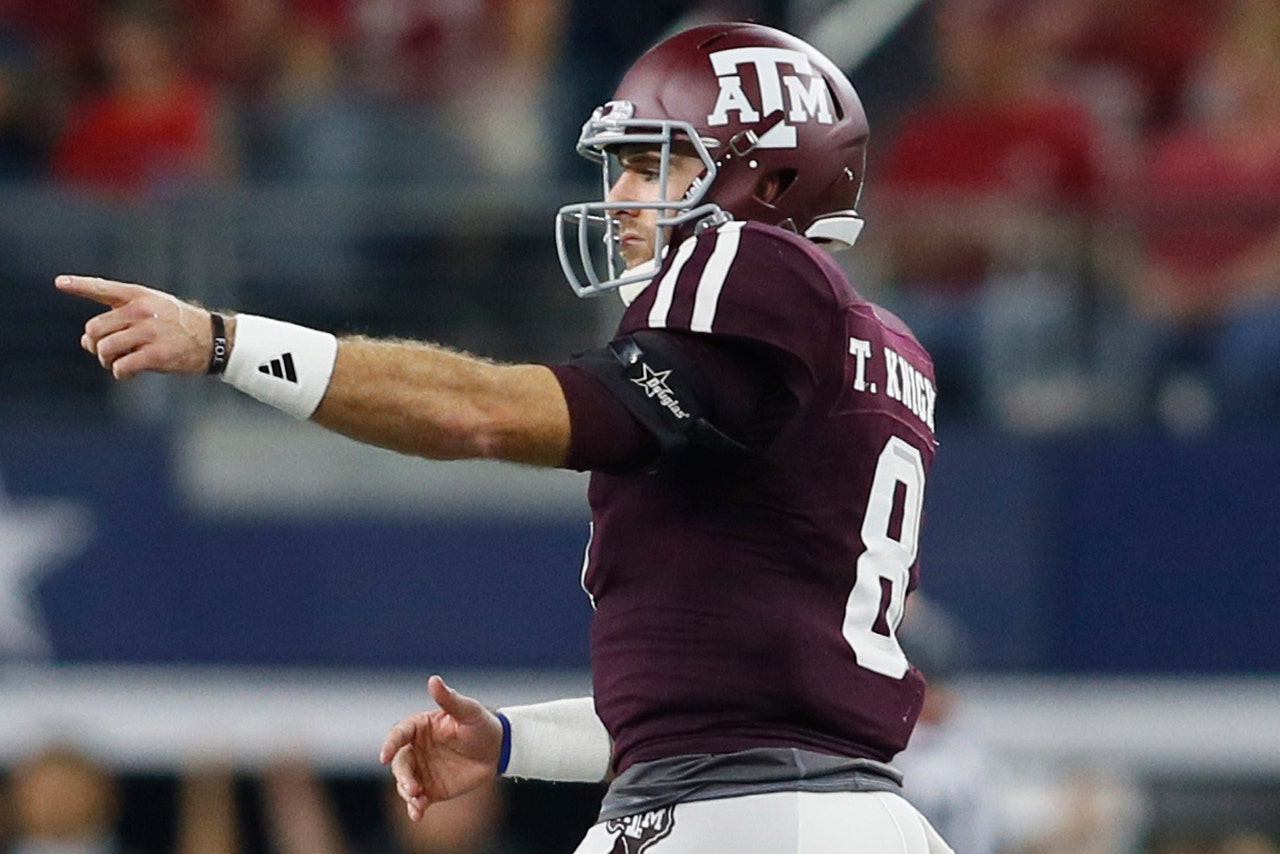 Texas A&M Aggies quarterback Trevor Knight.
The Aggies beat a good Arkansas team this past weekend. Trevor Knight had a nice day with over 350 yards of offense. TAMU is quietly sneaking up the rankings. They have South Carolina this week before Tennessee and 'Bama.
9. STANFORD
I give the Cardinal credit for driving down the field at the end of the game and scoring a touchdown when they needed it. Stanford's Ryan Burns found J.J. Arcega-Whiteside for a game-winning 8-yard touchdown pass with 24 seconds left. UCLA isn't a bad team. Remember, they went to overtime with Texas A&M. Now we'll get to see who's the best in the Pac-12 when Stanford heads to Washington.
10. WASHINGTON
The Huskies were in a brawl in Tucson, Ariz., against Rich Rodriguez's Arizona Wildcats. It's a tough place to play, so getting out of the desert with a victory is a major accomplishment. The Huskies' Lavon Coleman averaged 16.5 yards a carry vs. the Wildcats as he had 181 yards on 11 carries. Seems to me that I'd be getting that kid the ball a little more. The Cardinal will play better defense, so we will know more this Friday. Stay tuned!
11. TENNESSEE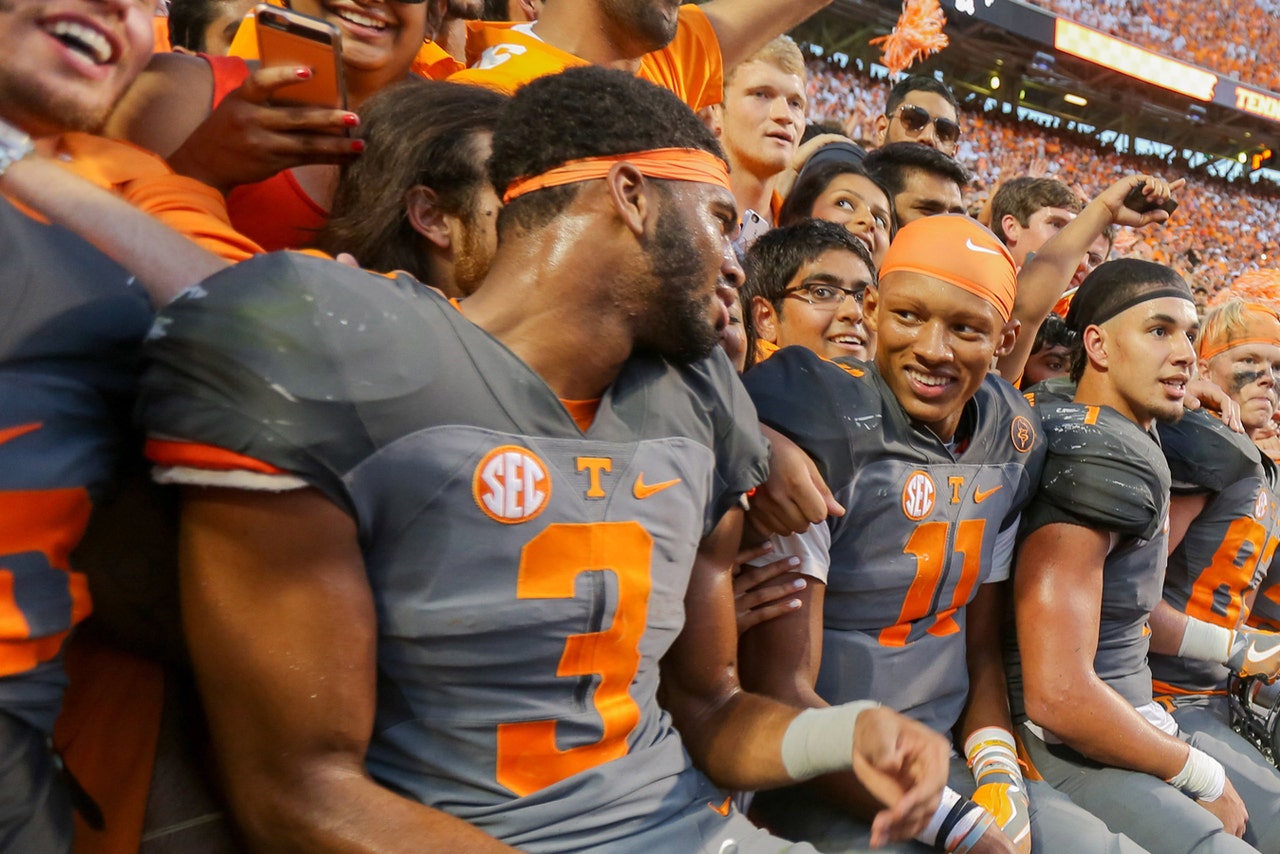 The Tennessee Volunteers.
Let's not get too excited Vols fans. Yes, it was a pretty scene in Knoxville with your orange and white coordinated effort in the stands. Congrats to Butch Jones for getting his signature win. It's about time. I wouldn't be singing Rocky Top too loud though, you beat a Purdue quarterback. Isn't it ironic that the school where Gatorade was invented had its players cramping the entire game? This week, the Vols face off against Georgia, which got flat embarrassed on Saturday. Dear Butch, I know you're excited to win, but act like you've done it before.
12. FLORIDA STATE
Dalvin Cook, where have you been all year? Perhaps he read the Woodshed last week when I said that Jaques Patrick maybe a better option at tailback. The 'Noles took care of business in Tampa. South Florida can go back to being the fifth best program in the state, thanks. Florida State hosts North Carolina, which has won three in a row, this week. Tallahassee will be rocking.
13. NEBRASKA
The Cornhuskers are tough to judge. They are 4-0 with a victory over Oregon. They will win their next three games before they face Wisconsin for West Division supremacy in the Big Ten. Tommy Armstrong Jr. is a candidate for the Big Ten player of the year behind Michigan's Peppers and JT Barrett from The Ohio State University. Until we see them play Wisconsin, we can't get a good measure on them.
14. FLORIDA
I know, they had a meltdown in Knoxville. They should get back Luke Del Rio in time to face LSU at home. I'm not going to break any news here when I say this... "Get the ball to Antonio Callaway!" I'm pretty sure he'll get coached up this week on how to not return punts inside the 10-yard line too. If not, here's all you need to know Antonio. When fielding a punt, put your heels on the 10-yard line. If the ball is kicked over your head, do not back up, do not try to catch it, just let it go over your head. It's really that simple! The Gators will be a better team. Head coach Jim McElwain will figure out that Gator tailback Jordan Scarlett needs to get 30 carries a game. The kid is averaging over five yards a carry. And more bubble screens for Callaway while you're at it. Seriously, it's a bit early to be seeing McElwain in SEC commercials. You know what I'm Belking about.
15. OLE MISS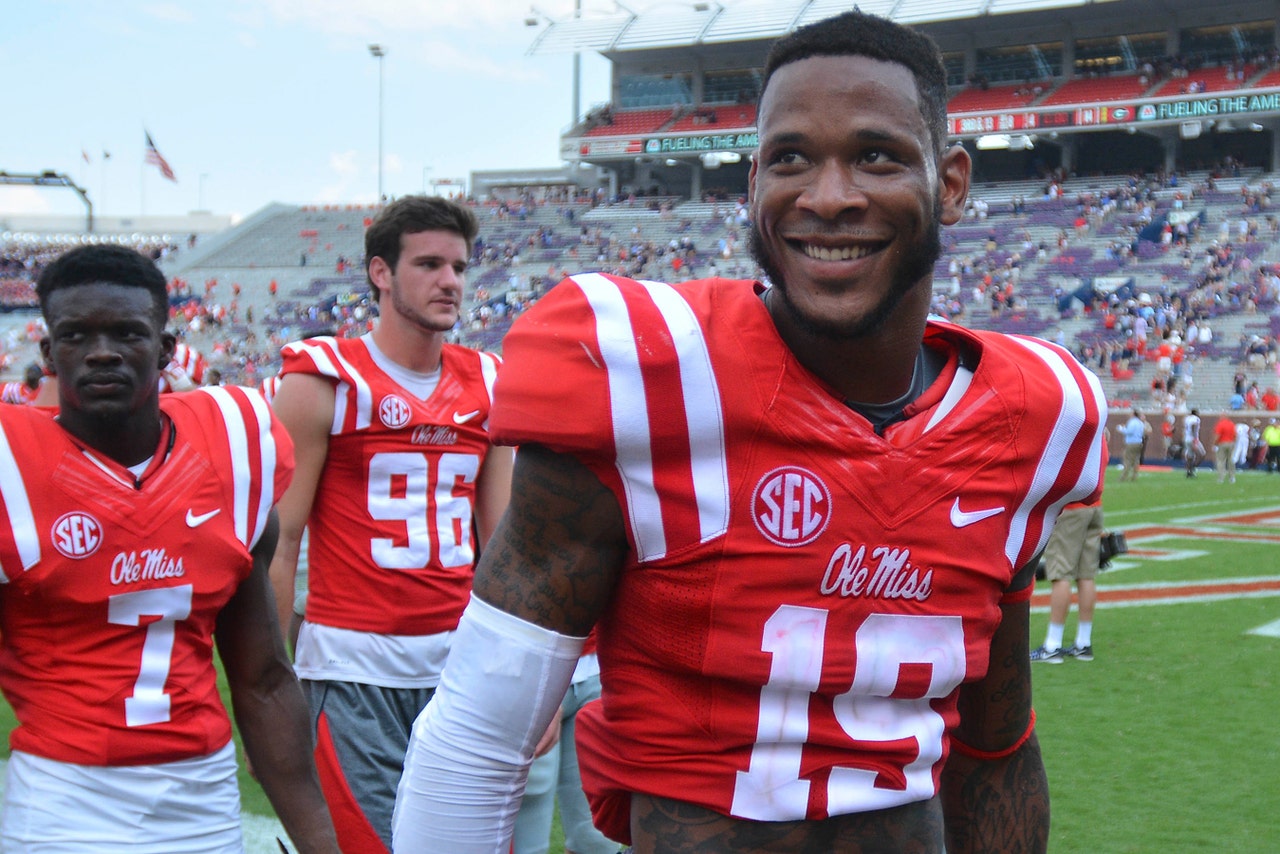 Mississippi Rebels.
I was the first to say I didn't think these guys deserved a ranking. And sitting here with two losses, I still believe they would beat teams 16 through 20, so that's why they are ranked right here. The Rebels pounded Georgia 45-14. The game was ugly if you were a Bulldog fan. Perhaps the news about former head coach Mark Richt's purchases for friends of the program were a distraction. Who doesn't want a little Georgia Bulldog statue for their lawn?
16. MIAMI
Did somebody mention Mark Richt? The Hurricanes have not beaten anybody of substance yet. Believe me, I'd love for them to get back on the college football scene. They are a program to watch; I just don't think they'll be the team everybody in South Florida hopes for. The 'Canes have Georgia Tech this week before the losses start coming. I hope I'm wrong, for the 'Canes fans in the office.
17. MICHIGAN STATE
The Spartans got waxed at home by Wisconsin. Mark Dantonio is still a heck of a coach with a nice win in South Bend. At this point in the polls, it doesn't matter. Sparty will get back up in the rankings with four wins a row going into the Michigan game. Mean Green isn't done quite yet!
18. ARKANSAS
The Razorbacks took one on the nose this week thanks to the folks in College Station.
Arkansas head coach Bret Bielema forgot to put on his "Big Boy Pants" as they lost 45-24 in Arlington, Texas. The Razorbacks have Alcorn State to prepare for before 'Bama week. This seems like a nice place for them to sit for a while. They are physical, so I expect them to give the Tide a game.
19. OKLAHOMA
I still think the Sooners are the best team in the Big 12. I know Baylor is unbeaten. I know TCU took Arkansas to overtime. Bob Stoops' squad lost to the No. 6 and No. 2 teams in the nation, and they are out of the polls? Not in the Woodshed rankings! Baylor is unbeaten for now, and will be so until November. Then they will fall in the polls like cold November rain.
20. UTAH
The Pac-12 is better than the Big 12 in my book. Utah squeezed out another victory after USC had them on the ropes in Salt Lake City on Friday night. The Utes are 4-0 with another test this week as they get set to visit the Cal Bears. I don't think they have the juice to beat UCLA, but you never know. The Pac-12 South is wide open.
To tell Matt how much you love (or despise) his rankings, e-mail him at Matt.Shedenhelm@Foxsports.net or on Twitter @themediashed.
---
---