Wong cracks two homers with mind focused on hurricanes in hometown
Published
Aug. 8, 2014 1:01 a.m. ET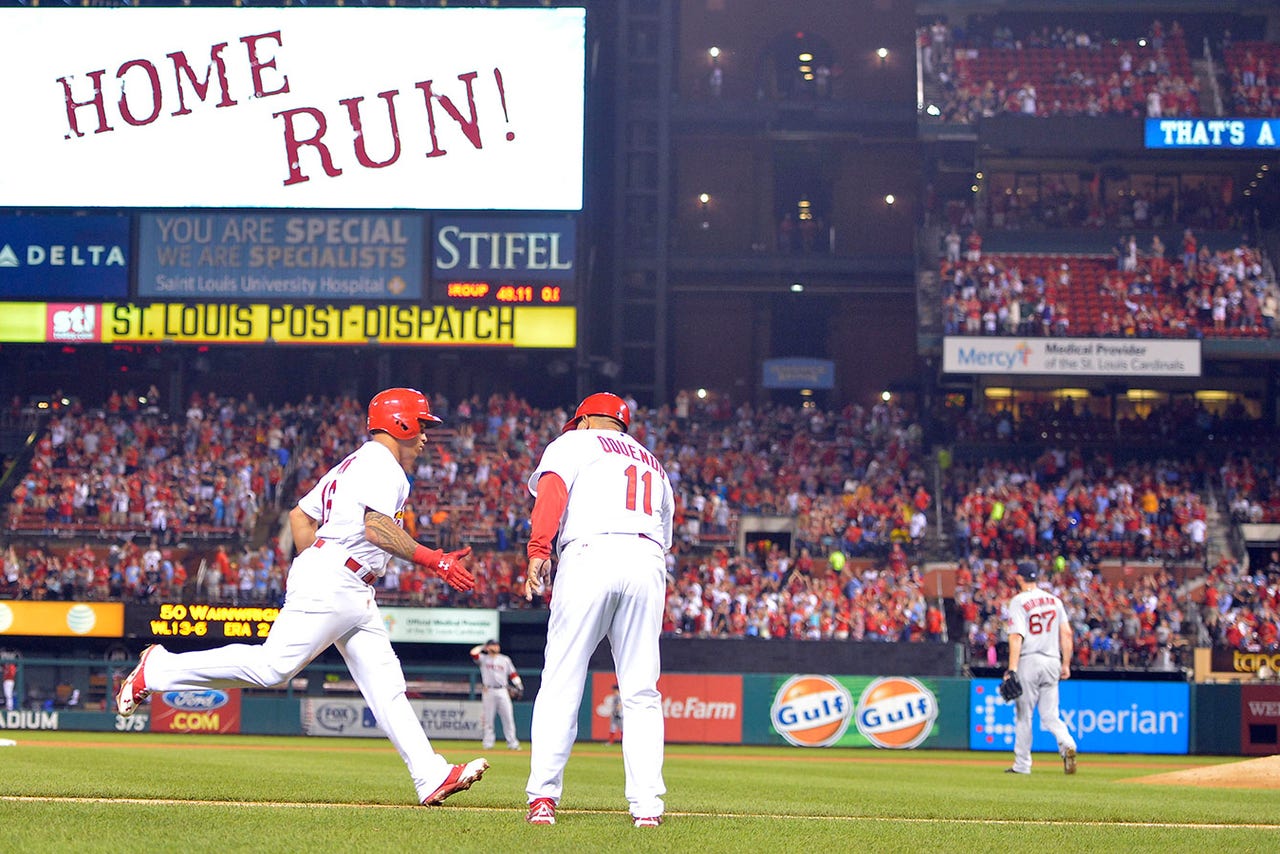 ST. LOUIS -- Kolten Wong enjoyed the best offensive outburst of his young career Thursday night by hitting two home runs and scoring a third time to lead the Cardinals' offense to a 5-2 victory over the Red Sox.
But his mind was not focused only on Busch Stadium.
Even as he talked to reporters after the game, a powerful hurricane was closing in on his hometown of Hilo, Hawaii, with another hurricane coming behind it. Wong said his father had boarded up the family home and the town was bracing for the worst.
"What they said is the eye is going to go right over my hometown," Wong said. "It's crazy to hear a hurricane is coming. The whole time I've been home, I've never had to experience anything like that. It sucks not being able to be there with them."
Wong said he spent the one-hour, four-minute rain delay before the game checking with family and friends and at that time, "Nothing crazy had happened."
"My dad told me, 'Don't worry about me, worry about the game,'" Wong said. "Sure, that's easy for you to say."
The rookie second baseman's big night apparently was serving as a distraction for some on the Big Island. Some buddies, in fact, were giving Iselle credit for his power outburst.
"All my friends were texting me telling me that the winds from there came here and blew my balls out," Wong said. "Thanks guys, I appreciate it. I guess I don't have any pop."
Wong showed plenty of power on a night when sluggers on both teams launched balls to the gaps and to center field only to see them caught on the warning track. The lefty-swinging Wong pulled both of his long drives to right field, the second one traveling 423 feet. Both blasts came with two outs and upped his total to nine on the season.
Eight have come in the past month, the past three following a stretch when he was trying to do too much and endured three games with three strikeouts in an eight-game stretch. He has focused on shortening his swing and doing more with less.
"I've been telling myself every at-bat not to swing too hard," Wong said. "If I feel myself swinging too hard, I'll step out. People are thinking I'm crazy because I'm talking to myself at home plate. But I understand if I swing too hard, I'm not going to do anything with it."
Wong planned to reach out to his folks again as the Cardinals made their way to Baltimore for a three-game series. His hope was that the mountains would push the storm away from his dad's home, which he said is not located that close to the water. At least during the Cardinals game, they seemed to avoid any damage because they still had power. They did not have their TVs tuned into CNN, either.
"Everyone I talked to there, they weren't watching the news, they were watching our game," Wong said.
The island native gave them plenty to cheer about.
3 UP
-- Adam Wainwright's pitching. Until his final pitch, his night had a chance of going up or down. But he made it another excellent outing by throwing a curveball that buckled Yoenis Cespedes for strike three. Matheny went out to give Wainwright a pep talk with two runners on and his pitch count at 113. Wainwright fell behind 3-0 before he came back with two cutters before finishing Cespedes with the Beltran-esque bender. Wainwright pumped his fist and screamed as he made his way to the dugout. The two-run, seven-inning outing was good enough to make him the majors' second 14-game winner. Milwaukee's Wily Peralta, who is 3-0 against St. Louis, reached 14 with a 3-1 victory over San Francisco earlier Thursday.
Watch the Cardinals Live pregame and postgame shows before and after every St. Louis Cardinals game on FOX Sports Midwest.
-- Jhonny Peralta. He delivered a two-run, two-out double in the first that gave the Cardinals the lead and, perhaps more important, ensured they did not blow a prime opportunity. Matt Carpenter and Wong both had reached with no outs before Matt Holliday flew out and Matt Adams struck out on a pitch in the dirt. Peralta then pounced on a high fastball from Brandon Workman that went to the fence in center and scored Carpenter and Wong.
-- Oscar Taveras. He made the first inning even bigger for the Cardinals by lining a single to right that scored Peralta from second for a 3-0 lead. The rookie right fielder kept alive a hitting streak he started the day that Allen Craig was traded. Taveras has only one hit in each of the seven games but has produced six RBI. His fourth-inning strikeout against Workman was just his second in his past 15 games (to four walks).
3 DOWN
-- Wainwright's hitting. His quest for his first Silver Slugger award was looking good when he was hitting .400 after his first eight starts. Since then, not so much. An 0-for-2 dropped him to .204 for the season and just .069 (2 for 29) since May 13. Wainwright still remains one of only five NL pitchers with a .200 batting average for the season. 
-- Tony Cruz's playing time. His work behind the plate often is lauded by his teammates, and A.J. Pierzynski has praised Cruz for leading his crash course to learn the Cardinals' pitchers. But Cruz figures to be doing more consulting and less playing because he's not hitting and Pierzynski is. After an 0 for 3 in his one start against the Red Sox, Cruz has gone 9 for 43 since Yadier Molina's injury. Pierzynski has gone 9 for 29 since he was picked up by the club.
-- Kevin Siegrist's velocity. This may be nit-picking but the speed of Siegrist's fastball remains down a tick or two since he returned from a two-month bout with a forearm issue. Siegrist touched 95 mph once and worked a scoreless eighth -- retiring no less a threat than David Ortiz on a liner to left -- but he mostly was throwing 92-93. Before the injury, he was consistently hitting 95-97 mph. Siegrist said after the game he is feeling better on the mound each time out.
You can follow Stan McNeal on Twitter at @StanMcNeal or email him at stanmcneal@gmail.com.
---