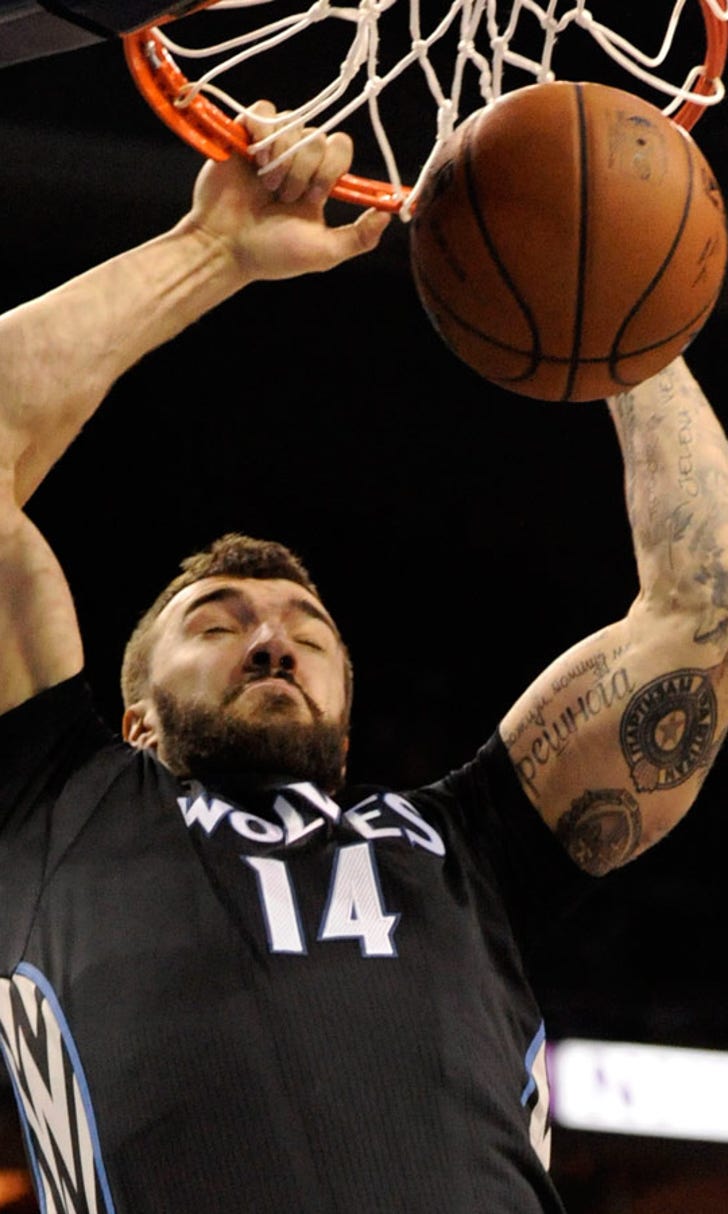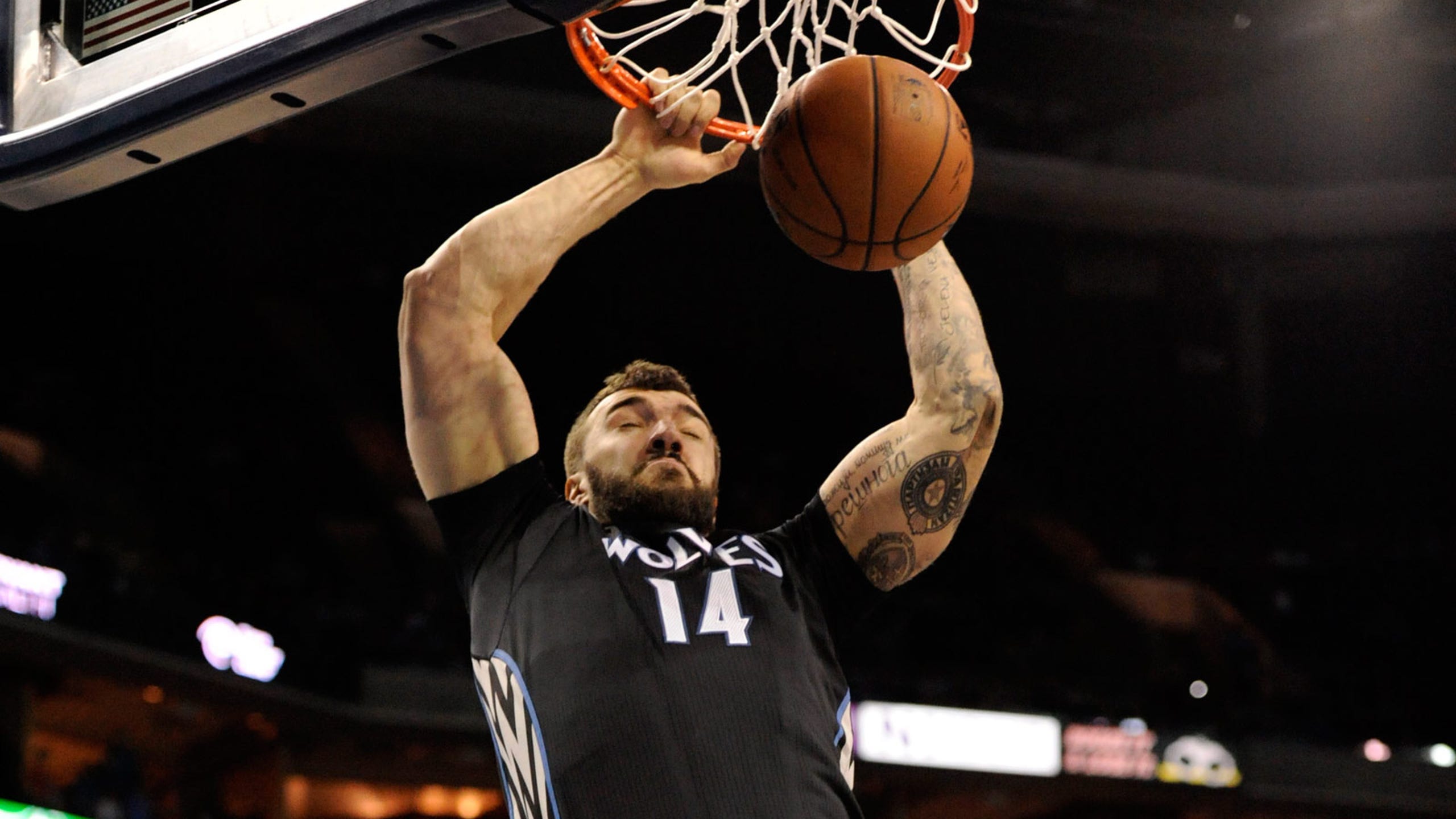 Wolves Sunday: Injury woes continue with Pek benched
BY foxsports • March 16, 2014
MINNEAPOLIS -- Nikola Pekovic sat in the Target Center's skyway-level lobby, decked out in a mafia-style suit and grinning his way through questions about his newly-minted five-year, $60 million deal with the Timberwolves.
The inquiry of injury didn't take long to come up. How many games did the oft-maligned center plan on playing this season?
"I want it to be 82," Pekovic said. "That's for sure."
That was Aug. 16 -- the day Pekovic re-signed as a restricted free agent and seven months before Minnesota's virtual elimination from playoff contention.
And like so many hopes for the under-new-management Timberwolves this season, Pekovic's aspirations have been far from realized.
The 6-foot-11, 285-pound Montenegrin wore a suit again Sunday, this time seated at the end of Minnesota's bench. The right-ankle bursitis that cost him 13 games earlier this year flared up again Friday, and Pekovic was still too sore two days later to give it a go against Sacramento.
"It's just one of those things," coach Rick Adelman said. "He doesn't really know. I think he said there was a play in the last game where he went to go off it and he felt something, had a lot of pain."
Pekovic missed the entire month of February before returning March 1. In Friday's loss at Charlotte, though, he cited severe pain in the ankle 2 minutes, 20 seconds into the third quarter after missing a series of point-blank shots.
"The first three possessions of the second half, it was obvious he couldn't move," Adelman said. "We just have to see how it goes. I don't know how long it'll be or anything like that. So we just have to look to the other guys."
With Ronny Turiaf missing his 11th straight game with a right-knee bone bruise, Adelman opted to give rookie Gorgui Dieng his first career start Sunday.
Fortunately for Minnesota, Kings center DeMarcus Cousins -- the leading scorer among NBA centers, two spots ahead of Pekovic -- also was ruled out before Sunday's matchup with tendonitis in his right knee. Aaron Gray started in Cousins' place.
Pekovic averages 17.7 points and nine rebounds per game this season. In his six full games since returning from the injury, he had 16.8 points and 8.7 boards an outing.
Considered a strength coming into the season -- Pekovic's the NBA's No. 3 scoring center, and Turiaf's one of the top reserve bigs on defense when he's healthy -- the five spot has been largely a burden with both players missing substantial time. It's one of many reasons the Timberwolves entered Sunday 32-32 and six games out of a playoff spot.
With 18 games to go, their postseason chances look bleak.
But playoffs or no playoffs, Pekovic's latest setback opens opportunities for Dieng -- who has yet to grow into a comfortable role in his first professional season -- to gain some experience. As he has often this season, Kevin Love will also see some more minutes at center.
"He's going to have to play anyway," Adelman said of Dieng, "so might as well play him to start, let him get used to playing. Then we'll adjust from there."
Malone not yet familiar with White: As his team wrapped up a seven-game road trip Sunday, Kings coach Mike Malone didn't have much to say about recent addition and Hopkins, Minn., native Royce White.
Sacramento signed White to a 10-day contract March 6, and he immediately reported to the NBA Developmental League's Reno Bighorns. The Kings recalled him Thursday, but he won't join the team until it returns to California's capital city.
For that reason, Malone hasn't had a chance to evaluate him.
"I'll be honest; I've never seen Royce White play once," Malone said. "When we get back, I'm curious to see him play."
In four games with Reno, White averaged 8.8 points, 4.3 rebounds and 2.8 assists in 24.8 minutes per game.
Houston drafted the former Iowa State Cyclone 16th overall in 2012. But White didn't play a game for the Rockets, citing a fear of flying stemming from anxiety disorder that he and the team couldn't find a way to address.
He missed training camp, and the Rockets suspended him in 2013 when he refused to accept another D-League assignment. Houston traded him in July to Philadelphia, where he spent the preseason before being waived.
Williams strikes again: Maybe it's the Target Center. Maybe it's the team that never found a place for him and traded him away.
But in two return trips to the Twin Cities, Derrick Williams has been red-hot.
"I think anybody who gets traded wants to play good against the team that traded them," the Kings forward said. "It's just human nature."
The 2011 No. 2 overall draft pick scored 26 points on 8 of 15 shooting Sunday, improving upon his 16-point outburst in a Jan. 15 Kings win at Minnesota. Williams came in averaging 25.5 minutes and 9.2 points per game and shooting 44.8 percent since the Timberwolves traded him Nov. 26 to Sacramento for Luc Richard Mbah a Moute.
He scored 10 points during the first quarter's final 3 minutes and had 10 more in the fourth quarter as Sacramento stayed stride for stride with Minnesota until the final seconds of a 104-102 loss.
Despite the change of scenery, Williams' overall numbers are comparable to the ones he put up during two-plus seasons with the Timberwolves. So is his role in the wake of the Kings' trade for Rudy Gay, who put an end to Williams' brief appearance in the starting lineup earlier this season.
In two games back at the Target Center, though, he's averaged 21 points, shot 57.7 percent from the floor and made a pair of 3-pointers -- both of them came Sunday evening.
He made the same amount of triples and shot 35.2 percent, scoring 4.9 points per game, in 11 contests with Minnesota this season before being traded.
"He seems to play really well at the Target Center," former teammate Robbie Hummel said, briefly paused, then added, "now."
Like Adelman, Sacramento coach Mike Malone has tried Williams at small forward and power forward -- an experiment that never produced substantial fruit in Minneapolis.
"He's been a great pickup," said Malone, whose team was mathematically eliminated from playoff contention with the defeat. "He's been working very hard, and these last 16 games or whatever it is are big games for him. We want him to show what he can do on a consistent basis."
Follow Phil Ervin on Twitter
---