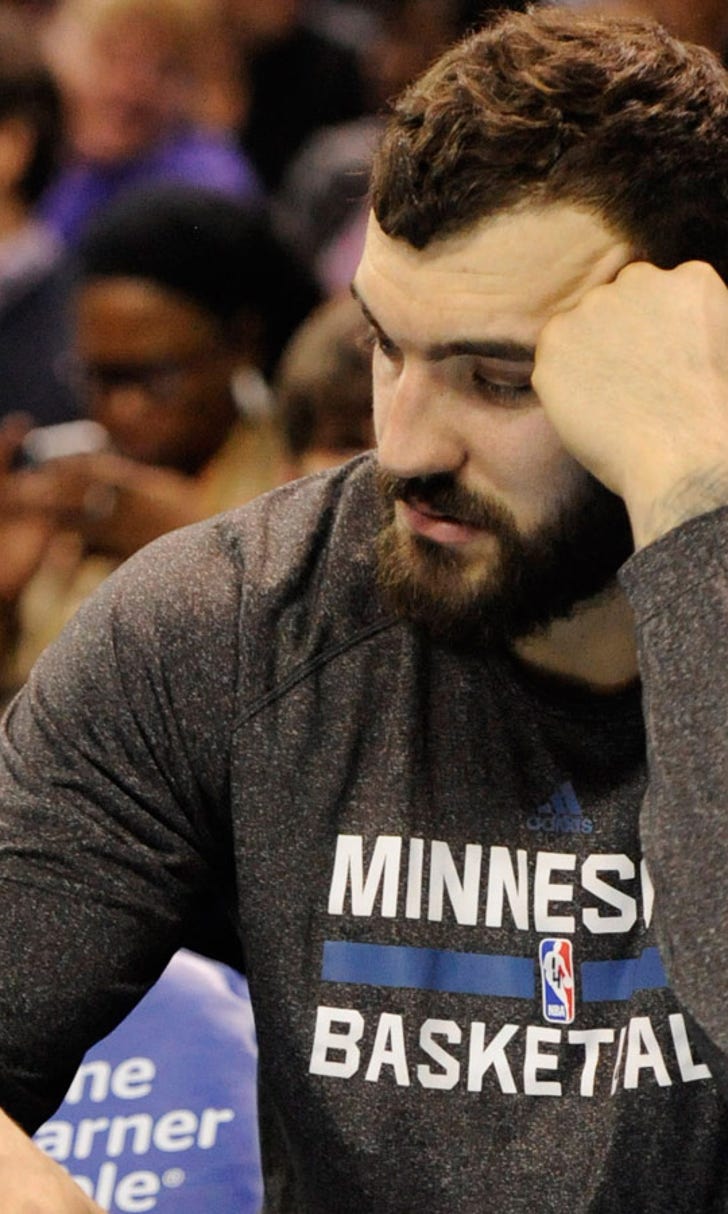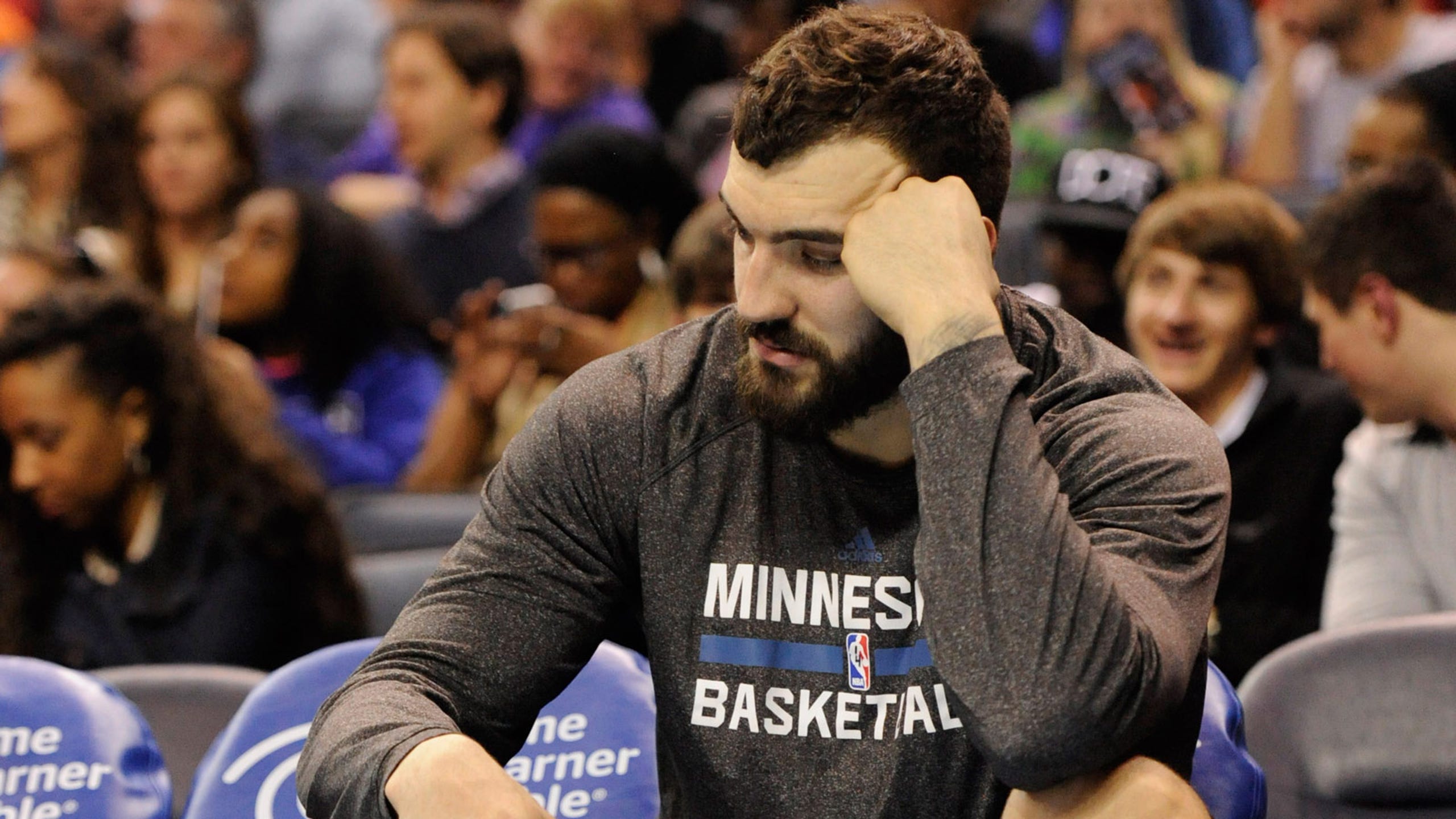 Wolves' Pekovic frustrated by latest setback
BY foxsports • November 19, 2014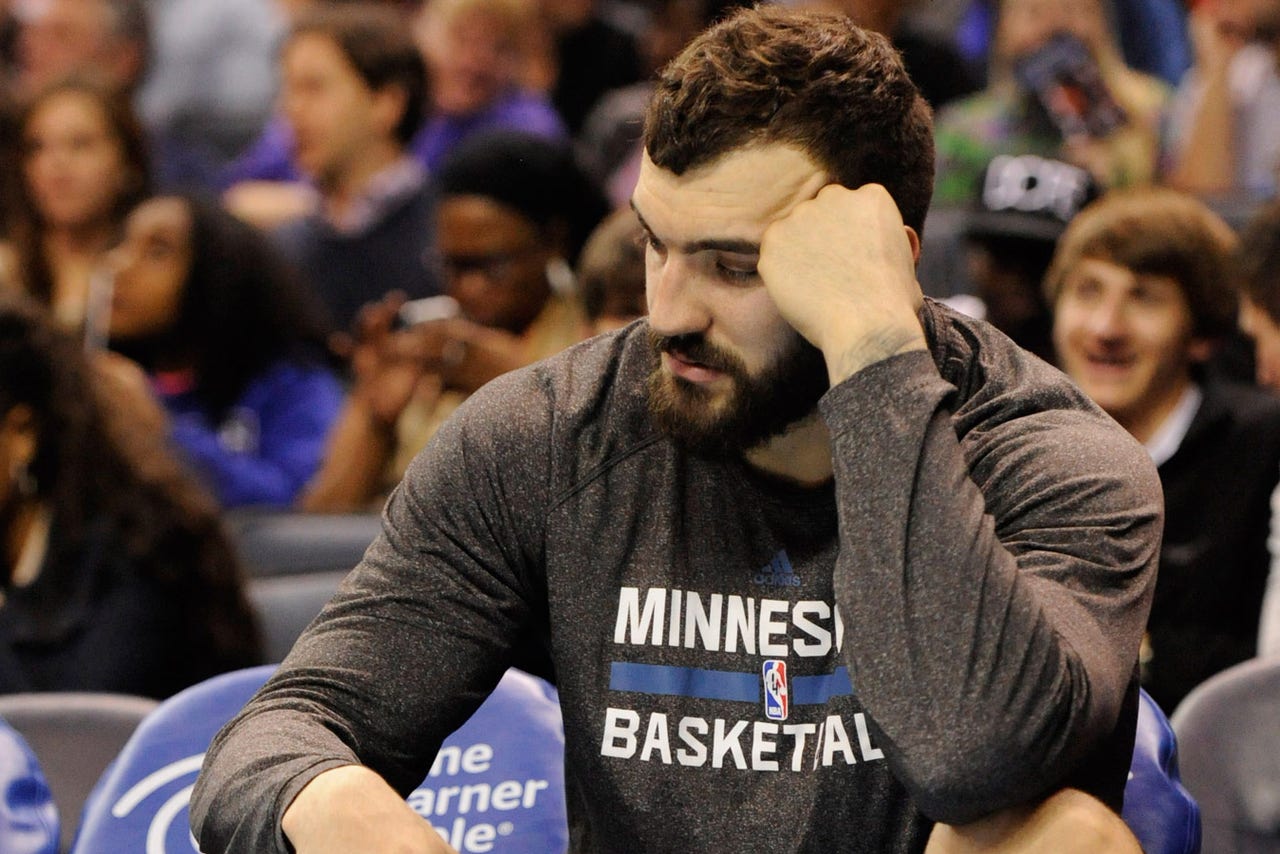 MINNEAPOLIS -- To understand the plight of Nikola Pekovic requires a hefty amount of imagination.
Picture standing a chest, neck and head taller than nearly everyone with whom you interact. Try and discern how it must feel to back down the likes of Dwight Howard and DeMarcus Cousins before deftly scooping a basketball the size of your hands into a hoop. Pretend you fit snugly into an XXXL t-shirt and have a closet full of Nike shoes the size of gravy boats.
Imagine feeling physical invincible one day, and helpless another.
Such is life for the Timberwolves' mountainous center, who's out again with another nagging injury -- this one a sprained wrist that will cost him at least the next three games. It isn't thought to be as serious as the maligned ankle that kept him out of 28 games last year, but every ailment, no matter the severity, bears significance for a player who has yet to prove he can stay healthy for long stretches of time.
"It's more disappointing when you try to do something, but you just can't," Pekovic said after Minnesota morning shootaround Wednesday. "When you're inside and you're in pain, you make more damage than you can help your team."
In each of his four full NBA seasons, Pekovic has missed at least 17 games. Ankle tendonitis and sprains, leg contusions, bone spurs and an abdominal strain have rendered the 28-year-old an effective big man whose value is yanked back to the mean by the liability he presents a payroll.
The Wolves handed him a five-year, $60 million extension last summer. And each game he misses stokes the conversation that he's overpaid.
"It gets (more) frustrating every time," Pekovic said. "This is our job. I'm not working in the office -- you get hurt, you get hit."
This time, it was several bumps on the right wrist Saturday against Dallas. He'd also complained of soreness in his re-aggravated right ankle after missing the second half of Minnesota's 131-117 defeat.
The ankle -- the same one he hurt last year -- is starting to heal back up after two days away from practice, Pekovic said, but tests Monday at the Mayo Clinic in Rochester revealed the wrist sprain. He'll miss Wednesday night's game against New York, Friday's versus San Antonio and Saturday's clash with Sacramento and be re-evaluated sometime next week. Pekovic wasn't alone at the Mayo Clinic. He and his mother both had appointments there -- what Saunders referred to as "personal" reasons Pekovic missed Monday's practice.
Even before exiting the lineup, Pekovic was visibly hampered by soreness. A 53.1 percent career shooter, he's made just 42.2 percent of his field-goal attempts in nine games this season.
"There's guys who get a chance now to play and everything," Pekovic said. "I'm really happy for them. For me especially -- I'm just talking about my case -- it's better just to sit, take a few days off, kind of try to heal that thing as much as I can and then try to come back and play how I can play."
Opportunities aside, his absence leavings a gaping hole in the Minnesota frontcourt.
Backup Ronny Turiaf has been out most of the season with a sore hip. Starting power forward Thaddeus Young is away from the team dealing with the death of his mother and won't be back until at least Sunday. So for the next three games, Gorgui Dieng, Anthony Bennett and Robbie Hummel are coach and president of basketball operations Flip Saunders' only options at center and power forward.
"I need to just don't be foul-prone," said Dieng, who started 15 of the Wolves' final 18 games last year in Pekovic's stead, "because I know I'm the only center left right now."
Bennett, 6-8, and Hummel, 6-9, both played some center in college. But neither exactly fits the mold of an NBA five-man. Shabazz Muhammad, who's 6-6 and weighs 227 pounds, could play the four in a smaller lineup, but he's still undersized.
With Ricky Rubio still on crutches and out indefinitely due to a severely sprained ankle, Minnesota will be woefully shorthanded, at least for its upcoming four-game home stand.
Which puts even more emphasis on Pekovic's inability to remain active. He started the first 44 games last season, representing the strongest healthiest stretch of his career, but maintains his playing style essentially makes injury unavoidable.
"We're trying to do whatever we can," said Pekovic, who spends a lot of extra time working with head athletic trainer Gregg Farnam and the rest of the team's training staff. Saunders also came into the year hoping to limit his minutes in order to keep him healthier. "Trying out weights, trying out stretching, trying to do everything, but some things you just can't help."
Given Pekovic's injury history even before last year, Saunders knew it was a risk giving him a max contract. But he still believes continued work with Minnesota's trainers and partners at the Mayo Clinic can yield a course of action that keeps Pekovic on the floor.
"It's a work in progress," Saunders said. "The solution that we come to might not be in a week or two weeks; it might take three weeks, a month, whatever it is."
Follow Phil Ervin on Twitter
---