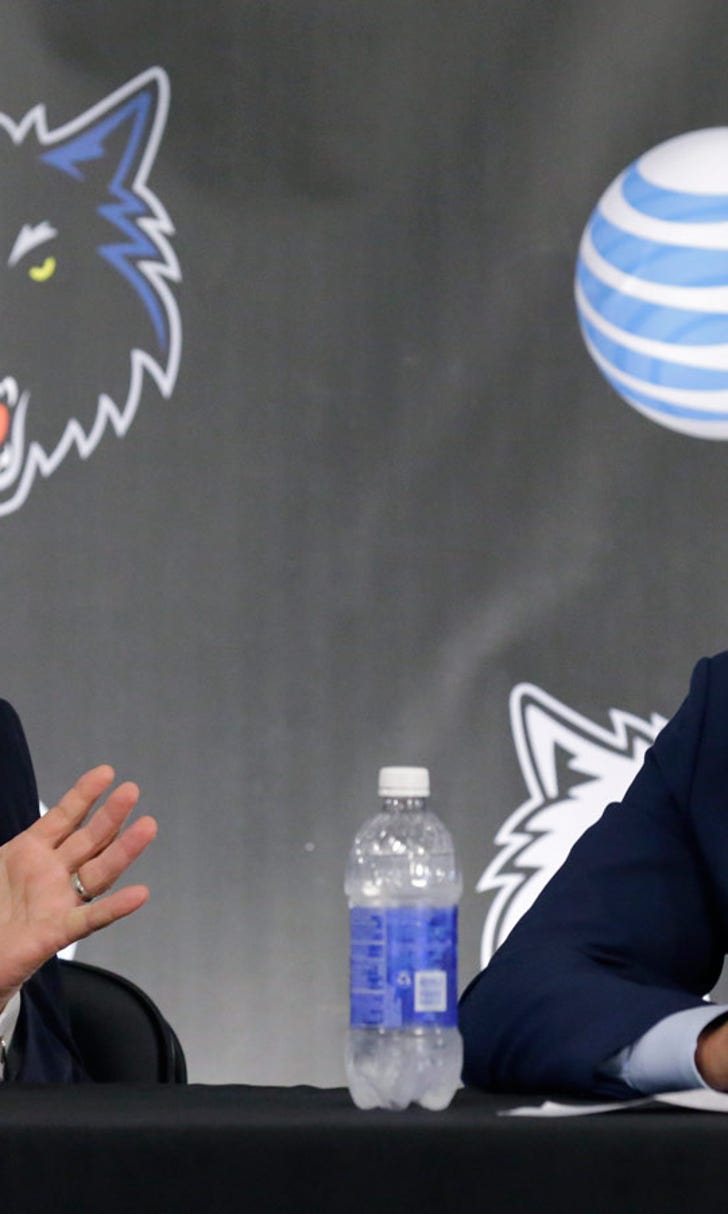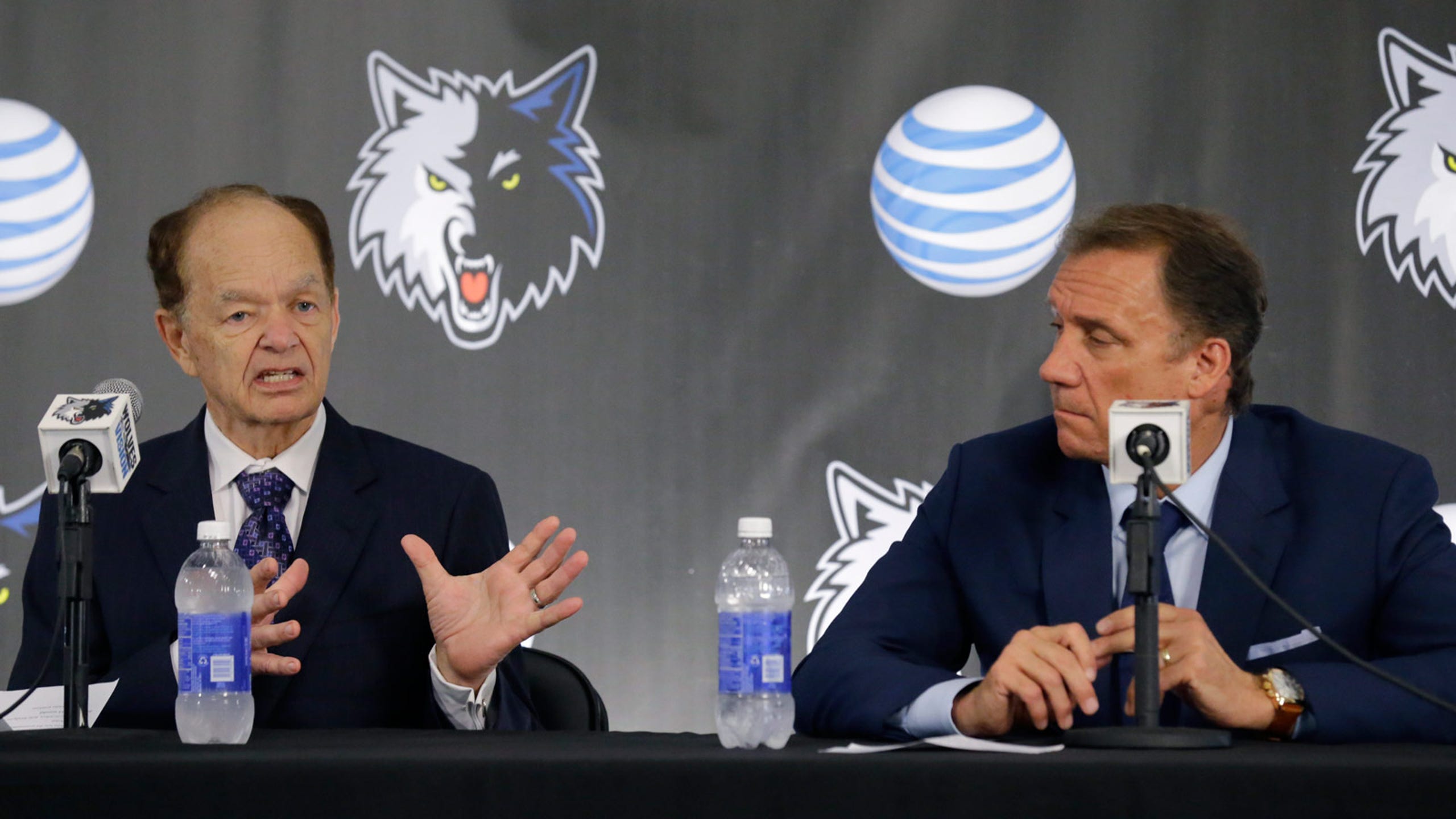 Wolves brass excited about franchise's momentum
BY foxsports • June 18, 2015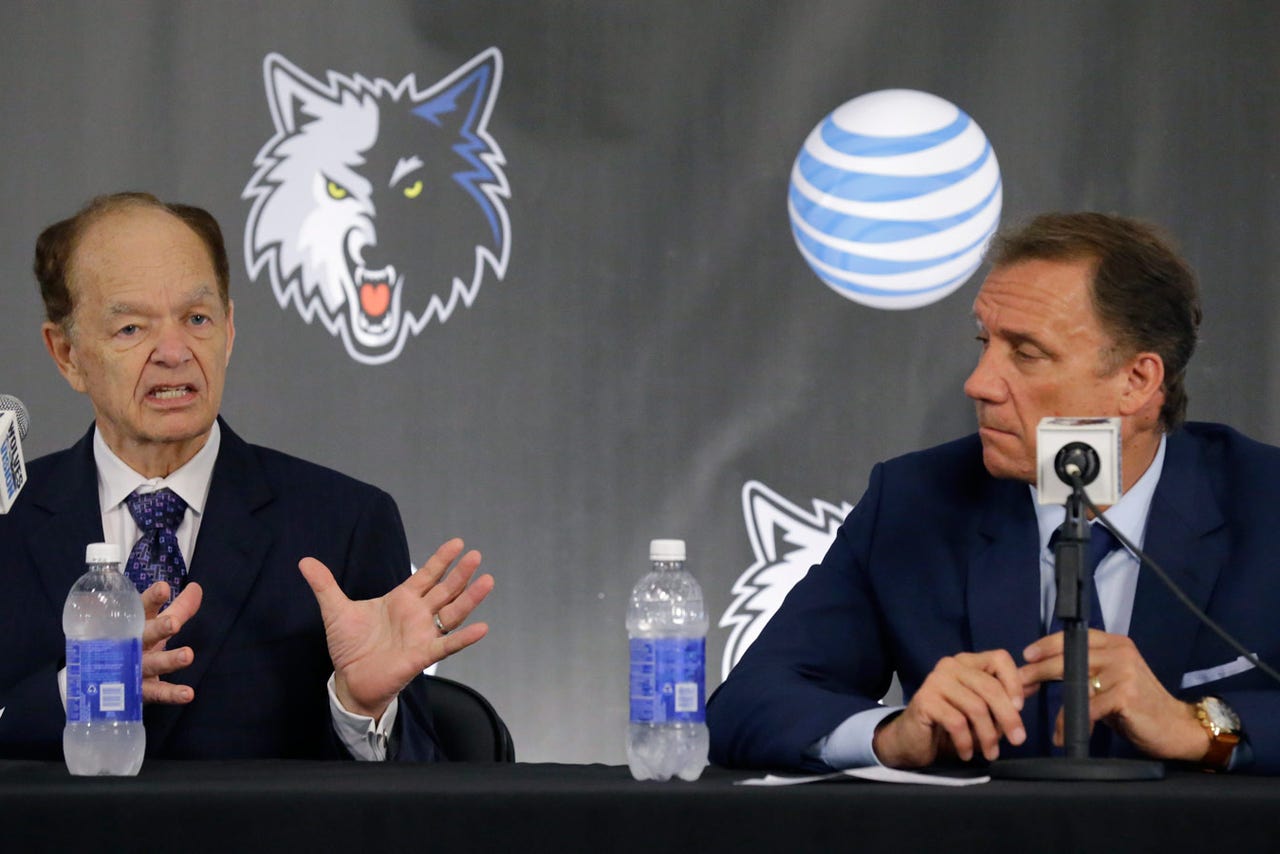 MINNEAPOLIS -- The business of sport is so intriguing because it combines the esoteric and intangible with the quantifiable and analytical.
Aside from advanced-stats projections which may or may not pan out, Andrew Wiggins' upside or the ceiling of Jahlil Okafor or Karl-Anthony Towns don't represent measurable progress. But when Timberwolves owner Glen Taylor, president Chris Wright and Flip Saunders are evaluating where this woebegone franchise has come and where it's heading, numbers like 107,000 (square feet in the Wolves and Lynx's new Courts at Mayo Clinic Square practice facility, officially and ceremoniously opened Wednesday), 82 (the amount of games Wiggins played in during his rookie of the year campaign, averaging 16.9 points, 4.6 rebounds and 2.1 assists per contest) and 19,000 (Target Center's sellout capacity, reached when Kevin Love and Kevin Garnett made their returns last season and the number of fans Minnesota hopes to attain on a nightly basis sometime soon) tend to stick out.
"These are how championship organizations are built," NBA commissioner Adam Silver said Wednesday, about 12 hours after handing Warriors owner Joe Lacob the Larry O'Brien Trophy.
Like the game itself, it takes fortune -- LeBron James returning to Cleveland, precipitating the Love trade that landed Wiggins, and the club's inaugural draft lottery victory after a 16-win season -- and skill -- Saunders' shrewd personnel moves, patience and a young core that's probably about to add either Okafor or Towns to the mix.
It also takes investment. Hence the $25 million digs in what used to be Block E across the street from the Target Center. And the $128.9 million being pumped into renovating the old basketball barn, $49 million of which is coming from the Wolves.
Taylor said Wednesday the team signed an agreement last week and now can move into the design stage of a project that's been delayed several times, primarily by the political process.
But, overall, Taylor said, "I feel that we're doing all the right things. I'm sorry to say that luck will have to play a part of that and health will play a part of that.
"Yes, I see momentum going our direction."
This from a man who in 1994 purchased a team that was in danger of moving to New Orleans. Today, the Twin Cities are a land of basketball opportunity.
Saunders, general manager Milt Newton and their staff continue to parse options for the first No. 1 overall pick in organization history. Per reports, Okafor was in town Tuesday and Wednesday, and Towns is scheduled for a Friday visit. The Wolves also have expressed interest in D'Angelo Russell, Kristaps Porzingis and Emmanuel Mudiay, but their decision ultimately is expected to come down to Okafor and Towns.
The timing couldn't be better. Minnesota now has a shiny, new den featuring a movie theater, player lounge, brand-new locker rooms, expanded weightlifting and conditioning space, 21st-century training equipment including a hydrotherapy room, and a unique partnership with the Mayo Clinic Sports Medicine Center next door. That's huge for a team that's been ravaged by injuries in recent years, team and league officials contend.
"I've never seen anything like this," said Silver, the NBA's commissioner since last February. "This is truly the gold standard.
"I think no doubt it's a catalyst. Of course you need the players. (The Wolves) have a strong roster already that is going to be complemented by the first overall pick. But in addition, its part and parcel with modern sports is unique facilities like these."
Said Taylor: "We feel as though we are inventing a new model for sports teams. Having our practice courts right next to our sports medicine hub will allow us access for the elite athletes to be treated by the elite in the field of medicine."
And soon, an updated arena to match. Silver even said he'd be interested in bringing the All-Star Game back to Minnesota, though the Wolves have yet to apply for it.
He'd also welcome legend Kevin Garnett, who plans to purchase the team someday, into the league's ownership circles once his playing days finally come to an end.
"We're about to approve a new Atlanta Hawks ownership group that includes Grant Hill," Silver said. "We have David Robinson in San Antonio. You have Michael Jordan as the majority owner of the Charlotte Hornets. We love to see former players coming into ownership and I would welcome with open arms Kevin Garnett becoming an owner one day as well."
As Silver said, though, none of it's all that substantial without the right players on the floor. The Wolves believe they've got their cornerstone in Wiggins and can add another a week from Thursday.
"We think there's a beautiful future in front of us," Taylor said. "But it's a very competitive environment that we have to stay up with."
Follow Phil Ervin on Twitter
---