Wolfpack optimistic about taking big leap forward in '14
Published
Aug. 10, 2014 5:34 p.m. ET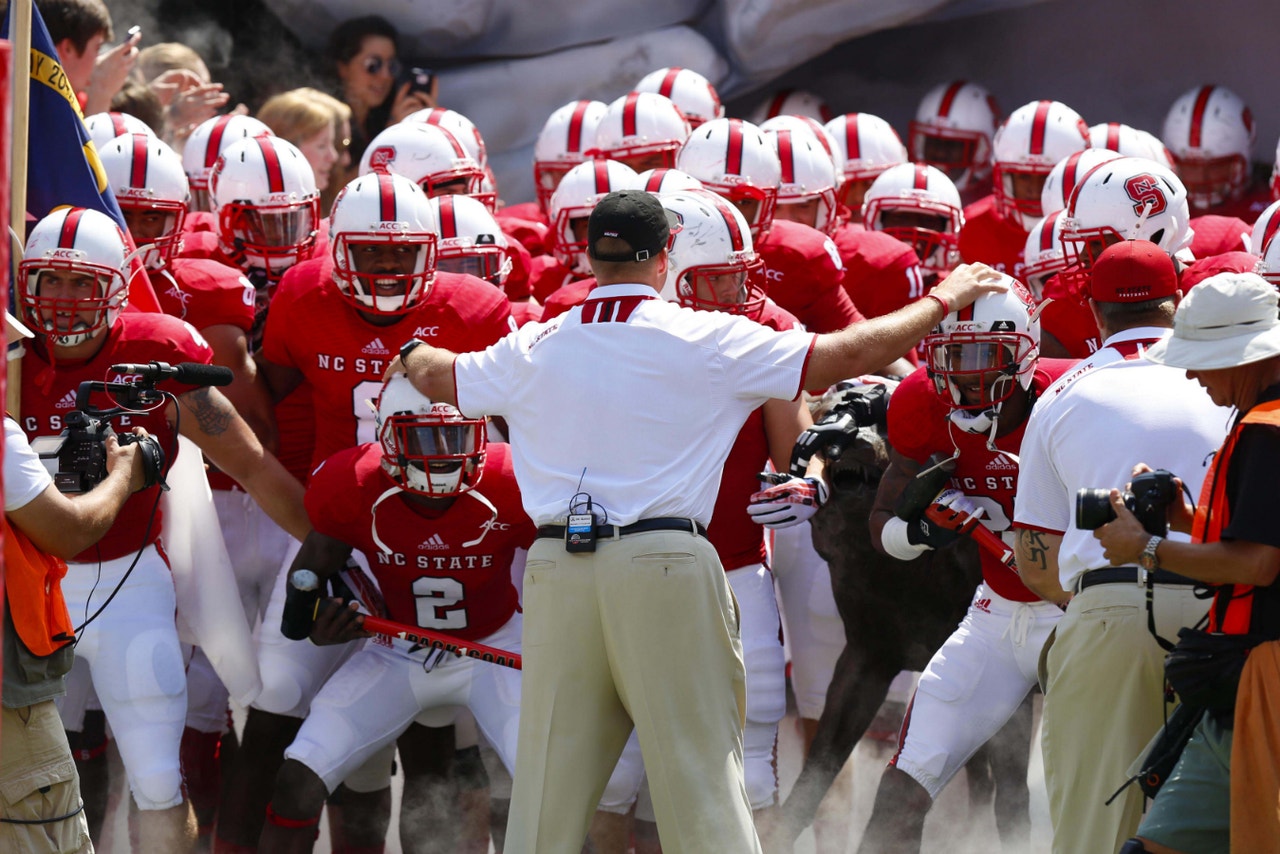 RALEIGH, N.C. -- In football, conventional wisdom dictates that players and teams operate by two seemingly conflicting ideas -- learn from a bad play, or a loss, but put it behind you, and quickly.

Next play. Next game.
It's hard to forget when you have to learn from it, but that's what teams -- and players -- attempt to do each week, and even within a game.
And that was second-year NC State head coach Dave Doeren's challenge this offseason.
Things started out relatively well in his debut season. The Wolfpack went 3-1 -- collecting two early wins, then hanging with Clemson for awhile in their ACC opener, before dominating Central Michigan in the fourth game.
Then ACC play began in full force, and Doeren's team just couldn't find their footing. They would lose their final eight games and went winless in ACC play.
"That kind of season scars you, but I also think it really does make you stronger," Doeren said a few weeks ago at ACC media days.

"It makes you look at yourself. It makes your players rally around each other because nobody else is talking to them in a nice way. You've got to be really tight with each other at that point and protect each other, and it builds your chemistry if you use it the right way."
After last season ended, Doeren wasn't the only one who was re-assessing, trying to learn and grow from last season.
Senior tailback Tony Creecy said the team used its break from the final game on Nov. 30 until January to regroup, before the rising seniors had their first of many meetings.
"We talked about ways to lead, how we should lead, things we should do, the energy that we should bring to camp every day being that we're older guys and we know what's going to happen," Creecy said. "And the way we should lead by just taking care of our bodies, getting in the cold tubs, eating right. So it's a bunch of different things we talked about."
The young ones are on board, says Creecy. There are 31 freshmen in all from a top-25 recruiting class signed by Doeren. In essence, this season could still be tough because of the inexperience, but the future is bright -- and getting brighter.
But football is played in the present, as coaches will remind you each week, claiming to their final breath they never look ahead on the schedule. And so now, the Wolfpack are trying to walk that delicate line of moving past last season ... without forgetting about it.
It's not like "3-9!" is a rallying cry at practice or anything. In fact, Doeren says, they don't really talk about it -- not specifically, anyway. But what he sees now through the first two weeks of fall camp is a team that has learned and grown from last year's experience.
"I think it's been great for the mental toughness of our players. None of them want to relive it. So you can quickly, when you start to see things go a different way than you want, snap them back into it with 'Hey, here's what's going to happen if you want to live like that'," Doeren said.
"It's always there. It's not something we want to talk about or need to talk about a lot, but it's in the back of their minds of what they want to do better and not relive. The only thing you can do when you have adversity is face it, and that's what we've tried to do with our guys and be real about what we need to do better and how to build the program the right way. I feel like we've been able to do that so far."
The players themselves see a lot of differences already, and one of the more common refrains involves the improved leadership.

Last year's group wasn't leaderless, Creecy said, but the leadership wasn't as strong as it had been in years past with former NC State quarterbacks like Mike Glennon and Russell Wilson.
"Everybody saw the outcome last year of -- not the lack of leadership at quarterback, just the lack of leadership in general. Everybody saw what's the outcome if somebody doesn't step up and just take that role," said Florida transfer Jacoby Brissett, the Wolfpack's new starting quarterback.

"I felt like that was a role that I needed to do, but it got to the point where we pretty much lead each other. At certain points of the day, everybody needs a little push, even myself. Each day, you can see different players stepping up and just leading a group or leading a series. It just makes everything easier."
The 3-9 record was a bit deceptive. Even though NC State lost all but one of its ACC games by double digits in 2013, Doeren identified seven winnable games heading into the fourth quarter.
"Finishing" is a mantra of this camp, then, whether it's finishing a drill, a play, a practice -- anything.
Creecy, though, identified some more specific reasons why the team couldn't finish out games, and it's one they've worked to rectify this off-season.
"For us to be in seven games and lose them towards the end, it showed us what we had to work on. So this summer, that's the only thing we did. We just thought about those seven games that we lose towards that end that we should've pulled out," Creecy said. "We think we lost those games because we weren't as close as a team. So this summer, we just focused on being closer as a team."
When it comes to trusting a teammate to make the right play, those kinds of things do become important.
Freshman wide receiver Bo Hines -- an early spring enrollee -- has seen the team's newfound closeness pay off on the field.
"Just as a team, as a whole, we tried to do a lot more off the field team-building stuff this off-season and that paid huge dividends for us in the spring and going into fall camp because we're just closer. We play closer together as a team," Hines said.

"When the defense makes a play, we're congratulating them. Obviously it's really competitive and both sides want to win, but we know that we're teammates, ultimately. That just creates good chemistry within the team."
All of the sentiments are nice, of course. And as the 2014 Wolfpack tries to move past 2013, they will learn from it and get better, somehow, without dwelling in the past.
Because that's just what you do in football. You have to.
Ultimately, though, what matters is on-field talent, depth, and competition at each position. Doeren might bring up what can happen if complacency sets in if he sees loafing in practice, but if a player knows there's no one behind him to take his spot, human nature dictates that player might not go as hard as he would if he did feel pushed.
That's becoming less and less of a problem as Doeren's talented freshman class integrates themselves into various position battles.
"Excited about the depth and competition and the quality of competition at some positions, although as documented, you guys know how young some of that is. There's some really good young players here," Doeren said.
"The talent that we brought in in the freshman class is very evident. I know some of you guys have been to practice and have seen some of the bodies that are out there. There's going to be several of them that get to play this year."
---