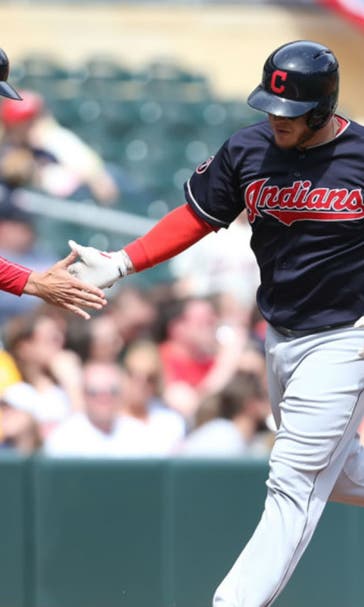 With sparkling season debut by Salazar, Indians top Twins
April 18, 2015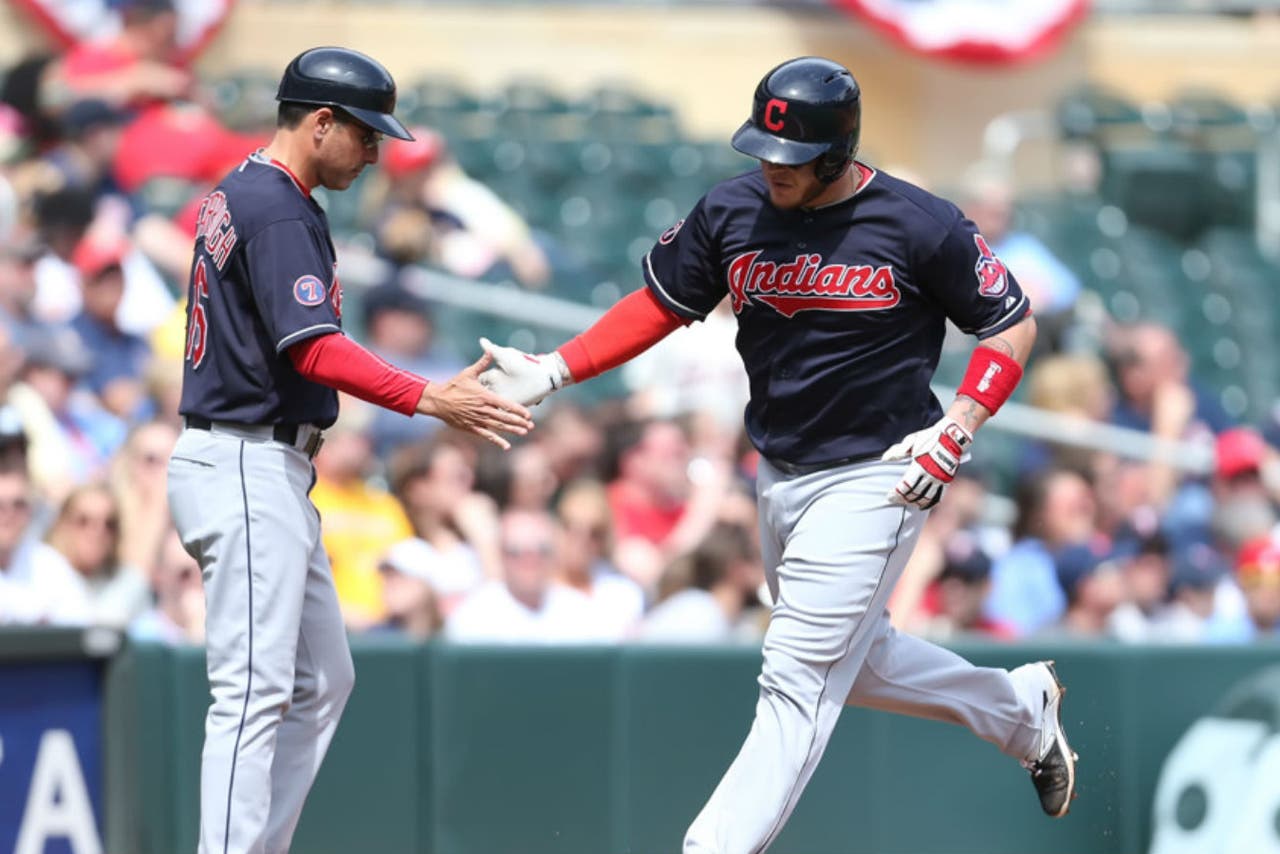 MINNEAPOLIS (AP) -- Danny Salazar matched his career high with 10 strikeouts while pitching into the seventh inning of his season debut, giving the Cleveland Indians a spark in a 4-2 victory over the Minnesota Twins on Saturday.
Roberto Perez had a home run among his three hits for the Indians, and Jason Kipnis stopped an 0-for-16 slide with a two-out, RBI single in the seventh that prompted the Twins to pull starter Phil Hughes (0-3).
Kurt Suzuki led off the bottom of that inning with a homer that cut Cleveland's lead to two runs, and Salazar was removed. Nick Hagadone retired all six batters he faced, and Cody Allen finished up with a hitless ninth for his third save in as many attempts.
Minnesota had won three in a row.
Perez had by far the longest hit of the day, when he led off the third by driving a 1-1 fastball from Hughes over the bullpens and into the second deck above left-center for an estimated 435 feet. Perez is 7 for 17 in four career games at Target Field.
With 10 starts in 2013 and 20 more last season, Salazar proved his ability to throw his fastball past hitters. He has 195 strikeouts in 168 career major league innings. The 25-year-old had a rough spring, though, and the Indians decided to start him in Triple-A.
His first turn for the Columbus Clippers was a strong one, and a half-hour before his second scheduled start on Thursday he was scratched so the Indians could insert him in their rotation, ideally for good. Zach McAllister was moved to the bullpen.
Salazar frequently hit 96 mph on the stadium radar and had the Twins off-kilter for most of the day.
Eduardo Nunez and Torii Hunter hit doubles in the third to get the Twins going, but Suzuki grounded into an inning-ending double play in the fourth.
After Nunez singled in the fifth, he ran with the first pitch to Jordan Schafer but got faked out by the Indians infield and was almost halfway to third when Schafer's soft fly to left was caught. Nunez was easily thrown out for another inning-ending double play.
Salazar struck out eight of the first 12 batters he saw.
Twins leadoff hitter Danny Santana had a particularly hard time with Salazar's heat, whiffing all three times he faced him. Santana is hitting .195 with one extra-base hit, 13 strikeouts and, glaringly, no walks.
The Indians optioned rookie right-handed reliever Austin Adams to Triple-A Columbus to make room for Salazar, who pitched with seven days of rest. He gave up six walks and two walks.
Hughes kept the Twins close until the seventh, when he gave up three singles in a four-batter span. Caleb Thielbar relieved and threw a wild pitch that let another run in. Hughes allowed eight hits and a walk while striking out three.
TRAINER'S ROOM
Indians: After missing six out of seven games because of a sore back before this series, Michael Brantley played left field for the first time after serving as the designated hitter the night before.
Twins: 3B Trevor Plouffe had his first game off of the young season after hitting the game-ending home run in the 11th inning the night before. "We were joking about that," manager Paul Molitor said. "If you hit a game-winning homer, you have to sit the next day."
UP NEXT
With rain in the forecast, the Indians will send LHP T.J. House to the mound after a horrible first start last weekend against Detroit when he got only four outs and gave up six runs. RHP Trevor May will pitch for the Twins.
---