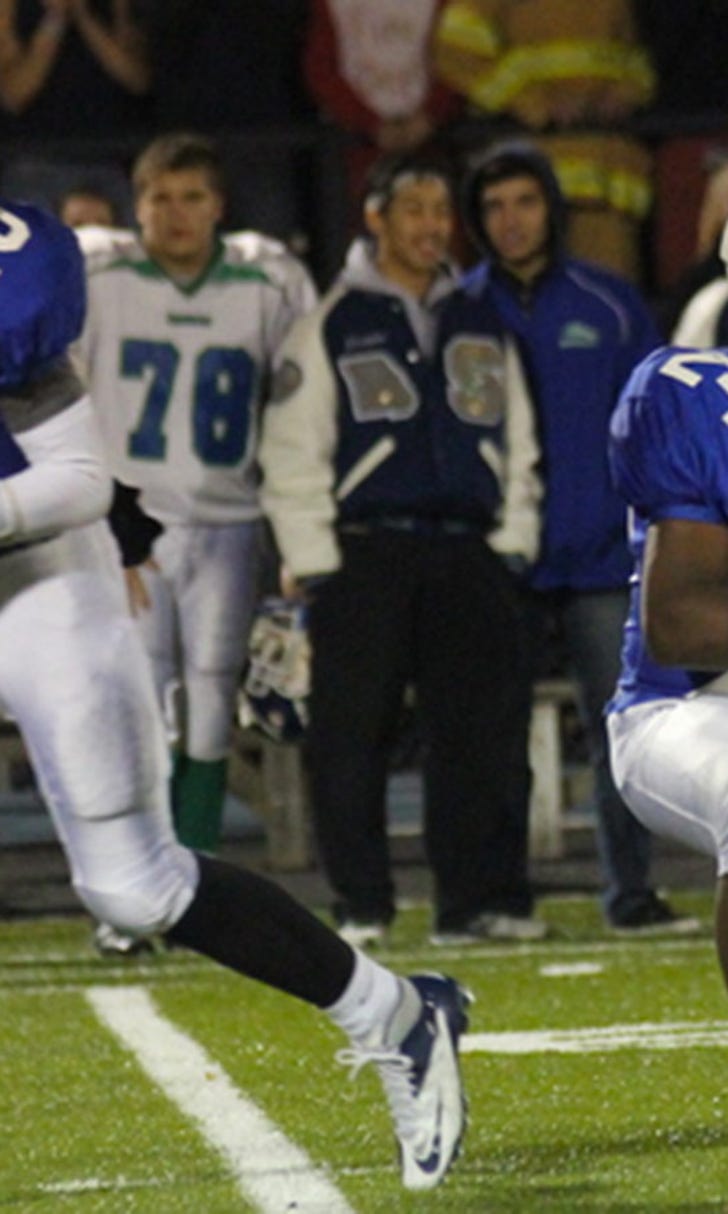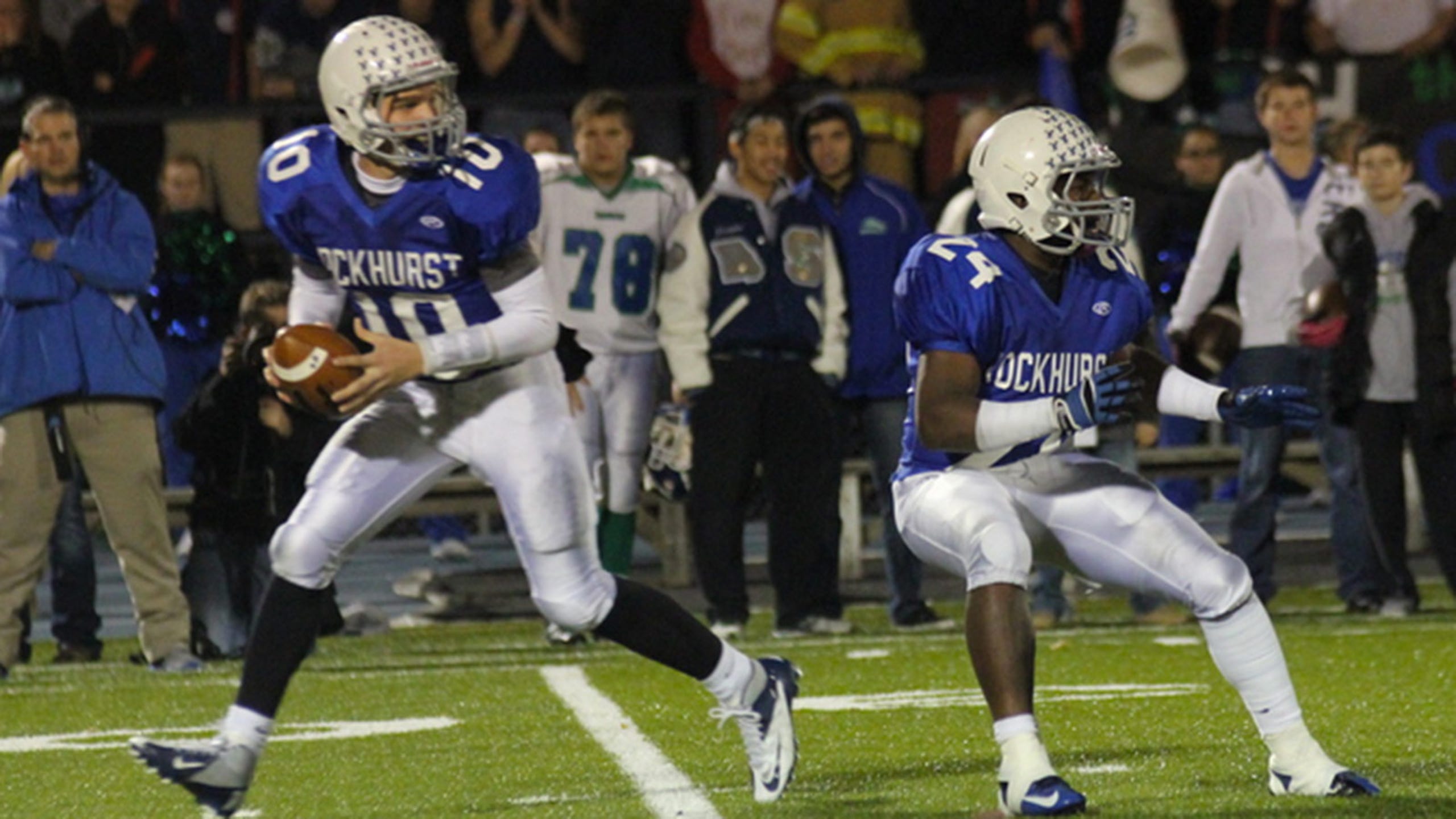 With KC prep QB Green (son of Trent), the experts missed a key measurable: His heart
BY foxsports • February 4, 2015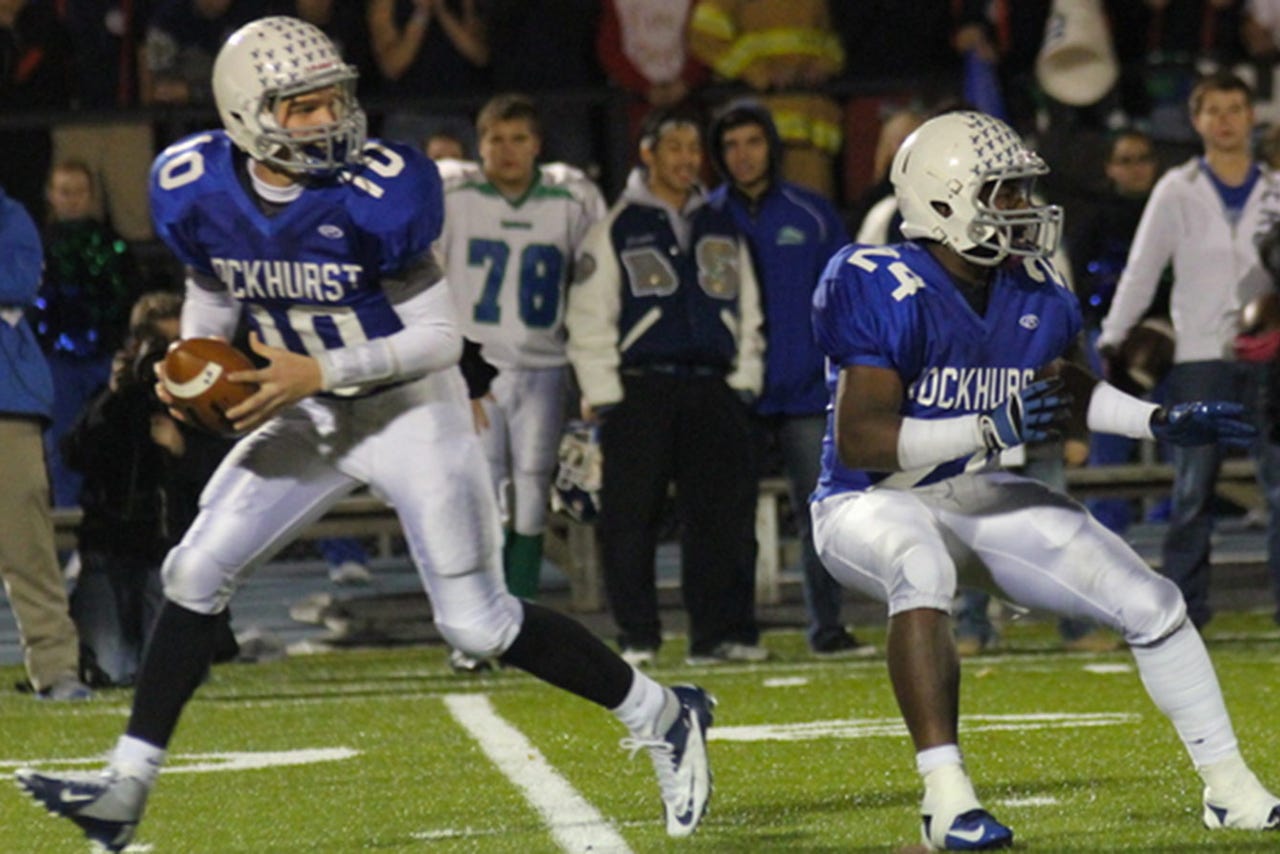 KANSAS CITY, Mo. -- For all the changes in technology, the new platforms, the clickbait, the experts, the cottage industries scaling the media pyramid, football recruiting remains a beautiful, awful, inexact science. Can't-misses miss. Two stars become superstars.
J.J. Watt was a walk-on once. So was Clay Matthews. And Jordy Nelson. Brandon Weeden, too. Not everybody steps off the bus looking the part.
"People will always take a chance on the guy with the measurables over somebody without them, even though the performance is better," Rockhurst (Mo.) High football coach Tony Severino says, tilting the chair back in his office, shaking his head, "because the ego of the coaches is that, 'I can make (the guy with) the measurables a better football player.'"
National Signing Day, one of those hip, new red-letter days on America's sporting calendar, is a good one in Severino's world, but it's good with an asterisk. His starting quarterback has a live arm and a Pentium chip for a brain, and he sees the field the way Kasparov sees a chess board, always thinking one move ahead. T.J. Green has the lineage -- his father, Trent, was a two-time Pro Bowl quarterback in the NFL, most famously with the Chiefs and Rams, and bowled with Indiana as a collegian -- and the resume, winning Gatorade Player of the Year and USA Today Offensive Player of the Year honors in Missouri last fall. He threw for 2,638 yards and 33 touchdowns his senior season, piloting the Hawklets to a 12-2 record and the MSHSAA Class 6 Championship game in St. Louis.
The big boys looked. The big boys swore to Severino that they liked him.
"Loving him," the coach says, "is offering him."
As of early Wednesday afternoon, none of those big boys had.
"His performance on the field was second to none; by far the best quarterback in the state of Missouri," Severino sighs.
"What he lacked was the measurables. And in today's recruiting, measurables trump performance. And it's a shame, but it's true."
T.J. Green looks the part, if the part is Eagle Scout. A lean 6-foot-1 and 190-ish pounds, he's got a paperboy face and his dad's easy smile, a head so level you could play snooker on it.  A 17-year-old senior, Green won't turn 18 until August. Severino says T.J. has been timed at a 4.7 in the 40-yard dash and boasts a 4.21 GPA, a dash of Drew Brees with a slice of Doogie Howser.
A "late bloomer," the recruiting services call him. Also, tough as three-week-old jerky.
Trent Green's experience as an NFL quarterback helped T.J.'s development, but his fame didn't open any collegiate doors for his son.

"His very first game as a junior, I think he got sacked like nine times against East St. Louis," the coach recalls. "I apologized to his mom and dad. I had the offensive line apologize to him."
Severino can coach a lot of things. Can't coach height.
"If he was 6-3 and 200 pounds, he would be recruited by everybody," Severino says of T.J. "He's not the Ohio State guy (third-stringer Cardale Jones), 6-5, 250. He's not Ben Roethlisberger, and he's not Tom Brady."
But there's a kick: Doogie Howser is also walking around with size 14 feet and power-forward-sized hands, which probably means there's another growth spurt coming, another chance to fill out. A late bloomer with one more surge to come.
"I didn't have a five-inch (spurt), I had a three-inch growing year, stuff like that," says the younger Green, who was 5-6 as a freshman. "And I've gained about 50-60 pounds, so hopefully I still am (filling out)."
"Bigger is better, faster is better," Severino says, "These college coaches, (if) they're going to make a mistake, they always want to make a bigger, faster mistake."
Football Championship Subdivision power North Dakota State offered a scholarship, but T.J. passed. Nebraska has reportedly extended a "preferred" walk-on spot, and of the so-called grayshirt opportunities, that one just might portend the most promise -- new Cornhuskers coach Mike Riley has a good track record with pro-style, drop-back quarterbacks, and the Huskers, as of Wednesday morning, didn't have a scholarship committed to another signal-caller in the 2015 class. T.J. has visited Stanford and Northwestern, both academic giants, while weighing another preferred walk-on offer from Wake Forest. But none, to date, has put a full scholie on the table.
"First of all, it's academics, and all those schools have great academics," Green says. "And then it comes down to (the fact that) I want to play high-level football, and all three schools (favorites Nebraska, Northwestern, Stanford) are high-level football. And it really just comes down to the guys on the team right now that I went on visits and met with, and the coaches, how I mesh with them, how I mesh with the school, whether I like the campus, and stuff like that. And that's really what my decision is going to come down to, is those factors. Because all of them have great academics and (great) football. There's really no bad choice."
"And 20 years ago, younger was better," Severino continues. "And today, with everybody holding their kids back, kids aren't getting out of college until they're 22-23 years old, and some are older than that. It's not better to be young anymore. So I feel really bad for him. And whoever is going to get him is going to get a finished product in two or three years, is going to get the real deal. So I'm anxious to see where that progresses."
Severino has had a bunch of guys with those "measurables" over the years, including, more recently, Nathan Scheelhaase, who checked in at 6-foot-3, 184 pounds and ran like the wind. Illinois won the derby, and Scheelhaase would go on to become the Fighting Illini's all-time leader in total offensive yards (10,634), throwing for 55 scores and rushing for 19 more over four seasons in Champaign.
"But Nathan could not throw near as well as this guy," Severino says of Green. "But Nathan was more 'athletic-looking,' he was more prototypical. He had the measurables."
T.J. has the dad with the NFL chops, the mentor, the champ in his corner, the second opinion. The sounding board after various visits and camps.
"I think it's good because he's a pretty open guy and he knows how to talk to people really well," T.J. says with a grin. "So there's never a quiet moment when I'm with him.
"Which kind of helps. Which is good. That's a good thing. He knows what he's talking about, and all the coaches and everybody like to talk to him. And when I'm there, I get to learn all the stuff that they talk about. He has a lot of questions, because he's been through this whole process before. It was a lot different when he went through it, but he knows all the things to look for, what to talk about, and I've enjoyed having him with me."
Most of the time.
"They got us separate hotel rooms," T.J. notes.
Naturally.
"He fills in the gaps, in a good way," the younger Green says. "He knows his football stuff. So whenever we're talking about football with the coaches, he always chimes in about different offenses he ran, what it was like, back in the day, what it's like now, and then I'm able to talk about all that stuff, too."
A multi-sport wunderkind -- having grown up playing baseball (excelling as a shortstop, another position that requires good footwork), basketball, soccer and tennis -- the younger Green gravitated back to the gridiron, but says he wasn't steered toward it.
"I've always loved football more than anything else, and (Trent) never pushed me to play football at all," T.J. says. "He always tells me I can do whatever I want to do. There's no pressure for me to play quarterback, let alone play football.
"And I don't find that it's a bad thing that he's my dad, obviously. And you kind of get a little bit of spotlight just because of who he is and what he's done in Kansas City, so you kind of get noticed a little bit more. And that's not a bad thing.
"But I've also built up a name for myself, which is kind of dimming that back a little bit. But everybody makes connections with my dad and me. And I don't know -- I think it's a good thing, actually, I mean, I wouldn't change a thing about it, honestly."
Dads will be ... dads.
"Trent Green is maybe one of the best parents I've ever been around. He's just a parent; he loves watching his kids play," Severino says. "People always ask you: 'As a coach, do you worry about him when he goes home getting tips from his dad?' You know, a lot of (fathers), I don't want them getting tips from. But I have no problems with (T.J.) getting tips from an All-Pro.
"I think even Trent is a little frustrated with his recruiting, because not having been involved with (the process) since he was in high school, it's changed a lot."
The plan in the T.J. camp now is to see where the fallout from Wednesday's faxfest settles, then see about a fit. And it's not like they haven't shopped around: The younger Green attended the Elite 11 camp, but came away without any firm offers. He also participated in the International Bowl last weekend at Jerry World outside Dallas.
Lookin' good! Flip through our photo album of NFL cheerleaders.
A few years back, T.J. recalls, he spent more time on baseball than football -- "I regret doing that now," he admits -- but was able to parlay last summer's grind into the best season of his life.
"'Pro-style' is what they have me listed as, but I can run, too," the younger Green says. "It's just that I like to stay in the pocket. But I can make plays with my feet. I'm not just a pocket passer."
Don't judge the cover, Severino says. Judge the tape. Look at the tape. Trust the tape.
"I've talked to every (recruiter) that comes in, (they say), 'What's T.J. doing? What's T.J. doing?'" the coach chuckles. "And I go, 'Well, offer him. How am I supposed to know? What's he going to do unless you offer him?'
"And they go, 'Well, Coach, physically, if I bring him in, he doesn't look the part.'
"Then I look at them and go, 'Well, why are you worried about what he's doing then?'"
And back and forth it goes. The game within the game. Because there's one so-called measurable no coach or scout can peg with 100 percent accuracy, still:
A kid's heart.
"Given the right system, with the right guy, T.J. Green will make it," Severino says. "I'm trying to do my best, but it's so frustrating, because I know in today's recruiting game, it's out of my hands. It's out of his hands. We've all done what we've needed to do."
You can follow Sean Keeler on Twitter at @SeanKeeler or email him at seanmkeeler@gmail.com.
---