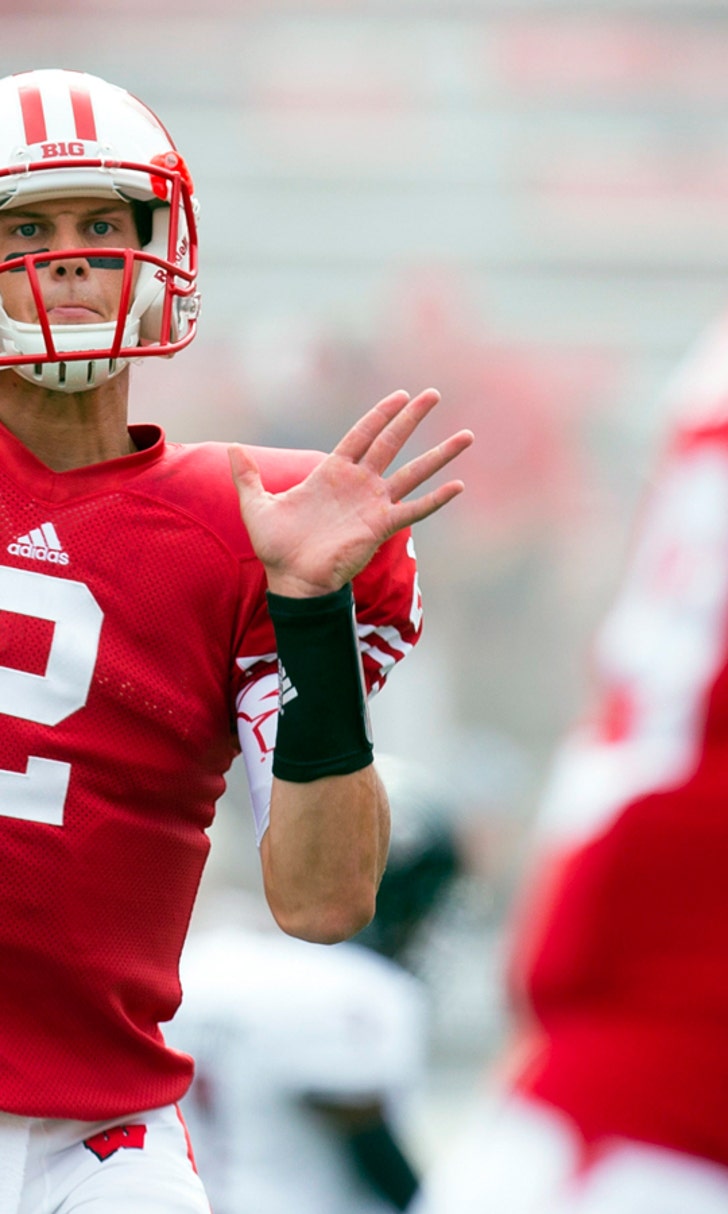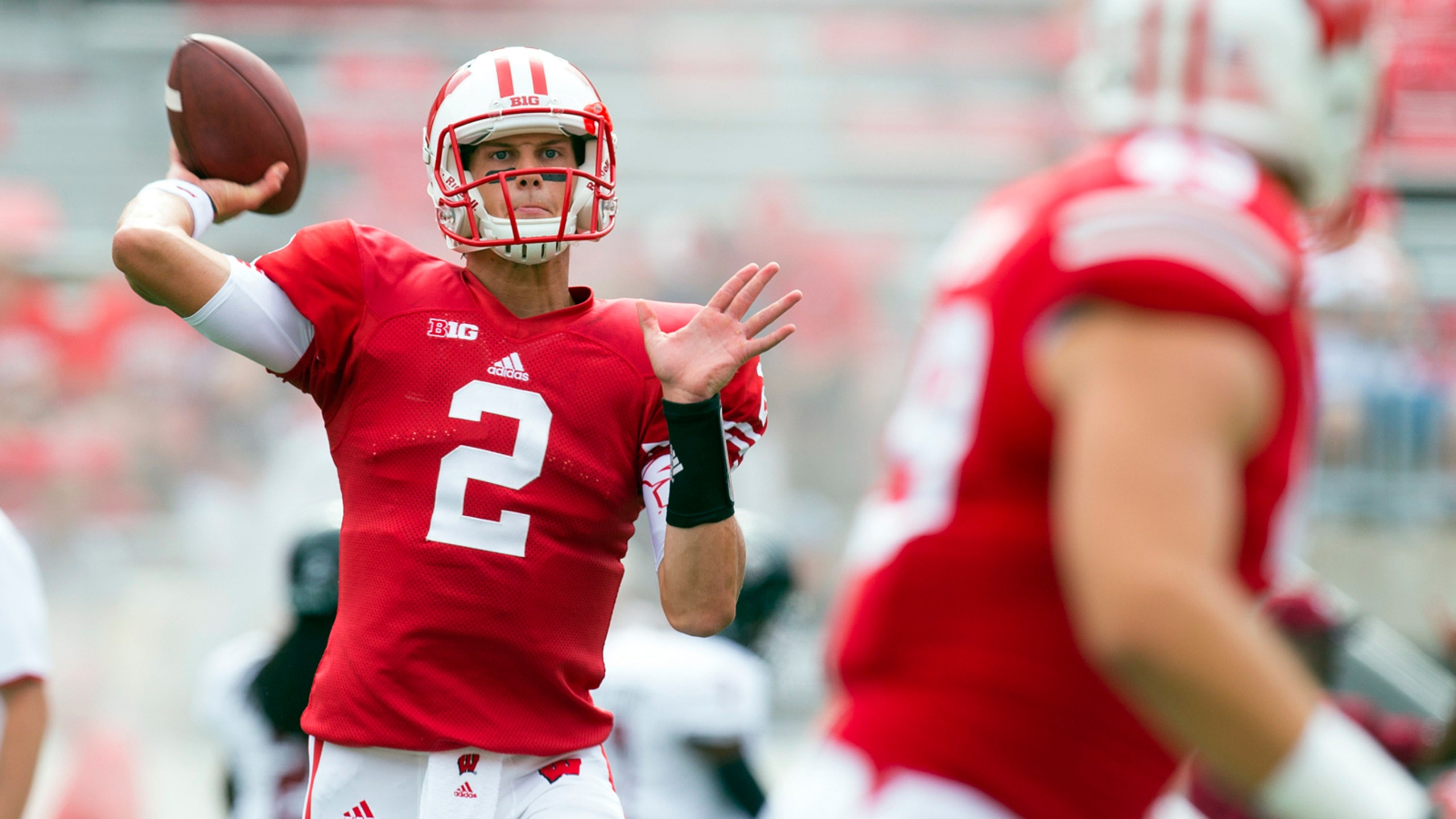 Wisconsin's Stave not shying away from QB competition
BY foxsports • August 1, 2014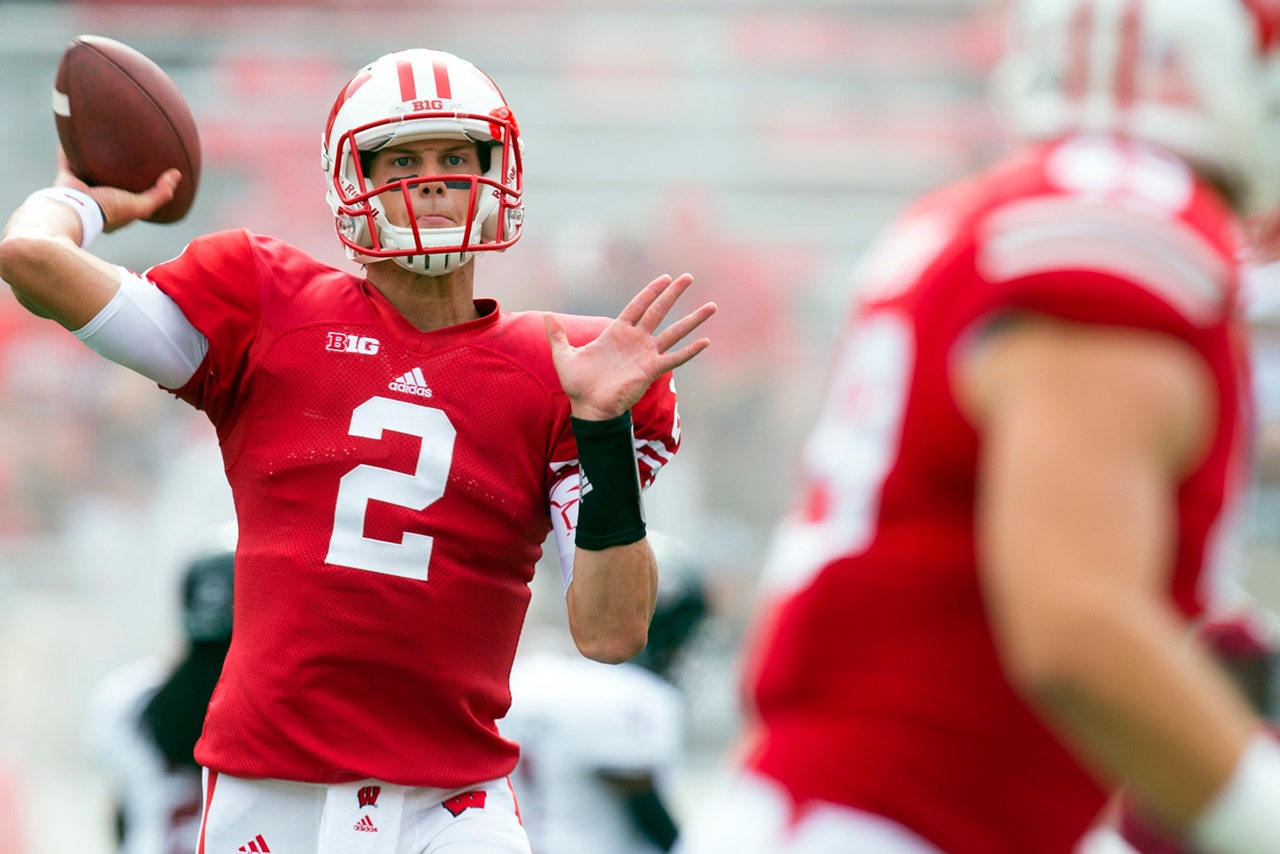 MADISON, Wis. -- The way Joel Stave sees it, this whole quarterback competition to begin Wisconsin's fall football camp is old hat. What hasn't he seen as he enters his third straight season in a battle to be the Badgers' starter? How much more mentally prepared can he really be?
There is, of course, a fair amount of pressure that comes with trying to be the No. 1 signal-caller anyway, not the least of which has to do with Wisconsin playing its biggest season opener in years against LSU in only four weeks. Stave must split reps in half, constantly make smart decisions and consistently hit receivers -- all under the watchful eye of an entire coaching staff. He also must prove himself all over again despite having a 13-6 career record in 19 college starts.
But Stave, for his part, is ready to embrace the challenge of fending off Tanner McEvoy in a back-and-forth competition that is sure to stretch into at least mid-August.
"It's nothing new to me," Stave said Friday during the team's media day at Camp Randall Stadium. "I'm going to treat it the same way I always have. Just kind of worrying about what I can control and just take it one day at a time. If I do that, I'll feel very comfortable with where I'm at. . . . I understand what needs to be done, and really it just comes down to me competing with myself to be the best player I can be."
The question that lingers as Wisconsin prepares to open camp on Monday is: Just how good is Stave's best? And will it be enough to fend off McEvoy?
Wisconsin's coaching staff saw enough flaws in Stave's performance last season to open up the quarterback competition between he and McEvoy. And head coach Gary Andersen has made a point on several occasions to say quarterback play -- and specifically Stave -- needed to improve. Stave threw 13 interceptions last season, which tied for the most of any quarterback in the Big Ten.
Stave, at least, was willing to acknowledge he simply must be better, noting that while he made some good throws, he "also missed throws that you just can't miss."
"If the protection is there, just relax and stay in the pocket and throw it," he said. "I'm not always bailing out of the pocket, but sometimes I need to be taking a bigger hitch. (Offensive coordinator Andy) Ludwig always says just have quiet feet. You don't need to be taking big steps if you don't need to. Just be quiet with your feet. Be balanced and be under control and make the throw."
The area in which McEvoy has the biggest edge entering fall camp is in his ability to make plays with his feet. McEvoy ran for 414 yards during his one season of junior-college ball, while Stave has a total of minus-73 yards rushing in his two years as Wisconsin's starter. McEvoy also better understands the playbook in his second year with the program.
Still, McEvoy said he needed to be a more accurate thrower if he is to supplant Stave, and he worked on his mechanics in the offseason.
"During spring, I went into it just trying to learn the offense the best I can and just tweak some of my motion, make it a little quicker and stay in the pocket as much as I could," McEvoy said. "I tried to work on that and then just tried to get myself in position to be in the race for the job, and hopefully it works out."
McEvoy made up some ground on Stave at the end of spring practices when Stave missed the final week while recovering from a right shoulder injury sustained in the team's Jan. 1 bowl game against South Carolina. Though the injury was slow to heal, Stave insisted he was now fully healthy and prepared to compete for the starting job.
Stave noted he began a throwing progression regimen in May, and by the time the team returned for summer workouts in June, he was able to make any throw necessary.
"I did a lot of different things that I could do for my shoulders to kind of balance out the muscle distribution," Stave said. "There's a lot of really small muscles in your shoulder that don't necessarily get worked unless you specifically focus on them. So I did a lot of that to make sure I'm feeling balanced and feeling strong when I'm throwing. And then besides that, just working on timing with the wideouts. Working on timing with tight ends and everything like that. And then just going over plays from last year, going over things I maybe missed, things I could have done better here and there."
Andersen said Stave had done all he could to prepare himself for the moment.
"His body is in better shape," Andersen said. "He's worked on his throwing motion. He's studied the game. He's worked to become even more athletic. Everything we've asked Joel to do has been there for us."
Both quarterbacks benefitted from a new NCAA rule that allowed the coaching staff to meet with players for two hours each week during the summer. In that time, Ludwig said he sat down with his quarterbacks, dissected the team's offense and defensive structure and talked plenty of football. He also gave the quarterbacks a script to follow when they participated in workouts with teammates.
Now, they will put all that time to use. The first four days of practice are to be split into two-a-days, with each player working as the No. 1 quarterback during one of the sessions.
The race, once again, is on.
"I like where those two kids are battling," Andersen said. "It's going to be interesting to see how it continues to go through the process. They've both got a good look in their eye and they're excited and they're supporting each other, which is awesome to see."
Follow Jesse Temple on Twitter
---