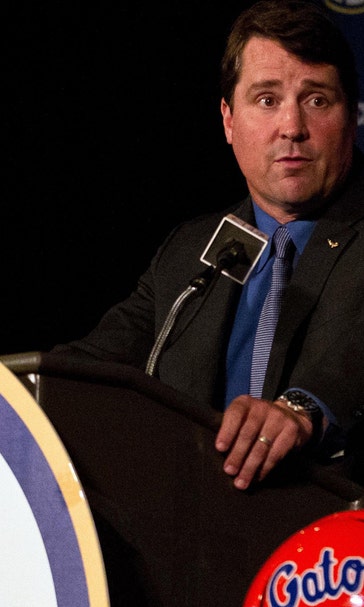 Will Muschamp confident Gators will have 'outstanding' year
BY foxsports • July 14, 2014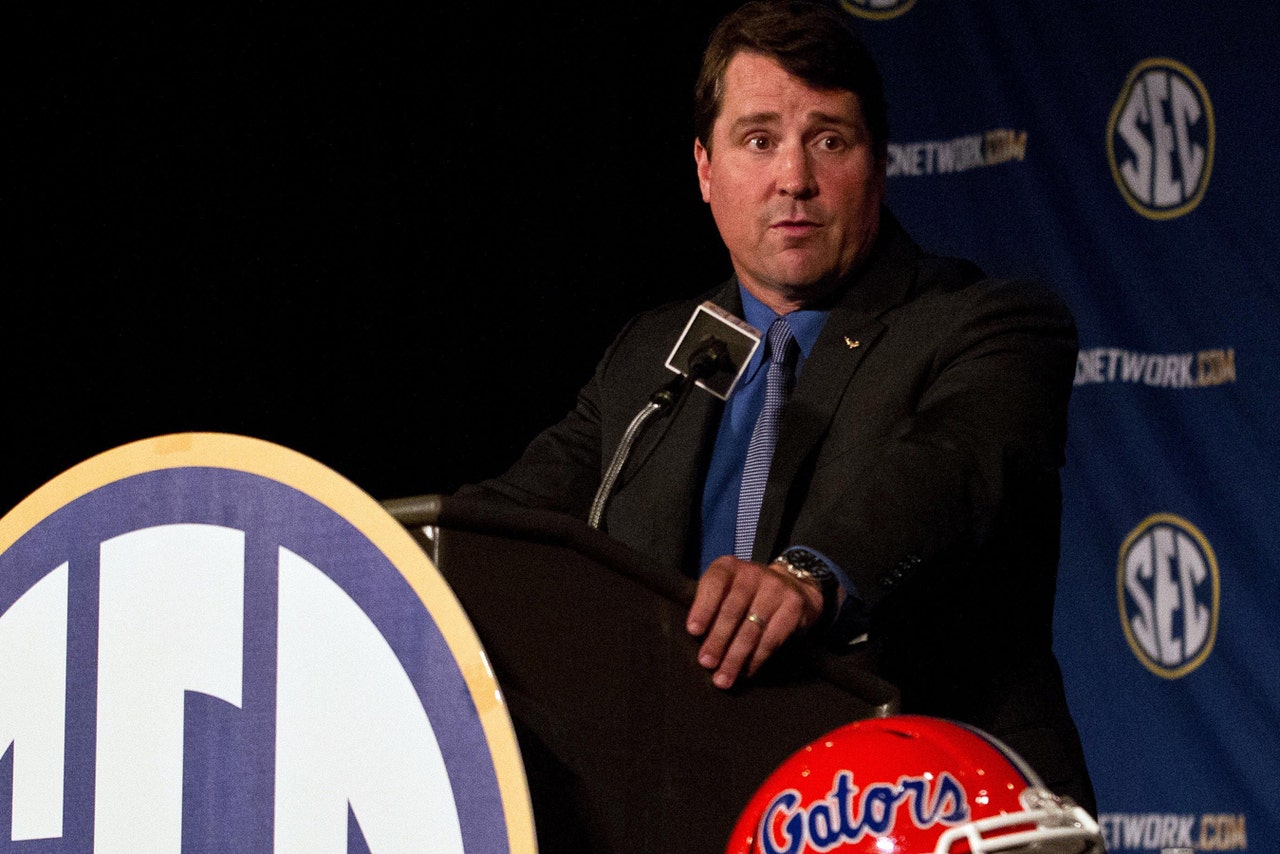 HOOVER, Ala. -- By way of the schedule on the opening day of the SEC Football Media Days, Florida coach Will Muschamp followed Auburn's Gus Malzahn to the podium to address a ballroom full of TV cameras and reporters here Monday.
Muschamp and the Gators won't mind following in Auburn's footsteps again this fall.
Remember the state of the Tigers a year go when Malzahn, the former high school coach who served as Auburn's offensive coordinator from 2009-11, took over the program? Two years removed from a national championship, Malzahn faced mostly questions about inheriting a team than finished 3-9 in Gene Chizik's final season.
Most assumed the future -- at least the immediate one -- would feature more downs than ups.
Six months later the Tigers narrowly missed winning another national title when they lost to Florida State in the final BCS National Championship Game.
Can the Gators pull off that type of surprise season?
Despite coming off a 4-8 injury-plagued season that marked the program's first losing record in 34 years, Muschamp has confidence better days are ahead as he enters his fourth season.
"I think we're going to have an outstanding year, I really do," Muschamp said. "I'm very confident in this football team and this staff. I think it's the most complete team we've had since I've been here."
As Muschamp spoke those words, three primary reasons for his optimistic outlook stood nearby: quarterback Jeff Driskel, defensive end Dante Fowler Jr., and cornerback Vernon Hargreaves III.
Driskel is healthy after playing in only three games last season due to a broken leg. Hargreaves and Fowler anchor a defense that while short on experience is deep on talent.
Each discussed the extra motivation that stems from what took place a season ago.
The same was true at Auburn last season.
"I know what 3-9 feels like," Tigers defensive tackle Gabe Wright said Monday. "There is no bigger motivation than that."
Fowler echoed Wright's sentiments.
He recalled Monday the burden the players felt as the losses started to pile up last season. One loss turned into two, two turned into three, and by the time the season was over, the Gators had lost seven consecutive games.
"Everybody felt each other's pain," Fowler said. "We don't want to go back there."
The return of Driskel is perhaps the most important factor in Florida's outlook that 2013 was an anomaly for a program used to contending for SEC titles.
Driskel showed in the spring that he is healthy and capable of running new offensive coordinator Kurt Roper's no-huddle up-tempo attack that relies on the quarterback to be decisive and get rid of the football quickly.
"He's what you want," Muschamp said. "He's a great competitor. He's a leader. I knew when Jeff went down it was going to be tough sledding. I think what we're doing now offensively fits him better. I don't think it's fair to judge him last year off two games."
Driskel is clearly re-energized, evident by the smooth navigation of one interview after another Monday. He spoke freely about last year's disappointments and this season's hope.
He also shared more personality than in the past, perhaps a sign he is more comfortable in his role as a team leader and an increased comfort level in his short time working in Roper's offense, the third of his UF career.
"It's kind of polar opposite of what we're used to over the past few years," Driskel said. "Obviously we're going to need more production from the offense. Our first impressions are going to be huge."
One of the longest offseasons in school history comes to an end Aug. 30 when the Gators host Idaho in the season opener.
In an ESPN radio interview last week, Florida Athletic Director Jeremy Foley summed up where the Gators are entering Year 4 under Muschamp.
"Last year didn't go our way," Foley said. "We've never made any excuses about it. It's not who we are. It's not good enough. We need to get better. When you feel strong about somebody, sometimes you've just got to take the heat. You've got to go and be strong.
"That's what we did there. We're excited about the future under Will."
That future starts Aug. 3 when the Gators report to fall camp.
The recent past tells them the possibility that a huge turnaround season is within grasp.
Look what Auburn did.
"Gus and them had a great year, happy for them," Muschamp said. "We try to put all of our focus on what we need to do to be successful, have a singular focus on our football team, offense, defense, special teams, each player, each unit, what we need to do to be successful.
"I think as a competitor you want to get back out on the field, play as soon as you can. That's why I'm really looking forward to getting to football and practicing and developing this football team."
---