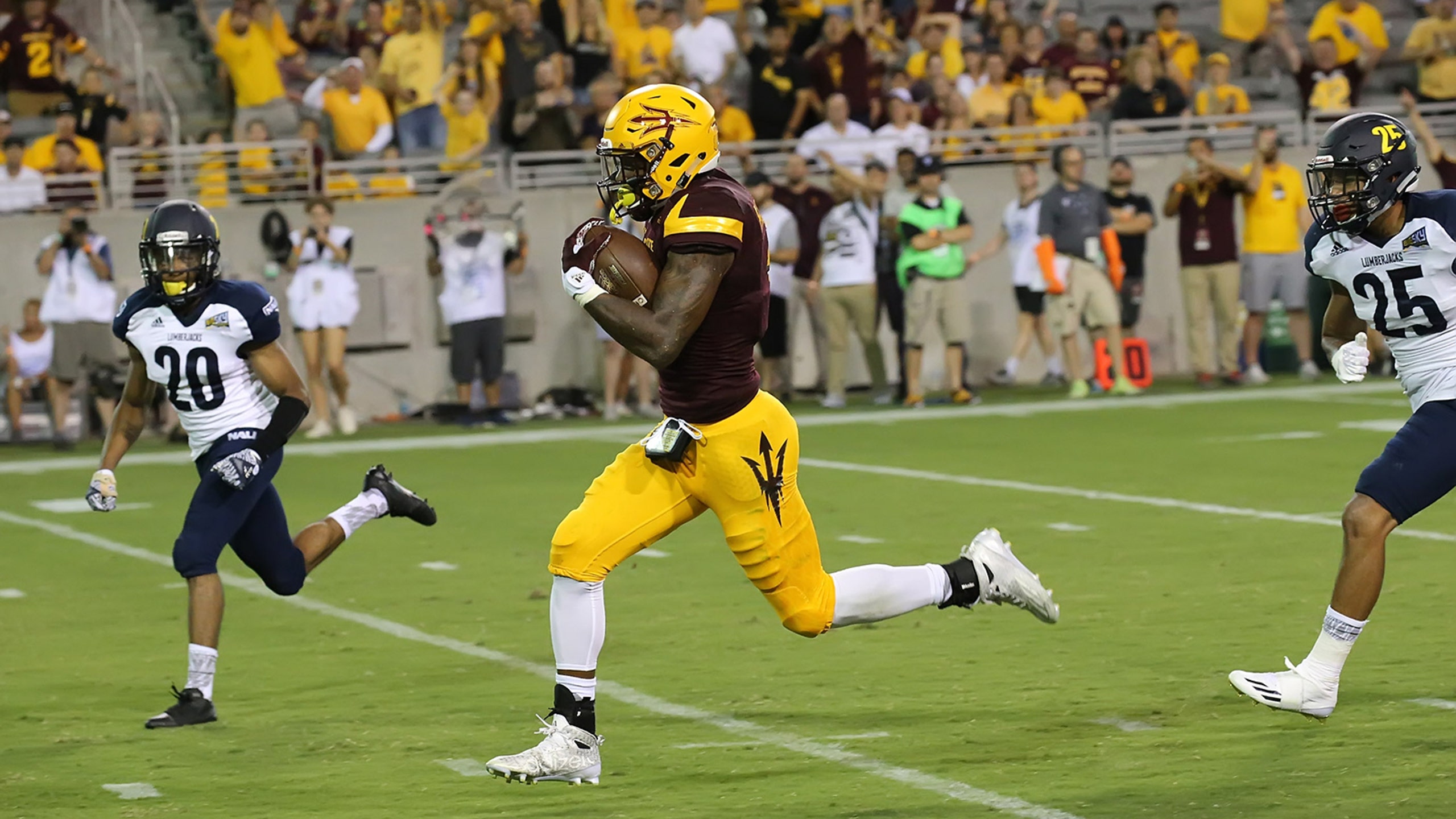 Wilkins, Sun Devils pull away, blow out NAU
BY foxsports • September 4, 2016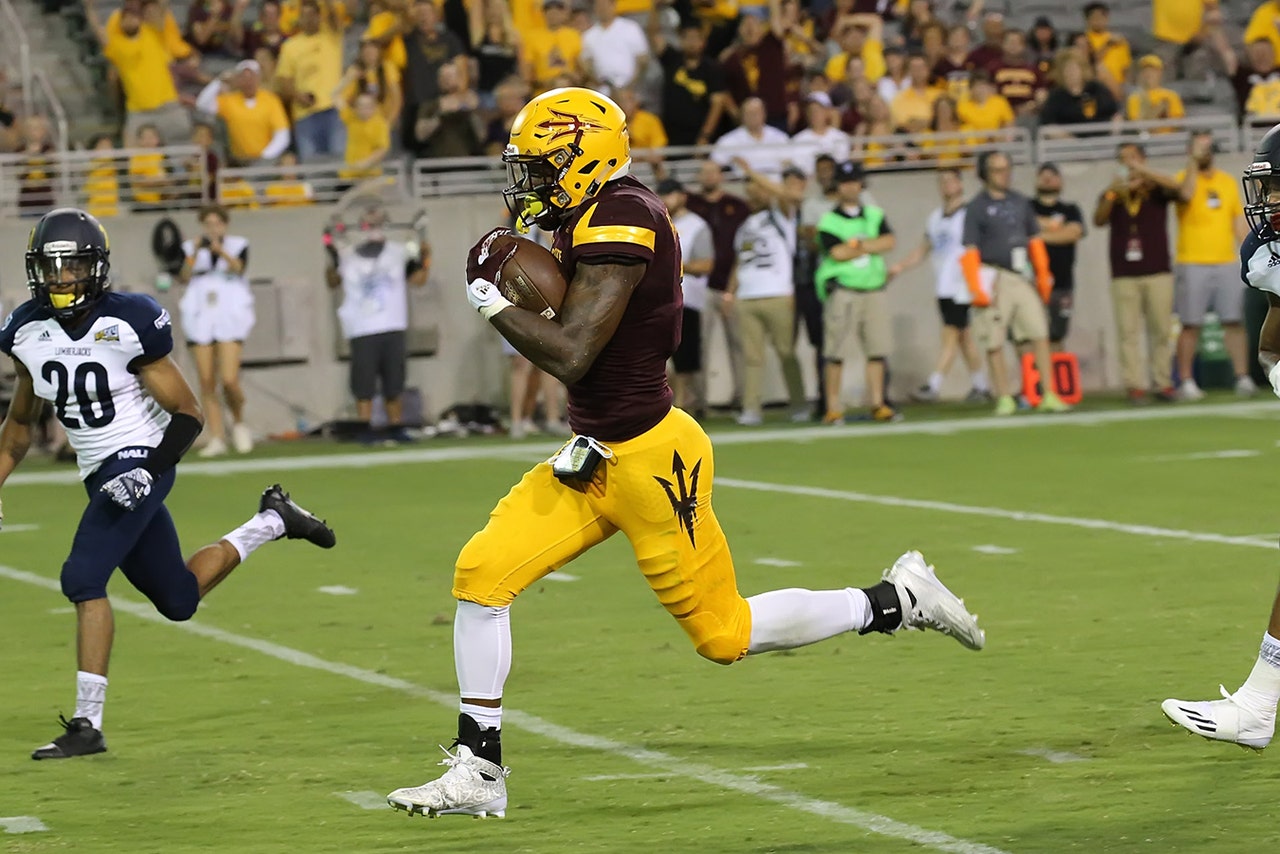 TEMPE, Ariz. -- Arizona State and its new quarterback turned an uncomfortably close game into a fourth-quarter blowout.
Manny Wilkins passed for 180 yards, ran for 89 and a touchdown and even hurdled a would-be tackler in his first college start and the Sun Devils pulled away for a 44-13 victory over FCS foe Northern Arizona on Saturday night.
Arizona State led just 10-6 before scoring on its final seven possessions.
"The second half was about more what I expected," Sun Devils coach Todd Graham said, "and the first half was nerve-wracking. We expected to score a lot more points in the first half than we did."
They scored 24 points in the fourth quarter.
"We'll be fine," Wilkins said. "I take complete accountability for that (the slow start) and next week we'll get rolling faster."
Freshman N'Keal Harry took a lateral from Wilkins and raced 34 yards for a touchdown and Kalen Ballage ran 30 yards for a score in the outburst.
Northern Arizona's Case Cookus completed 23 of 33 passes for 369 yards, including an 87-yard touchdown to Elijah Marks. Marks had eight catches for 174 yards.
Wilkins, a redshirt sophomore who was named the starter by coach Todd Graham on Friday, completed 20 of 27 passes with one interception.
"He had some things you see a first-time starter do," Graham said, "and then he did some great things."
Zane Gonzalez kicked three field goals, including a career-long 53-yarder, for the Sun Devils, who haven't lost to the Lumberjacks since 1938.
"At times, we showed ourselves to be very capable; a team that can play at a high tempo," NAU coach Jerome Souers said. "But what I'm concerned about mostly is our ability to deal with adversity that came in the second half."
The game looked like an Arizona State romp at the start.
Ballage returned the opening kickoff 27 yards and the Sun Devils went 44 yards on seven consecutive running plays with Wilkins running 13 for the touchdown.
The Lumberjacks took the second-half kickoff, with Cookus completing passes of 39, 14 and 12 yards, and advanced to the Sun Devils' 1-inch line. But a false start penalty and delay of game pushed them back and Haack's 23-yard field goal cut Arizona State's lead to 10-6.
Gonzalez's 53-yarder boosted the ASU advantage to 13-6 with 7:35 left in the third quarter.
Arizona State linebacker Marcus Ball was tossed from the game after he was called for targeting in a helmet-to-helmet hit with NAU receiver Jabril Taylor. Ball must sit out the first half of the Sun Devils' game against Texas Tech next Saturday. Graham said linebacker Salamo Fiso and defensive lineman Ami Latu didn't play because of disciplinary reasons.
When Wilkins took off up the middle in the second quarter he literally hurdled North Arizona's Keith Graham. The run helped set up Gonzalez's 33-yard field goal.
And as the first half ended, Cookus let it fly in a 'Hail Mary' under extreme pressure. The Sun Devils' Kareem Orr tried to catch it, but it bounced off his chest and into the hands of Butler at about the 10-yard line and he took off toward the end zone. But his toe barely went out of bounds at the Sun Devils' 2-yard line and the half ended.
Northern Arizona had the ball at the end only because of another bizarre occurrence. Lumberjacks' punter Dylan Kegans dropped the snap and then kicked the ball 13 yards downfield, where it bounced off the helmet of a Sun Devil and into the arms of Northern Arizona's Corbin Jountti for a first down.
Northern Arizona: The Lumberjacks are picked to win the Big Sky and they stayed with the Sun Devils most of the night. Cookus, a sophomore, looks to put up big numbers when Northern Arizona drops to competition its level.
Arizona State: The Sun Devils and their young quarterback finally found their rhythm late in the third quarter to give them a boost of confidence with the Red Raiders coming to town next week.
Northern Arizona drops down considerably in the level of competition when the Lumberjacks travel to Western Illinois next Saturday.
Arizona State needed their late surge to gain some confidence because the Sun Devils face a much sterner test when they are host to Texas Tech next Saturday.
---
---